Creative landscape lighting ideas make a big impact on the look and feel of your home's exterior. Outdoor lighting can illuminate your walkways and keep steps safer for you and your guests, while also giving your home a major design boost. With a bit of inspiration, you can easily come up with outdoor lighting ideas that promote safety and dramatically enhance your outdoor spaces. This guide will offer a few landscape lighting ideas for your home, including pathway light ideas and outdoor lighting ideas for patios and decks. 
Lawn and Driveway Lighting Ideas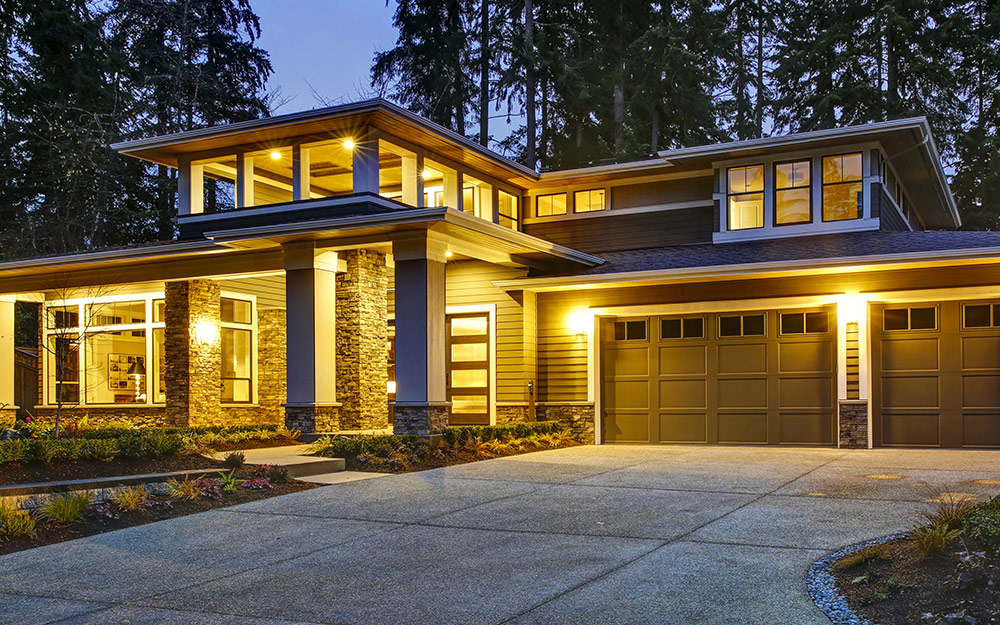 Flood lights and spotlights are often referred to as though they're interchangeable. While they do some of the same jobs around your house, they are different lights that should be utilized differently. 
Flood Lights   
Flood lights cast a wide net of lighting, helping to illuminate larger spaces. Single- or two-bulb flood lights are often considered the best landscape lights for larger driveways and parking areas, but this may vary according to your unique layout. There are a few things to remember about flood lights:
They're designed for lighting large areas. They're perfect for your driveway or carport.  
They can light entire walls or large areas of landscaping where detailed lighting is not needed.  
Some flood lights are motion activated. These are especially useful for driveways, garage doors and other utility areas.  
 
Spotlights 
Unlike flood lights, spotlights cast a focused beam of light. Here are a few things to remember about spotlights:
Since they cast a narrow beam of light, they're a great option for lighting architectural accents and are also ideal for tree uplighting.  
You can use two spotlights to illuminate large areas by placing them on opposite sides. Aim them to meet in the center of a wall or point of interest for a dramatic visual effect.  
Spotlights tend to be quite bright, so avoid pointing them toward a walkway or other common paths where they can make visibility worse. 
Pathway Lighting Ideas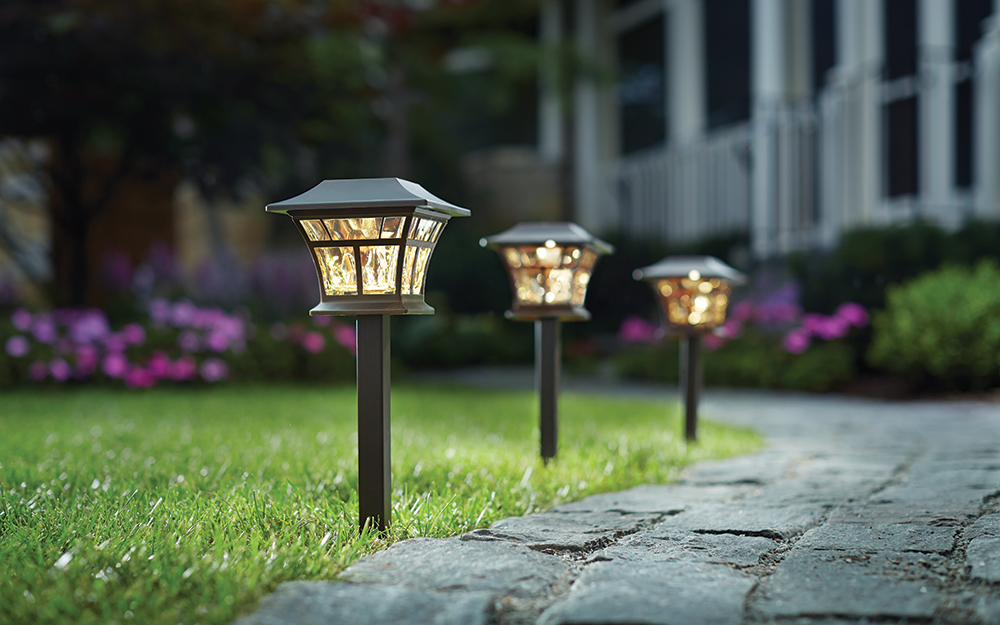 Path lights are low-sitting, downward facing lights that illuminate walkways at night and in the evenings. These lights accent your landscaping and make your home safer and more inviting for visitors.
Path lights should be spaced approximately 10- to 15-feet apart. You may need more or less distance between lights depending on your use of flood lights and spotlights or if you are lighting a short or narrow pathway.  
When brainstorming pathway light ideas, consider solar lights. These harness power from the sun to illuminate your yard. They often need to be spaced more closely together: 6- to 8-feet apart is a good starting point.  
Try alternating which side of your path you place the lights on during installation. This will visually balance your walkway.  
Path lights come in a variety of sizes, styles and finishes. Look for a style that complements the finishes in and around your home, like nickel, bronze, brass or matte black. Specialty colors like aged brass and oil rubbed bronze are available.  
Consider a path lighting set. A set of path lights can make your landscape lighting ideas come to life quickly and easily. Some sets also come with flood lights for a complete outdoor lighting setup.
Types of Path Lights  
While all path lights serve an important function, different styles can better suit the various paths and walkways around your home. Choose a type of path light that offers enough brightness for the amount of traffic the pathway gets and also coordinates with the rest of your landscaping.
Garden lights typically come with a shade and measure about 18- to 24-inches tall. Most curve downward, but some may have a straight silhouette to accommodate your garden pathway ideas. 
Downlights are similar to garden lights, but the bulb is concealed. A concealed bulb keeps the light focused on the path and your feet as you walk, rather than in your eyes. 
Bollard lights offer 360-degree lighting. These pathway lights look like a vertical pole with the light source at the top. A variety of decorative bollard designs exist to fit your landscaping.  
Flush lights sit flat on the ground with small cylinders above the surface and are typically installed as part of a driveway or walkway. While they can be a beautiful accent, flush lights may be hard to install on your own into hard surfaces like a brick walkway.  
Low voltage lights are LED varieties of path lights that are extremely energy-efficient and cost-effective. Note that low voltage lighting ideas don't translate to low-light or low-impact. If you have ambitious landscape lighting ideas that require a lot of individual lights, low voltage lights are a great way to keep your energy costs low while still creating a strikingly lit yard.
Ground Lighting Ideas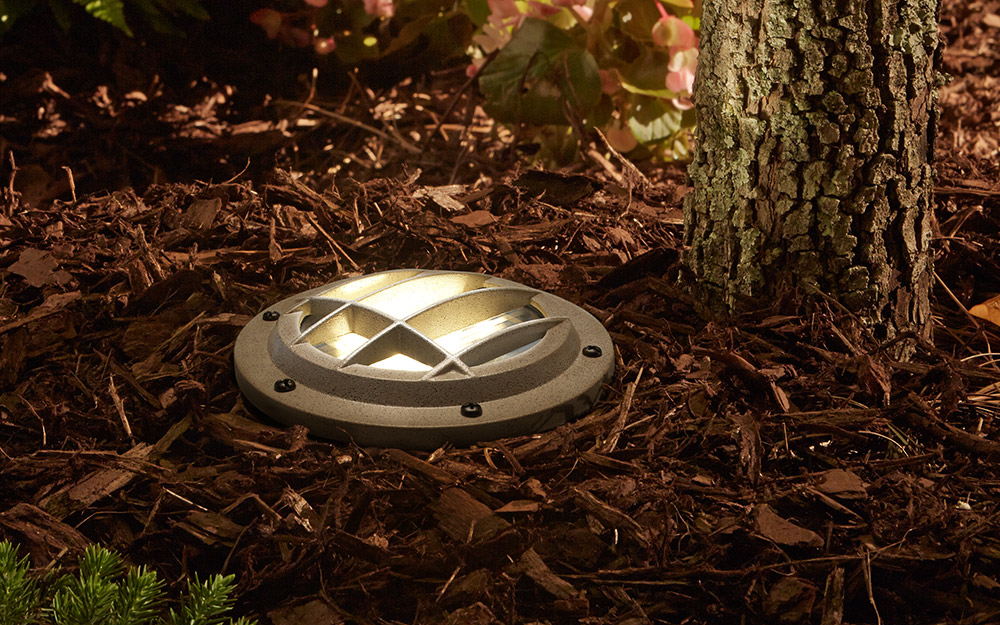 Well lights, also known as recessed ground lights, are designed to be placed directly in the ground as part of your exterior lighting scheme. Well lights can add brighten your yard and garden areas or be used as accent lighting to highlight shrubs, trees, plants and other decorative features around your home.
Well lights are hardwired and typically utilize LED bulbs.   
They can be set to a timer and are easy to program for the entire yard.  
Some well lights can be completely submerged in water. These can be used in and around pools to illuminate specialty fixtures. 
Wall Lighting Ideas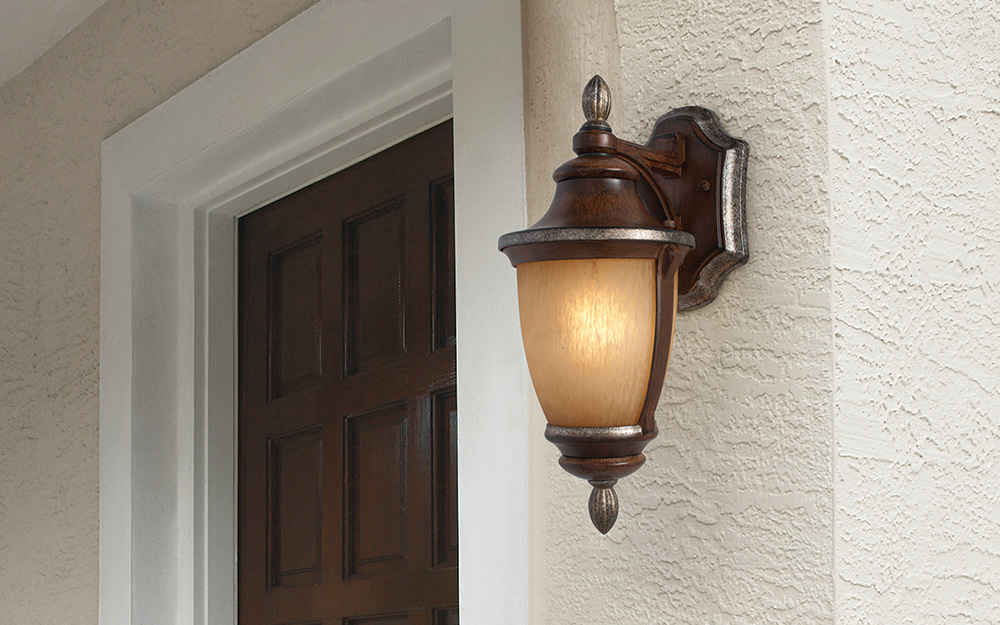 Wall lights and sconces aren't just for the indoors; they can also add a decorative touch to your outdoor lighting ideas. They're available in a variety of styles and finishes, so finding one that works with your decor is easy. 
Hang wall sconces by your front door. They'll provide the right amount of light for this area and can be coordinated to your design scheme. This will give your outdoor space more visual interest.  
Add a wall sconce to your deck or patio. Wire these deck lights to a wall switch inside the house for quick and easy access.  
Use wall lights and sconces around your garage for a simple and understated look.
Outdoor Lighting Tips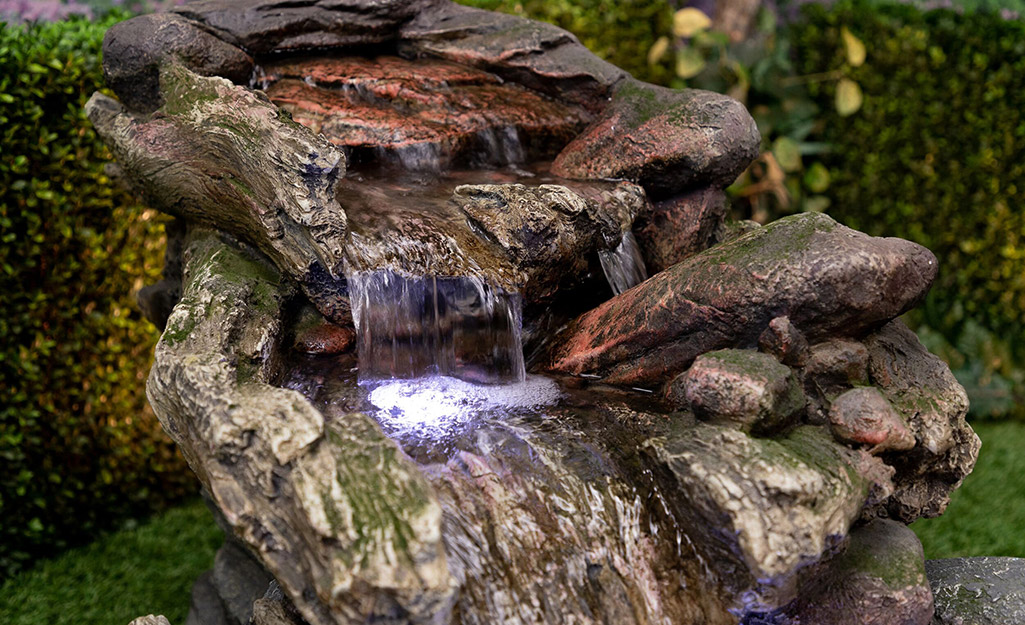 For a more unique and eye-catching yard, try incorporating these tips into your landscape lighting ideas:
Mix types of lights. Rather than using only the same type of light throughout your entire yard, combine a selection of outdoor lights such as well lights, path lights, deck lights and more.  
Experiment with styles and finishes. While all of your outdoor lights could match, contrasting the shapes, metal finishes and styles of the lights can make your landscape lighting look interesting and beautiful during the day too. 
Use both cool and warm light. Make your yard feel bigger and brighter using cool, blue- or white-toned lightbulbs in your spotlights, floodlights and well lights. Then add pops of warm, yellow- or orange-toned light using wall lights, deck lights or garden lights. The warm lights will create eye-catching, inviting spaces for you and guests to gather.  
Install an outdoor fireplace or fire pit. Not all of your landscape lighting must come from electrical installations. 
Illuminate your favorite outdoor fixtures, including statues, trees and water features. Generally, warm light best highlights man-made objects, and cool light best highlights plants. For water features, you can choose to have a big impact or a natural, subtle lighting effect. For the big impact, position cool lights to light up and from within the water. For the natural effect, use soft, warm downlighting.
Outdoor lighting plays a big part in the overall look and feel of your front and backyard. With the right techniques and landscape lighting ideas, you can turn the exterior of your home into an extension of your interior design. Use the outdoor lighting ideas above as a starting point for planning your masterfully lit yard.
Need help identifying a tool or material that will bring your landscape lighting ideas to life? Find products fast with image search in The Home Depot app. Snap a picture of an item you like and we'll show you similar products.