With some new paint, you can transform the look of your home's exterior and add distinct curb appeal. It's a relatively low-cost makeover with noticeable results.
Still, before you commit to a color, think about how long you want to keep your house. If you're planning to sell in the next few years, limit your house color ideas to a more neutral or classic palette. 
House Paint Color Choices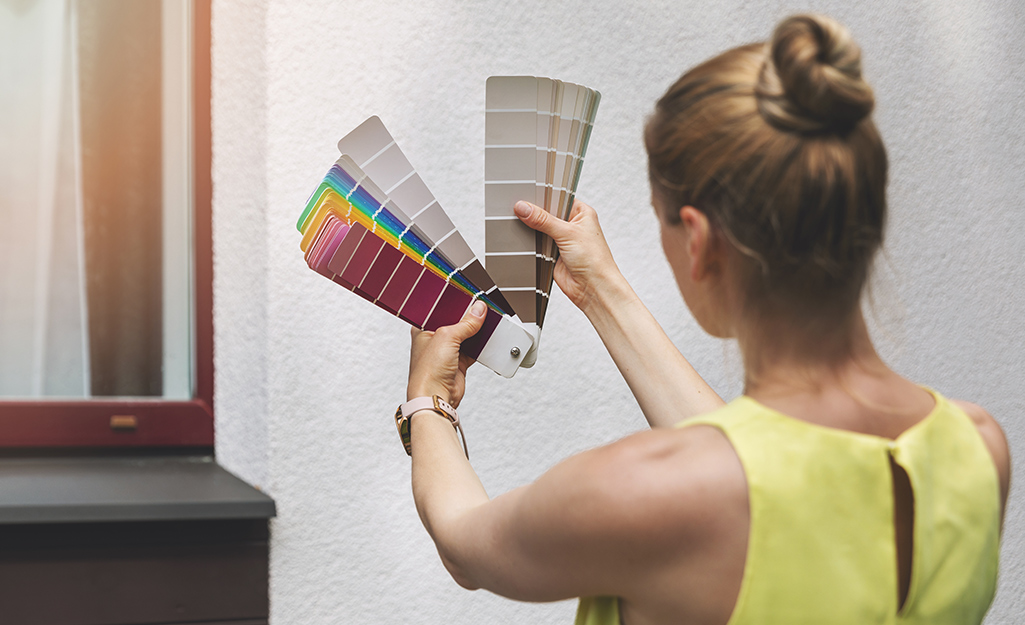 As you begin to explore exterior house color ideas, all of the available paint colors can be overwhelming. Start by focusing on the exterior paint colors you like. Dismiss the ones you don't. Select a few colors. 
Then, use a color wheel to find the complements of the colors you like. You'll match a warm color from the red-orange-yellow side of the color wheel with a cool color, from the green-blue-purple side.
Your color choices may be governed by local regulations or policies. Check homeowners association (HOA) guidelines and city zoning laws. Some HOAs and cities may require you to get exterior house paint color ideas approved before you paint.
If the exterior of your home is masonry, stucco or brick, you may need a specialty paint designed for those textured surfaces. 
Note: Follow safety guidelines when working with lead paint. If the house you're painting was built before 1978, refer to EPA's renovation, repair and painting program before getting started.
Blue Gray Paint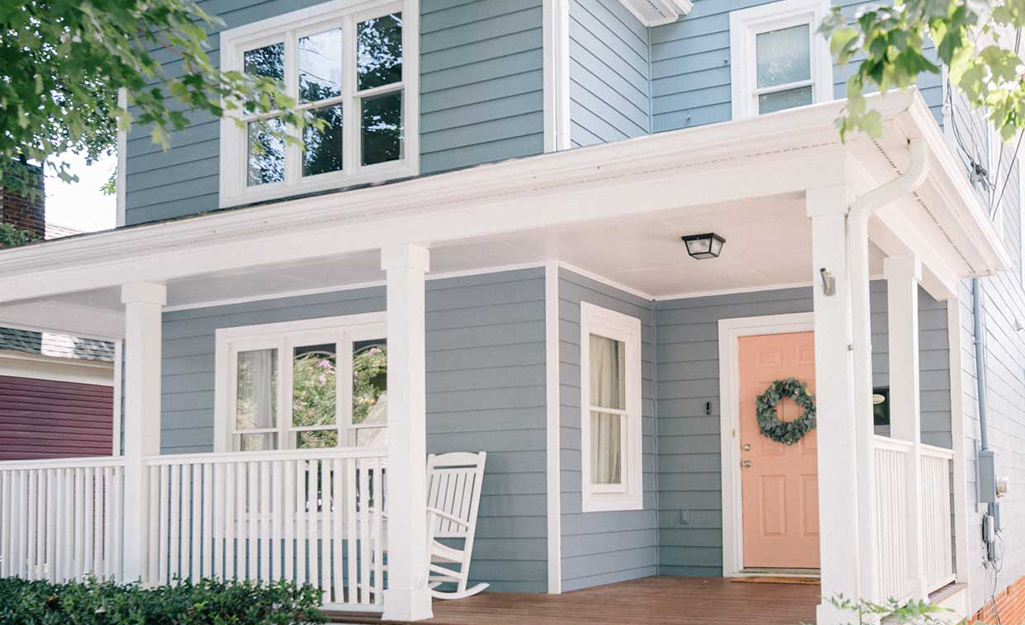 Blue gray is a versatile color that would suit many home styles. It works well as a main exterior paint color. With another color, like a bright white, you could highlight soffits (the underside of the eaves of the roof), door and window frames. For the trim, you could choose a third color to act as a contrast for the main color. 
Light coral pairs well with blue-gray for an eye-catching, yet understated look. The three-color approach is common for Victorian and Edwardian houses, but works for any style of home.
White Paint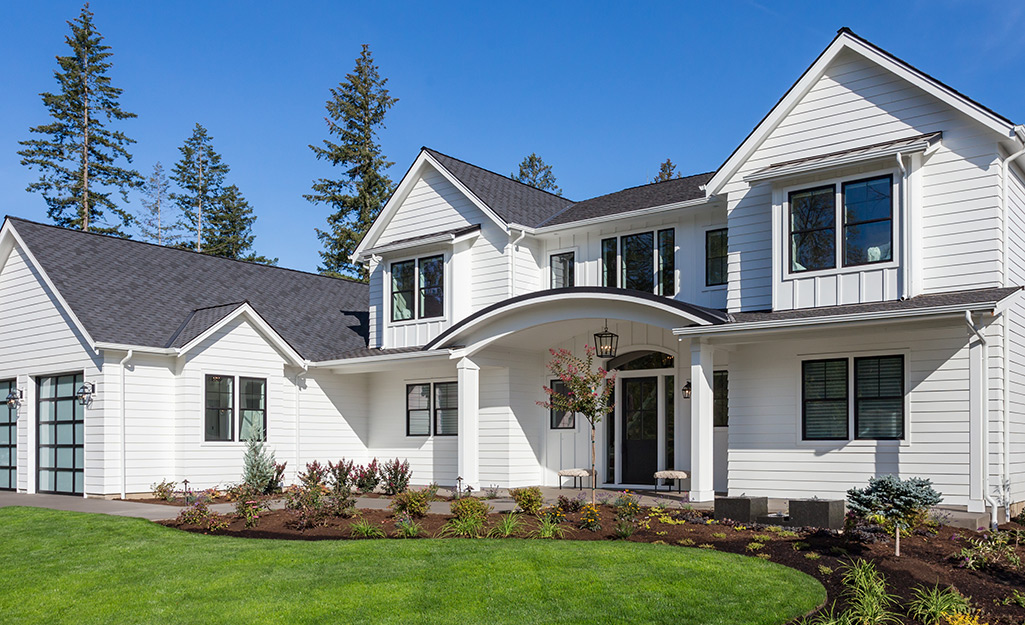 White might seem like a bland choice when compared to all the other exterior house paint ideas. Still, you might be surprised at the range of this color. It can used to brighten up the wood siding of a house or even as a brick paint for whitewashing.
If you will be selling your home in the near future, you could choose one of your favorite colors for the trim of a white house. As you get your house ready to list, replace the trim color with a more neutral tone to appeal to buyers.
Medium Gray Paint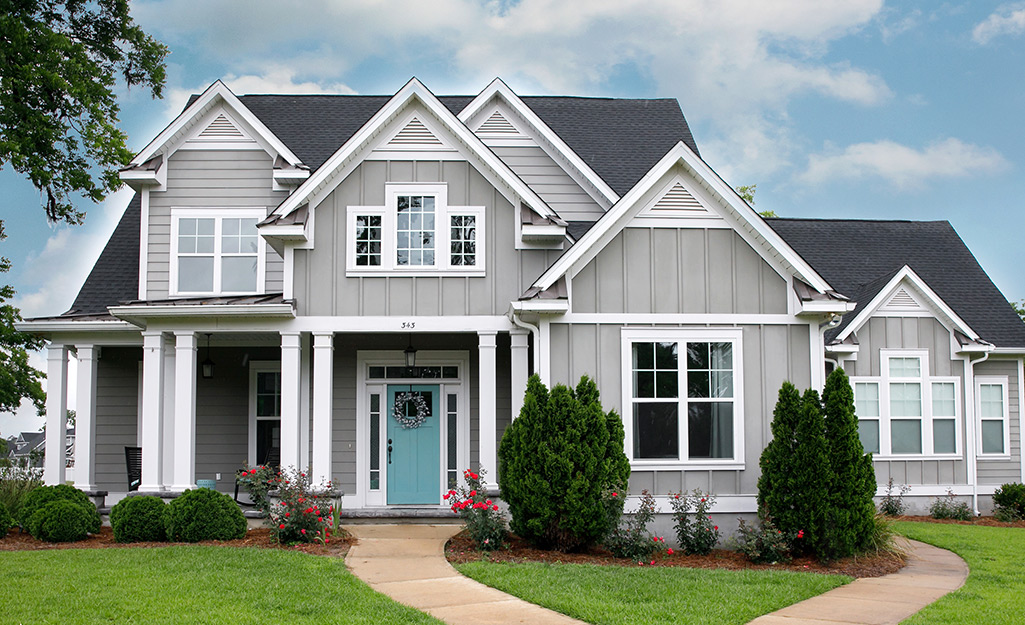 Gray is an ever-popular neutral that plays very well with others. It goes well with everything from fellow neutrals to statement tones. Think of Pantone's 2021 Colors of the Year, which were Ultimate Gray paired with a bold yellow, for example. 
A medium gray matched with black shutters and white trim is a solid choice for Colonial houses. A medium gray exterior with a bold door would work well for a midcentury modern ranch.
Ocean Blue Paint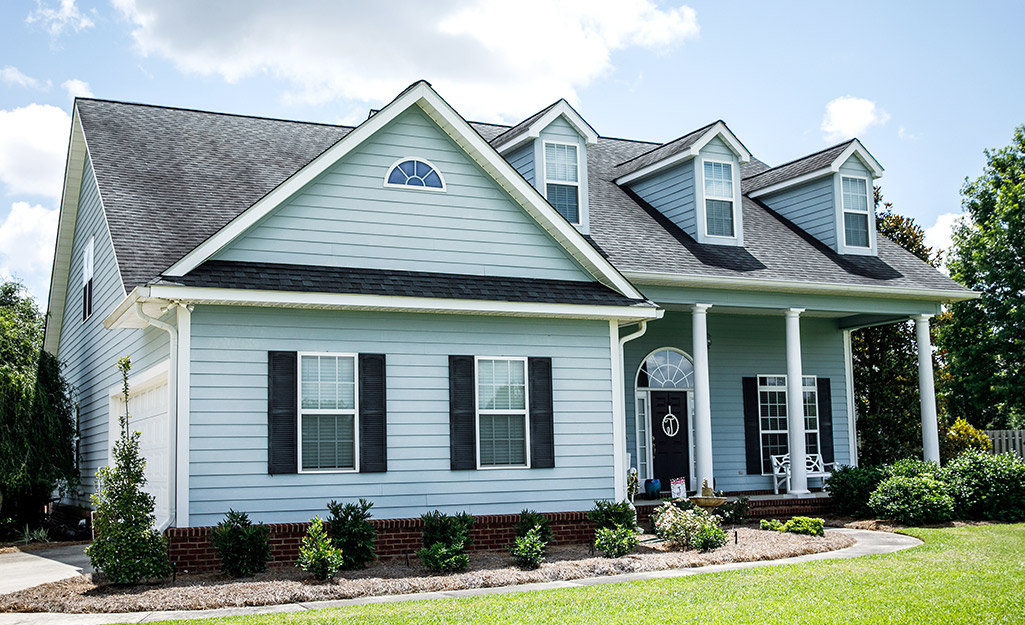 A blue that brings water to mind is perfect for seaside homes. Still, it can bring a touch of the shore to a house even if it's miles to the ocean. This coastal color, along with a light-colored trim, is often seen on Cape Cod houses.
Pale Yellow Paint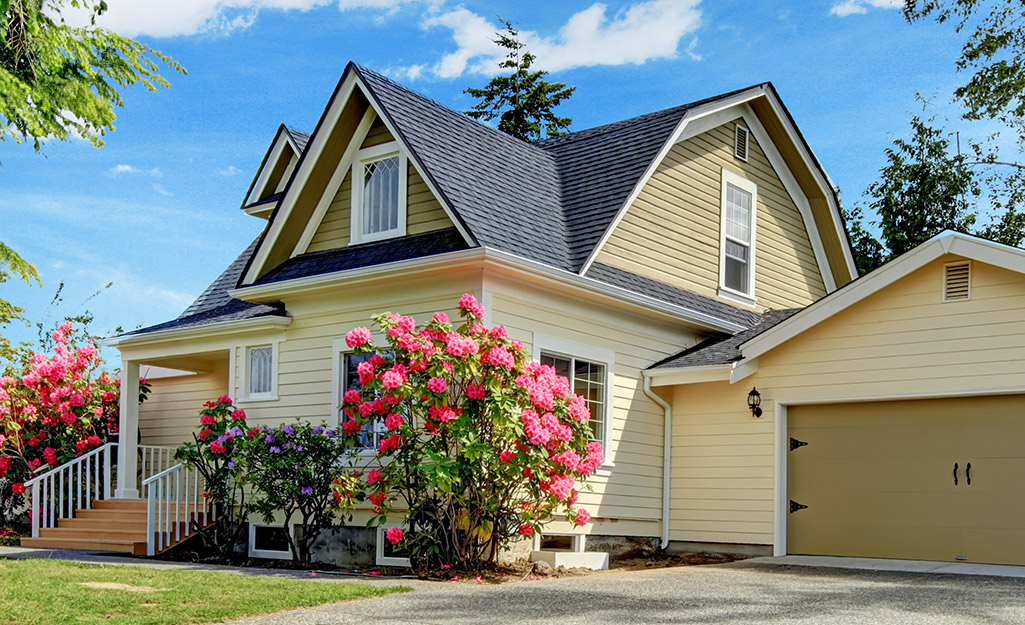 Soft neutral colors don't all have to be grays or beiges. Light yellow can brighten up a country-style home. Bright white trim completes this cheerful look. A darker accent color would work well with yellow for a Victorian home with lots of architectural flourishes to highlight.
Planting flowers and shrubs in front of a pale yellow house adds even more curb appeal. If your house has a front porch, choose furnishings that go well with your accent colors to create an inviting scene.
Brown & Cream Paint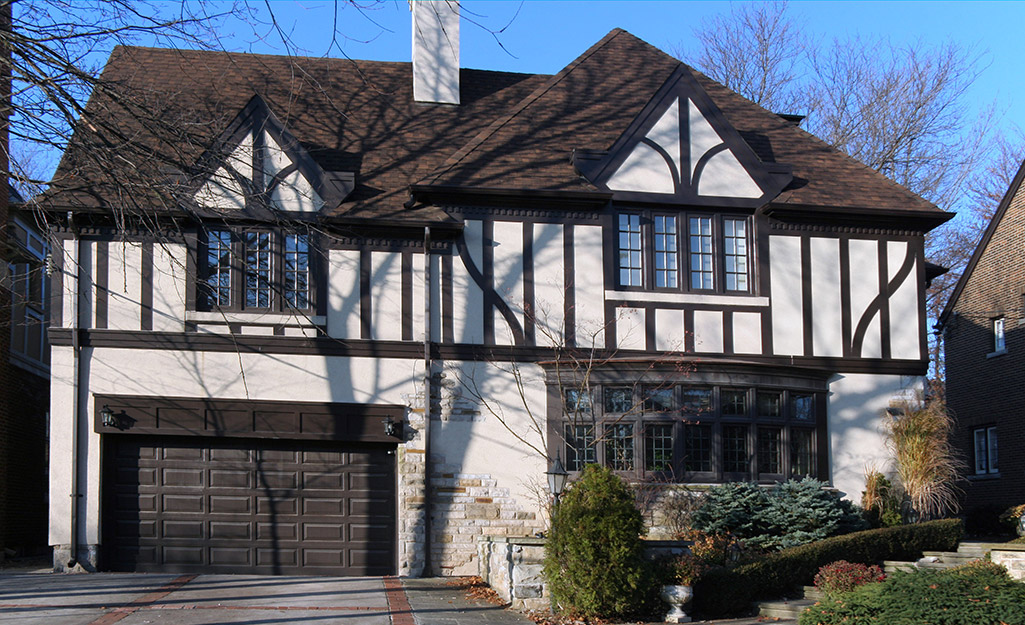 Tudor-style homes are known for their half-timbered appearance, with darkly colored wood against a light-colored surface. These homes are often painted with brown, cream and white tones that go well with brick, stone, concrete or slate accents. 
You don't have to have a Tudor-style home to enjoy how well brown and cream go together, however. For a more dramatic look, choose a warm brown with cream trim. To embrace tradition, reverse the colors, with cream as the main paint color and brown as the accent.
Earthy Green Paint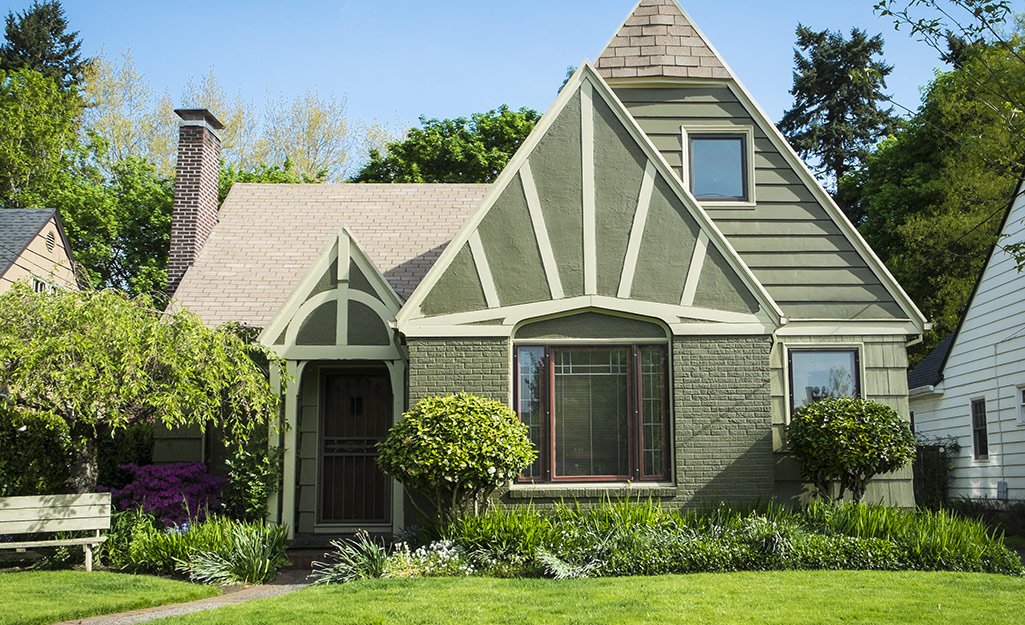 To show that your home is rooted to its environment, choose an earthy green. This neutral color combines green with gray. It can help any home on a wooded lot blend into its surroundings in a pleasing way.
This color's vintage feel makes it especially suitable for a Craftsman-style home. Simple and elegant, Craftsman homes often have stone or brick accents. Using fall colors as inspiration, consider either a light or dark trim color to complement the brick or stone. 
Black Paint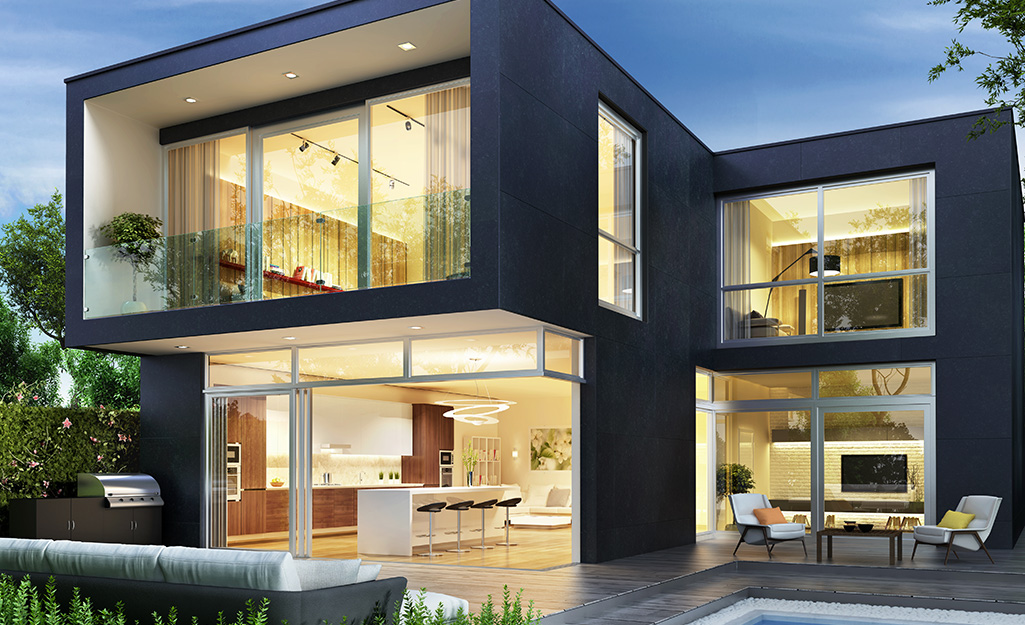 This color has stepped out of the shadows and is showing up among exterior paint ideas more and more often. Black can give almost any home a distinctive look, though darker colors typically work best on larger homes. It accents the lines of modern and contemporary structures especially well.
Beige Paint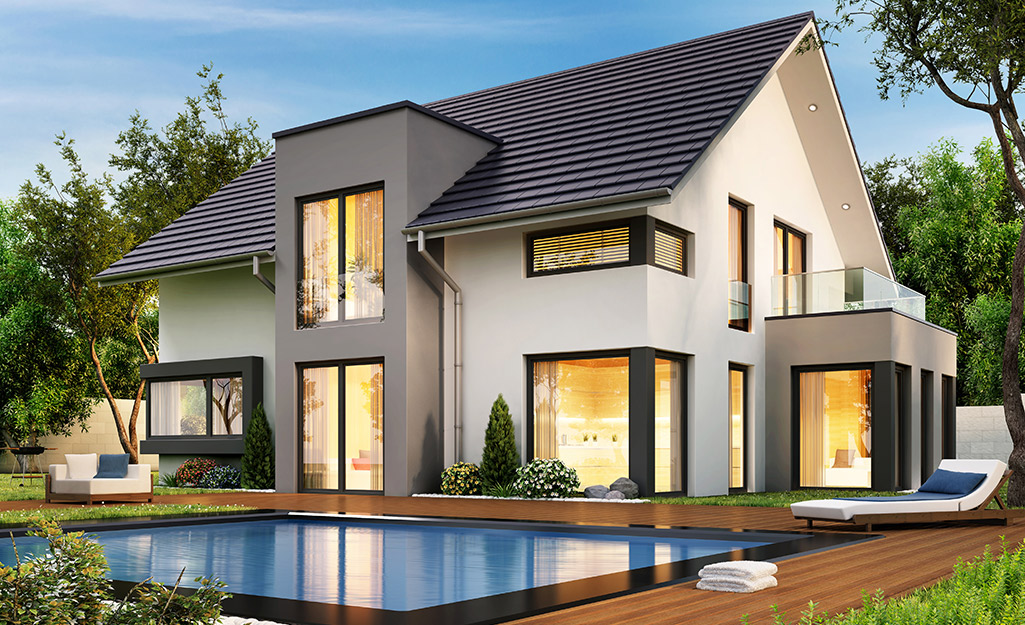 Loved by many homeowners, beige goes equally well with the green of a healthy lawn or the trees of a more natural setting. Because it's neutral, you can match beige with anything from darker shades of brown to the brightest hues on the color wheel. With this earthy color as a base, exterior house color schemes are nearly limitless.
Pale Gray Paint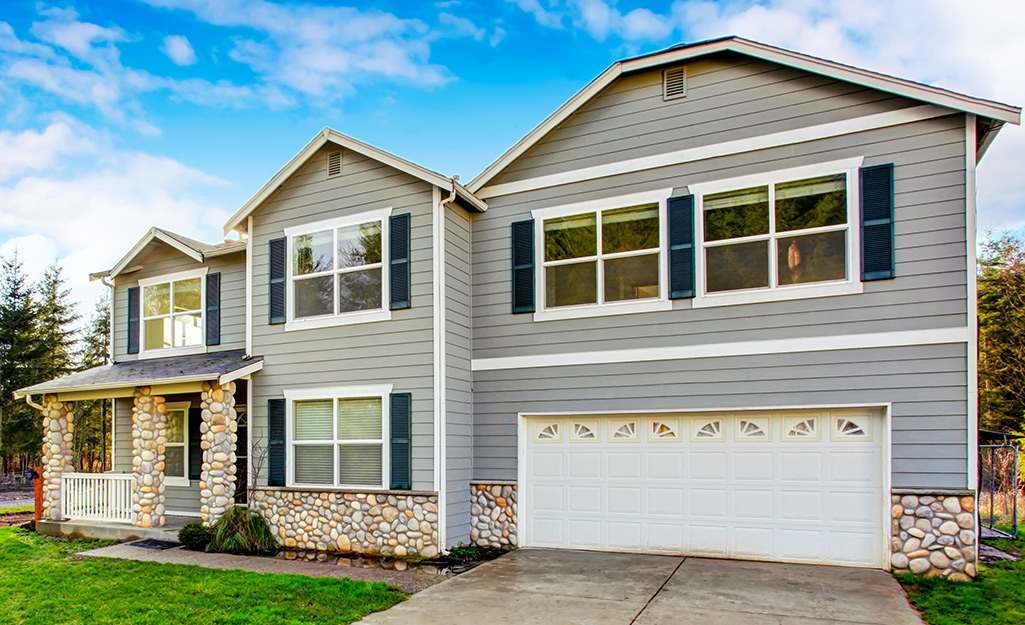 This calming color can give the outside of your home a relaxed feel. If cooler light grays appeal to you, balance them with other cool tones, like blues and greens. Heat up warmer light grays by pairing them with reds and oranges.
Paint for Doors & Trim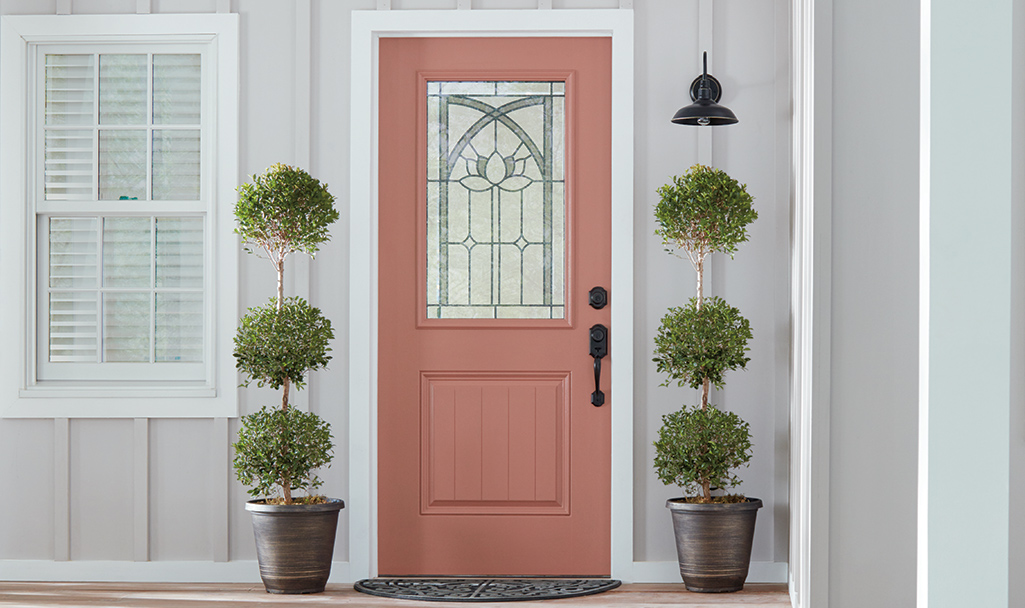 If you're not ready to go bold with exterior house paint ideas, you can still pick something vivid for your front door or trim. For example, a coral door against gray siding and white trim really draws the eye. The front door paint color isn't so bright that your neighbors will complain, though. In fact, they may even ask you for exterior house color ideas.
Exterior house paint ideas can help you plan to give your house a whole new look. Factors like weather, climate and your existing paint job affect how often you may need to paint. In general, you should paint your house every five to 10 years.
As you choose new colors, think about how long you'll want stay in your house. If you'll be selling your house before it's time to paint again, stick to more neutral colors. Planning to stay put for a while? Then you can expand your palette to anything allowed by local guidelines and zoning laws.
Ready to get supplies and start your painting project? Home Depot delivers online orders when and where you need them.
Explore More on homedepot.com