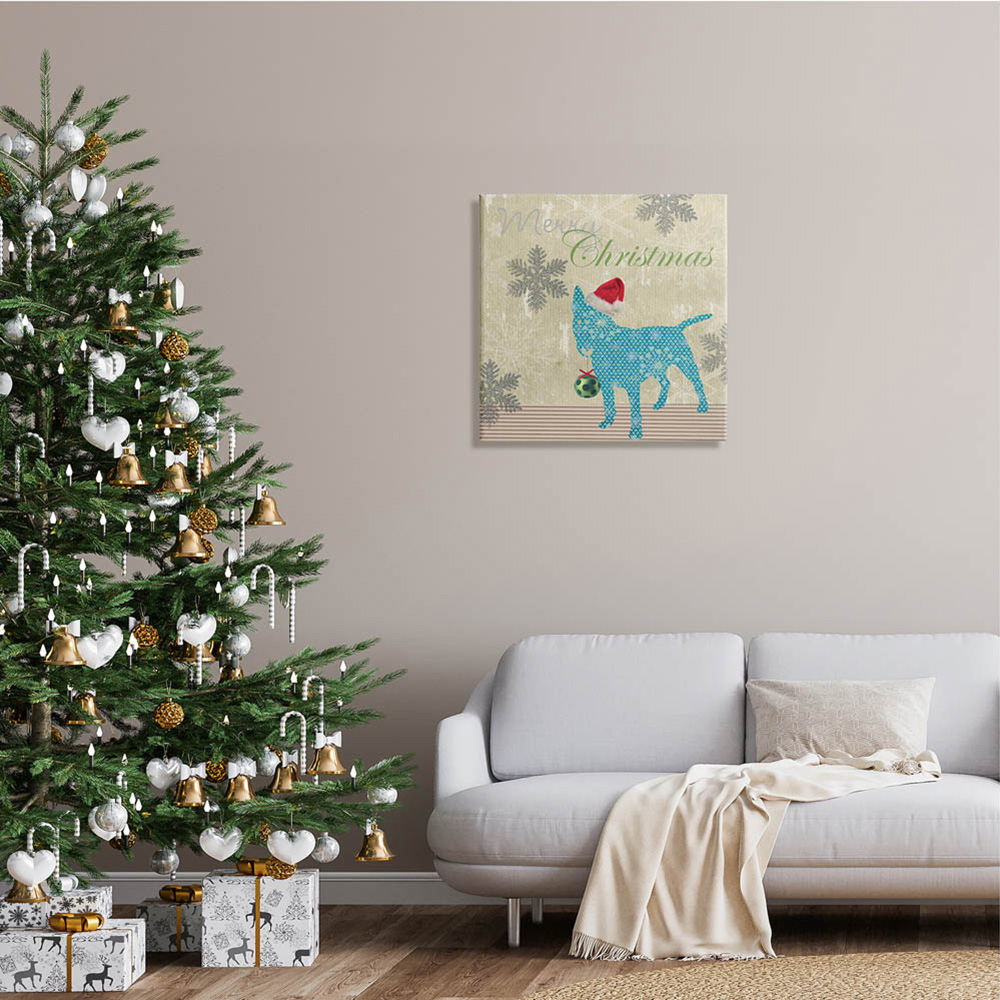 Even when renting, you can have a festive, fully decorated holiday season at home. Whether you are working with a small apartment space, a strict lease agreement, limited storage space or all three, this guide will give you holiday decorating ideas that are removable, functional and landlord-friendly. Keep reading for renter decor inspiration that doesn't compromise on the holiday cheer.
Lighting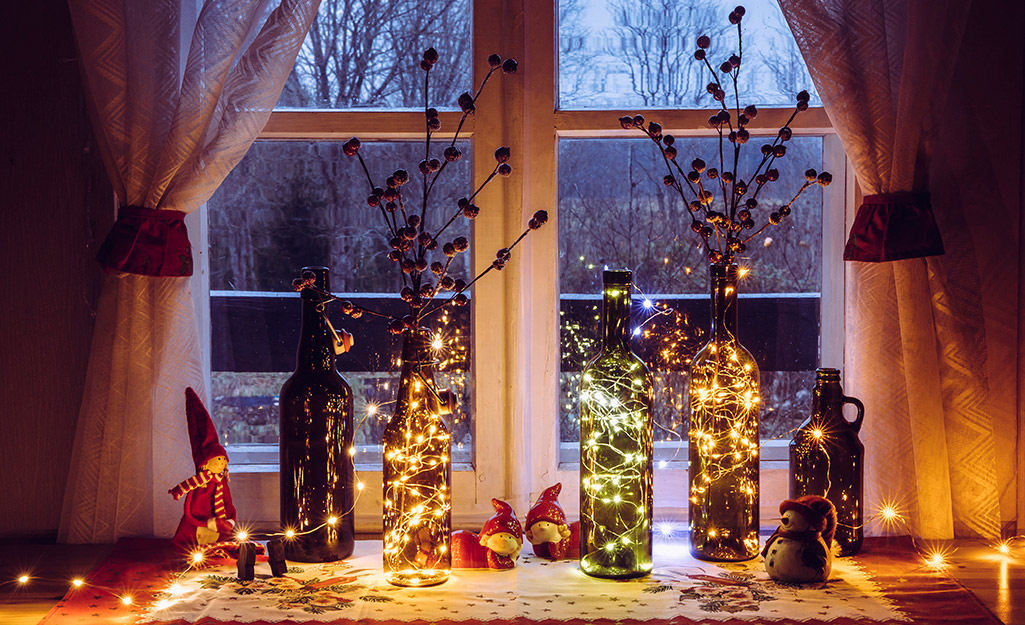 Twinkling string lights, warm candles and the glow of a cozy fireplace are quintessential elements of the holiday season, but not every rental property will tolerate nailing hooks in the wall for hanging lights. Plus, candles can be fire hazards in small apartments. With these restrictions in mind, here are some other ways to light up your holidays: 
Use temporary adhesive hooks to hang string lights on your interior walls. To display lights outdoors without an exterior porch or access to a roof, hang lights on the inside of your windows using suction hooks or suction clips.  
Alternatively, drape string lights from your curtain rods for a quick, no-fuss installation that requires no extra hardware. Use battery-powered LED Christmas lights for this hanging strategy, since LED lights produce less heat than traditional incandescent lights, making them safer to hang near curtains. Having a battery pack allows you to place the lights wherever you want, regardless of outlet locations. 
In place of lit candles, purchase flameless candles to set on windowsills, end tables or dining tables. Some LED flameless candles feature timers and color-changing lights so you can customize the lighting to suit your mood.  
If you have an unused fireplace in your rental home, fill the space with a display of string lights and LED candles in an assortment of sizes. 
If you do not have a fireplace, create your own faux fireplace using either a chalkboard or a large square of temporary peel-and-stick chalkboard wallpaper. Invite your friends and family to illustrate a charming chalk fire with you. 
 
Tip: Ensure that the string lights you purchase are designed for indoor use if you plan to use them indoors, or approved for outdoor use if you plan to hang them outside. 
Wreaths and Greenery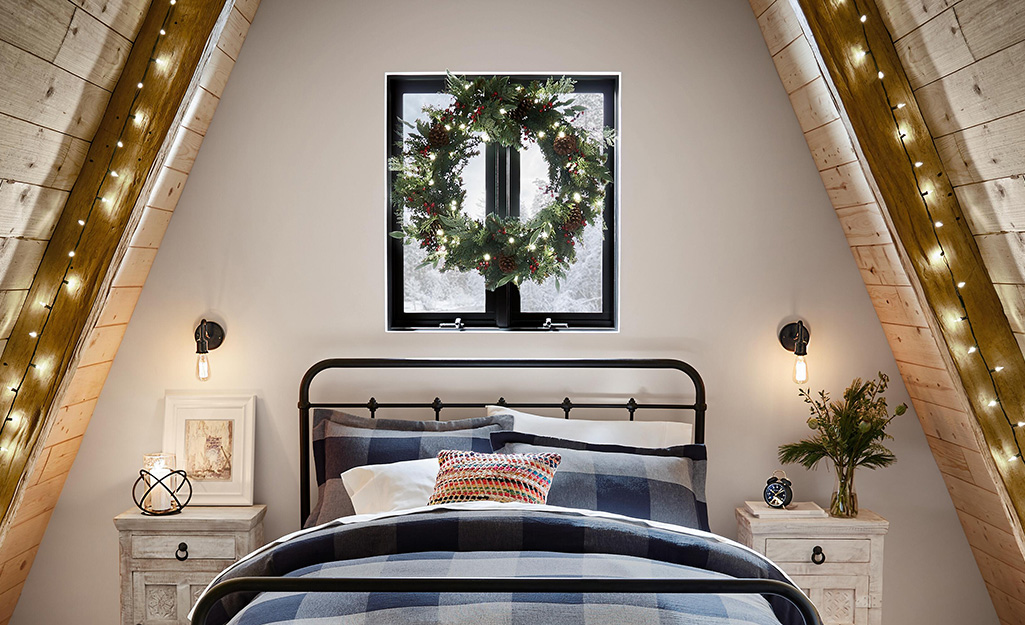 Live greenery can be a hassle to clean, and hanging a wreath on your exterior door may not be an option. There are still ways to enjoy this wintery decor.
Instead of hanging wreaths outside, enjoy them indoors by hanging them from end tables, bookshelves or a bar cart. Wreaths also look great when hung with string lights in windows using a suction hook. 
Create or purchase miniature wreaths and hang them from a kitchen cabinet with a decorative ribbon. Simply tape the end of the ribbon to the back side of the cabinet door and drape it over the top of the door so that the wreath rests against the front side. This method is easy, creative and keeps decorations out of the way when you live in a small space. 
Additionally, a wreath does not have to be made from branches of pine. Not only can you purchase artificial wreaths, you can make your own DIY wreath from ornaments, burlap, foam and more!
Artificial garlands make great table centerpieces and shelf decor. No hanging is required. 
Stockings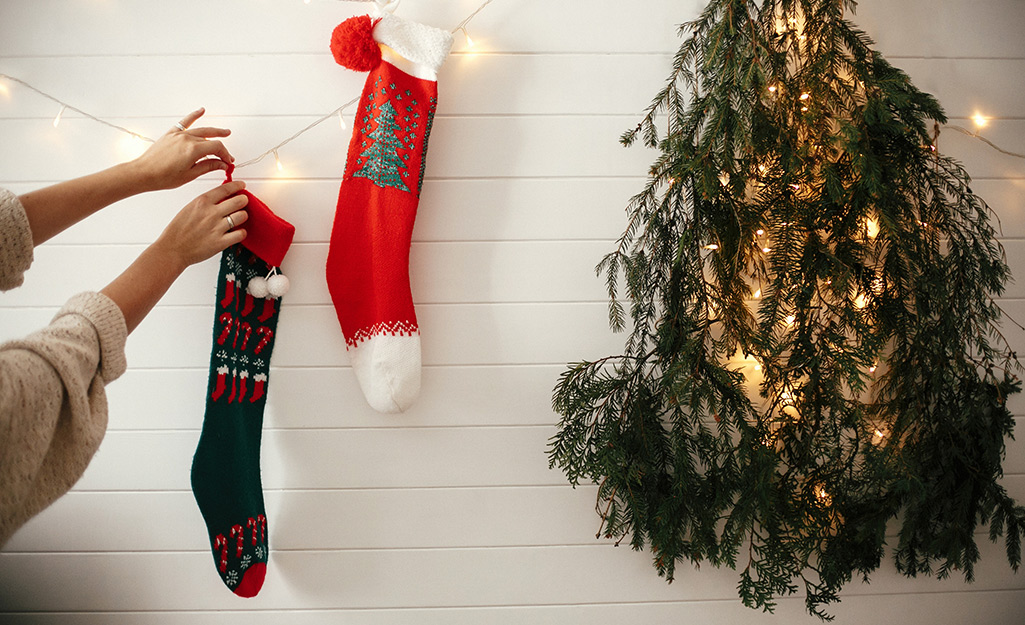 If you are looking forward to filling Christmas stockings but don't have a mantel, and can't put nails in your walls, consider these alternative solutions: 
Temporary adhesive hooks are a viable solution for hanging stockings, but only if you plan to hang them for display purposes. If you plan to put gifts in the stockings, you will either want to find heavy-duty adhesive hooks or bypass this method altogether.  
If you have a small alcove available or a deep enough window frame, set up a tension rod to hang the stockings. Make sure the tension rod is strong enough to handle some overstuffed stockings. 
Decorate your dining area with the stockings by using ribbon to hang them to the backs of your dining chairs. This is also a creative way to assign seats if you plan on throwing a holiday party. 
Create a movable stocking hanger by painting a wooden fence post and attaching metal hooks to hang the stockings. Make sure you attach the post to a large enough wooden base to keep it from toppling.
Follow the St. Nicholas Day tradition of filling slippers with presents instead of stockings. 
Christmas Trees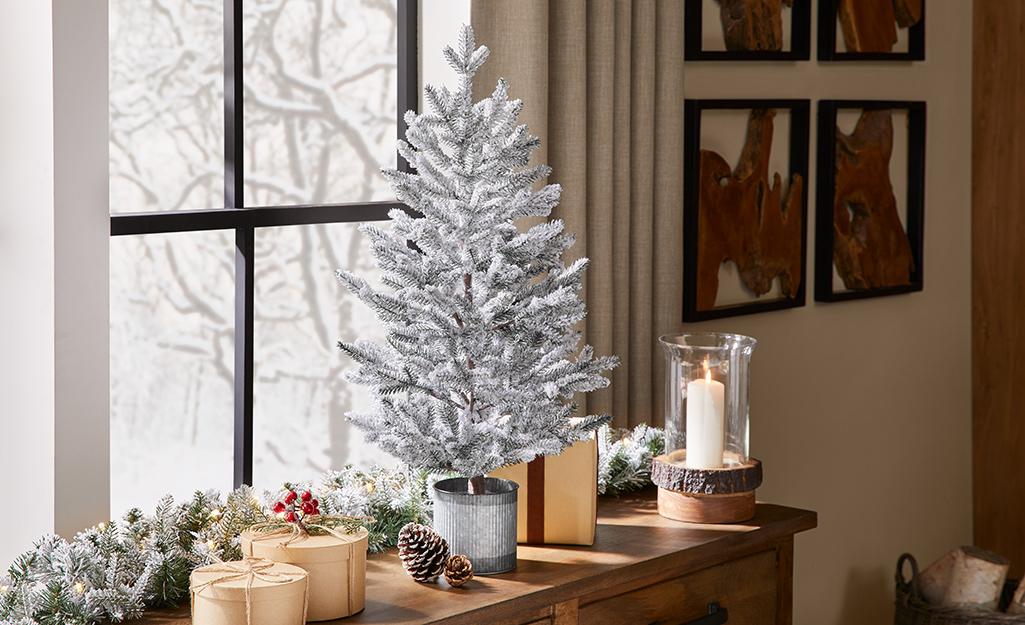 As beautiful and traditional as they are, Christmas trees are rarely practical for renters. Some apartment buildings do not allow live trees, and many rental spaces simply don't have enough room to accommodate a tree. Plus, live trees require a lot of post-holiday clean up and special means of disposal. Rather than struggle with a live tree, try the following instead: 
Purchase live poinsettia plants. Poinsettias are equally as festive as trees and also less expensive. They're easier to maintain and can stay in bloom for up to six months. A cut tree will last only about five weeks before it begins to die and lose its needles. A poinsettia, by contrast, is a perennial plant that can comfortably live indoors for as long as you choose to care for it. Note that although not deadly, poinsettias can be toxic if ingested, so keep them out of reach of pets and small children. 
Decorate your existing potted plants with small lights, ornaments and garlands for a fun, contemporary look.  
Display your favorite ornaments in large, clear vases. 
Create a Christmas tree holiday card display with the help of our guide. 
If you don't have much floor or table space, use festive, patterned washi tape to create the outline of a tree on a free wall. Tape ribbon in a zig-zag pattern inside the washi tape outline, and hang small, lightweight ornaments from the ribbon. 
Instead of a live tree, buy a miniature artificial tree. Miniature pre-lit trees take up little room, sit comfortably on tables, take just minutes to set up and are often battery-powered, allowing you to place them almost anywhere. 
Exterior Displays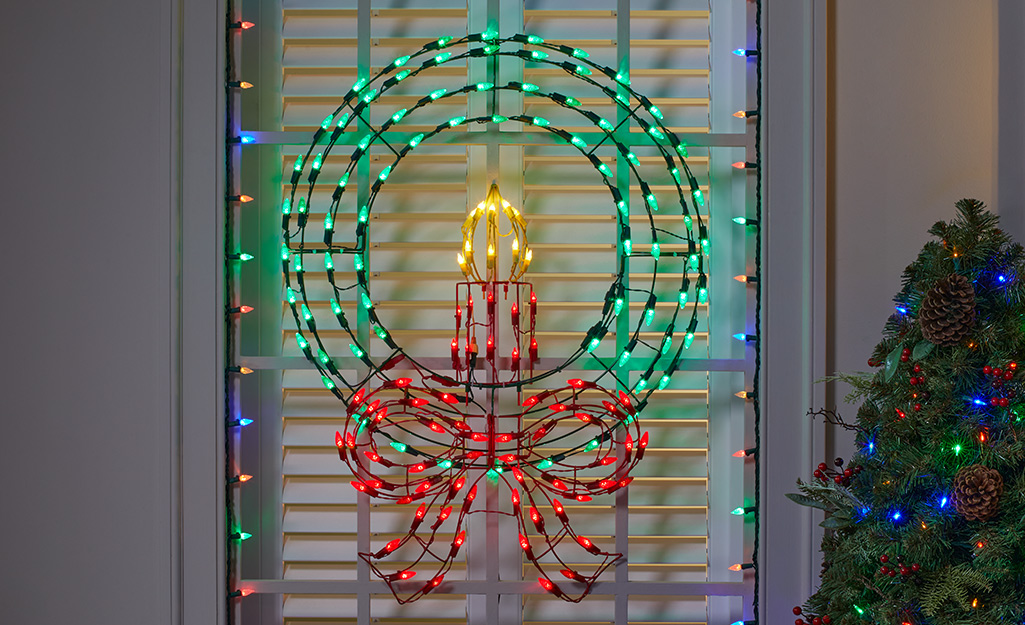 Renters don't often have much control over the exterior of their homes, but there are still plenty of ways to spread the holiday cheer beyond your own walls without disturbing your neighbors or spilling into common areas.
If your exterior door leads to the outside, get a seasonal doormat. Keep the doormat inside your home, however, if your door leads to an interior hallway where building staff must vacuum. 
Make use of brick hooks or other temporary wreath hangers to hang wreaths, garlands and other greenery on brick or door exteriors. 
Display seasonal window clings on your front windows. 
Create a hanging window display from an empty frame. Hang ornaments in the frame using fishing line or ribbon, and you will instantly have a unique holiday decoration for your window. 
Work the Holiday Decorations Around Your Lifestyle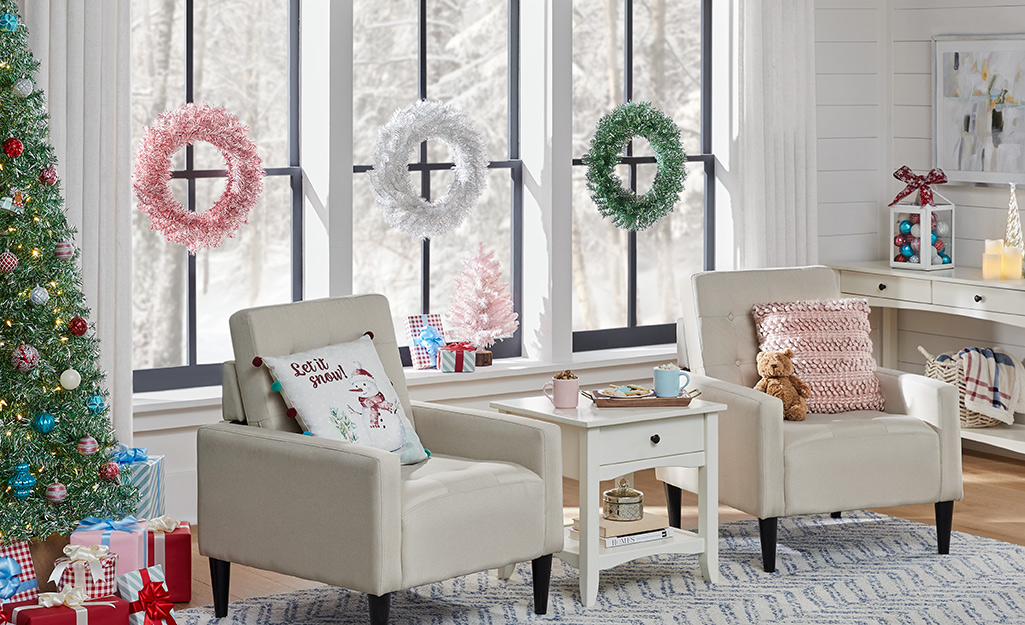 When decorating for the holidays, especially in a small living space, tailor the decor to fit your lifestyle.
Swap out everyday decor such as throw pillows and blankets with holiday themed decor. To save on storage space, instead of buying new throw pillows, buy festive throw pillow covers to put on your existing pillows. 
If you have neutral decor, incorporate bright red holiday decorations. The pop of color will make these decorations stand out more, so you can use fewer to feel festive. 
If your home has a lot of shelf space, isolate your decorations to the free space on your shelves. Shelves are a perfect place for small decorations, artificial greenery and Christmas cards.  
Use wall space when you don't have a lot of floor space, or hang lights and paper decorations from the ceiling if you have a cramped floor plan with high ceilings. 
An unused corner or room will be the perfect space for larger decorations like an artificial tree. 
Don't let a lease agreement stop you from fully enjoying the holiday season. Shop The Home Depot to find what you need for decorating. You can also use The Home Depot Mobile App for more festive decor that you (and your landlord) will love. 
Explore More on homedepot.com