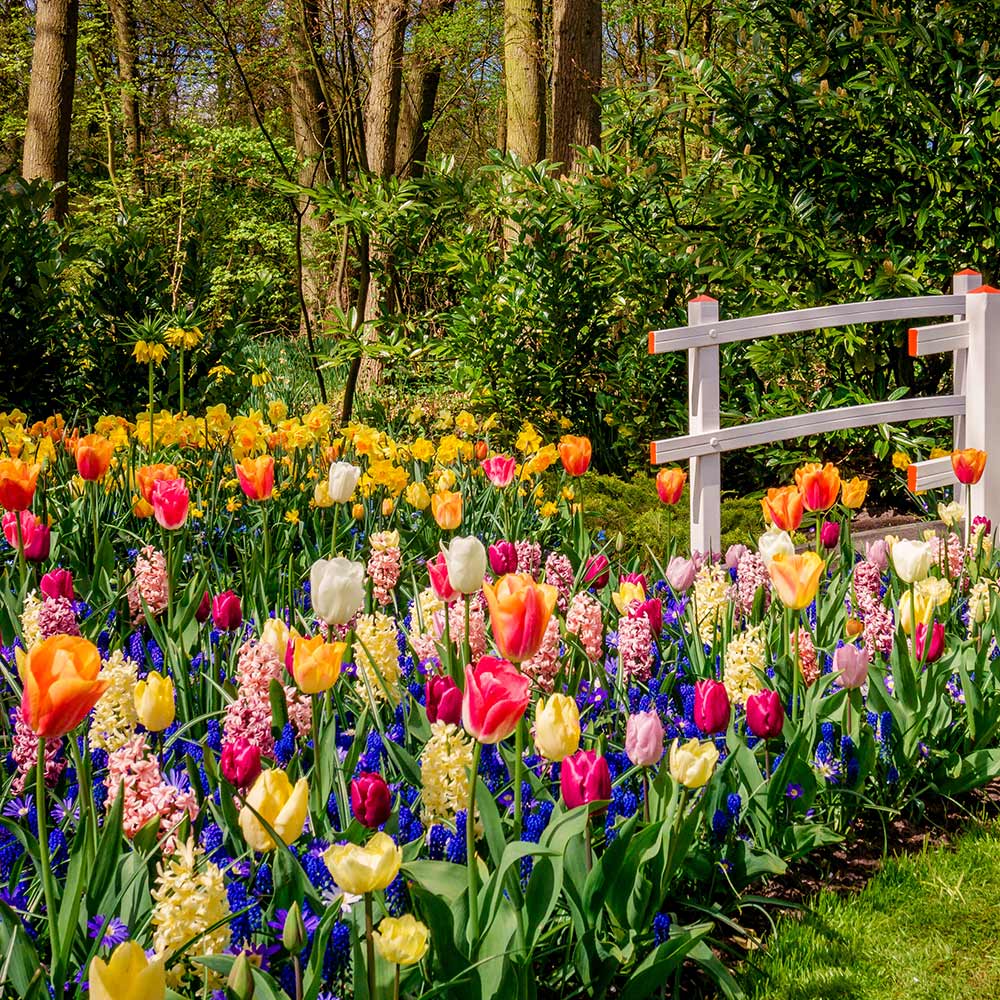 Bring bold color to your spring garden by planting bulbs like tulips, hyacinth and daffodils in fall.
If you think of pastel pinks and yellows when you imagine spring bulbs — well, think again. Bright colors and mixes are trending, creating eye-popping combinations for the garden.
In the Garden Center in fall, you'll find purple, red, yellow, apricot and pink varieties of daffodils, tulips, Dutch iris, bearded iris, muscari (grape hyacinth) and alliums, among others.
Using this palette, fall is a perfect time to stretch your creative muscles and create blooming combinations that will brighten your early spring garden. Read on for ideas for growing spring-flowering bulbs in your garden. 
Plant Companions like Pansies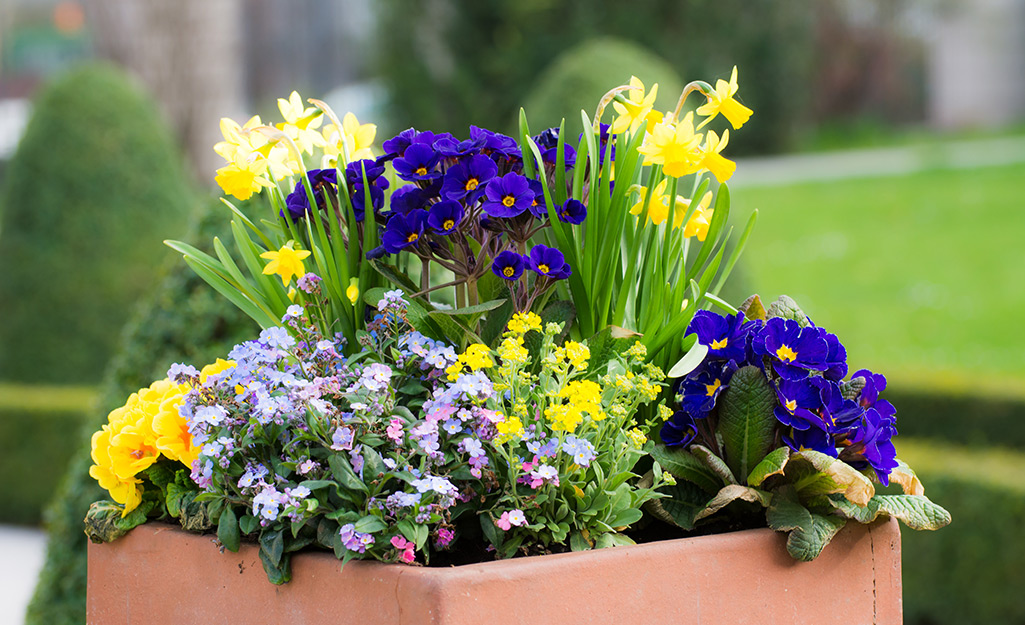 Bulbs make excellent companions in the garden and in containers. Dial up the visual impact by planting bulbs with season-spanning cool weather annuals like pansies and violas. As the blooms fade, the plants will cover the decaying bulb foliage.
Grow in Containers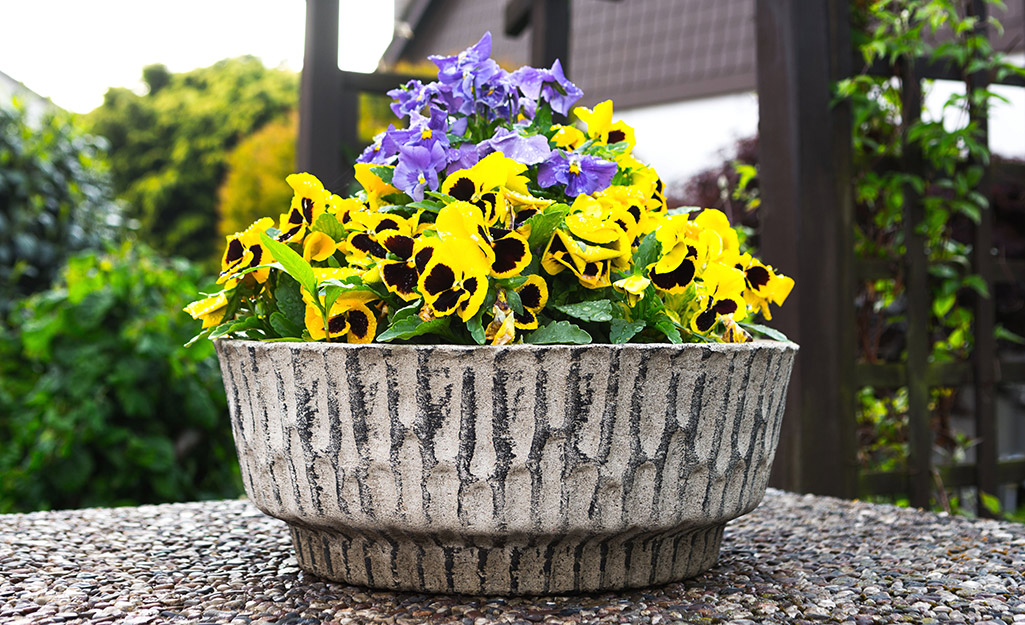 Container gardening is the solution for bulbs on patios or condo balconies. In fact, in Southern climates or anywhere you have to dig up bulbs to "force" a dormant period, removing bulbs from a planter is far easier than digging up a flower bed.
Place containers in flower beds, tucked among perennials and annuals, or in shrub borders.
Choose Colors for Contrast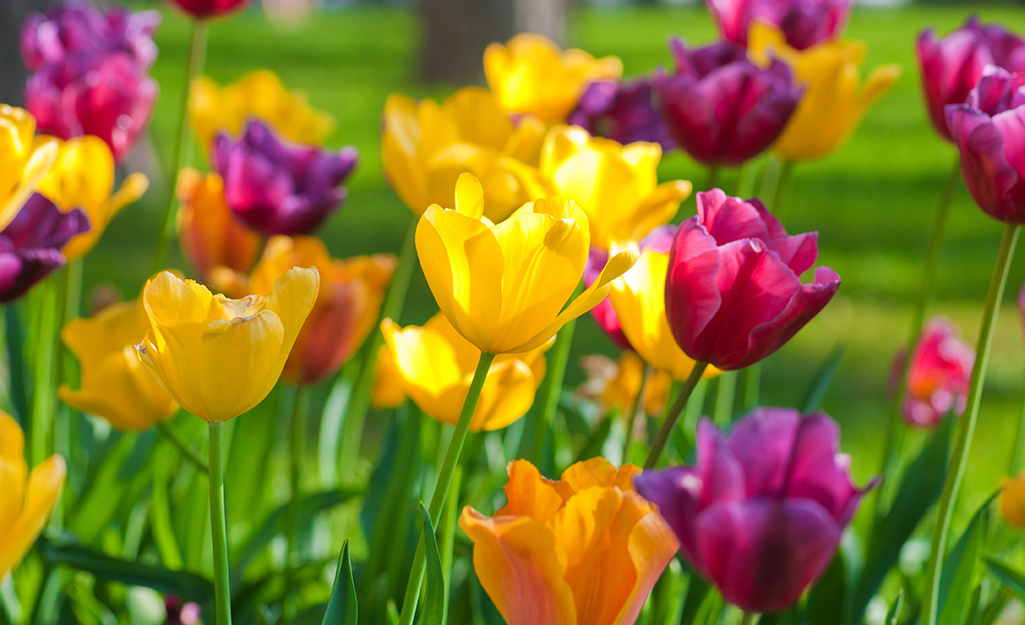 When planting bulbs, create more impact with high-contrast color combinations like purple, pink and yellow. In a similar vein, red with white, pink and orange also builds visual excitement.
High contrast can also apply to flower shape — plant small, tight flowers like hyacinth with big, open blooms like tulips.
Garden with Children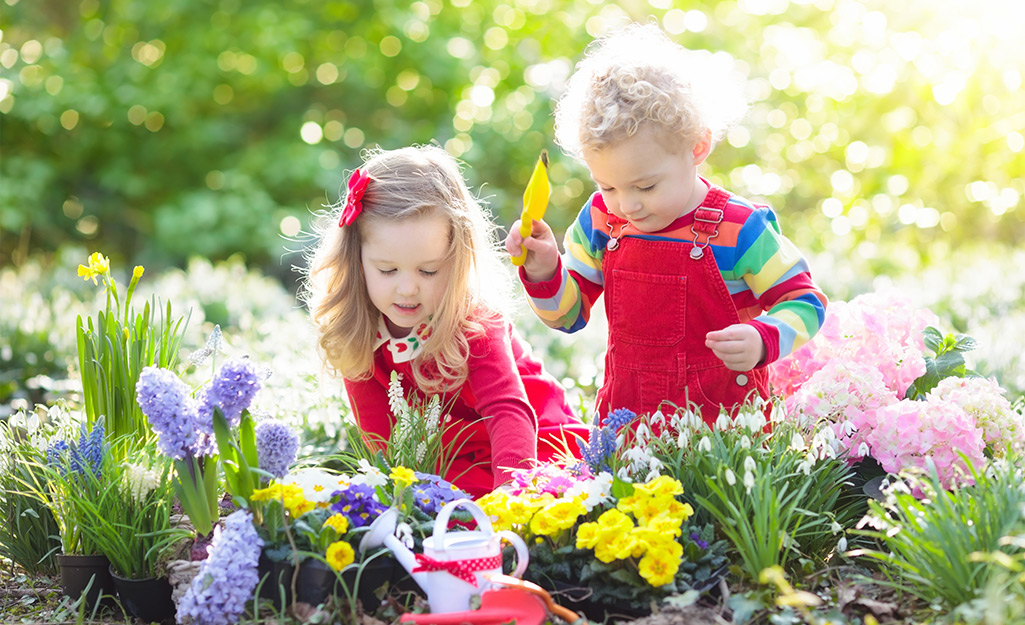 Bulbs, especially alliums like 'Gladiator,' are kid-pleasers, leading to a perfect garden project for little ones, with a lesson on proper planting (root end down), care (soil, sun, fertilizer and water) and patience rewarded in spring. 
Plant Easy Growing Selections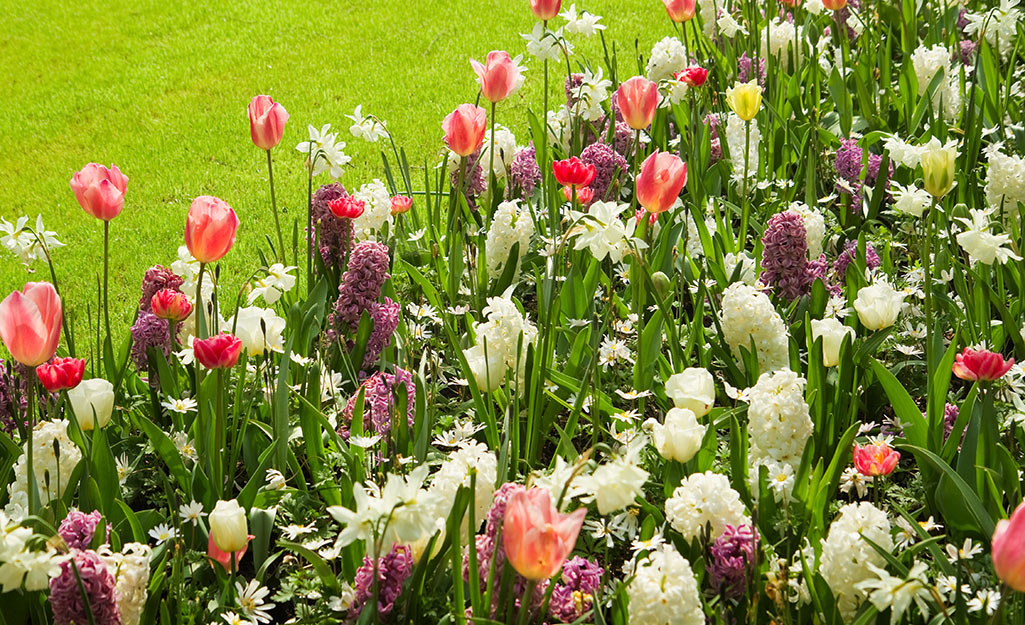 Many bulbs are easy to grow and reliable, but pay attention to their light requirements and the planting depth. Many bulb varieties need full sun, about 6 to 8 hours of sunlight, each day.
Tip: Bulbs need good drainage to thrive. Work organic matter like compost into the soil when planting.
Grow Bulbs for Cut Flowers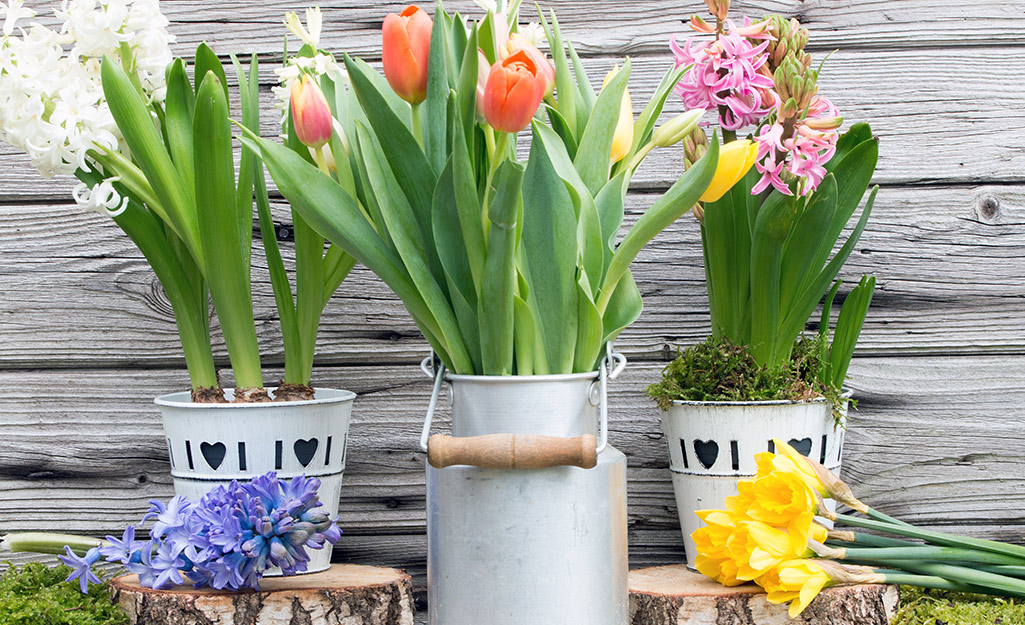 Daffodils like 'Ice Follies' make nice cut flowers for arrangements. They're a popular choice for naturalizing in lawns, in the right zone. Tulips and hyacinths make pretty cut flowers, too.
Cut stems early in the day and place in a bucket with a few inches of room temperature water. Learn more about cutting flowers for bouquets.
Tip: To keep naturalized daffodils coming back year after year, resist mowing until the foliage has died down.
Maximize Impact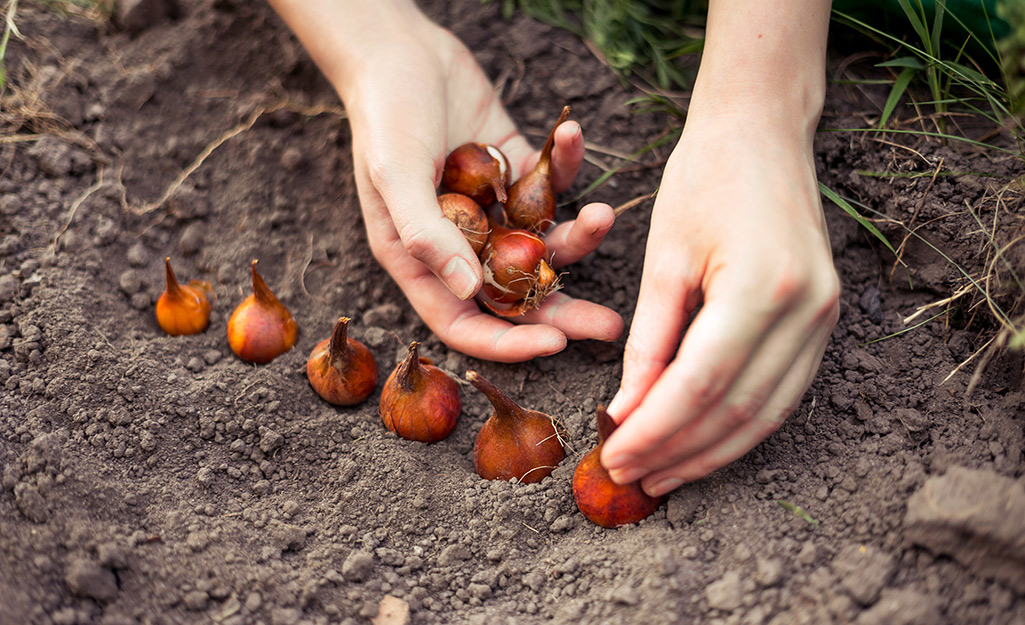 When you plant bulbs, avoid the common mistake of spacing bulbs too far apart. To get the bold look of intense color, pack the bulbs close together. This works in garden beds, and especially well in containers.
Treat Iris like Bulbs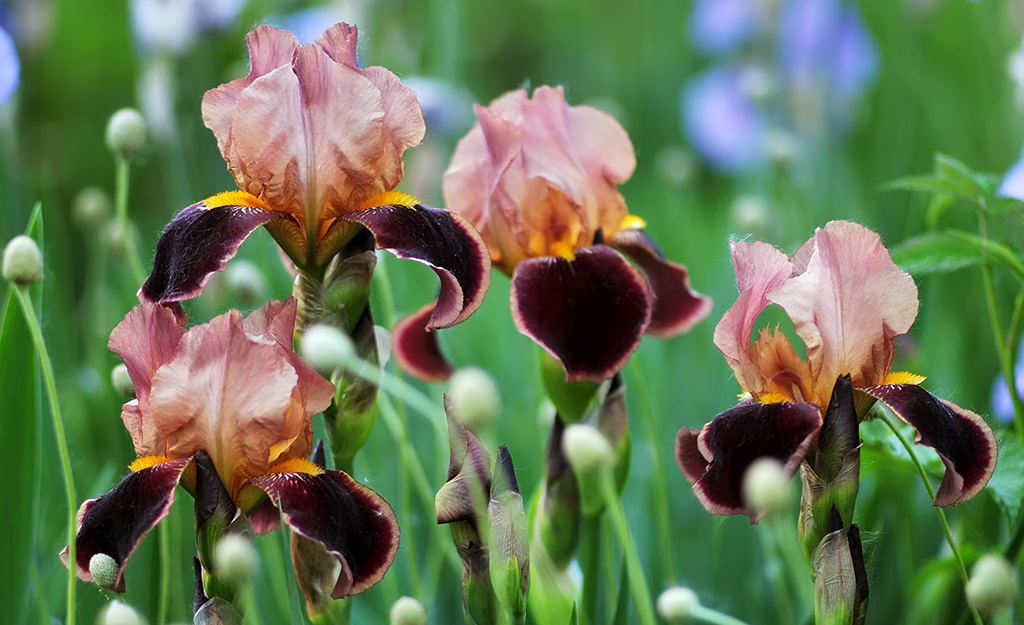 Botanically speaking, bearded iris are rhizomes, not bulbs. The blooms are dramatic, with three standard, or upright, petals, and three that "fall." 
Bearded iris are planted in late summer and early fall just like bulbs, and will bloom a little later, in mid- to late spring. Mix them in your flower bed with other ornamentals.
Bulbs are Low-Maintenance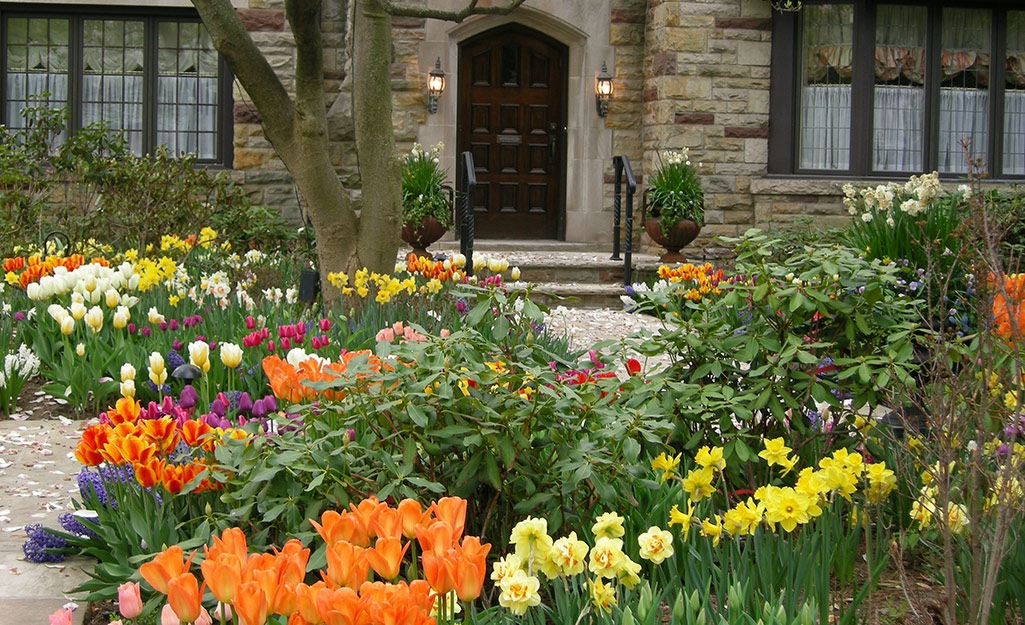 Bulbs belong in any low-maintenance garden. This is "fix it and forget it" gardening. But if you feel like you need to help the blooms along, when you see the tips of the bulbs emerge in early spring, top dress with compost or bulb food.
Layer Bulbs in Containers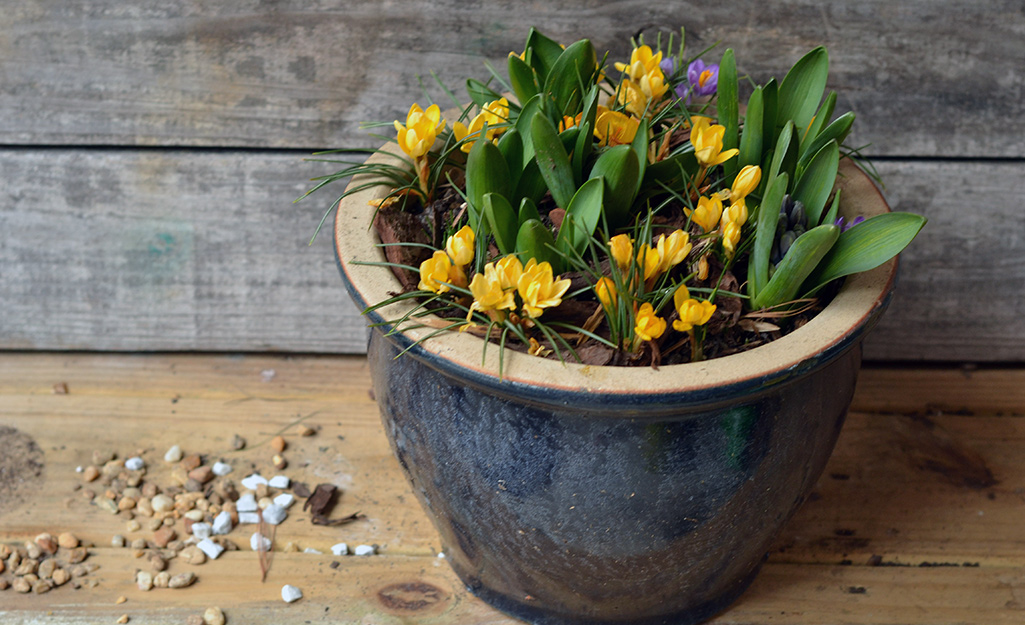 Create a container packed with a succession of blooms. Fill containers with layers of yellow daffodils, fragrant purple hyacinth and perky crocus and let it rest all winter long before sunny days wake up the bulbs in early spring.
Begin with a container at least 15 inches wide and 12 inches deep. Make sure it has a drainage hole. 
Fill with a couple inches of potting mix, then arrange about a dozen daffodil bulbs, root end down, in a single layer, about a 1/2 inch apart.
Cover the daffodil bulbs with about 3 inches of potting mix and position the hyacinth bulbs next. Continue with another couple inches of potting mix.
Next, place the crocus bulbs in a layer. Don't be shy about using lots of bulbs. To get the full effect, cover the surface of the soil with crocus bulbs.
Cover the crocus bulbs with a couple inches of potting mix, up to an inch from the rim of the pot. Finish with a thin layer of mulch.
Water and place in an out of the way location, such as a garage, until late winter.
When the days start to warm in late winter, move to a sunny location like a porch or patio until spring's warm days waken the blooms. Water occasionally.
The crocus blooms will emerge first. After the blooms fade, the foliage will remain and fill in while the hyacinth and daffodils take their turn.
Water the container about once a week and trim the blooms as they fade.
The beauty of this container is that it will change every day. Keep it close to your front door so you can enjoy it as each flower emerges.
When the last of the blooms are gone, clean up the foliage and move the container to a protected, cool place for the remainder of the spring.
After a time, remove the bulbs, shake off the dirt, label and store them in a cool dry place.
In late fall, create the planter again, adding a slow-release fertilizer to the potting mix.
Deer-Resistant Daffodils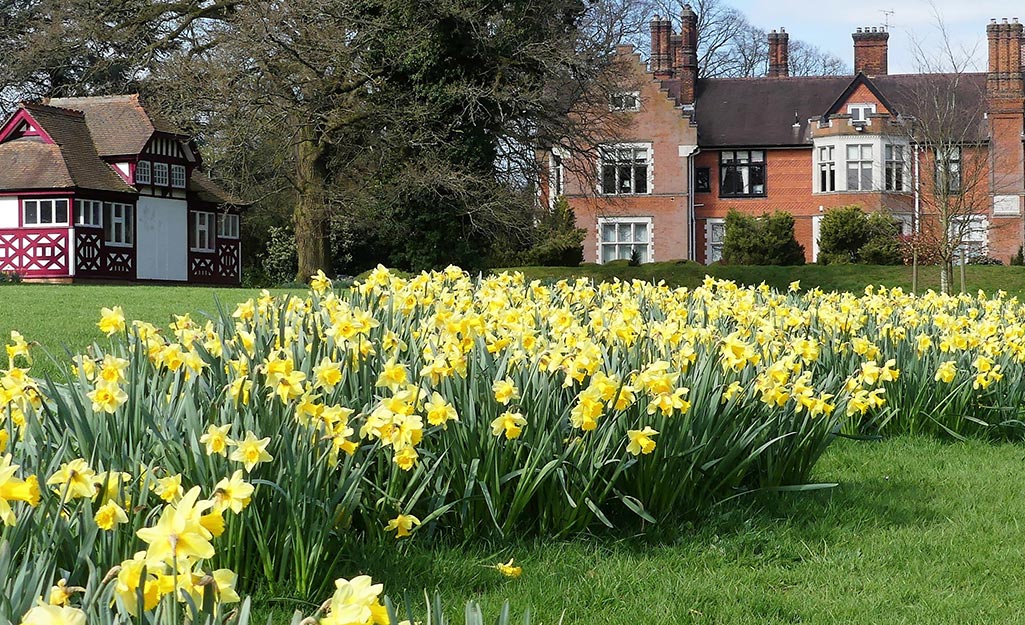 Whether you call them daffodils, jonquils or narcissus, this is one bulb people love, but deer don't. Unlike some spring-flowering bulbs that are candy to deer, daffodils are toxic and generally left alone.
Daffodils come in shades of yellow, white, coral, pink and colorful combinations. Select and plant all early, mid- and late-spring blooming varieties. This means you'll enjoy flowers for approximately eight weeks.
Tips for planting daffodils:
Plant twice as many bulbs as you think you need in late fall, before the ground freezes.
Daffodils need full sun or dappled shade to bloom well. For a natural look, toss bulbs on the ground and plant them where they land.
Plant bulbs in well-drained soil to the depth indicated on the package. Bulbs planted too deeply won't bloom. It's not a problem if a bulb is planted too shallow, because daffodil bulbs have special roots that pull them down to the proper depth.
Sprinkle a little bulb fertilizer in the hole before adding the bulb.
Plant with the roots down and the pointy side of the bulb up.
Cover with soil and water after planting.
Tips for Growing Tulips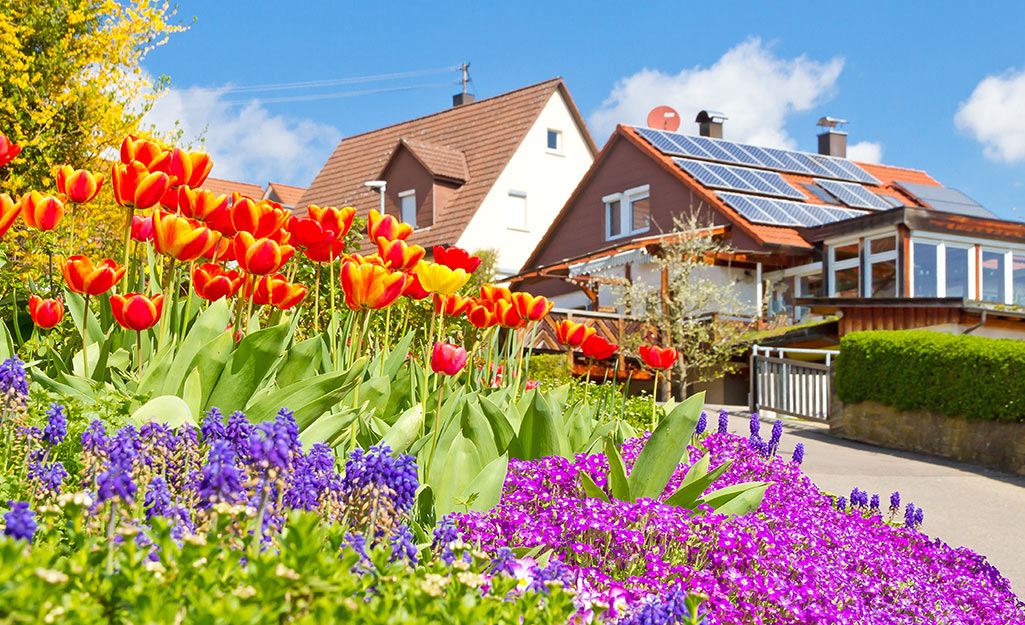 Treasured for centuries for their spectacular beauty, tulips put on a magnificent show of color in mid-spring, after most daffodils have faded, but before perennials and shrubs burst into bloom.
Fall is the time to plant tulips. The bulbs slowly grow roots through the winter and when the weather warms in spring, tulips come alive with leaves and a magnificent show of welcome color.
Tips for Planting Tulips:
Plant tulips in groups of five to seven bulbs per square foot. Choose groups based on color. Mixtures of bright primary colors create a festive look, and bold reds and oranges are easily seen from a distance. Soft pastel-colored tulips set a more relaxed mood, so they are always welcome near outdoor living areas.
Use a digging fork to cultivate the soil 12 inches deep and mix bulb fertilizer into the bottom of the hole. Follow label instructions on how much to use. You may also add 2 inches of compost to the hole for an extra boost. Tulips adapt to many soil types as long as the site drains well.
Push unpeeled tulip bulbs into the soil, pointed side up, 8 inches deep, measuring from the bottom of the bulb. Space the bulbs 3 to 4 inches apart. Water the planted bulbs before covering them with soil. This bit of water is helpful to get the bulbs started, but tulips do not need additional watering during the winter months.
Cover the planted space with a 2-inch layer of mulch to deter weeds and give the bed a finished look.
Squirrels and chipmunks like to dig and eat the bulbs, and deer and groundhogs pop the buds like candy. To deter the critters feasting on your bulbs or buds, plant them close to the house or in containers.
Include Bulbs in Landscape Design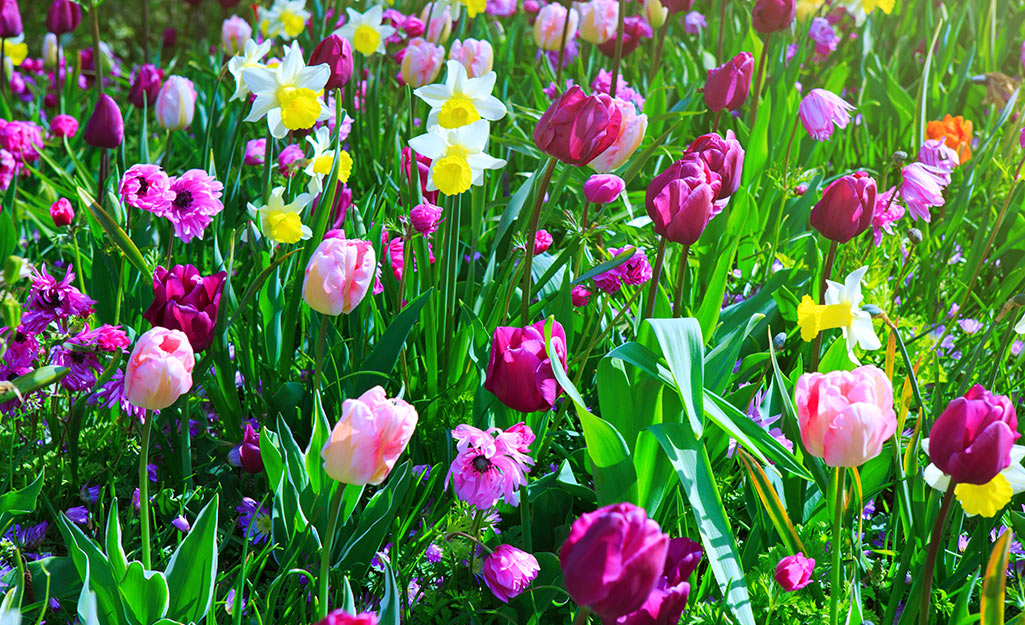 The key to a beautiful spring landscape is lots and lots of flowering fall bulbs. Choose tulips, daffodils and other fall-planted, spring-blooming bulbs in your favorite colors. Plant in fertile, well-drained soil as soon as the weather cools. 
Tips for designing with bulbs:
Gather inspiration to determine favorite color schemes and types of fall bulbs.
Buy bulbs that bloom early, mid and late spring, to increase total bloom time. Buy more than you think you need for maximum impact. Place fall bulbs in a cool location until it's time to plant.
Daffodil, muscari (aka grape hyacinth), snowdrop, crocus and iris are good choices because they come back year after year. Grow tulips close to the house to protect them from deer.
Avoid the temptation to plant bulbs in single rows. For the most natural look, group them in a pyramid, rectangle or circular shape.
Plant bulbs among ornamental grasses to create a flowering focal point and draw the eye away from sheared grass.
Choose shrubs and understory trees that also bloom in spring, such as crabapple, dogwood, deciduous magnolia and redbud. 
How to Plant Bulbs in Fall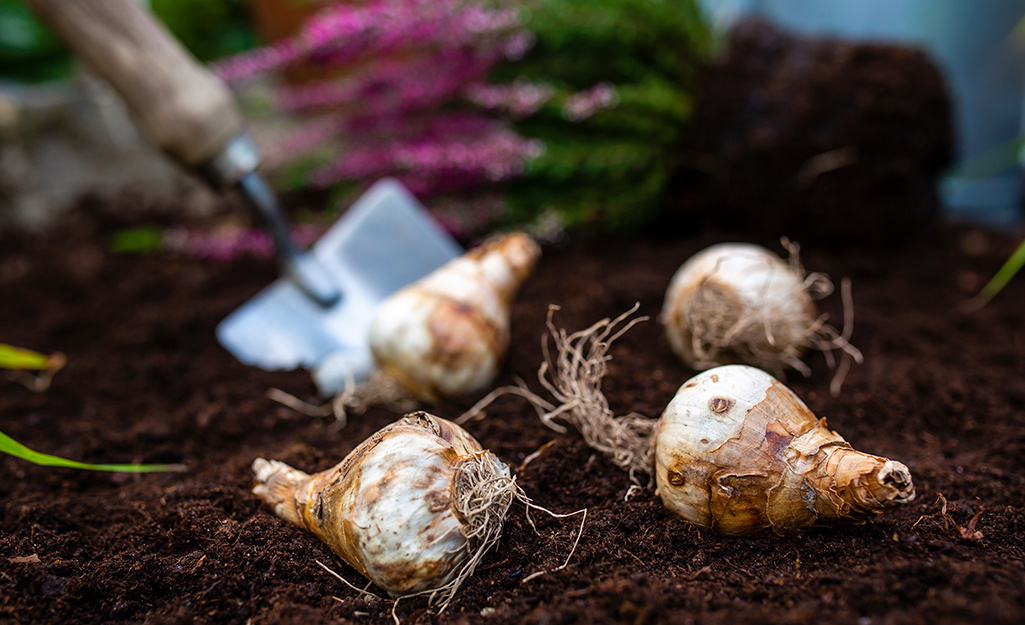 Bulbs are incredibly easy to grow and most will flower for years with little attention. Planting tulips, daffodils, hyacinths and other bulbs in fall is like giving yourself a present that you can't open until spring, but know is well worth the wait.
Plant lots of the same species or colors of bulbs, or mix them up for a bright, fun look.
Bulbs need time to establish in the soil and put down some roots. Some bulbs need "chilling hours" — a certain number of hours in temperatures between 35 and 40 degrees Fahrenheit — to bloom their best.
In colder climates, they should be planted six to eight weeks before the ground freezes. Planting bulbs when temperatures are too warm can cause them to sprout before spring.
How to Plant Fall Bulbs:
Decide where to plant. Most spring-flowering bulbs need full sun in colder climates, and light shade in hotter areas. Under trees, in a lawn or a perennial bed – someplace where they won't be accidentally dug up – is best.
Plant using a spade or bulb planter in well-drained soil to the depth indicated on the package.
Sprinkle a little bulb fertilizer in a hole before placing the bulb in.
Water after planting.
In colder areas, mulch the bulbs with straw, shredded leaves or finely ground bark mulch one month after planting.
Whether you need the right planters, flower bulbs or garden soil, The Home Depot delivers online orders when and where you need them.
Explore More on homedepot.com