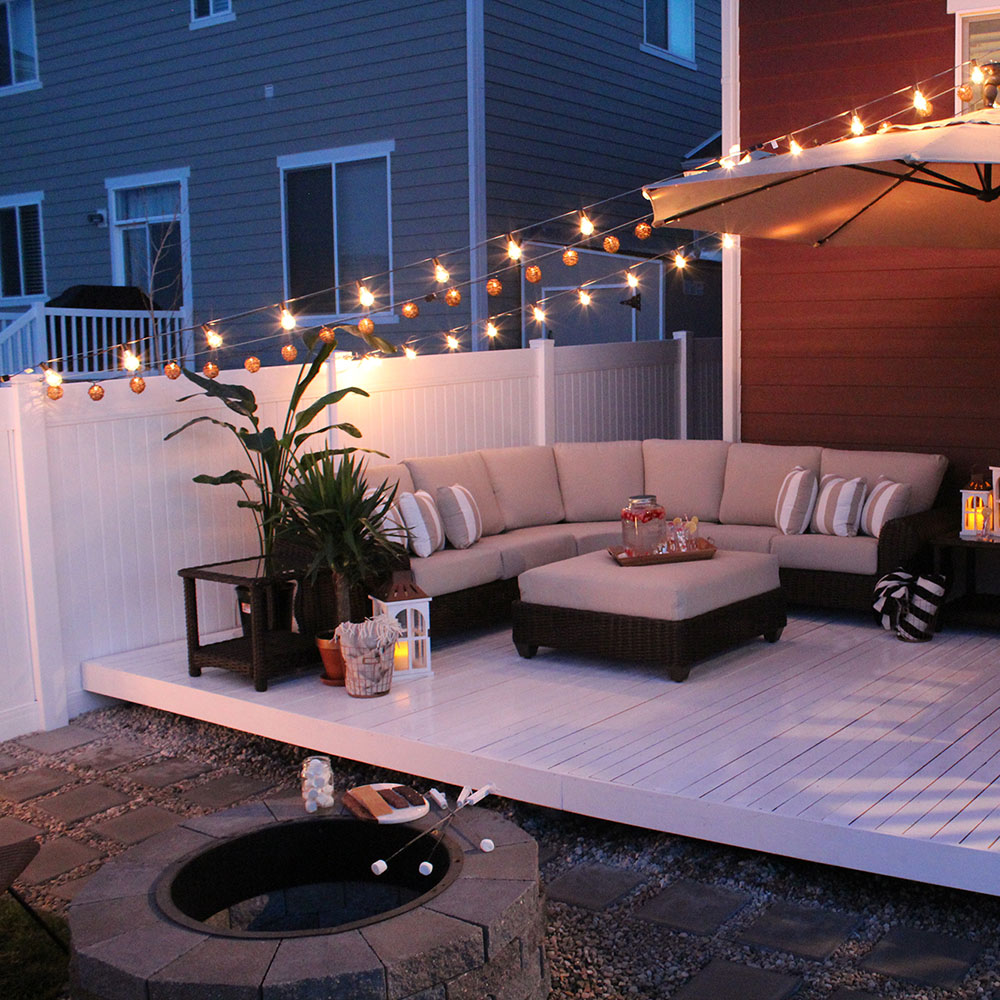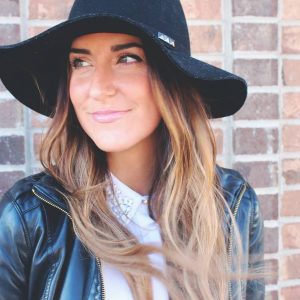 A Note From The Home Depot
This DIY deck is a gorgeous addition to Alexi Parry's backyard. Alexi blogs about DIY projects, design and entertaining at Seeking Alexi. She created this simple deck to help make her backyard the perfect place for outdoor entertaining.
Alexi had no specialized skills for building a deck, but she's a fearless DIYer, and she produced this simple and sturdy deck without spending a lot of money.
Follow her step-by-step tutorial to create a similar DIY deck for your backyard.
2
Stunning DIY Deck Built on a Budget
I think this is my most DIY favorite project I have ever done, and The Home Depot definitely made it all happen! From the friendly staff, to all of their tools, and the ideas on their Pinterest page, Home Depot really does have everything you need to make a big project, like a DIY deck!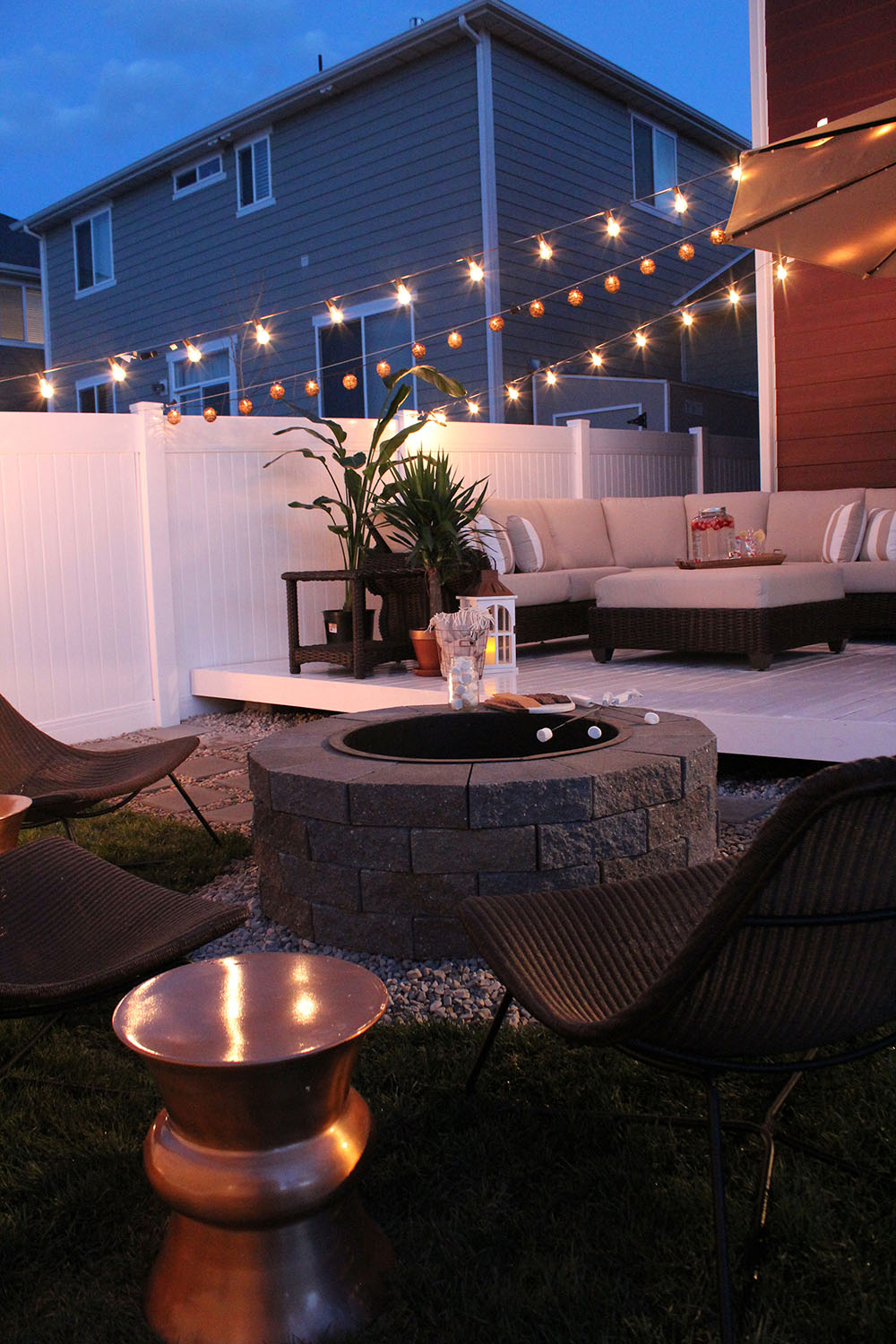 First off, this is very possible to accomplish on your own! I am not a professional carpenter or contractor, but this project is easy enough to do. (Just don't underestimate the amount of time it takes to drill 768 screws!) But if you are adventurous enough, and have a few extra hands, building your very own deck is very possible!
Why build your own deck? For me, it came down to learning some new skills and saving lots of money! It is so extremely rewarding to stand on a deck that you have created with your own two hands. The bragging rights are unparalleled! And more importantly, you can save so much money! To pay someone to build a deck my size with typical materials would cost between $6,000 and $8,000! My deck came in under $900, since all I paid for was lumber, cement, and screws. Wow, right?
Let's build a deck!
5
Step 1: Create Your Deck Plan!
If you want to make your low-level deck as inexpensive and simple as possible, follow what I did! Which is to use 2 x 6 pressure-treated beams spaced 24 in. apart on-center. The support for these joists provided by concrete deck piers needs to be placed at least every 8 feet.
6
Step 2: Place the Deck Footings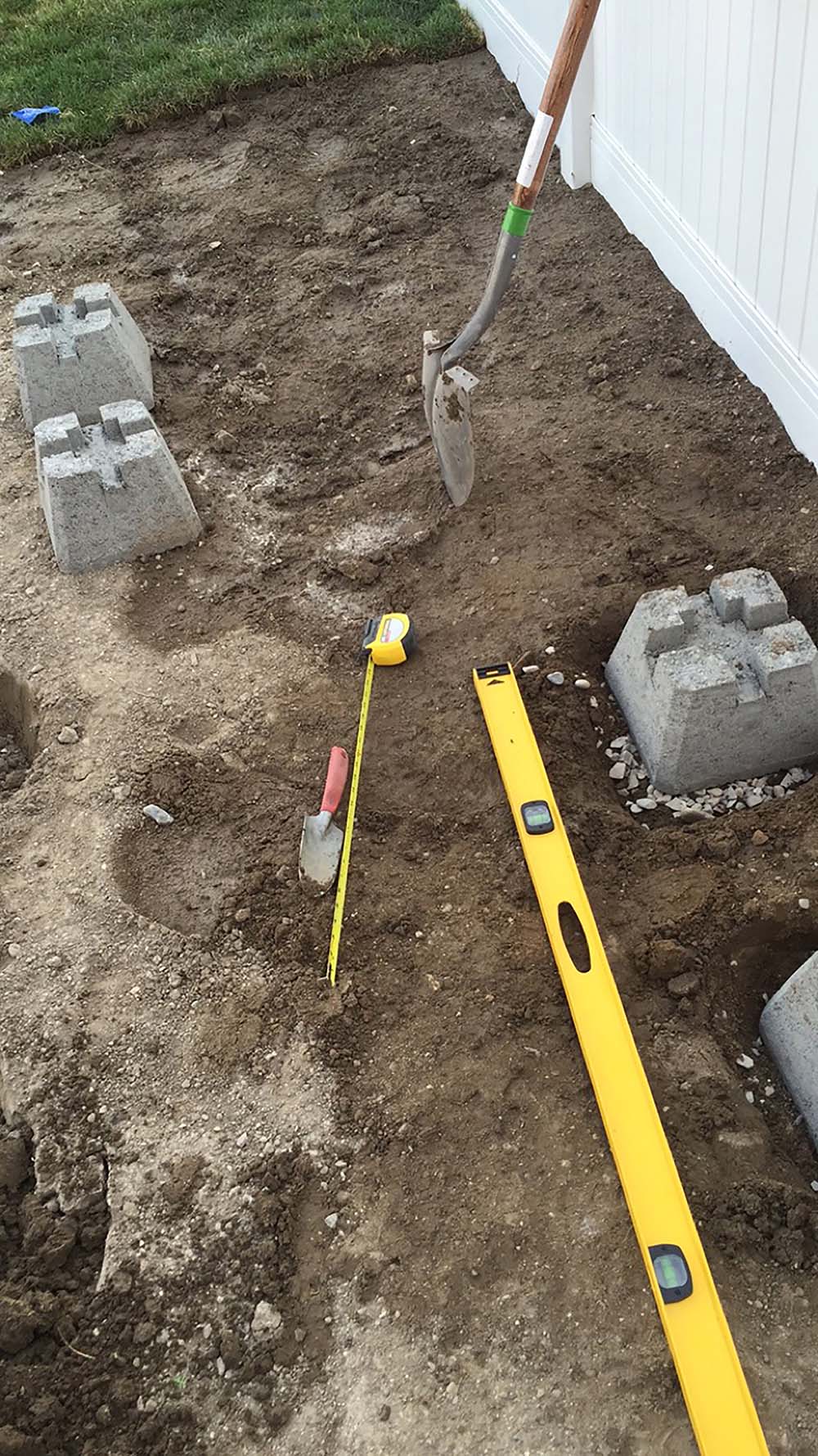 I wanted mine as low to the ground as possible, (mostly because I didn't want stairs) so I dug down the cement deck piers closest to my house several inches, and the piers away from my house didn't need to be dug at all. You should do one deck pier at a time, and be CONSTANTLY measuring the perfect distances, leveling each deck pier to each other, and being as meticulous as possible that everything is level!
Tips
Place gravel at the bottom of each footing to minimize sliding.
Use a long level on top of your joist beams to ensure your deck is perfectly flat.
Also, don't re-bury those deck piers until you have them all laid in your backyard, just in case you need to change a few.
You do NOT want your wood touching the ground, so make sure the wood-slots aren't too low in the ground that this will happen!
9
Step 3: Cut and Lay Your Joists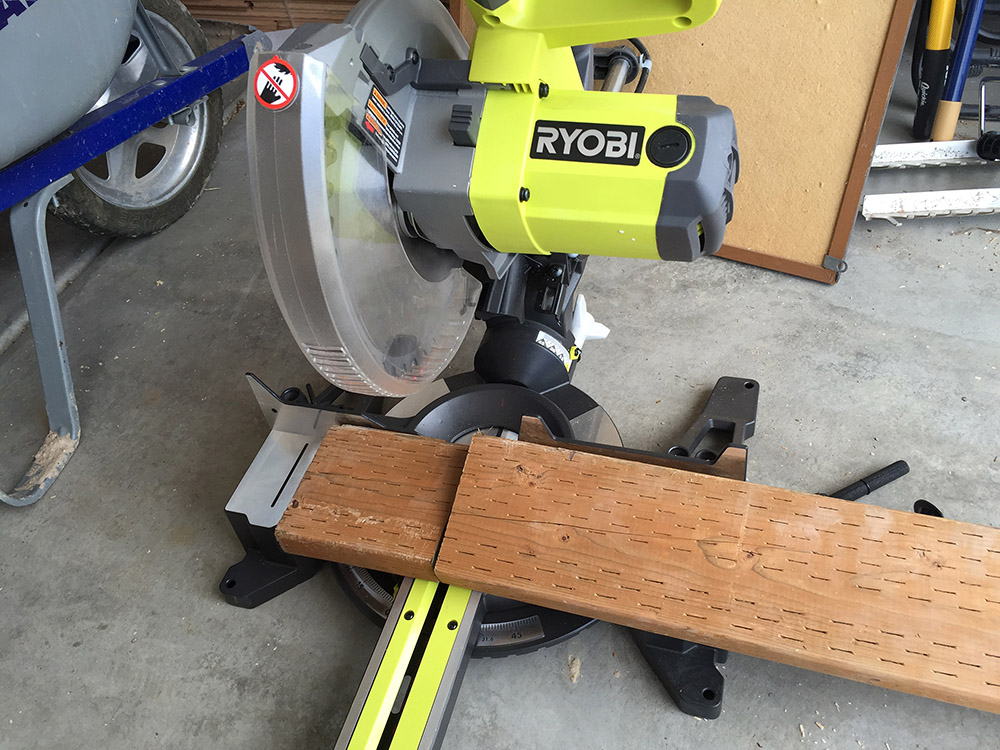 To do so, measure and cut each joist one at a time, in case there are any slight differences between the distances of your cement piers.
If your deck is large like mine, you will likely need to meet two joints onto one deck pier to reach the entire length of your deck. I have to mention the Ryobi miter saw I used was amazing for these large joists. It cut everything so smoothly, and even has a laser line that appears to make it extra easy for you. I love that saw so much!
11
Step 4: Re-Bury Those Deck Piers
You should also spray some grass and weed killer or lay weed barrier cloth under the entire area of your future deck. You don't want any pesky weeds coming up through your deck when it's all finished!
12
Step 5: Prep Your Deck Wood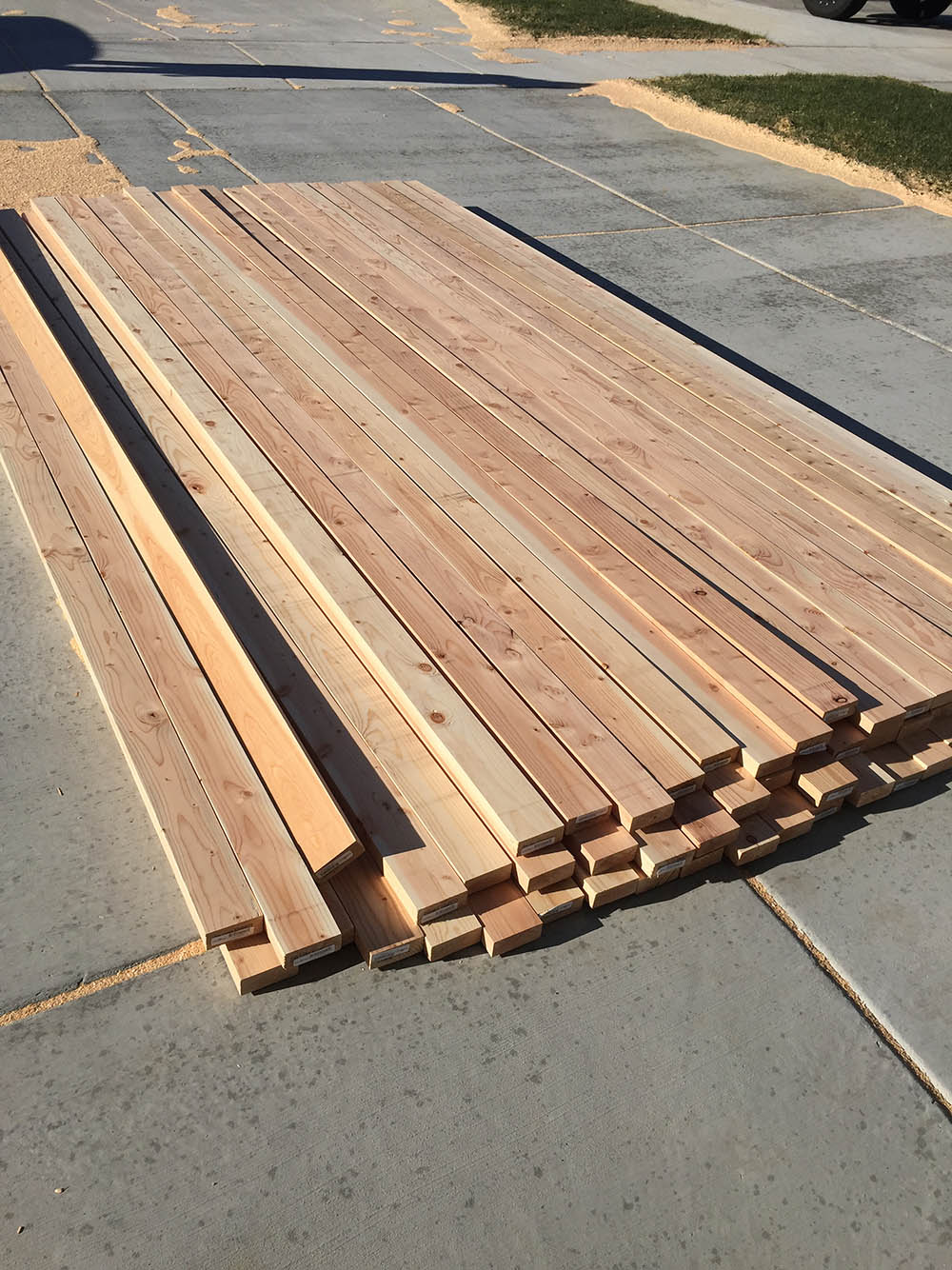 For me, I decided to use 2 x 4 Douglas Fir wood (simple framing-wood), because it is inexpensive, but still extremely strong.
If you can get your hands on a wood planer, use it! It will make sure all your wood is the same height and also give those rough 2 x 4s a beautiful, smooth finish. Remember you only have to plane one side (the side that will be seen)!
14
Step 6: Waterproof the Bottom of Your Deck Planks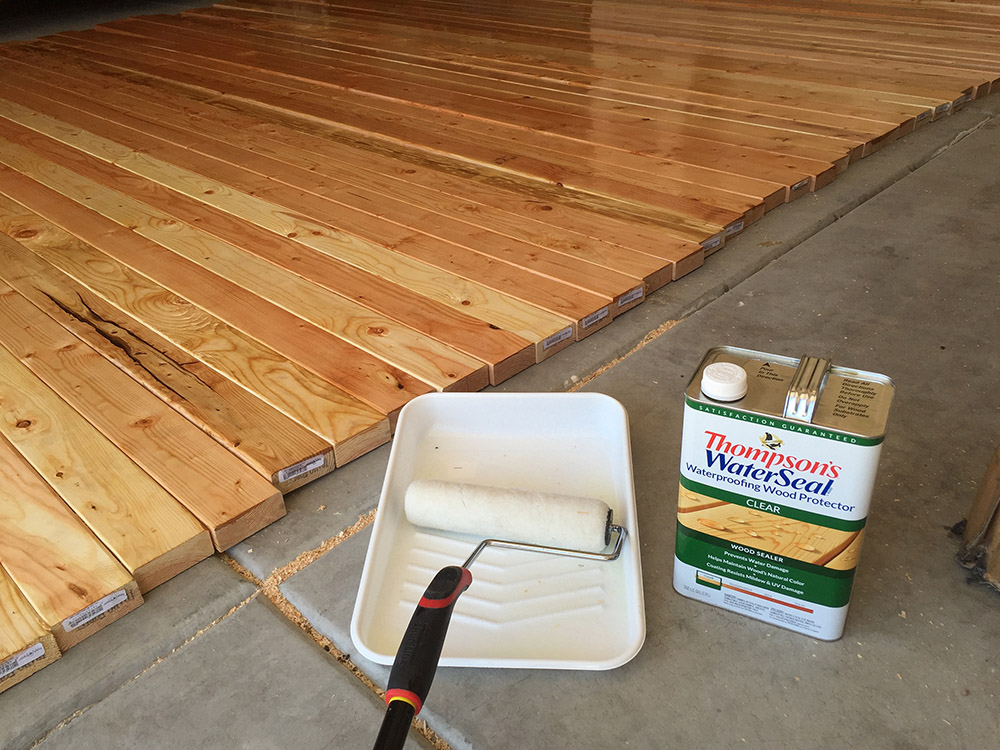 Since this wood is not typical decking-wood, you need this extra step to keep the wood from rotting and decomposing any sooner.
Note that Douglas Fir may not be ideal for other climates, but dry climates (I live in Utah) should be just fine if you will waterproof the bottom of the wood first. You don't need to waterproof the top, because we are going to stain/seal that side! I used Thompson's Water Seal and a paint roller; just make sure to follow the instructions on the container!
16
Step 7: Lay Your Decking Planks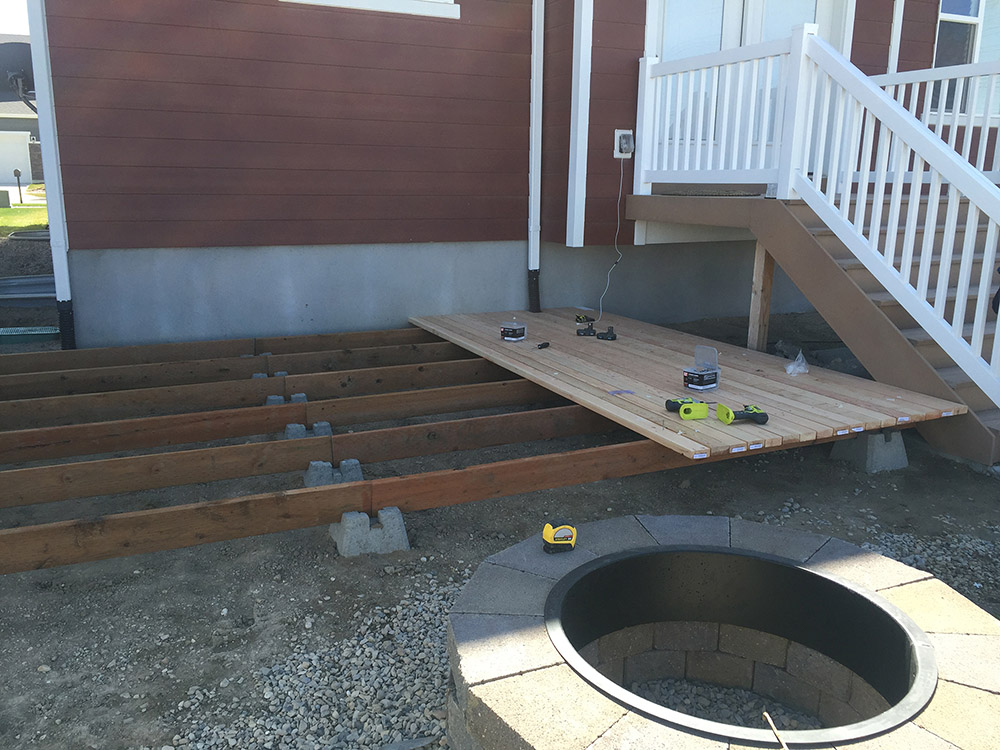 This part is not rocket science, just takes a little bit of time. Some boards are a little warped, and may need two people holding it in place as you get the first few outdoor deck-screws in each board. Use ¼ in. tile spacers between your boards, and add two screws per joist. I used the Ryobi impact drivers because that wood is tough and you need something strong to put the screws in!
You may also need to use a jig saw like this Ryobi jig saw to cut around drain pipes, or fencing on the edge of your deck like I did.
Tip: Create yourself a simple template out of a see-through material so you know exactly where to place your screws, then they will line up perfectly.
This part is easy, just add 1 x 6 wood to the ends of your deck to give it a finished look.
I used pine because I couldn't find Douglas Fir in that size.
21
Step 9: Prep for Staining
Go back through every screw and make sure they are flush with the wood, or even indented a bit. If the screws stick out, people may trip or snag their shoes as they walk.
Then, go back over each screw and give it a little bit of sanding to fix some of the splinters that will inevitably appear, since we are working with a natural product.
Also sand off the edges of the end-caps you just added to make those corners a little smoother.
22
Step 10: Stain/Seal Your Deck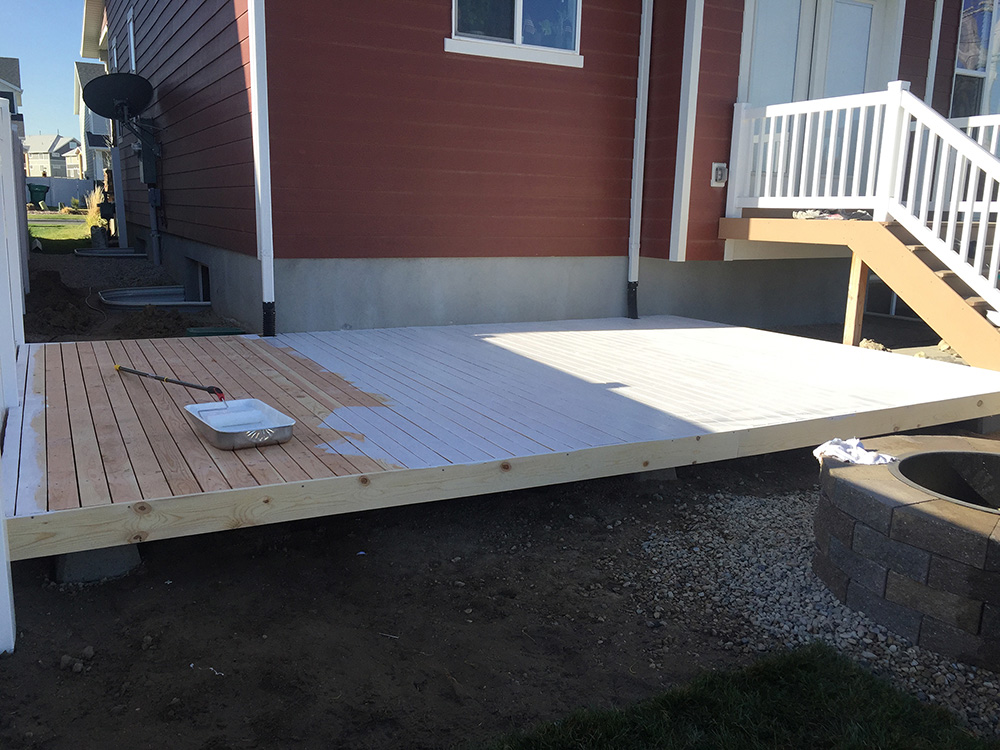 I used a weatherproofing stain/seal on mine, and I'm already so happy with it! And, if you know me at all, I love the color white so much, so of course I stained my deck opaque white!
I did three thin coats to get that bright, white color.
Make sure you give plenty of time to dry between coats, and also a couple days of drying time before you place anything heavy on your deck so it has time to cure.
Tip: Use a paint edger so you don't have to tape off the side of your house (tape doesn't stick well, anyway, since it's a rough surface!).
27
Step 11: Decorate Your New Deck Like Crazy!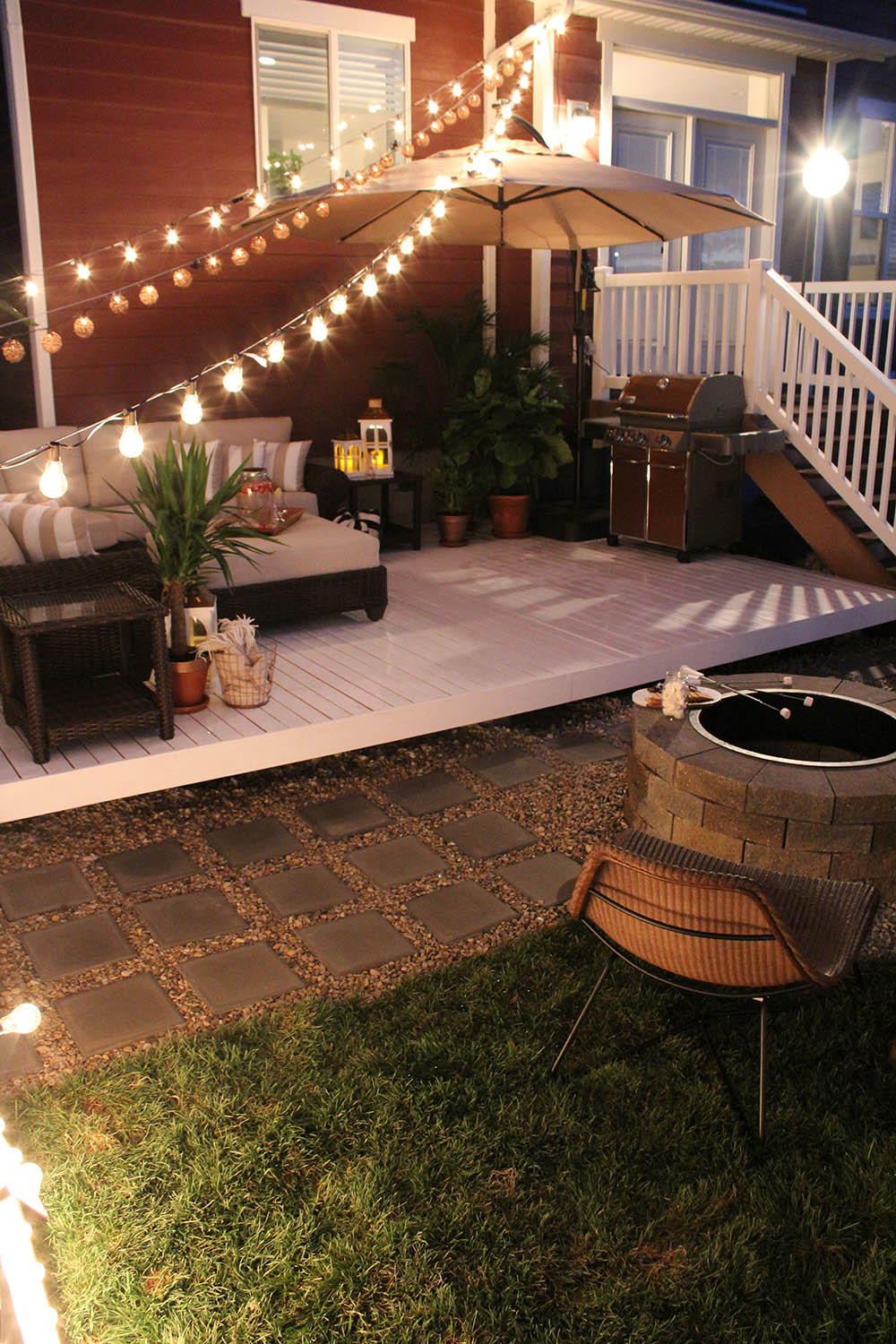 This is where all the magic happens, and all the amazing products I decorated with from The Home Depot really made this whole project come together. For more details and tips for creating a cozy and intimate space in your own backyard, see my new deck reveal here on The Home Depot Blog.
I used these Edison bulb outdoor lights, and these rattan lights to add variety, some gorgeous plants in terra cotta pots. The copper Weber grill is gorgeous, and really adds a sophisticated color to the space, as well as these matching white and copper lanterns.
And of course, the two largest staple-pieces to the whole thing is the stunning deck furniture and overhanging umbrella. The umbrella is extremely sturdy, and very functional. It allows you to change the angle, which will be amazing for those long, hot summer afternoons. And, I am thoroughly impressed with the quality of the Hampton Bay Mill Valley Collection. It is steel-reinforced, weather-proof, and it's actually quite comfortable as well! I highly recommend it!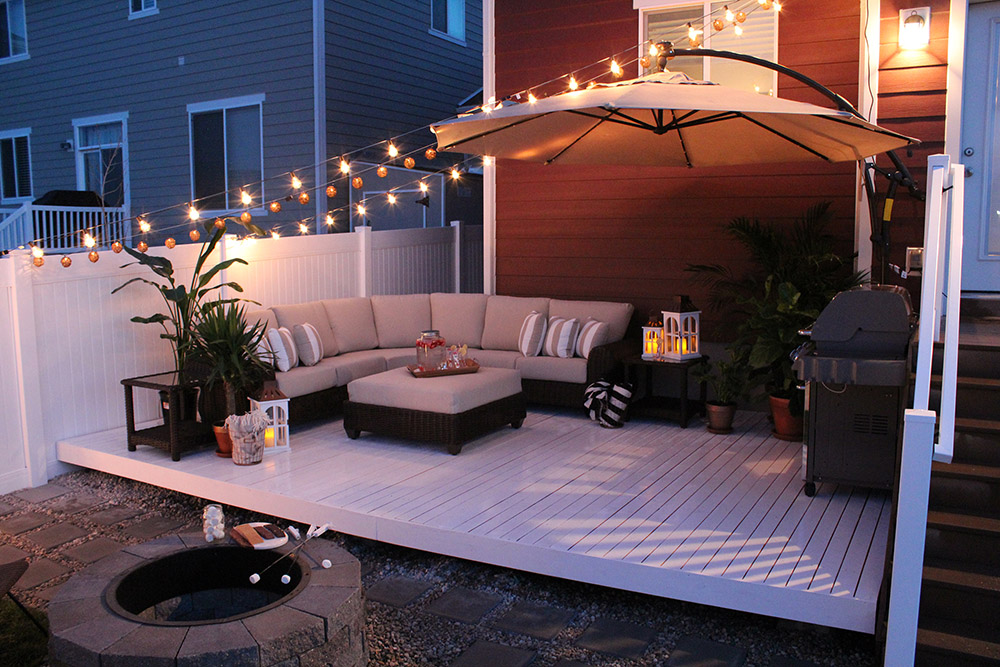 Was it worth it?
Overall, creating my own deck was an incredible experience. One that I am so happy to have accomplished, if nothing else for the amount of money that it saved me! And, I didn't have to cut any corners— I ended up with a stunning deck that is now ready to enjoy for the entire summer, and it only took a couple of days of work!
Was it a little scary purchasing hundreds of dollars of lumber for a project I'd never attempted before? Absolutely.
Had I ever used a miter saw before? Nope!
Did I screw more screws in a 48-hour period than my entire life combined? YES!
And it was worth every scary moment because now I have the most beautiful deck, for an amazing price, and I also learned so many new skills along the way. And I couldn't have built this DIY deck without The Home Depot. Thank you to them for giving me the courage to try something new!
Alexi Parry of Seeking Alexi is a design-aholic, Instagram junkie, wannabe blogger, novice letterer, master DIYer, expert chip-snacker, pretend traveler, semi-outdoors-(wo)man, football supporter, church-goin' person, self-proclaimed foodie, domestic-lovin', & hugely motivated creative director, graphic designer and web designer.
See more DIY projects here on The Home Depot Blog, and follow our Easy DIY Projects board on Pinterest.
This post was created in partnership with The Home Depot. The author may have received compensation for this article and associated images or video, potentially in the form of products and/or services. All expressed opinions and experiences are the author's own words.
Explore More on homedepot.com