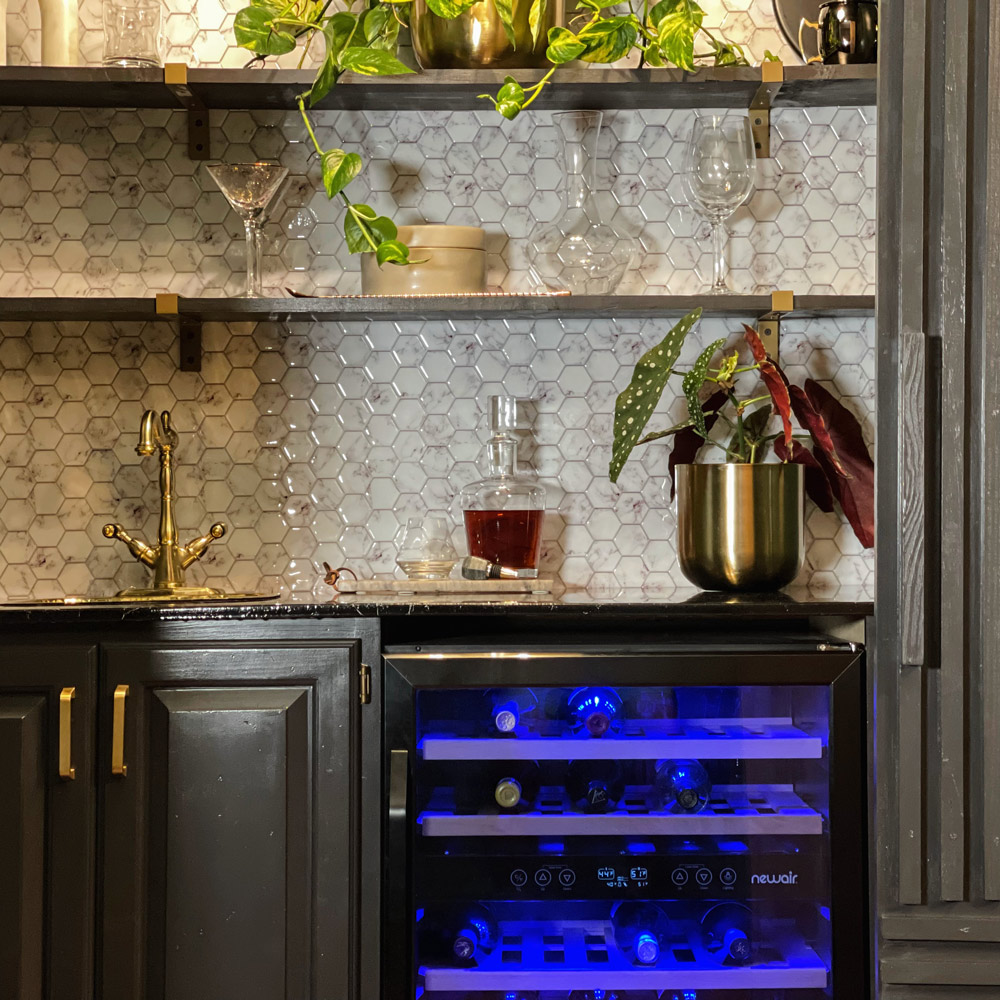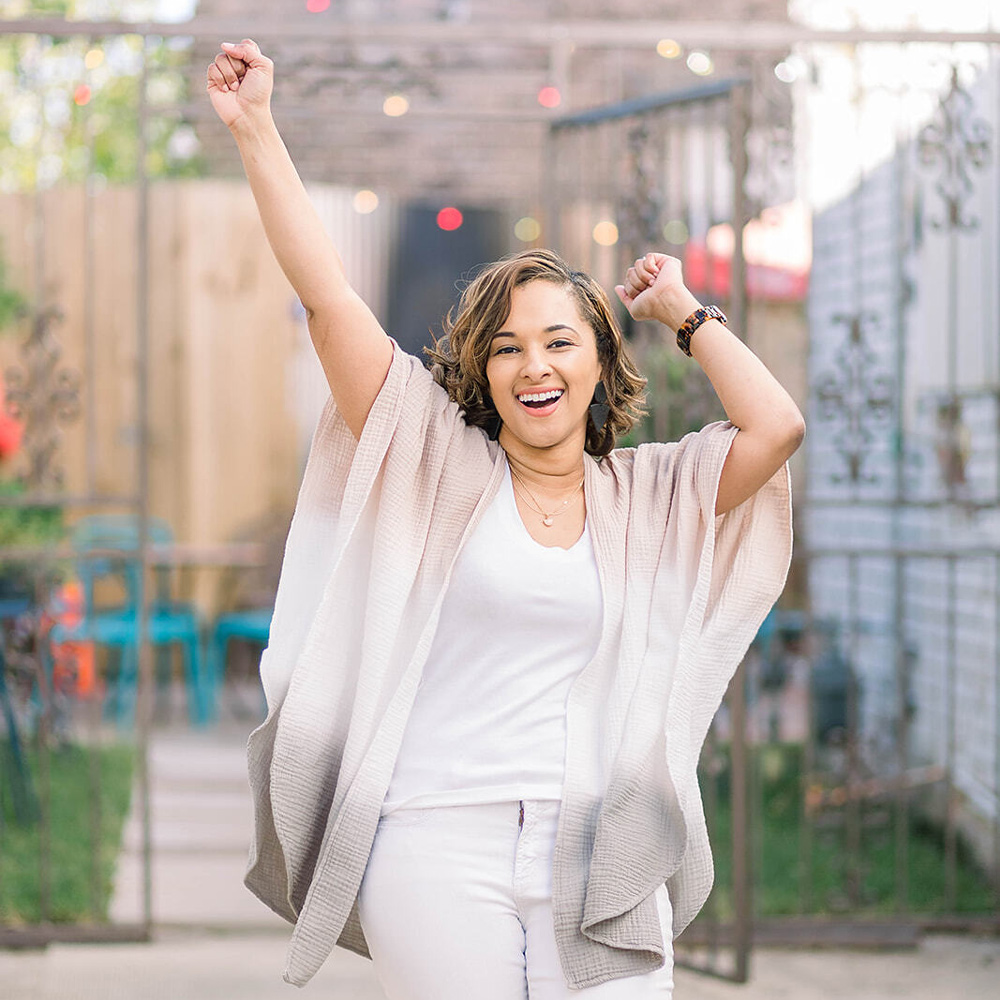 A Note From The Home Depot
Follow Crystal Holliday as she gives her wet bar a modern update with the help of The Home Depot. This DIYer dreamed of a chic wet bar, and with tools and supplies from The Home Depot, they made their vision a reality, just in time for the Holliday holidays. Take a peek for tips and ideas on how you can give an area in your home a stylish makeover, too!
1
Modern and Moody Wet Bar
3
Peel and Stick Backsplash and Wine Fridge
When we moved into our home ten years ago, we thought it was cool to have a wet bar. However, the space was outdated, and we didn't have a ton of use for it. The old mini fridge was loud and broken, the lighting was outdated, and the space needed a lot of love. This past summer, we got the chance to pitch our dream home project, for The Home Depot's Orange Tank Competition, via Haven Conference. So my husband Brandon helped me pitch my best video to showcase how our wet bar was in need of a good makeover. A lot of planning, excitement and nerves went into pitching this project, but at the closing ceremony of the conference, we learned that we had won! We won the $2,500 category to makeover our out-of-date wet bar!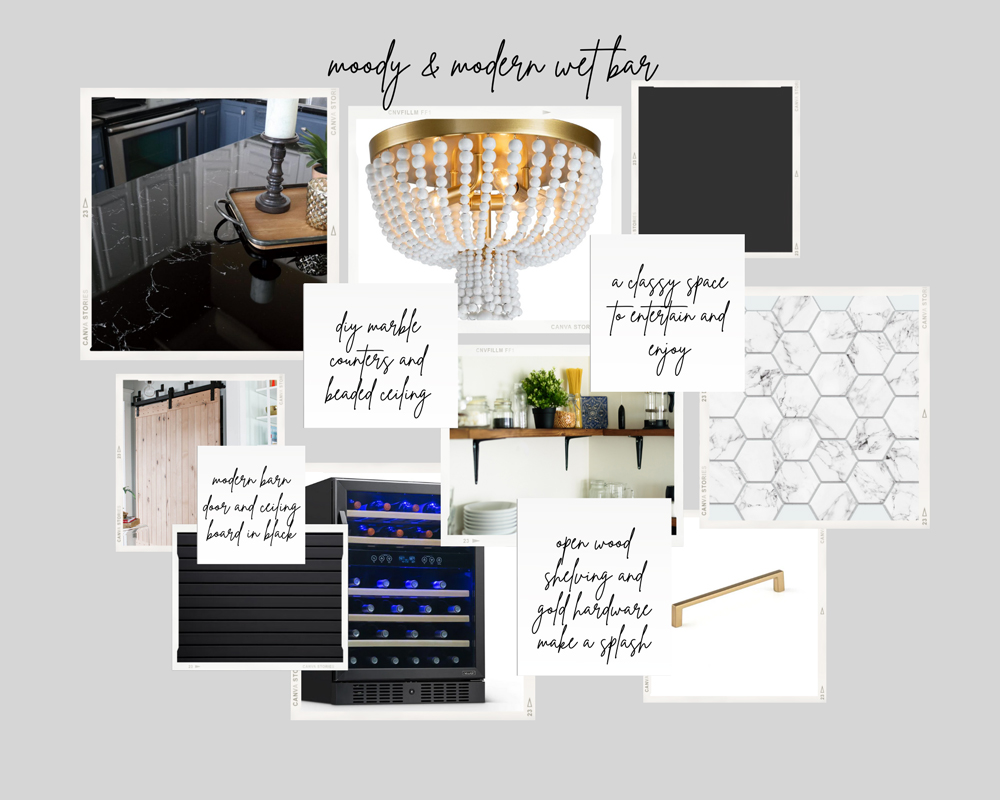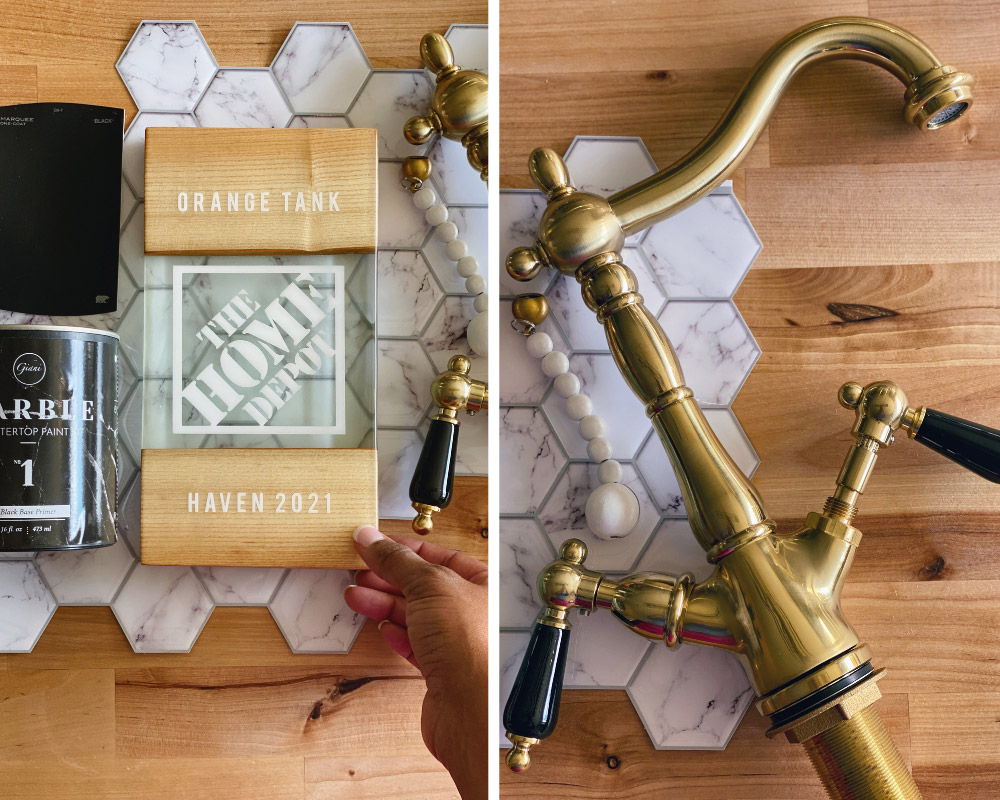 6
Marble Peel and Stick Tile and Brass Faucet
When I really thought about what the space needed, I knew it needed to "shine" and be an accent to our home. Since the surrounding living space was light and bright, I decided on a "modern and moody" design with the wet bar. You can see in my design board that I pitched DIY marble countertops, a dark wall color and a modern slatted barn door. These were some of the main features that I planned for the space, and I'm happy to say that it's done. Here's what the space looked like before.  
8
Paint Transforms All Spaces
A very easy way to transform any space is paint. Once we demoed everything in the space except for the countertop and bottom cabinet, I got to work painting the walls, trim, beadboard ceiling and side closet (perfect for extra beverage storage). The paint color that fit the theme best was BEHR Marquee Alpine Trail. The dark, moody color transformed the space and gave it a relaxing feel.  
I knew that a small space like this needed a ceiling with impact,  so it was a no-brainer to paint it with BEHR Marquee Alpine Trail, too; however, we also went with an unexpected beadboard ceiling. We picked up beadboard panels from our local Home Depot store, cut them to size and attached them to the ceiling. We used liquid nails and finishing screws to bring our ceiling to life. I filled the holes with wood filler and painted the beadboard to match the surrounding walls. Once dry, we replaced the old light with a white beaded chandelier. We love the ceiling now!  
13
Peel and Stick Marble Backsplash
Since ceramic tile would require additional tools and cost, I decided on marble peel-and-stick tile for the wet bar backsplash. The tile was very easy to work with and was done in just under 2 hours. You simply peel off the adhesive backing, make any cuts with a sharp utility knife, position and press on to a flat surface. This backsplash was a very simple project that made a huge impact in the space. The white marble adds some light back into the area and softens the feel.  
17
Open Shelving To Display Our Best Finds
It brought me so much joy to remove the previous upper cabinets and replace them with wood shelving. I took one-by-ten-by-six pine boards, painted them the same black as the cabinets, and hung them with gold brackets. The shelves can be used for our finer spirits, Moscow mule mugs, bar tools and accessories. I was even able to add a few new plants, because every space can benefit from new plants, right?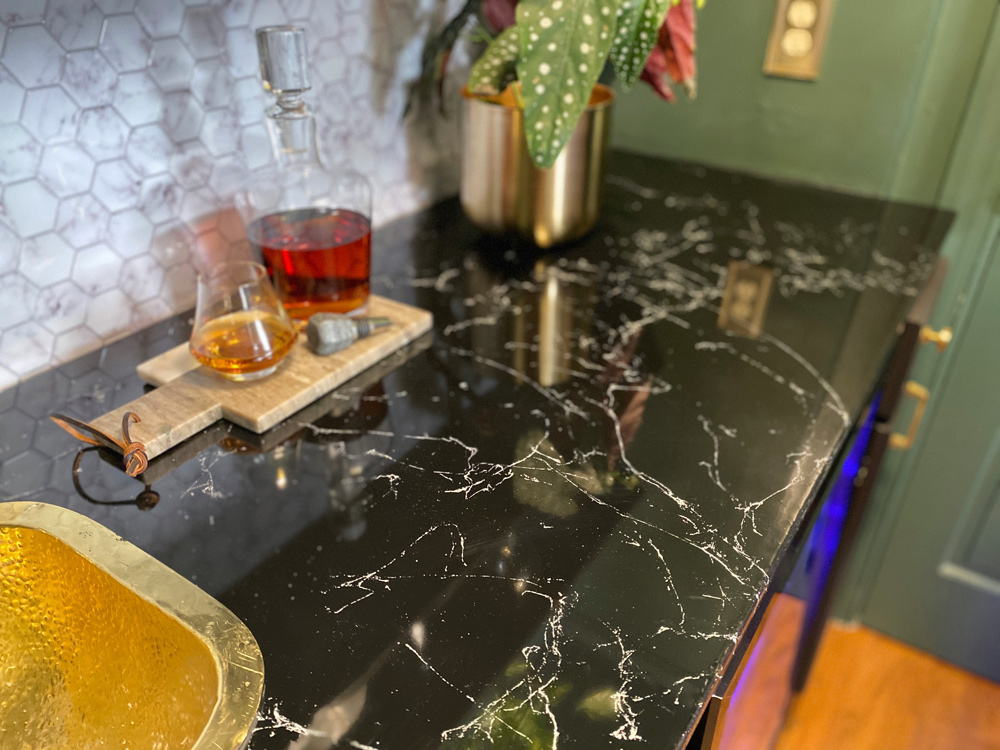 21
Paint Kit Makes Old Countertops New Again
Once the backsplash was up, I decided to tackle the countertops. We had a plumber come in and replace the old brass faucet. We selected this beautiful brass faucet with black handles. Once that was done, I used a paint kit to prime the countertops black, used the marble effect spray paint and added epoxy to seal everything like new. Once I added the epoxy I fell in love with the look of our countertops. The countertop paint kit requires a lot of prep work and steps to follow; however, if you follow all the instructions, you'll be very pleased with the outcome.  
22
Dual Zone Wine Fridge Adds A Whole Mood
One item took up a third of our budget: the Newair Dual Zone Wine Fridge, found at The Home Depot. It was a part of my initial design plans and it's such a treat to have it in the space. When I went to order it, I realized that it came in a black stainless steel finish. I knew that was exactly what the wet bar needed to keep with my moody theme. It is amazing to store our favorite wine blends and we love the blue lighting. It creates a whole intriguing vibe that we just can't get enough of.  
26
Modern Barn Door Build Flanks the Space
One thing that I felt the wet bar was missing was a door. The space is set within our living room and has a large wall just outside it. After some quick measuring, I determined we had enough space to build a big accent sliding door. Brandon built every inch of the modern barn door using a one-by-six frame and three-quarter inch pine trim pieces. It was a huge build, but he took my sliding door dreams and brought them to life. The barn door adds a sliding accent wall to our entire living room. For the wet bar, of course, I painted it black to match the modern theme. And I'm so very happy with the way it turned out.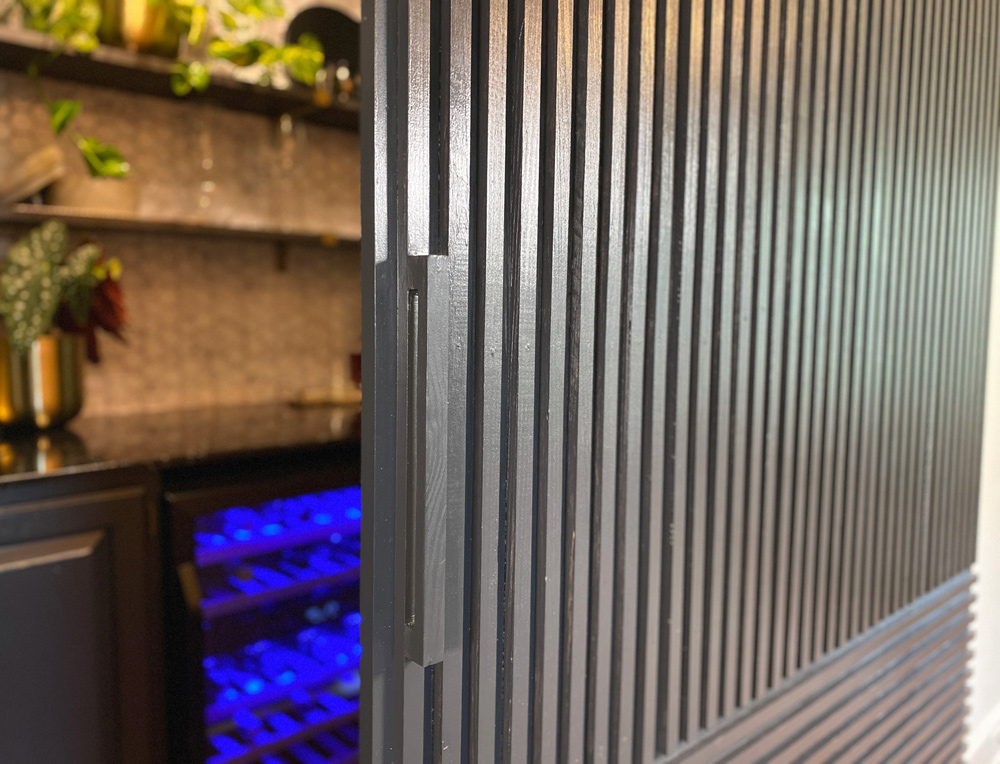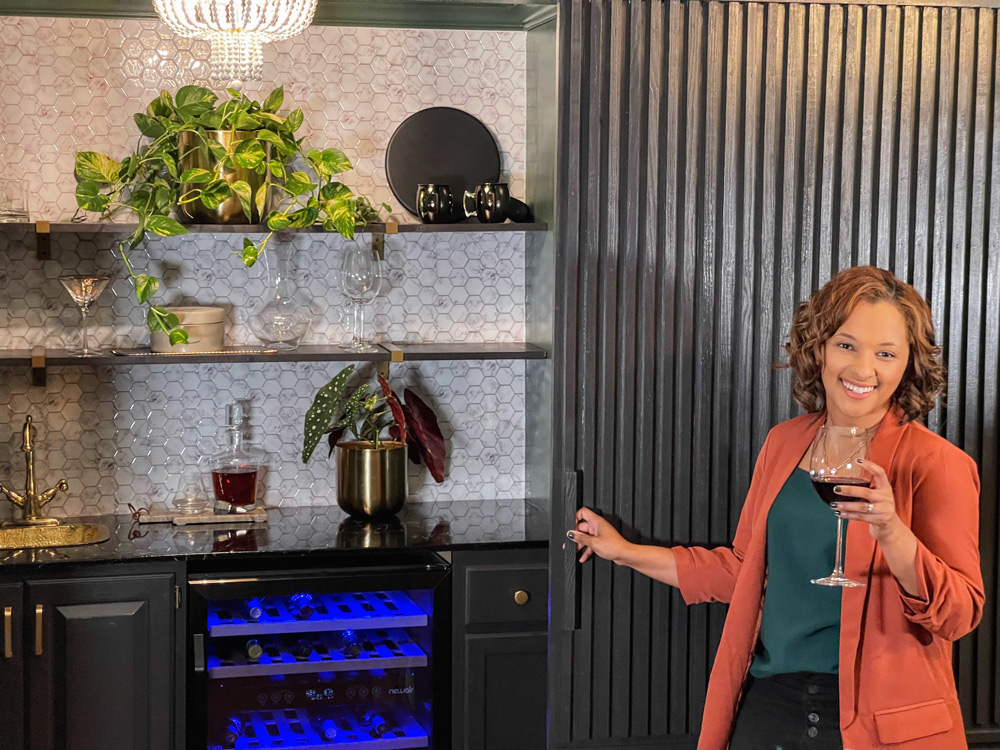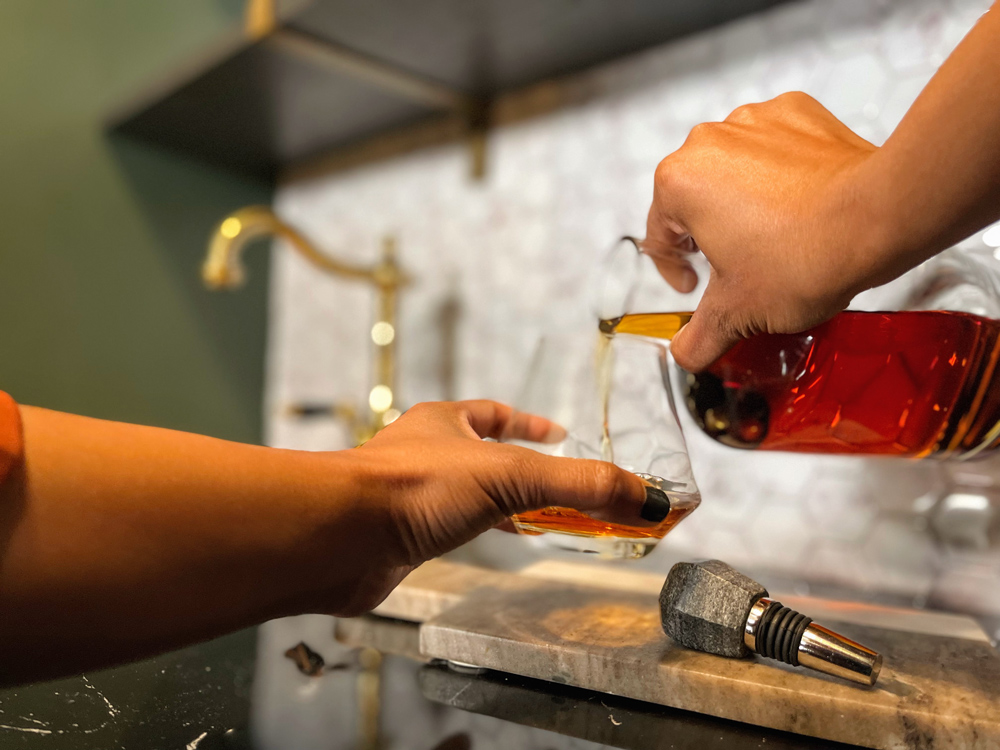 We couldn't be any more excited about winning The Home Depot's Orange Tank Competition at Haven Conference and getting the chance to update our wet bar. It's now fully functional, has great design and is the highlight of our home. We can't wait to create new cocktail recipes and share a glass of wine or whiskey with our friends and family. The Holliday wet bar is officially open for the season! Come on in! Thanks again to The Home Depot!
This post was created in partnership with The Home Depot. The author may have received compensation for this article and associated images or video, potentially in the form of products and/or services. All expressed opinions and experiences are the author's own words.
Explore More on homedepot.com