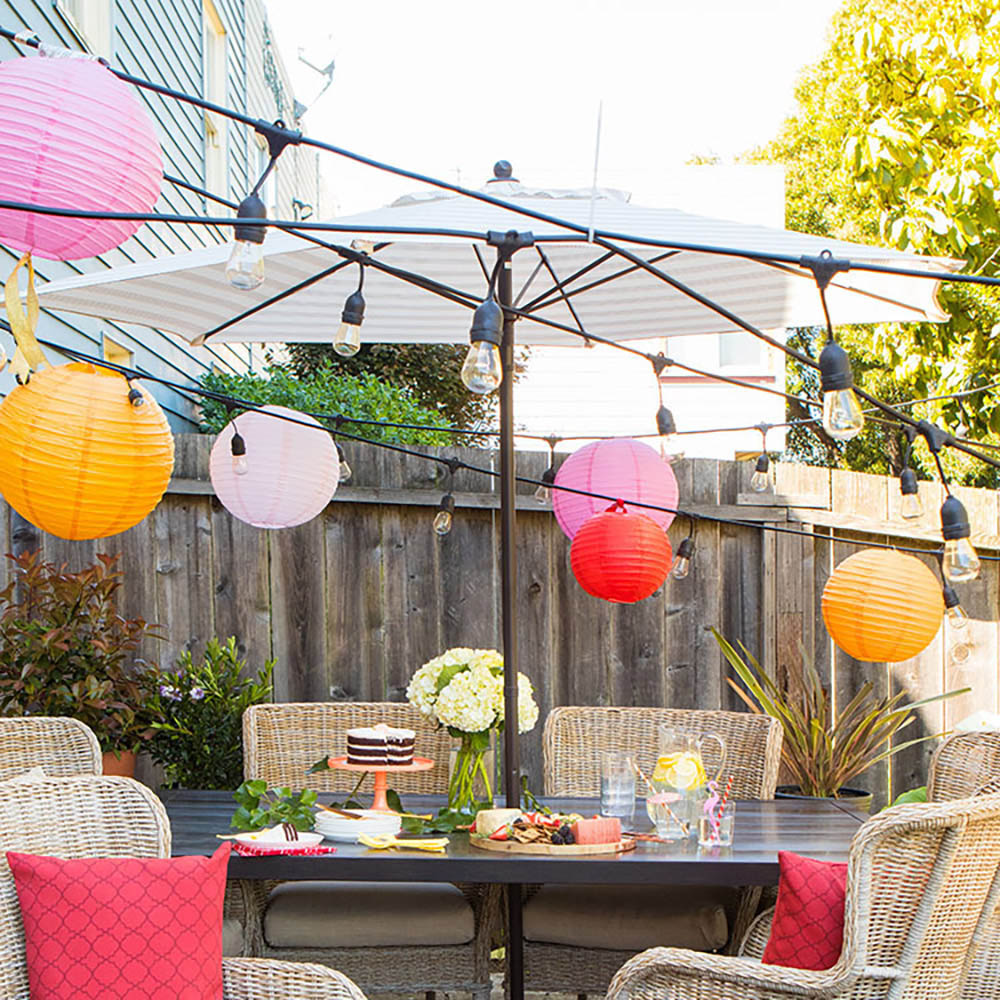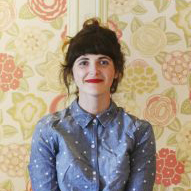 A Note From The Home Depot
These three separate patio entertaining spaces are all on a single patio. Each space– for outdoor dining, living and lounging– is comfortable, practical and lovely.
This is all the idea of Jordan Ferney of Oh Happy Day. Her patio is ready for entertaining groups of neighbors, or cozy chats with friends. Check out her patio decorating ideas for warm-weather entertaining.
1
Patio Entertaining Spaces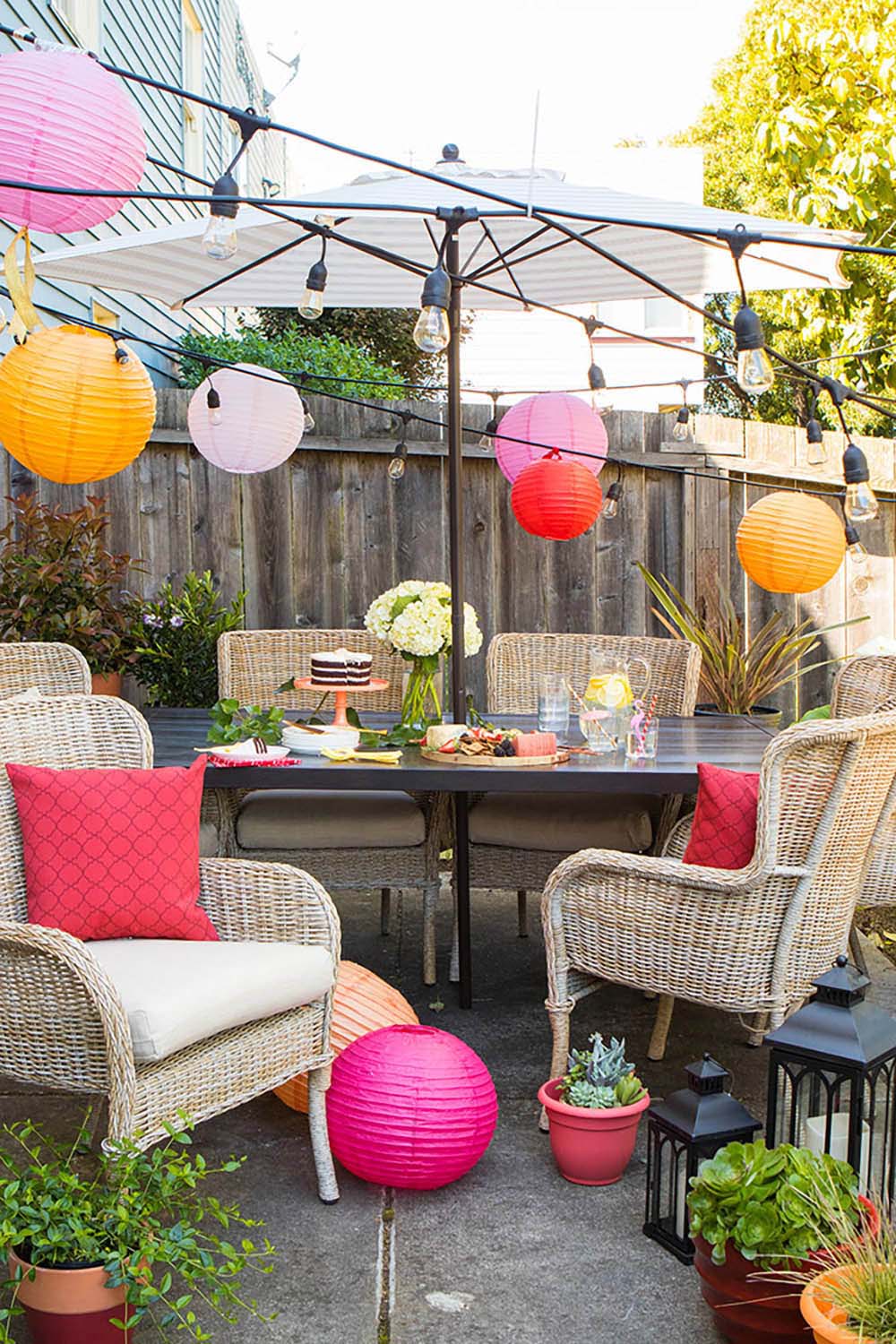 Now is the perfect time to get your outdoor space prepared for all the dinner parties, picnics, and outdoor entertaining that happen during the summer months. Today we're sharing a patio makeover we did with The Home Depot.
We started with a blank slate and transformed it into the perfect space for warm-weather entertaining.
3
Before the Patio Makeover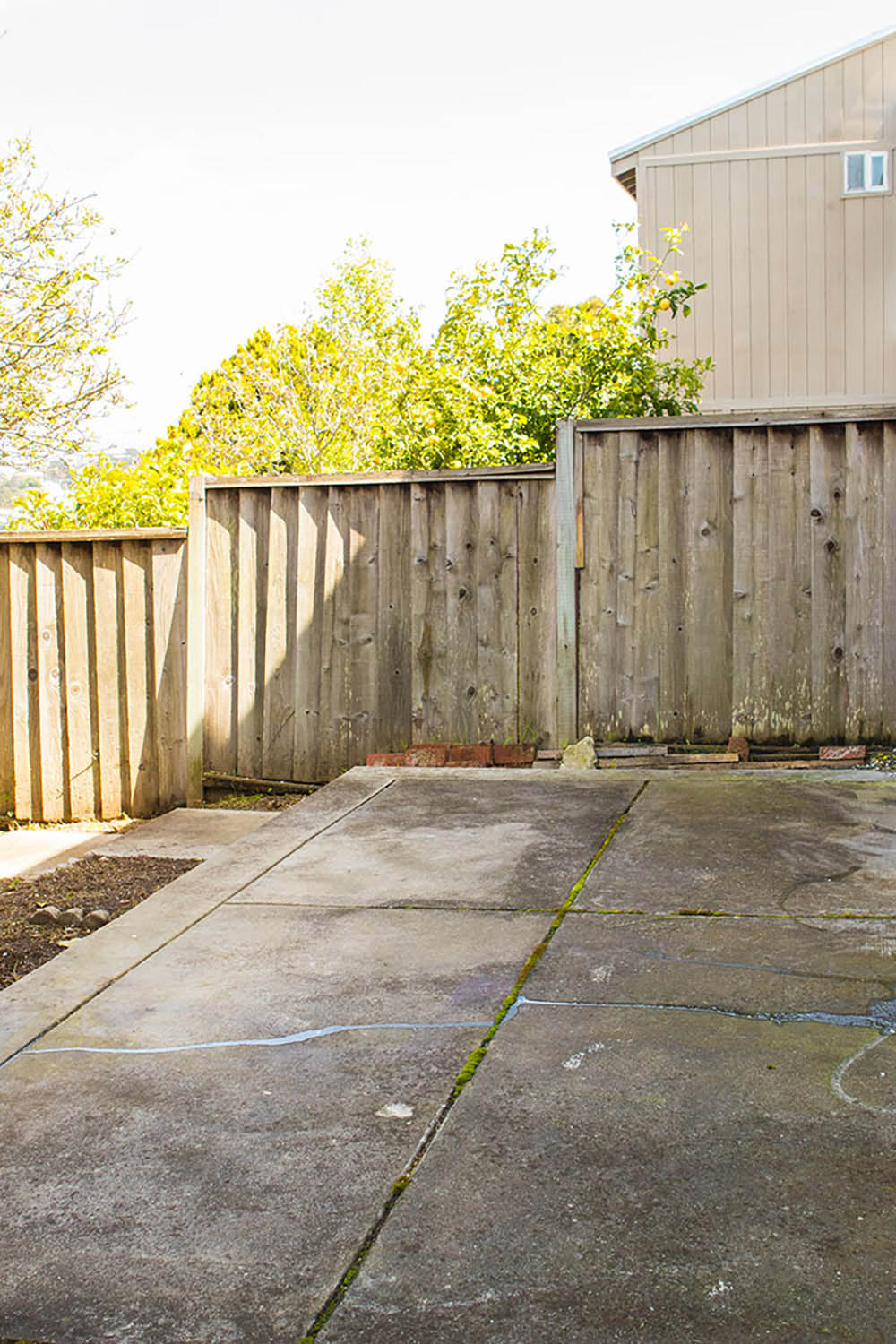 When we started, the patio in this backyard was totally empty– no furniture, no plants, nothing. We started by looking for inspiration on Pinterest. In our research, we found that we were attracted to pretty cafe lights, colorful lanterns, lots of plants. Add to that pillows and throw blankets to make ithe patio feel cozy.
5
The Patio Transformation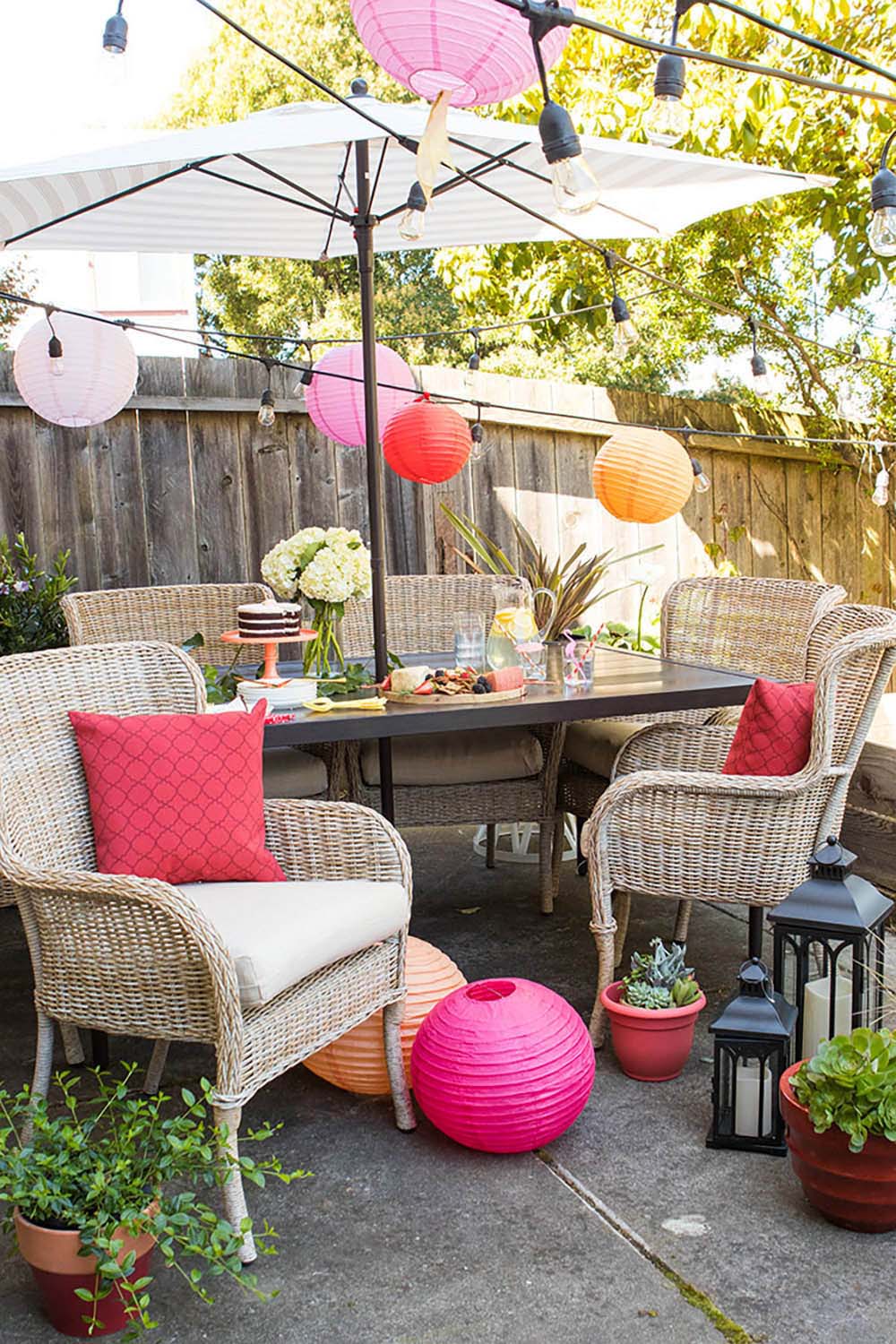 Once we had our inspiration photos, we went to The Home Depot's website and picked out the Hampton Bay Lemon Grove Collection. The line includes everything from rocking chairs to outdoor couches in 16 different fabric options. That wide variety of outdoor furniture made it easy to keep the look of this multi-use outdoor space unified.
We chose to focus on the dining set, lounge chairs and chaise lounge in the neutral Oatmeal color. This allowed us to bring color to the patio through the accessories.
With these items, we created three separate patio entertaining spaces on the patio.
7
#1: The Outdoor Dining Area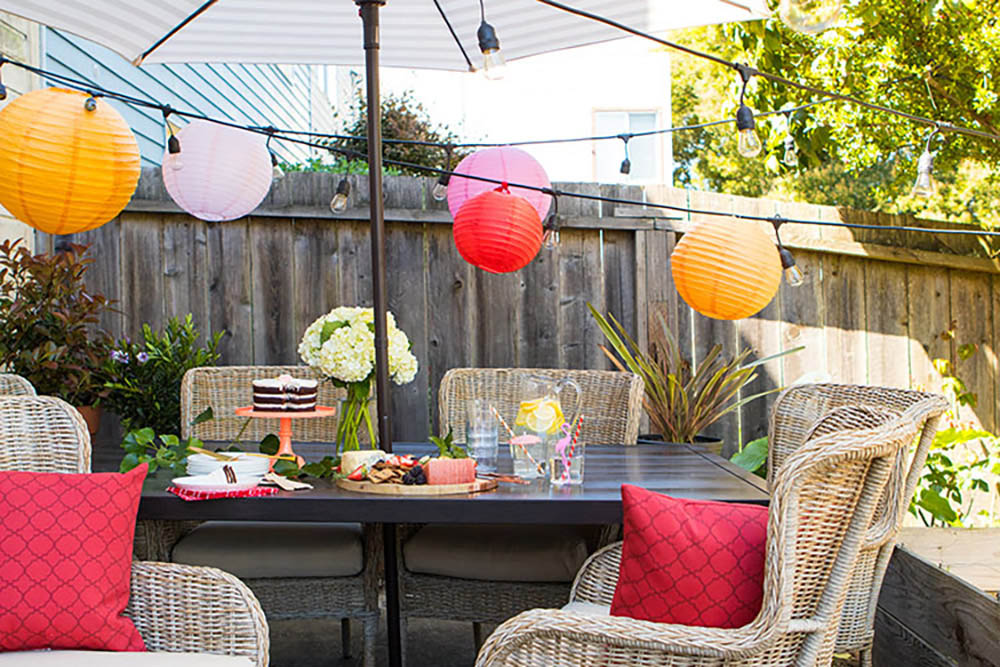 Warm evenings spent eating outside with friends is one of the most magical things about summer. For our space, we ordered this striped patio umbrella for shade during the afternoon. And for dreamy mood lighting in the evenings, we hung up four strands of cafe lights across the patio and set out different sizes of lanterns with LED candles inside.
For color, we hung up Chinese lanterns in a variety of colors, put plants in colorful pots, and added bright red pillows.
For last-minute entertaining, we try to keep supplies for a cheese plate (crackers, a few different kinds of cheese, and some charcuterie) in our cupboard at home. Top it off with some fresh berries, and few sprigs of herbs from the garden and you're all set!
13
#2: The Outdoor Living Area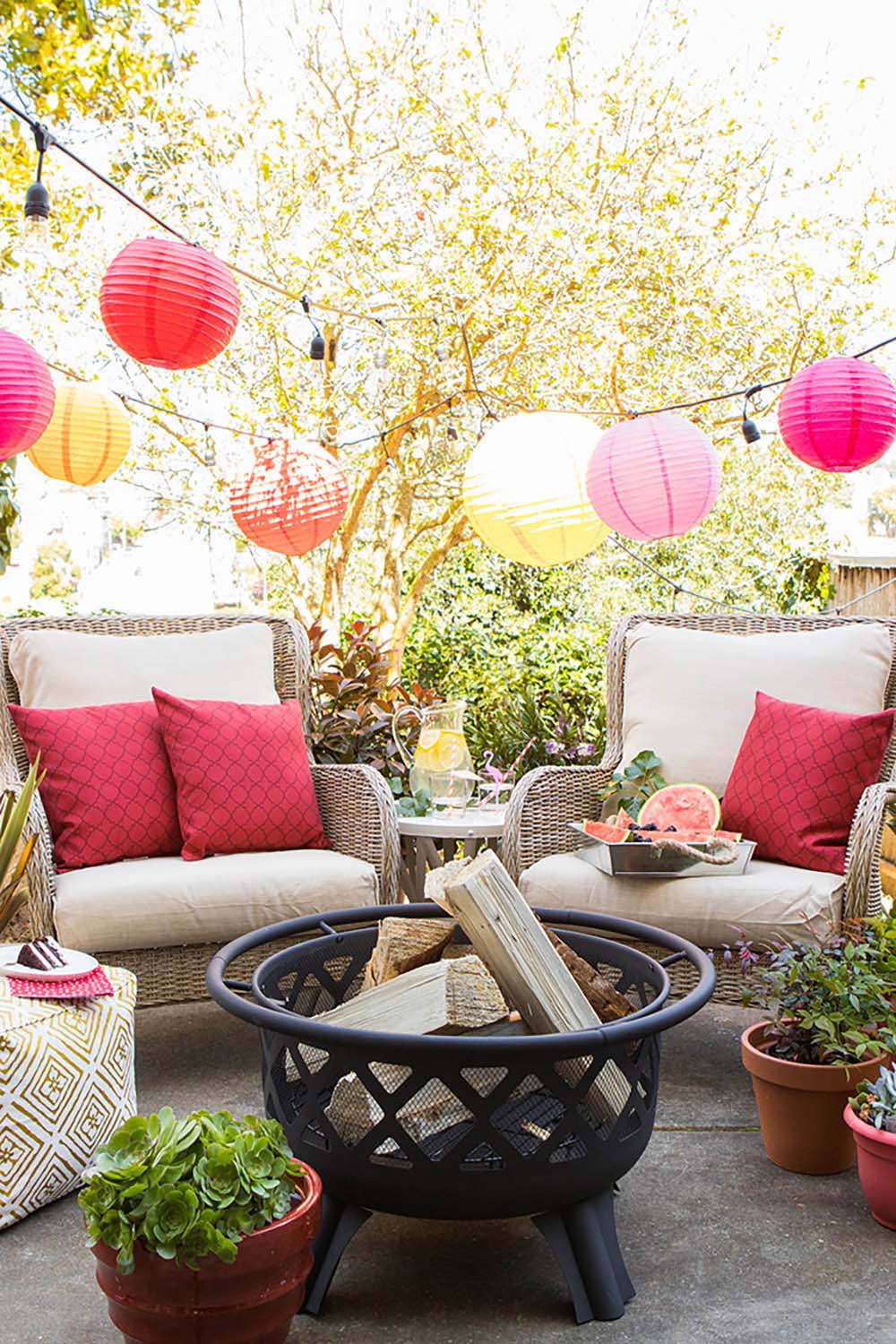 For one-on-one conversations, we also set up a space that's perfect for chatting. We placed two lounge chairs next to each other and set a side table between them.
We also purchased this fire pit for roasting marshmallows (s'mores!) and hot dogs and for staying warm at night.
A metal tray is perfect for holding snacks, and an outdoor pouf can be used as extra setting, a place to rest your feet OR an extra side table.
25
#3: The Outdoor Lounging Area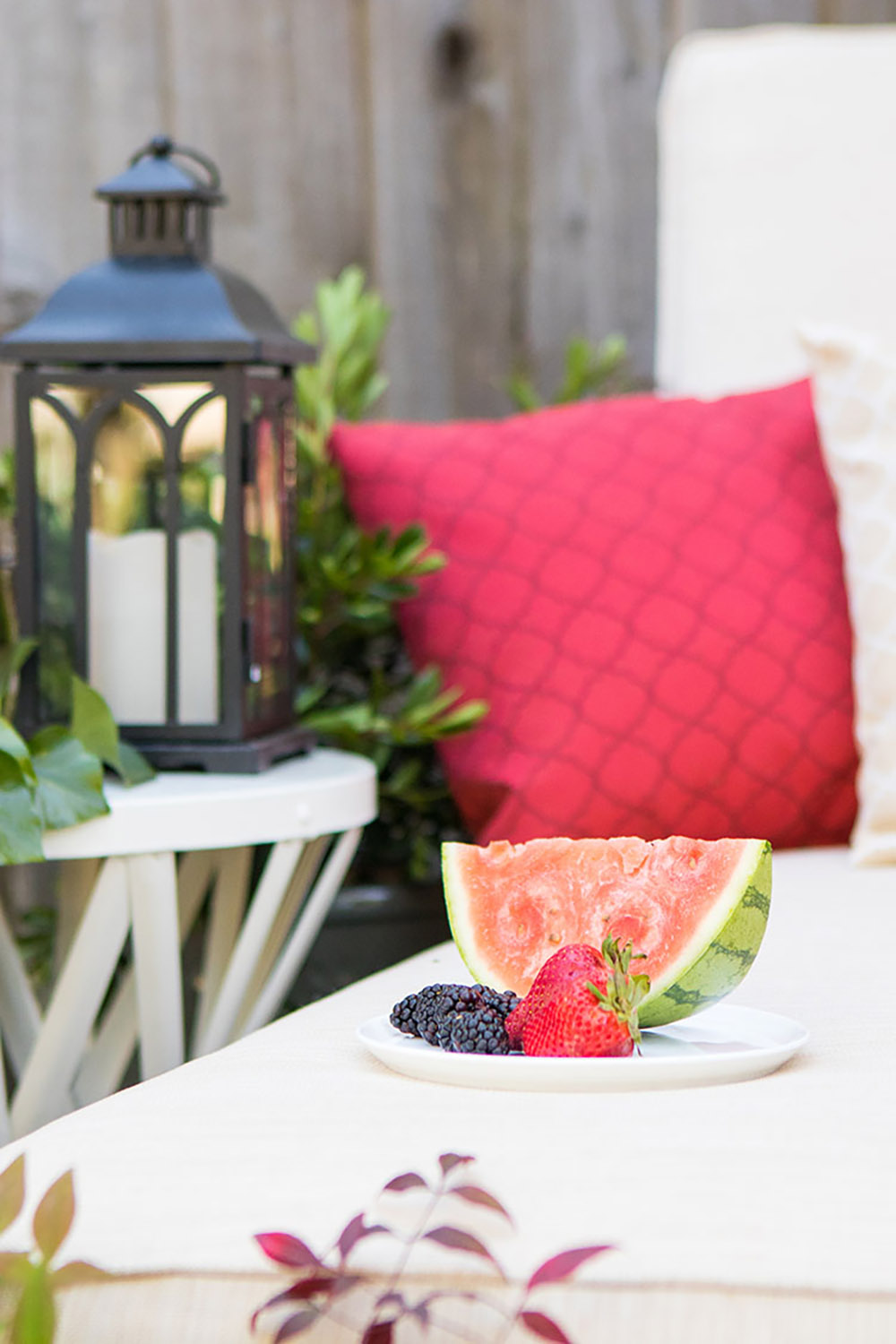 For days and nights when you just want to relax by yourself with a good book, we set up a chaise lounge in the corner. We added an extra pouf for holding snacks and filled in the space with lots and lots of plants.
Now that the patio is complete, we can't wait to host our first party!
Follow our Patio Style Challenge board on Pinterest for more patio decorating ideas and inspiration. And check out our Patio Style Challenge playlist on YouTube.
Browse The Home Depot's online Patio Furniture section for patio sets to fit any style or budget.
This post was created in partnership with The Home Depot. The author may have received compensation for this article and associated images or video, potentially in the form of products and/or services. All expressed opinions and experiences are the author's own words.
Explore More on homedepot.com