Engineered hardwood flooring gives you the look of solid hardwood floors without the high maintenance needs. There are many styles and types of engineered wood floors, so you can easily find one that works for your home. When making your flooring selection, you should consider the installation methods, types of wood materials and additional features like scratch- and UV-resistance.  
This guide will explain what engineered wood flooring is, its benefits and how to choose the best engineered wood flooring for your home. 
What is Engineered Wood?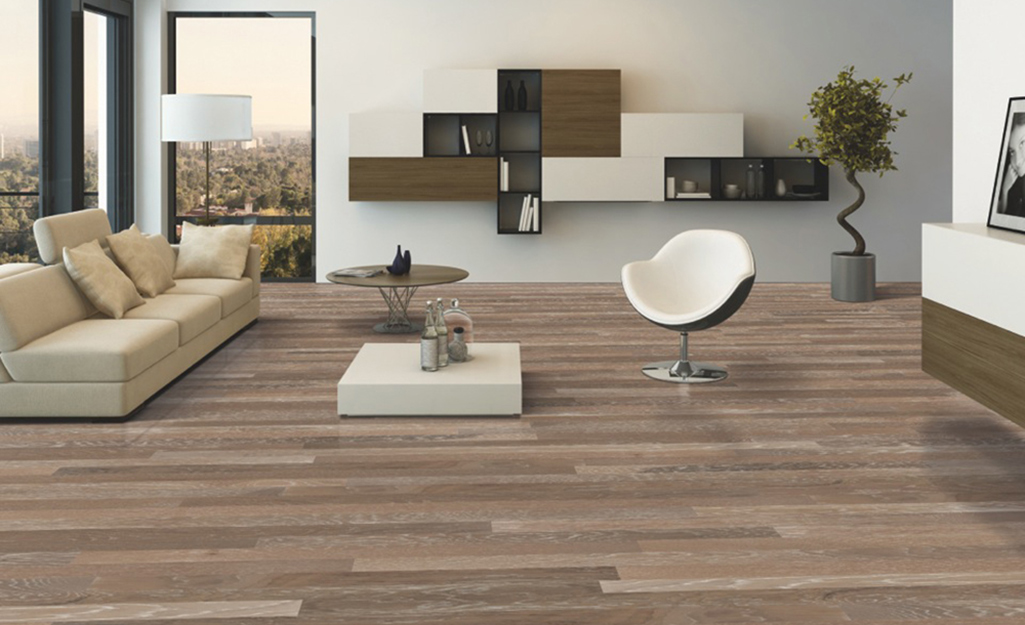 Engineered wood is a manmade wood product created using wood strands, particles, fibers or veneers of wood forged together with adhesives. In the case of engineered hardwood flooring, each flooring plank is composed of several layers of plywood or fiberboard with a solid wood veneer on top. The top wood veneer gives the planks the appearance of solid hardwood, while the plywood or fiberboard core adds sturdiness and durability.
Engineered Wood vs. Solid Hardwood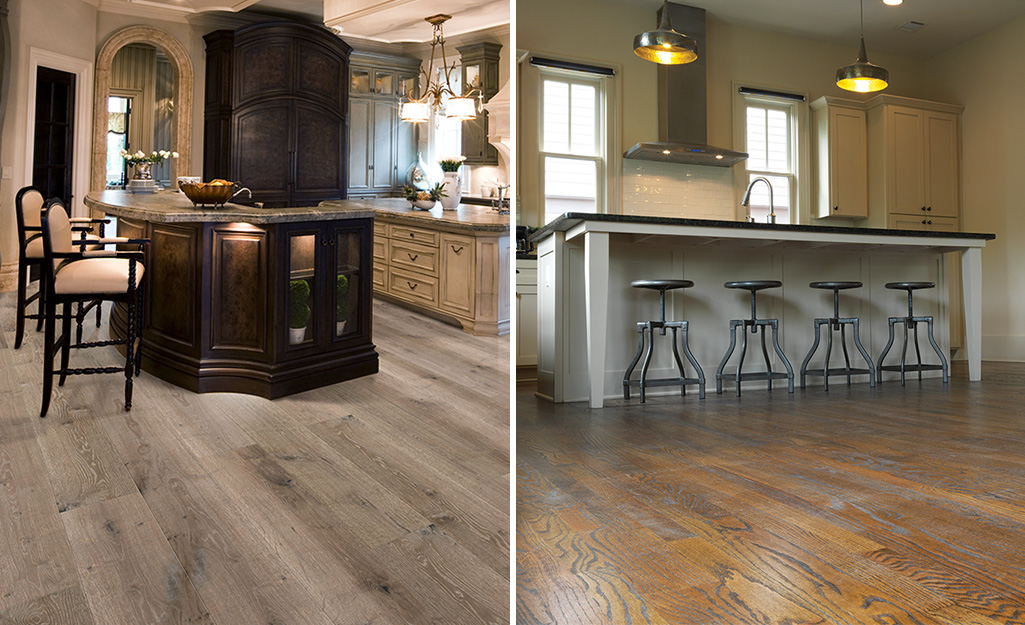 Solid hardwood flooring planks are made entirely from a single piece of hardwood. Engineered wood flooring planks, by contrast, are made up of several layers of composite wood, with a thin veneer of solid hardwood on top. Both are great flooring options, depending on your needs.  
Because its entire thickness is high quality wood, solid hardwood flooring can be sanded down and refinished many times. This ability gives it a much longer lifespan than engineered wood floors. With the right installation and care, solid hardwood can last a literal lifetime, anywhere from 30 to 100 years. However, solid hardwood is prone to warping from temperature and moisture changes, so it should only be installed above-grade. Wider solid hardwood planks may also need to be glued and nailed down to a wood subfloor to prevent movement.  
Engineered wood flooring can also be refinished if it has a thick hardwood veneer. Thinner veneers typically can't be refinished, so the flooring only has a lifespan of up to 30 years. Thick veneers can help engineered wood flooring last up to 80 years. Engineered wood planks are also sturdier and less likely to warp over time, so they can be installed below-grade and over wood or concrete subfloors.  
When it comes to cost, solid hardwood is typically more expensive per square foot than engineered hardwood. Higher quality engineered hardwood can get as expensive as a mid- to upper-range solid hardwood, but the labor for installing either type of flooring is usually the same and makes up the bulk of the cost. 
Tip: Both engineered and solid hardwood floors can make a home more appealing to future buyers and add resale value. 
Engineered Wood vs. Laminate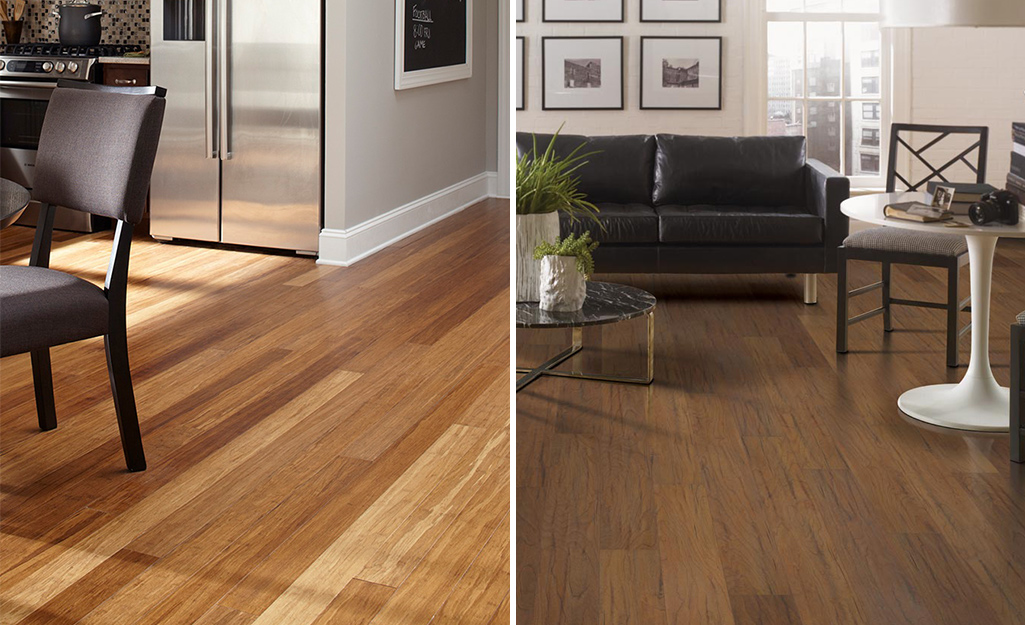 Engineered wood flooring is sometimes confused for laminate flooring. However, laminate flooring consists of a synthetic veneer over a particleboard core. Its veneer is printed to resemble wood but is not actually wood. Laminate flooring has a shorter lifespan than either engineered or solid hardwood, lasting between 15 to 25 years or sometimes longer with proper care. Some people choose laminate over wood flooring because of its low cost per square foot and superior resistance to daily wear and tear.  
Benefits of Engineered Wood Flooring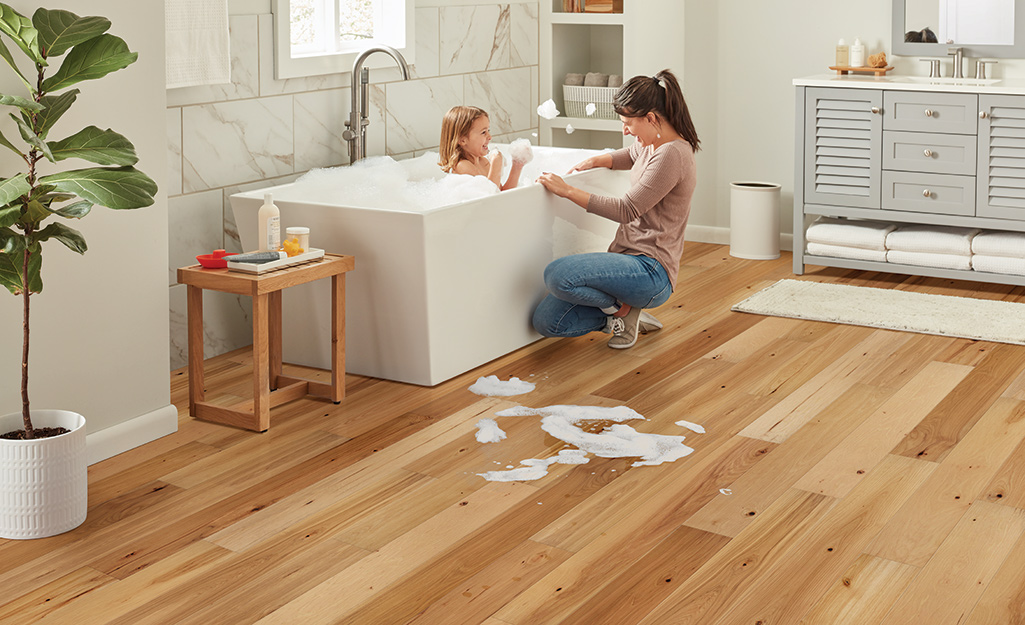 The best engineered wood flooring for your home should offer all the following benefits:
Attractive appearance: To the untrained eye, engineered wood is indistinguishable from solid hardwood. Plus, engineered wood flooring typically is available in a vast variety of colors, textures and sizes.
Durable: Engineered wood flooring has a stable construction that withstands natural temperature and moisture changes. Most types can be refinished at least once if they get too damaged.
Light-resistant: Most types of engineered wood floors are UV-resistant, so they won't fade from the sun.
Mold-resistant: While not all types of engineered wood floors are fully waterproof, engineered wood is more waterproof than other flooring materials. Not only does it resist warping and water damage, it also resists mold growth.
Easy to maintain: Engineered wood floors are easy to clean and are usually pre-finished with a protective coating that doesn't require additional coats of finish or shine.
Multiple installation options: Unlike solid hardwood, engineered wood floors can be installed below-grade, over concrete subfloors and heated floors. They can also be installed with multiple different methods, which are covered in the next section.
Lower cost: Engineered wood flooring is slightly less expensive per square foot than solid hardwood, while still looking like solid hardwood.
Types of Engineered Wood Floors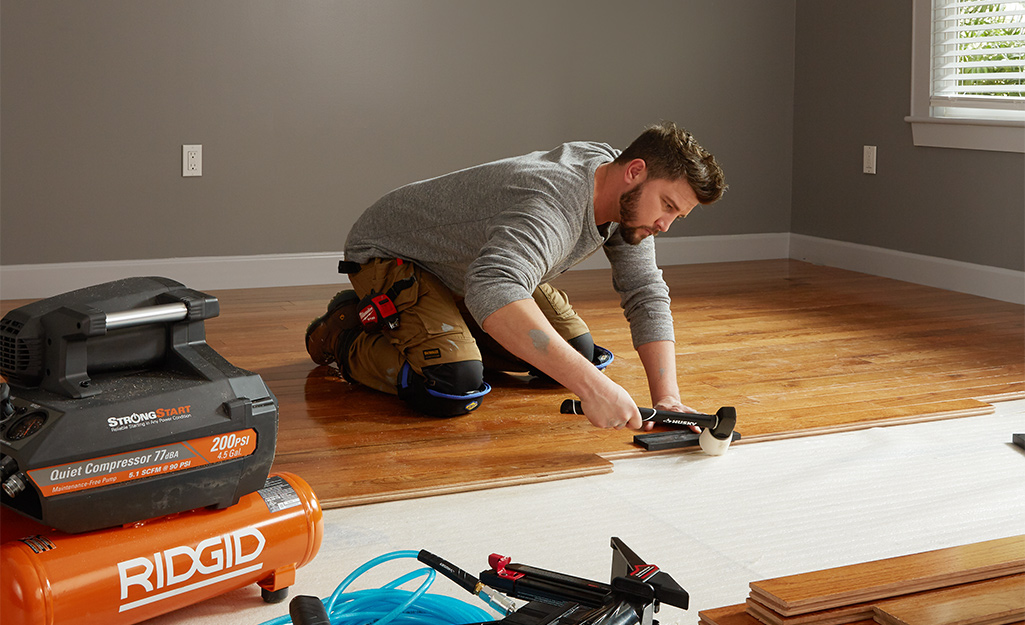 Engineered wood flooring is categorized by its installation method. There are three main types of installation methods:
The adhesive installation method requires the planks to be glued onto the subfloor. This method is used to install engineered wood flooring over a concrete subfloor, especially when below-grade, such as in a basement.
The nail down installation method involves nailing through the planks into a wood subfloor. This method can't be used on concrete subfloors and is only intended for wood subfloors.
The click lock installation method creates a floating floor by "clicking" the tongue-and-groove planks together. No adhesive or nails are required, as the flooring simply rests over a subfloor, held down by its own weight. This method works for either wood or concrete subfloors and has the added benefit of allowing you to easily pull up the flooring as needed for repairs or replacement.
Engineered Wood Flooring Materials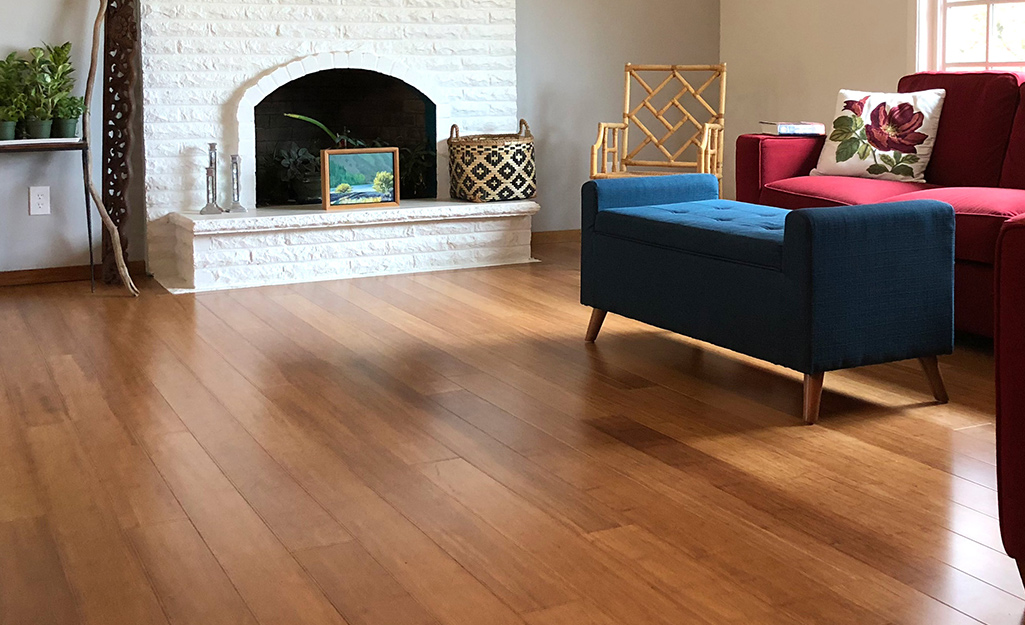 There's a wide variety of hardwoods that are used to create the top veneer of engineered wood flooring. Each type of hardwood has its own benefits and unique characteristics. Below are the most popular hardwoods used in engineered wood floors:
Many more hardwood species are available, but keep in mind that exotic wood species often come at a higher price point. Also note that any type of wood can be stained a different color to fit your style. 
Plank Thickness & Width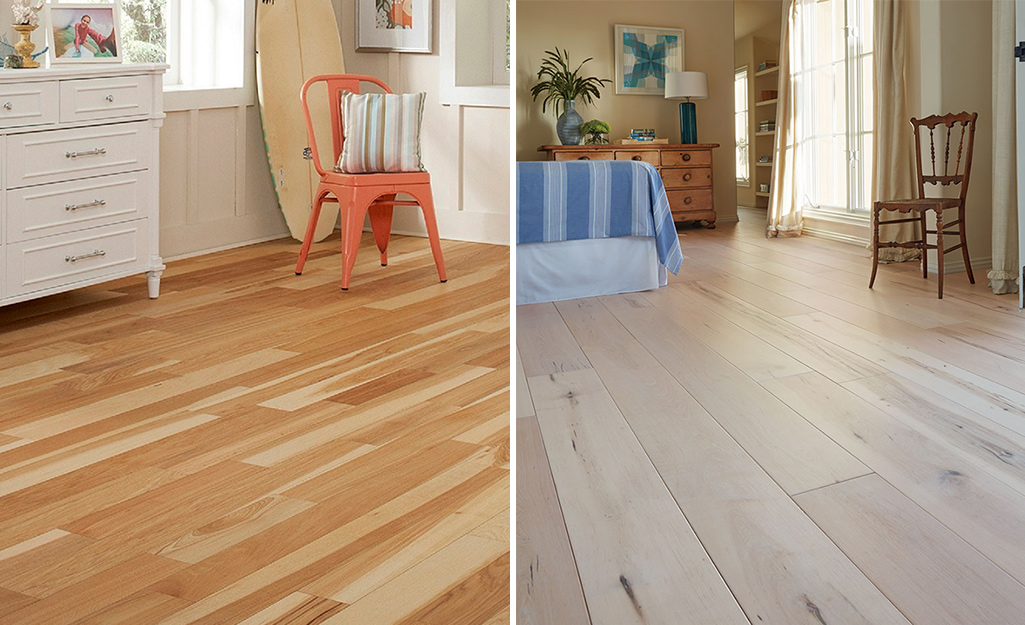 Another aspect to consider when choosing engineered wood flooring is the size of the planks. The thickness of the planks will affect the durability and longevity of the floor. The width of the planks affects only the floor's appearance. 
Thickness:  
Look for engineered wood flooring with a veneer that is at least 3 millimeters thick. Anything thinner can't be sanded or refinished. Most veneers range between 3 to 7mm thick. Some high-quality engineered hardwoods have veneers thicker than 7mm.
The total thickness of the planks can be thin, medium or thick:
Thin: 1/4-inch thick
Medium: 1/2-inch to 3/4-inch thick
Thick: over 3/4-inch thick
Width: 
Choose the width of the planks based on your preferences, budget and home's style. Narrower planks tend to be less expensive and are more common in traditional homes. Wider planks are typically more expensive and look more luxurious. They're a natural fit for modern homes.
Narrow: 5 inches wide or less
Medium: 5 inches to 7 inches wide
Wide: Over 7 inches wide
What to Look for When Choosing Engineered Wood Flooring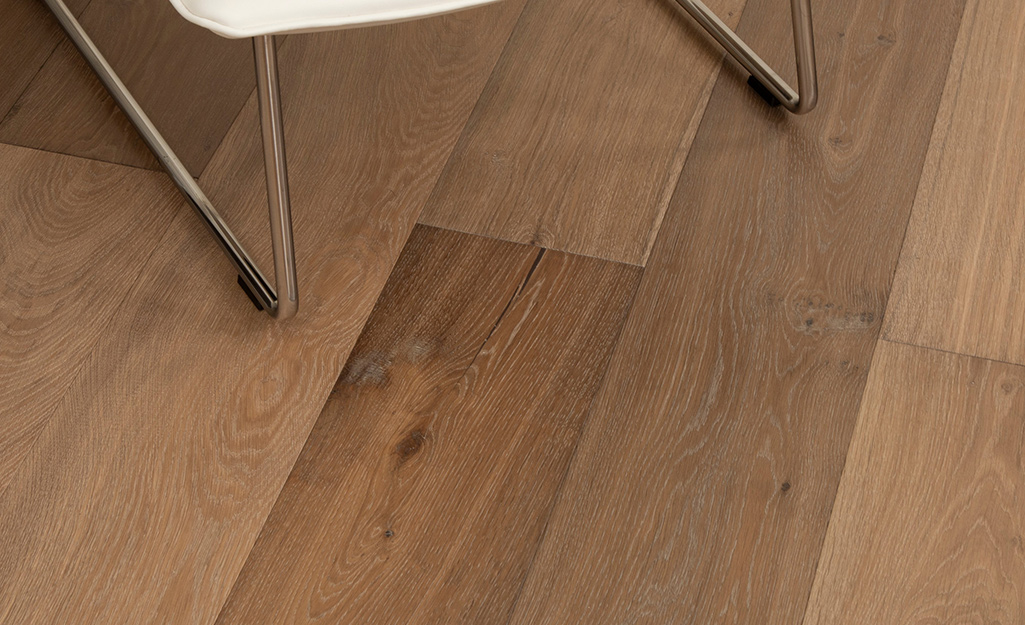 To find the best engineered wood flooring for your home, you should also consider the flooring's finishes, color, texture and any extra features it can offer.  
Finishes and Features: 
Scratch resistant: The finish helps prevent scratches and scuffs from foot traffic, pets and moving furniture. Similarly, you can find engineered hardwood floors that are dent resistant.
UV resistant: The finish blocks UV rays from sunlight so the wood color won't fade.
Waterproof: Protect against damage from spills with waterproof or water resistant flooring.
Stainable: Stainable floors allow you to refresh or change the color in the future.
Supports refinishing: If you want the flooring to last a long time, find engineered hardwood that can be refinished if it gets damaged or worn-looking.
Underlayment: 
Find out if the engineered wood flooring requires an underlayment for installation. Underlayment is a thin material placed between the flooring and the subfloor. It helps absorb noise, adds insulation and protects both the flooring and subfloor from water damage. It also helps correct uneven subfloors. Most wood flooring requires an underlayment, but some engineered wood floors have an attached underlayment.
Color: 
To choose the color of your engineered hardwood flooring, decide whether you want light, medium or dark toned wood.
Light engineered wood flooring: Light tones brighten rooms and have an airy and open aesthetic. They're great for minimalist and coastal styles but may show dirt more easily.
Medium engineered wood flooring: These traditional wood tones match most home decor styles. Medium toned wood floors are the most popular choice with the widest selection of flooring. They can have warm or cool undertones.
Dark engineered wood flooring: These luxurious wood tones can make rooms feel cozy and welcoming. Dark floors are great for many styles of homes from modern to traditional. Dark wood can include cool, nearly black tones or warm red tones.
Alternatively, narrow down your choice by searching for specific color families: brown, red, gray, tan, white, black are some examples.
Texture: 
Textured engineered wood flooring already has dents, scuffs and simulated damage of varying degrees on the plank surface. There's less need to worry about actual damage from daily wear and tear. Plus, textured flooring will need less maintenance than non-textured flooring. Note that if you resurface textured floors, you'll lose some of its initial texture.
Whether you want smooth or textured floors is based entirely on your design preference and ability to clean and maintain the floors.
Engineered Wood Flooring Maintenance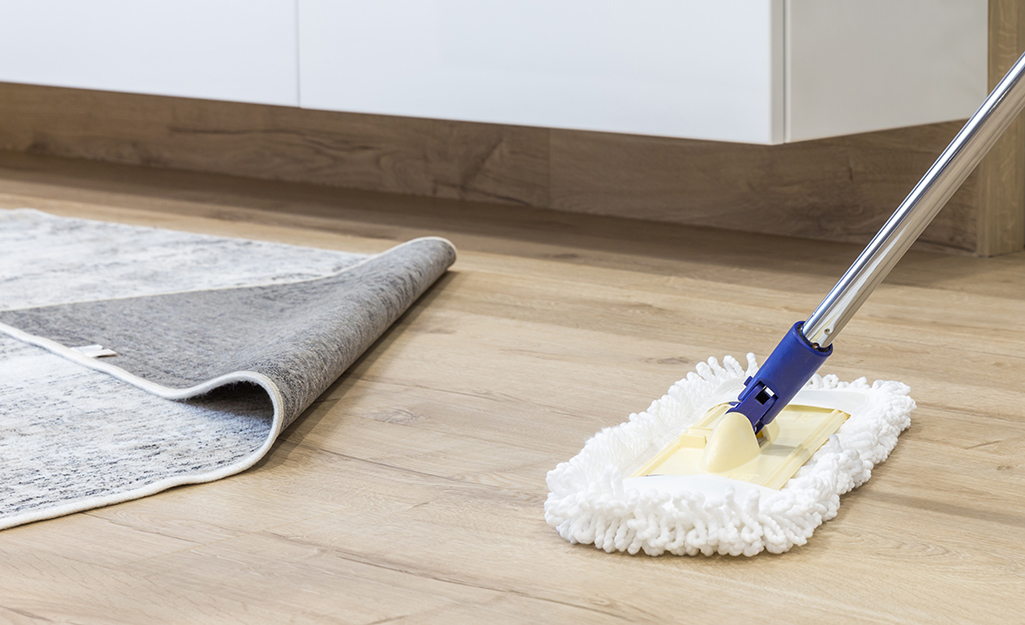 Once you've found the best engineered wood flooring for your home, it's important to know how to take care of it. Here are some tips for maintaining engineered wood floors:
Sweep regularly to remove dust, dirt, pet hair and other debris. You can use a vacuum so long as the vacuum doesn't have a beater bar or has a "bare floor" setting. Otherwise, the vacuum may scuff the floor.
Mop as needed or whenever the floors begin to look dull. Use a mop that's damp, but not soaking wet to avoid water damage. Use a soft towel to dry any spots that are still wet a few minutes after mopping.
Clean up spills and any water on the floor as soon as possible.
For deep cleanings, use a cleaner made for engineered wood flooring. Follow the cleaner's manufacturer's instructions for the best results.
Don't use cleaning products with ammonia, wax or oil.
Use only soft materials like a towel or microfiber cleaning cloth when applying cleaner to your floor.
Minimize the appearance of scratches and prevent more damage using a scratch concealer made for engineered wood flooring.
Consider putting rugs, mats or felt furniture sliders underneath chairs or other frequently used furniture to prevent scuffs and scratches on your floor.
Engineered wood flooring has an ideal balance of beauty and resilience. It's easier to install and maintain than solid hardwood flooring and longer lasting than laminate flooring. Plus, engineered wood floors come in so many styles, colors and textures that it can suit nearly any room in your home.  
When you find the right flooring for your home, remember that The Home Depot delivers online orders when and where you need them.  
Explore More on homedepot.com