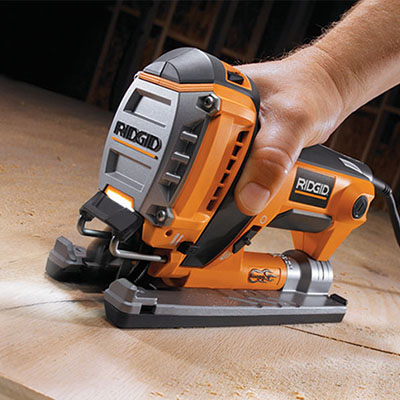 With a jigsaw, you can basically cut anywhere you like, in any direction you like. This freedom of movement makes them perfect for craft projects. 
This guide highlights the different uses of jigsaws, along with power and performance options, and a few cutting tips.
Jigsaw Uses
Jigsaws are perfect for light- to medium-duty cutting of materials like wood, light metals, plastic and more.
Light- to medium-duty tasks (DIY projects)
Construction
Plastic housing
Stamped-steel foot
Universal blade
Power
3 to 4 amps
Corded and cordless models
Common features
Dial or trigger-controlled speed
Basic roller guide
Single-bevel capabilities
Typical Max. Cutting Depths
Soft wood: 2-1/4"
Hardwood: 1-3/8"
Mild steel: 3/16"
Aluminum: ½"
Heavy-duty tasks (pro level)
Construction
Metal gearbox surrounded by plastic housing
Die-cast aluminum foot
T-shank blade (more choices, better performance, pull-out precision)
Power
5 or more amps
Corded and cordless models
Common feature
Dial or trigger-controlled speed (dial sets max speed)
Multilevel blower adjustment
Precision roller guide
No-mar footplate insert
Dual-bevel capabilities
Typical Max. Cutting Depths
Soft wood: 3-3/8"
Hardwood: 3-3/8"
Mild steel: 3/8"
Aluminum: 3/4"
Power and Performance
If you need more power from your jigsaw, a corded model is best. And certain handles or features can make your craft cuts more precise.
Corded jigsaws range from 3 to 8 amps with 5 or more amps providing optimal power for heavy-duty use.
Orbital action uses a back and forth motion in addition to up and down movements for faster, more aggressive cuts.
If you need scroll cuts or craft cuts, look for features like a knob-style auxiliary handle for precision steering control or 360-degree rotating blades for detailed cuts.
If you need straight cuts, such as ripping or crosscuts, look for features like a built-in laser line.
Corded models will be much lighter and easier to use without the added battery weight.
Dual-bevel capability allows angled cuts in either direction without flipping the work piece.
Anti-vibration features reduce wear on your hands and enhance precision.
Dust collection ports clean sawdust as you go, and dust blowers clear away sawdust so you can see the cut line more easily.
Built-in lights enhance visibility without work lights.
Barrel-grip or D-style handles provide for added comfort, along with cushion-comfort grips.
Quick-change blades allow for fast blade replacement, often without the use of tools.
Cutting Tips and Techniques
You'll need to use slightly different techniques depending on whether your jigsaw has a standard blade or reverse-tooth blade. And extra safety precautions are necessary when cutting metal.
With standard jigsaw blades, the blade cuts on the upstroke, an action that keeps the saw tightly against the stock to minimize vibration. This also means that tearout will occur on the top of the cut, so keep the good face of the material down when a clean cut is important.
With a reverse-tooth blade, the cutting action is on the downstroke, so position the good side up. Shut off orbiting action when using a reverse-tooth blade, and be aware that you'll have to supply downward pressure on the saw's body to reduce its tendency to jump.
When precision really counts, saw just to the waste side of the marked cutline, then file or sand to the line for perfect results.
Sideways pressure on the blade during a cut produces several side effects, and none of them are good. With side pressure, your cut can go out of square, producing an unintended bevel. The increased friction heats the blade, shortening its life and burning the cut.
Avoid any loose clothing or jewelry when cutting. Keep a plan of where the cuts will go to reduce waste.
Always concentrate on guiding the saw with a steady forward motion, giving the blade enough time to do its job. Don't rush!
When you're cutting metal, eye protection is an absolute necessity. If your saw has a dust blower, shut it off to help control the sharp chips. Also turn off the orbital action. Check your owner's manual for lubricants you can apply to the metal to smooth the cutting action and keep the blade cool.
We have the tools to make your job easier. For one-off projects and quick home renovations, consider our jigsaw rentals.     
Explore More on homedepot.com