Sheds make great outdoor storage buildings that free up valuable space in your garage, basement and attic. The best sheds for storage will be durable, spacious and have built-in organization. Some types of sheds can double as both storage and workspaces. Whether you just need space to hold gardening tools or you need a workshop with plenty of storage shelves, this guide will help you determine the right size, materials and features to find the best outdoor storage sheds for you.
Things to Consider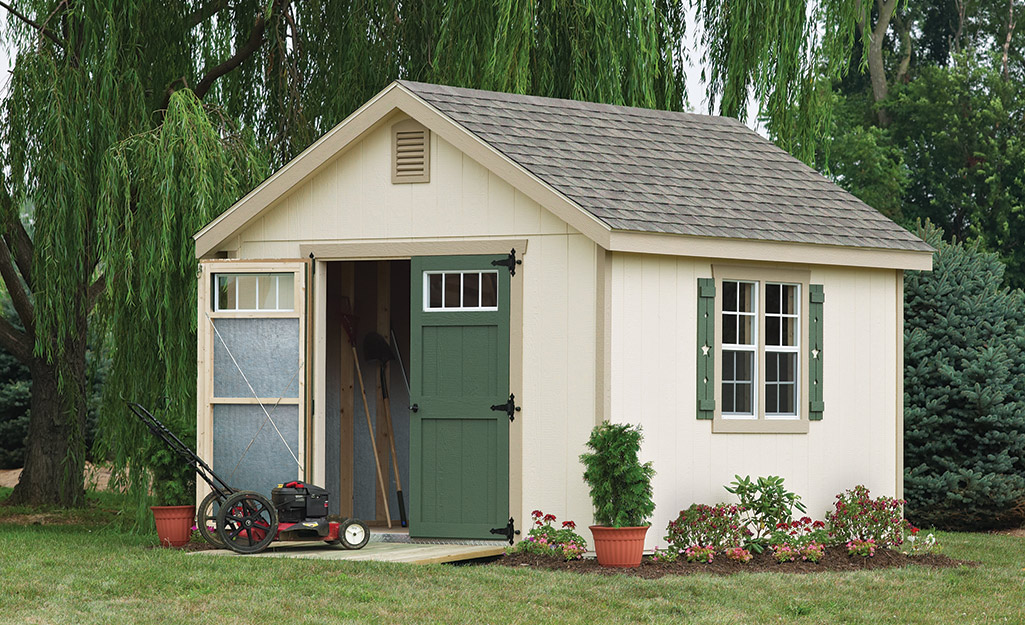 While you plan for your new shed, consider the following:
Available yard space: Make sure you have the appropriate amount of space in your yard for the size shed you want. Keep required property setbacks in mind when you plan the location of your shed. Additionally, sheds should be on level ground and never placed in a low-lying area where runoff water collects. This may damage its foundation.
The style of shed: Keep your home style in mind when choosing the style of shed, so your whole property has a cohesive look. Try matching certain features of your shed with your home, such as the type of door or windows.
Landscaping: Blend a shed into your existing landscape by surrounding it with garden beds or building vine trellises against its walls. However, plan to construct your shed away from dense trees and overgrowth, since falling debris can damage the shed's roof and too little airflow and sunlight can promote mold growth in wooden sheds.
Your climate and environment: If you live in an area that gets heavy rain, make sure your shed has an elevated foundation that drains well. If you live in an area that has extreme temperatures, consider insulating your shed to protect both it and what it's storing during every season.
Your local building ordinances and HOA rules: Depending on the size of the shed you want to build, you may need to get a building permit first. Your neighborhood HOA may have even more specific rules for outdoor storage buildings.
If you plan to build a shed yourself, do you want to build one from scratch or from a shed kit? A shed kit may require more upfront investment for the raw materials needed to build your own shed. However, the kits are beginner-friendly and can save you time and labor.
Types of Sheds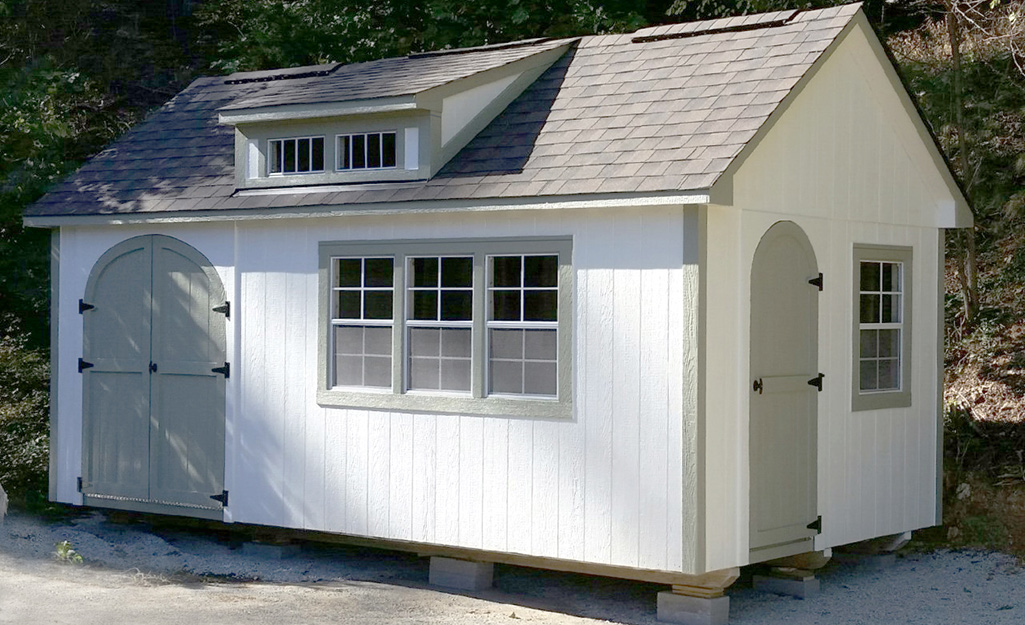 Choose between types of sheds based on how you plan to use your shed.
Garden sheds refer to any type of shed designed to store gardening supplies such as seeds, soil, rakes, pots, shovels, hoses and standard lawn mowers. Some larger garden sheds may have an entrance ramp and be able to store a riding lawn mower.
Tool sheds are smaller sheds designed to organize and store power tools and other hand tools. Typically, they're not as spacious as other types of sheds and aren't intended as workshops.
Corner sheds are a type of tool shed or garden shed made to fit into the corner of your yard. This design works well with fenced-in yards.
Vertical sheds, sometimes called outdoor storage cabinets, are small tool sheds that typically measure 5-feet tall and 4-feet wide. They are taller than they are wide or deep.
Horizontal sheds are small tool sheds that typically measure 3-feet tall by 5-feet wide. They are wider than they are tall or deep.
Lean-to sheds are tool sheds that have a sloped roof. They are designed to have their back wall against another building, giving the appearance of "leaning" on it. When you need even more outdoor storage space, install a lean-to shed against another larger shed.
Insulated sheds are any type of shed that has insulation to help control the interior temperature. An insulated shed is a good option for workshops or for when you need to store temperature-sensitive items, such as flooring or other construction materials.
Garage sheds serve a dual purpose as a storage shed and a detached garage.
Barn sheds or farm sheds are large sheds designed to store agricultural equipment such as tractors and animal supplies.
Shed Sizes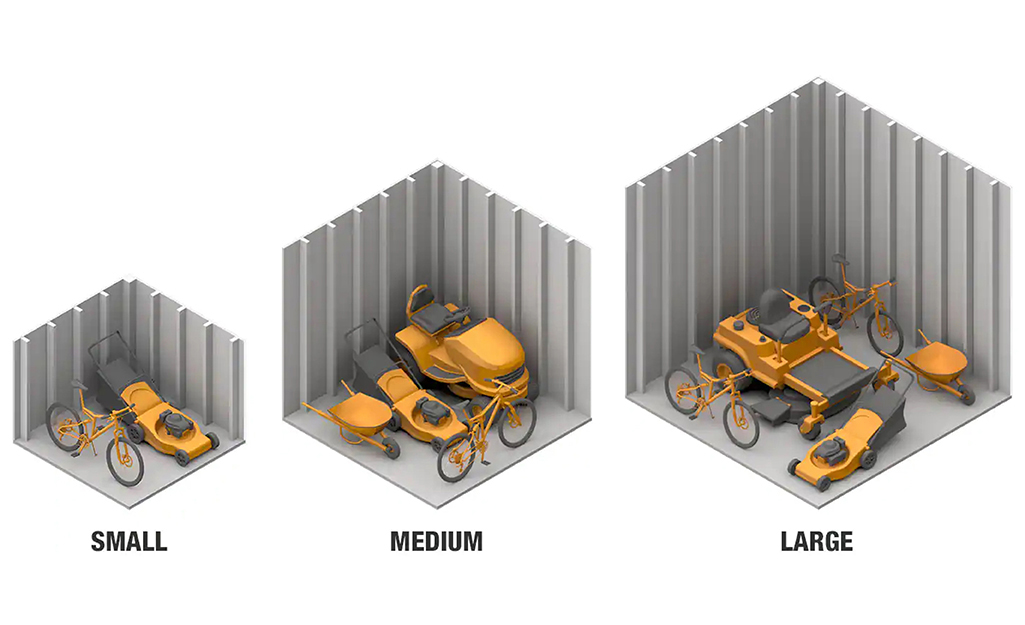 One of the first questions you should ask yourself when buying a shed is "what size shed do I need?" Plan for all the items you need to store, including those that will be hung or placed on shelves, and leave extra space for future storage needs. Storage sheds typically range from small 3-feet by 7-feet DIY kits to 18-feet by 36-feet professionally installed two-story structures.
Small sheds measure up to 7-feet wide and 3-feet deep. They are ideal for tools, gardening supplies and small lawn equipment.
Medium sheds measure up to 10-feet wide and 10-feet deep. They keep garden tools and larger outdoor power equipment readily accessible.
Large sheds measure over 101-square feet. They accommodate a wide range of storage options.
Tip: Purchase a shed with a large enough doorframe if you plan to store large equipment like a riding mower. 
Shed Materials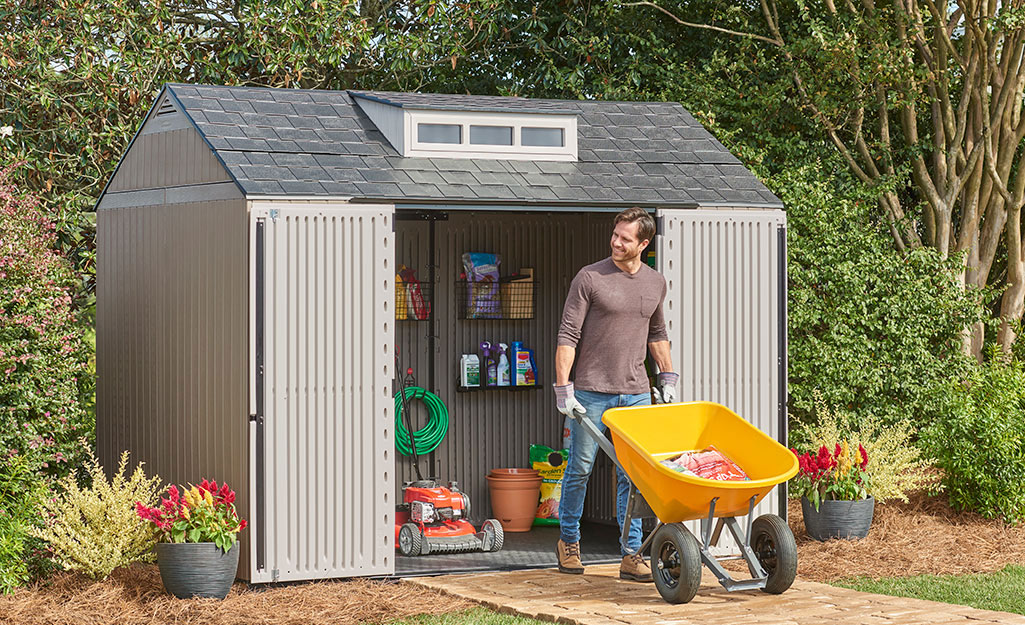 Sheds can have walls made from wood, resin, plastic or metal.
One of the most common types of sheds, and are the best sheds for customization.
Offer a large variety of siding options.
Can be painted or finished to your preference.
Durable and typically built like houses, meaning they have stud-framed walls and shingled roofs.
Wood is the most popular material to use when building a shed yourself, but you can also purchase wood shed kits, which have the wood pieces pre-cut.
Wood has more upkeep than other shed materials. It is susceptible to mold, mildew and rot in damp climates and will need to be repainted every few years.
Plastic sheds or resin sheds: 
One of the best sheds to buy as a shed kit.
Typically made from vinyl, resin or PVC.
Durable and long-lasting.
Require the least amount of maintenance of all types of sheds.
Their color is inherent to the material, so they do not have to be painted. However, you cannot customize them as much as you can customize a wood shed.
Resistant to bugs, rot, mildew and mold.
Typically cannot be insulated.
Commonly sold as DIY sheds alongside plastic sheds.
Made from rust-resistant steel.
Light and easy to assemble.
Siding is pre-painted or vinyl-coated by the manufacturer, so there is no need to paint or repaint metal sheds, but you have fewer customization options than wood sheds.
Durable and long-lasting.
Resistant to bugs, rodents, rot, mildew and mold.
If its protective paint or coating is scratched or damaged, the siding may corrode and require replacement.
Shed Features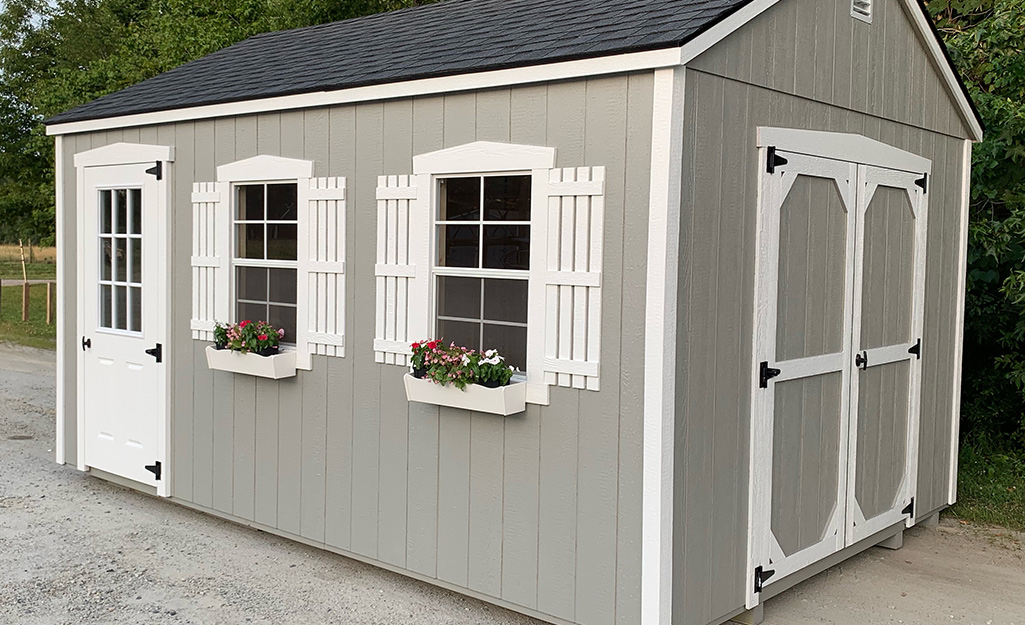 The best sheds for outdoor storage should have plenty of organizational features and keep accessibility in mind. Consider these features and shed accessories when reviewing the best sheds to buy:
Shed shelving and racks will help you keep your tools and supplies organized and easy to find. Plus, shelves will keep fertilizers, pesticides and other chemicals off the floor and away from pets and children.
Use pegboards and hooks to hang rakes, shovels and hand tools. Heavy-duty hangers keep ladders and garden hoses off the floor.
Add a ramp to make it easy to roll wheeled items in and out.
Install lights so you can use your shed after dark. Wireless, solar and motion-sensor lights are available.
Install or choose a shed kit that has windows to help with lighting and airflow.
Add decorative details such as window boxes, shutters, French doors and cupolas.
Double doors can ensure you have a large enough entryway for all your equipment.
Is it Better to Buy or Build a Shed?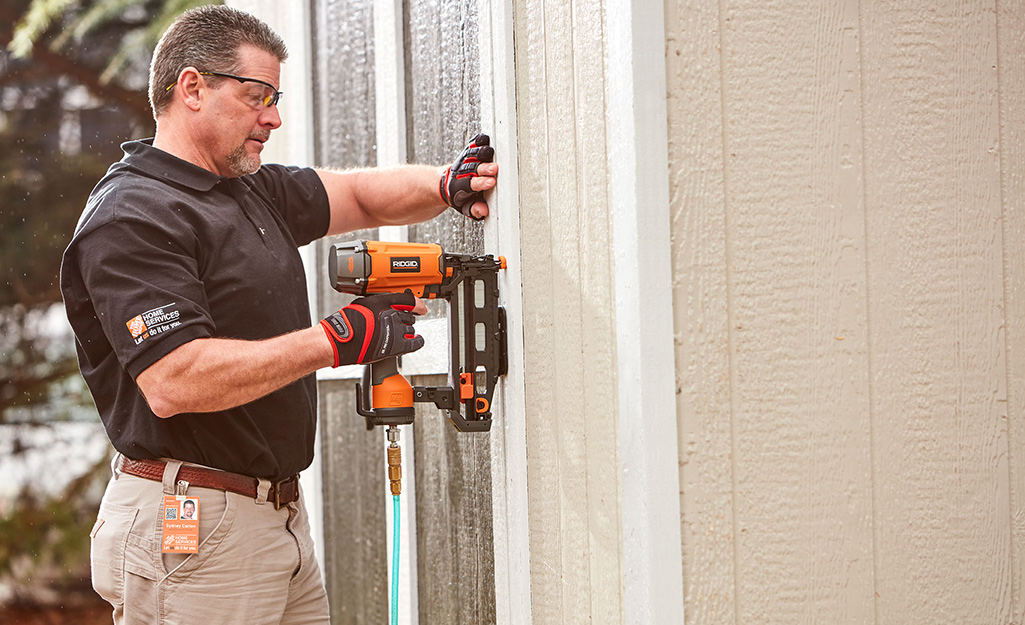 When adding a shed to your yard, you have the option to build a shed yourself or hire professional shed installation services. Buying a shed and having it professionally installed will be the fastest and easiest option, but also the most expensive, since you are paying for both the shed and the labor involved in building it.  
When you build a shed, you can either build it from raw materials or from a DIY shed kit. The shed kit comes with pre-cut materials and detailed installation instructions, making the process quicker and easier than building a shed from scratch. You will also need fewer tools, since you won't have to measure and make the cuts yourself. Building a shed from a kit is less expensive than getting a professional installation, but it's more expensive than creating a design plan and gathering the materials yourself. 
Building a shed from raw materials is the most labor-intensive and time-consuming option, but it is also usually the most budget friendly. However, if you don't already have all the power tools you need, you will need to account for the expense of buying or renting the necessary tools. 
Narrow down all the storage shed options by determining the right size, material and features for your needs. From there, you can decide whether a professionally installed shed or a DIY shed is the best choice for you. Once you're ready to find the best sheds for outdoor storage, The Home Depot delivers online orders when and where you need them. 
Explore More on homedepot.com