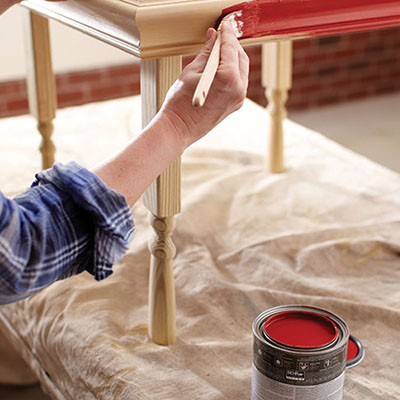 Painting almost always results in a few drips, splatters and spills. Before those accidents happen, cover your floors, valuables and furnishings with drop cloths and tarps.
This buying guide highlights the different types of drop cloths, tarps and plastic sheeting available and how to properly apply them before beginning your painting project.
Drop Cloths and Tarps
If you ever knock over an entire can of paint, you'll be glad you took the time to secure a drop cloth.
Using drop cloths and tarps is essential to protect your valuables and home furnishings.
Drop cloths and tarps are made from different materials, meaning some are better suited for specific tasks than others.
Some are disposable, making them ideal for quick, one-shot projects, while others last for years with proper care.
Outdoor jobs require a stronger, heavier material to keep them in position against wind and other environmental elements.
Some of the most common material types are canvas, plastic, paper and a paper/poly combination.
Drop Cloth and Tarp Types
Applications
In addition to protecting your home during paint jobs, sheeting and tarps can protect compromised roofs, lawn and garden equipment and outdoor furniture.
Extra-heavy plastic sheeting can be used to protect boats, trailers and for a variety of landscaping and construction applications.
Mesh tarps can be used in situations to provide equal amounts of shade and airflow when waterproofing isn't a concern.
Tarps can keep things dry, such as firewood stored outdoors, or in an emergency to create a canopy during inclement weather.
Drop cloths can also be used to help you haul away leaves and grass clippings from your yard.
Explore More on homedepot.com