Cordless, top down-bottom up, motorized -- many of Home Depot's window treatments have a variety of different operating systems.
Lift refers to a blind or shade that can be completely pulled up to the top of the window, offering a nearly unobstructed exterior view.
This guide will help you find the controls that best suit your needs. Need it today? We'll deliver on your schedule. Order before noon for convenient scheduled same-day delivery.
How you lift your blinds can make a big difference in the convenience and safety of your home or office. There are four lift options available: the standard pull cord, continuous cord loop, cordless or motorized.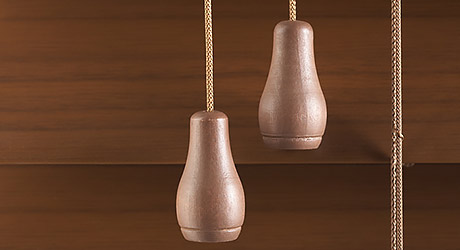 Many window treatments come standard with a free hanging pull cord to raise and lower them. Standard cords can be paired with almost any type of blind or shade and are typically the most affordable option.
This makes them a great choice for a large office with many windows to cover on a budget. You may see the standard pull cord referred to as the standard cord, the standard lift cord or the single retractable cord.
One thing to keep in mind with corded window treatments is to always keep window cords out of the reach of children by securing the cord to a wall with a cord cleat.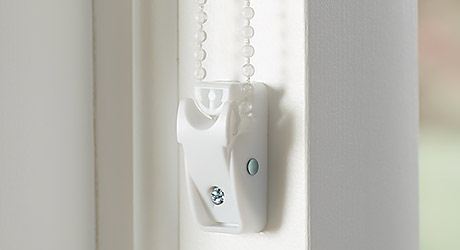 Smart pull is a variation of the standard pull cord that you may find on certain specialized blinds. It is considered a safer option than the standard cord because it features a single cord that stays the same length. Excess cord retracts into the head rail.
To use smart pull, give the cord a series of short tugs which will raise the blind in increments. To release, just pull completely and the let spool unwind.
The continuous loop option is great for larger shades that are raised and lowered frequently. This provides a neater look because the cord is a fixed length and the tensioning device is adhered to the window frame or floor, eliminating dangling cords.
The innovative pulley and clutch system allows you to raise or lower your blinds without changing the length of the cord.
The pulleys also shift the blind's weight, making them easier to lift. For this reason, the continuous cord loop is the best option for heavier blinds like wood or faux wood, or for larger windows and doors.
Continuous cord loop lifts can be paired with many different types of custom blinds and shades. Due to its construction and mechanical action, continuous cord loop is considered the most durable and long-lasting of the blind control options.
To operate the continuous cord loop, hold the front loop string and pull one hand over the other to lift the blind or shade up. To lower, grasp the back loop string and pull with the same motion evenly and smoothly.
You may see the continuous cord loop referred to as Easy Glide, Easy Up Lift, Easy Rise, Easy Up, Soft Glide, Ultra Lift or Ultra Touch.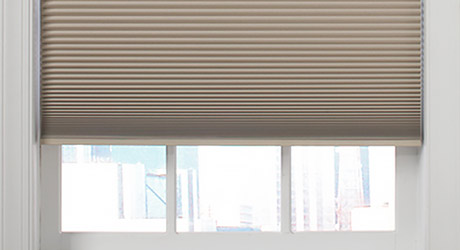 Cordless lift options are available on many products and are easily operated by hand. The ease-of-use and safe features of cordless blinds or shades make them some of the most popular.
A key feature of cordless window treatments is that they are safer for children, but remember they can only be raised as high as the reach of the person operating them.
They work on an adjustable tension system with multiple spool drums that raise and lower the blinds without the need for any exposed cords. This creates a clean look across your window treatments.
To operate a cordless system, simply grasp the middle of the bottom rail and pull up or down with a gentle, even pressure. The blinds will stay wherever you place them. Almost any type of blind can be paired with cordless controls including wood, faux wood, aluminum, cellular shades, Roman, pleated and more.
You can add motorization to your cordless blinds or shades to make them even easier to lift. Motorized systems also eliminate pull cords and are a great option for rooms with out-of-reach windows or multiple windows. They are also a favorite for media rooms and modern high-tech environments.
The top down-bottom up option is a customer favorite. It allows you to raise the shade from the bottom or lower it from the top, providing many light control and privacy options.
These shades are available in both cord and cordless options.
Shop over one million products and find the info you need most. Save time with The Home Depot app.