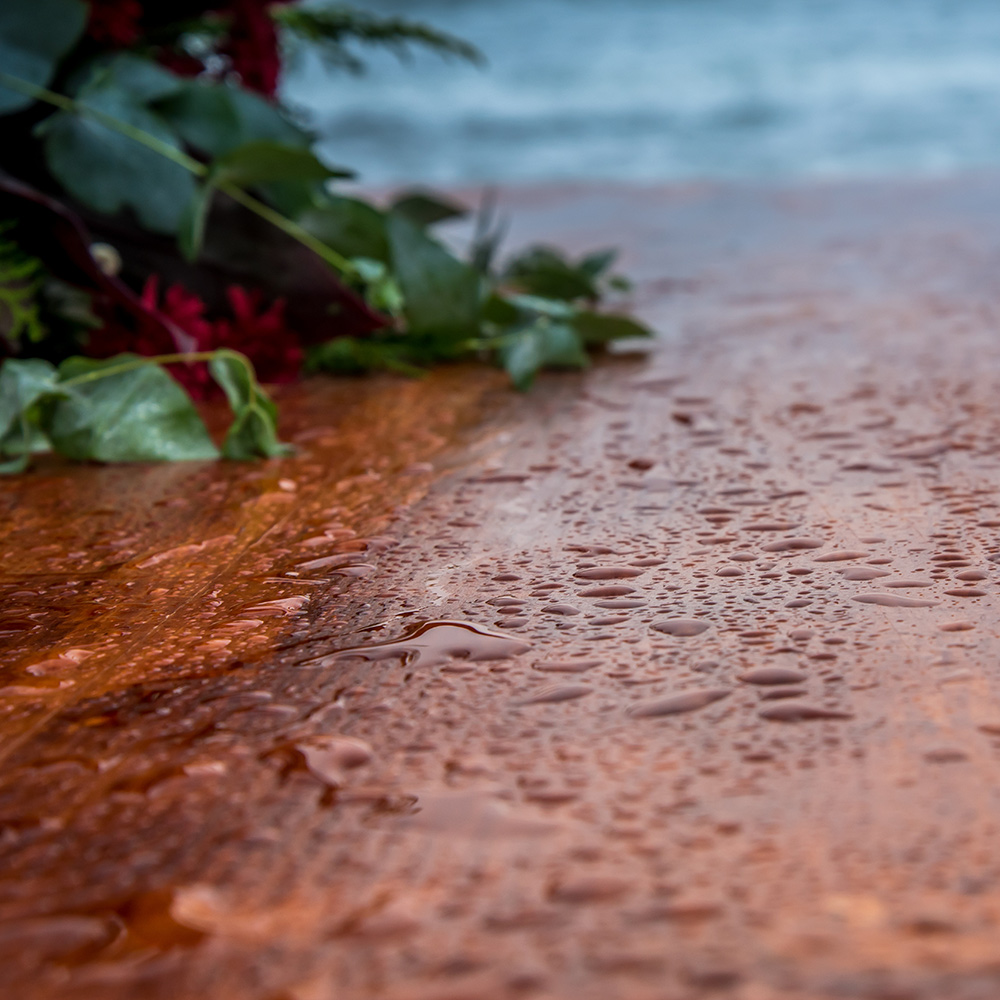 Keep your outdoor wood and masonry surfaces looking good for years. Waterproofing wood and masonry protects decks, patios, wood siding, basement walls and driveways from damage caused by water, sunlight and mildew. This guide will show you how to waterproof wood and masonry. 
Why Waterproof Wood and Masonry?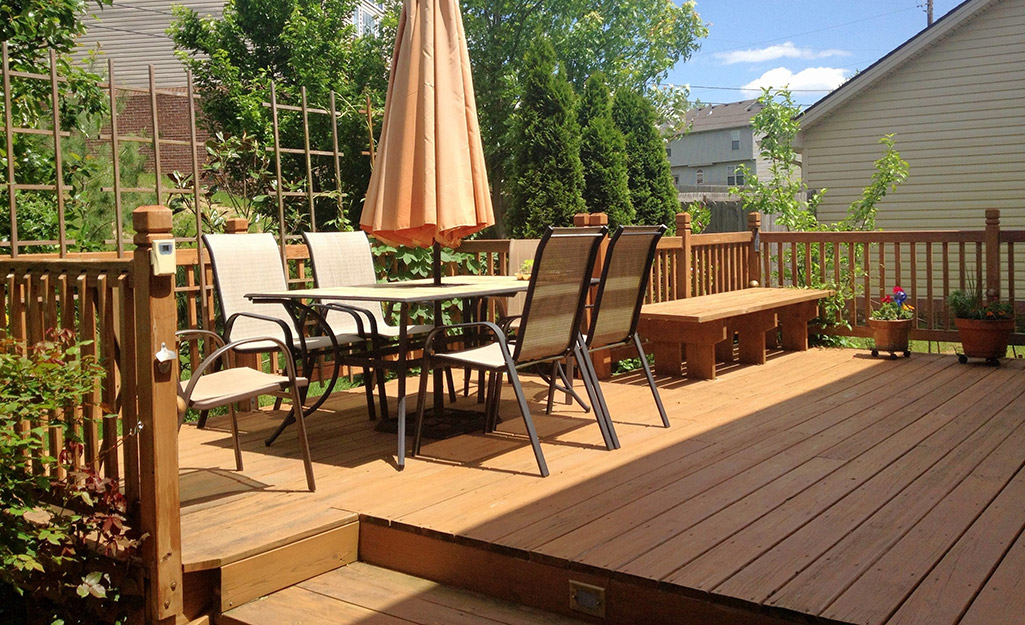 Weatherproofing wood and masonry will not only prevent it from moisture damage, but it also protects it from UV rays, humidity, frost and insect damage. Waterproofing wood and masonry will not completely make it immune to potential damage, but it will lengthen its lifespan.
Waterproofers enhance the natural color of the wood on your deck or patio, adding a hint of color while providing a clean finish. Any wood exposed to outdoor elements needs to be treated even if it's covered by a porch. Waterproofing wood can help prevent:
Cracks, warping and splitting resulting from collected moisture.
Discoloration, wear and breakdown due to UV rays.
Scratches caused by foot traffic and deck chairs.
Mold, mildew and ground-in dirt from leaves accumulated in damp corners.
Masonry waterproofers prevent water from seeping through cracks in basement walls, garage floors, concrete block walls, swimming pools and fountains. Most homeowners know the pains of dealing with a wet basement. Water seepage into a basement occurs for a few reasons: poor workmanship, the natural settling of a house on its foundation, or excessive water pressure. Waterproofing masonry offers prevention against many things, such as preventing:
Damage before it occurs by providing a tough water barrier. 
Leaks that allow water to enter and cause damage. 
Keeps mold and mildew from forming on basement walls.
Masonry waterproofing can be used after water damage has already occurred. 
Types of Waterproofers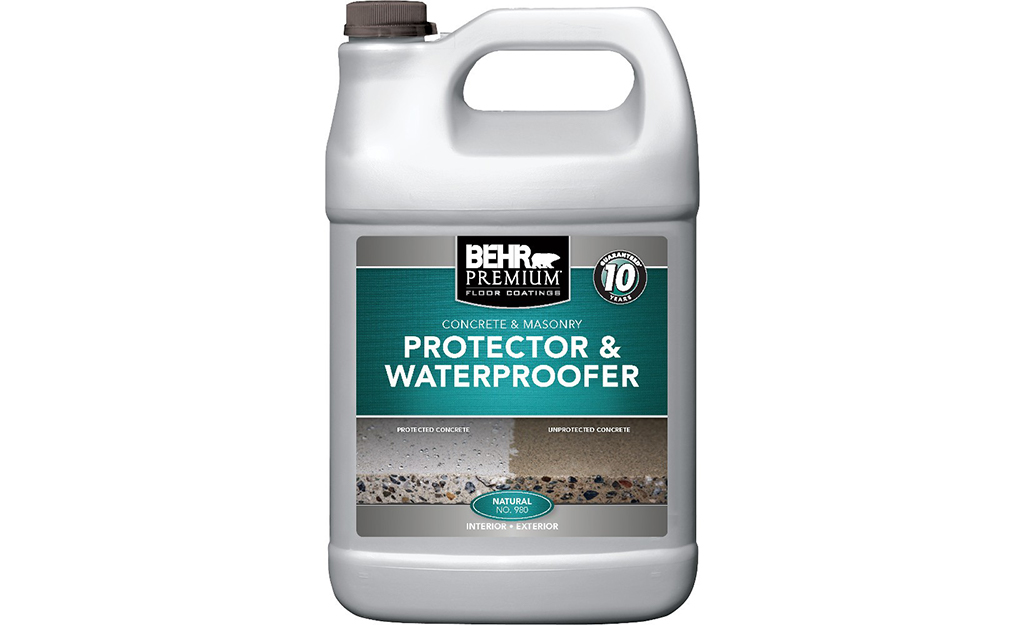 There are two basic product categories for waterproofing: stains and sealants. Stains are used on wood to enhance color and make them weather resistant. Sealants protect concrete and wood from moisture but do not stop water movement through the concrete from the outside. For masonry, the sealants are the go-to product. 
Wood waterproofers:
Wood sealers: Oil-based stains penetrate the wood more deeply than water-based finishes. Water-based products are easier to clean and can be applied to dry or damp wood. 
Clear waterproofer for wood: These products are specifically designed for wood and usually include mildewcides and help wood resist fading. Clear waterproofers enhance the natural wood grain's appearance. Reapply every one to two years.
Tinted waterproofer for wood: Contain mildewcides and offer greater UV protection because they contain pigment. The color or tint enhances the wood color and allows the wood grain to show through. Reapply every two to three years.
Masonry waterproofers:
Clear masonry sealer: Masonry sealers do not provide true waterproofing, but they do repel water and allow water vapor to move through the material. Apply these products to brick, concrete, block, stucco or other masonry material.
Pigmented masonry waterproofer: Pigmented waterproofers are similar to stains and change the color of the masonry material while also providing waterproofing. These products can be applied to any masonry surface.
Film-forming coatings: These masonry products resemble paint finishes—from sheen to satin to gloss. These products resist water pressure behind the film they create when applied. Use film-forming coatings to seal leaky basement walls. As masonry sealers, these products typically last the longest.
Wood and masonry waterproofers:
Clear, multi-surface waterproofer: Used on both wood and masonry to stop water damage. They do not include mildewcides, pigments or UV blockers. If you apply this product to wood, it turns a weathered gray over time.
How to Waterproof Wood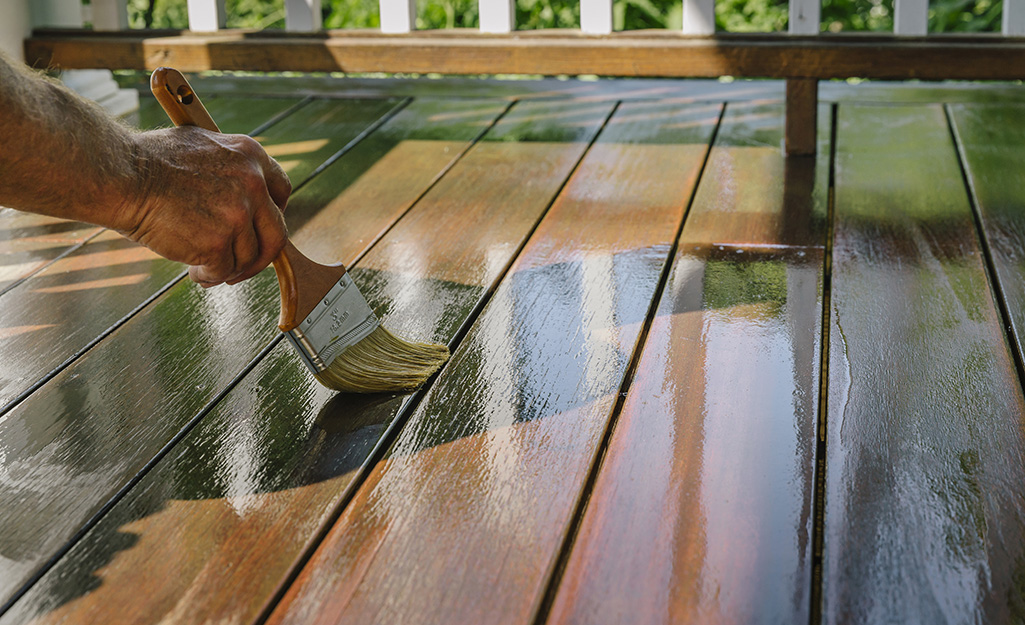 Correctly weatherproofing wood will make your wood surfaces last longer. Although waterproofing wood will last for a while, it needs to be reapplied every few years to keep its moisture resistance. Here's how to weatherproof wood: 
Clean the surface: The first step in how to weatherproof wood is to clean the surface. A clean surface ensures a better seal. Use a general cleaner to remove dirt, mold or mildew. Let the wood surfaces dry completely before proceeding to the next step. If it's a new wood surface, you can skip the cleaning process.
Sand down wood: After the surface is dry, give it a good sanding with rough sandpaper or with a sander to tackle any imperfections. Finish with finer sandpaper to make it smooth and even. Wipe the surface thoroughly to remove any sanding residue.
Choose the right stain or sealant: Most sealants and stains are sold for the application you need it for. Pick the one that makes sense for your surface. 
Apply the first coat: Apply the sealant or stain evenly with your brush or sprayer. Allow the surface to dry for four to ten hours, depending on the product's instructions.
Sand the surface: To form an effective waterproof barrier, you will have to apply multiple coats of stain or sealant. Sanding between coats will allow the next layer to adhere better. Use very fine sandpaper or "0000" steel wool to sand the surface. Wipe the surface down again with a dry cloth to prepare it for the second coat.
Apply the next coat: Add another layer of stain or sealant and let it dry for four to ten hours. Sand and apply waterproofing again, if necessary.
Let it cure: The wood needs to cure for around three days before using it or placing any furniture on top of it. 
Safety tip: Always wear protective eyewear, rubber gloves, and other protective apparel while applying waterproofers.
How to Waterproof Masonry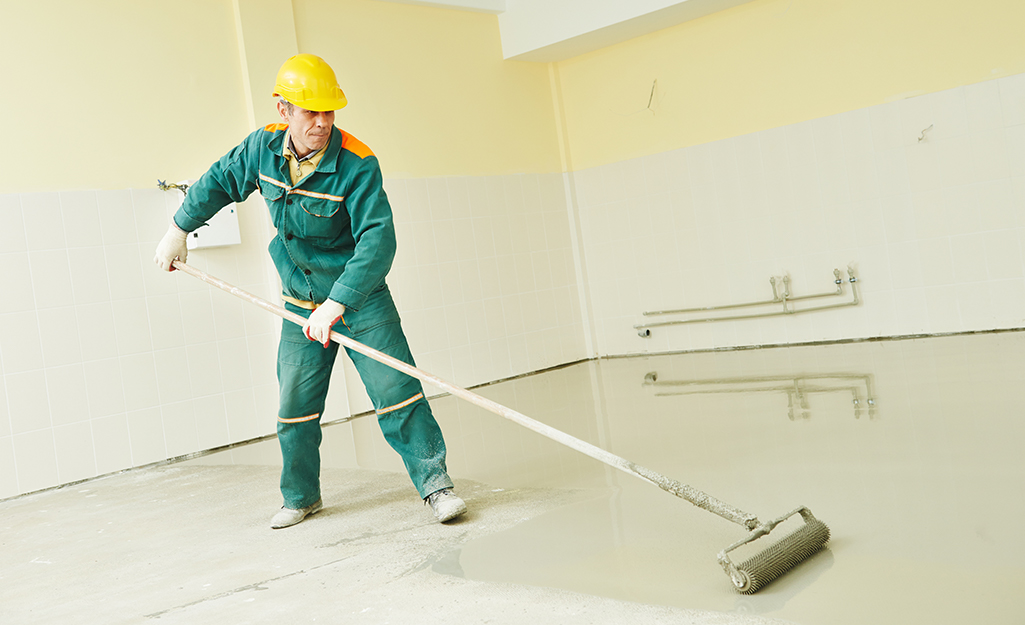 Exposure to moisture can be damaging for brick, stone and concrete. For many homes, masonry walls are on the exterior or in basements. They are moisture barriers between the outdoors and your interior walls. Fortunately, it's easy to protect masonry surfaces – and the interior of your home – by waterproofing them. Here's how to waterproof masonry:
Identify existing water damage: Look for white chalky streaks on concrete blocks or walls. These are actually calcium salt deposits or efflorescence that water brings to the surface. This must be removed before applying a new coat of sealant. Remove efflorescence by washing with a stiff brush and water. If that doesn't work, add in a mild cleaning detergent.
Look for holes and cracks: If there are no holes or cracks in the surface, it's ready for waterproofing. If a surface shows signs of damage, repair the holes or large cracks before applying waterproofer.
Remove existing paint: If there's paint or other coatings on the masonry, remove it by scraping, sandblasting, sanding, wire-brushing, pressure washing, chemicals or a combination. You can use paint stripper and remover to expedite the process. Masonry sealant only adheres to bare masonry. You have to remove the paint before applying the sealer.
Clean the surface: Use a pressure washer or cleaning solution to remove mold, mildew and dirt from the surface. Allow it to completely dry.
Repair the surface: Repair hairline cracks with waterproofing mix. Repair larger cracks by cleaning out and patching with mortar.
Mist the area: Finely spray the masonry before applying waterproofer.
Apply the sealant: Paint masonry surface with a thick coat of sealant. Be sure to push the sealant into cracks and crevices of surface. A paint roller or brush made specifically for masonry is best. 
Let it dry: Allow to dry overnight or for a minimum of 12 hours between coats.
Apply a second coat: Apply another coat of sealant and allow it to dry.
Paint: Now you can paint the surface any color you want. Remember, if you need to re-apply sealant in a few years, you will have to remove that paint layer. 
Note: New concrete must cure a minimum of 30 days before applying sealants. 
Now that you know how to waterproof wood and masonry, shop The Home Depot online for all your waterproofing supplies. The Home Depot delivers online orders when and where you need them.
Explore More on homedepot.com