Good bathroom lighting is important. Whether you're shaving, putting on makeup or just brushing your teeth, you need to be able to see what you're doing. A clear view of your bathroom can also help make it a safer place to be.
If you're remodeling your bathroom or refreshing your light fixtures, it's important to consider the best vanity light height for your space. This guide will cover the standard height for both vanity lighting above a mirror and along the wall.
Above-Mirror Light Height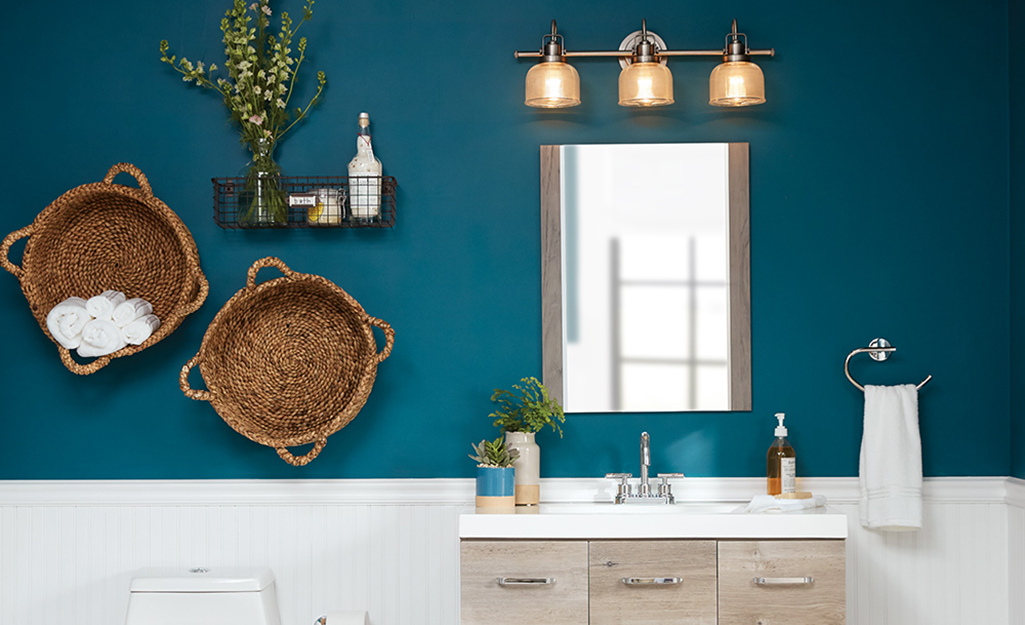 The standard bath vanity light height is roughly 75 inches to 80 inches from the floor, above the mirror.
If your bathroom mirror height is above the recommended vanity lighting height, there's no need to change it. Place the vanity light bar 3 inches above the mirror for the most even illumination across your reflection.
For a child's bathroom, keep the light at the standard height, but choose a wall-hung mirror that can be adjusted. The bathroom mirror height can be increased as they grow.
Note: These recommendations are common standards, but the placement of your vanity lights should accommodate your personal needs. Adjust the height as needed.
Side-Mirror Light Height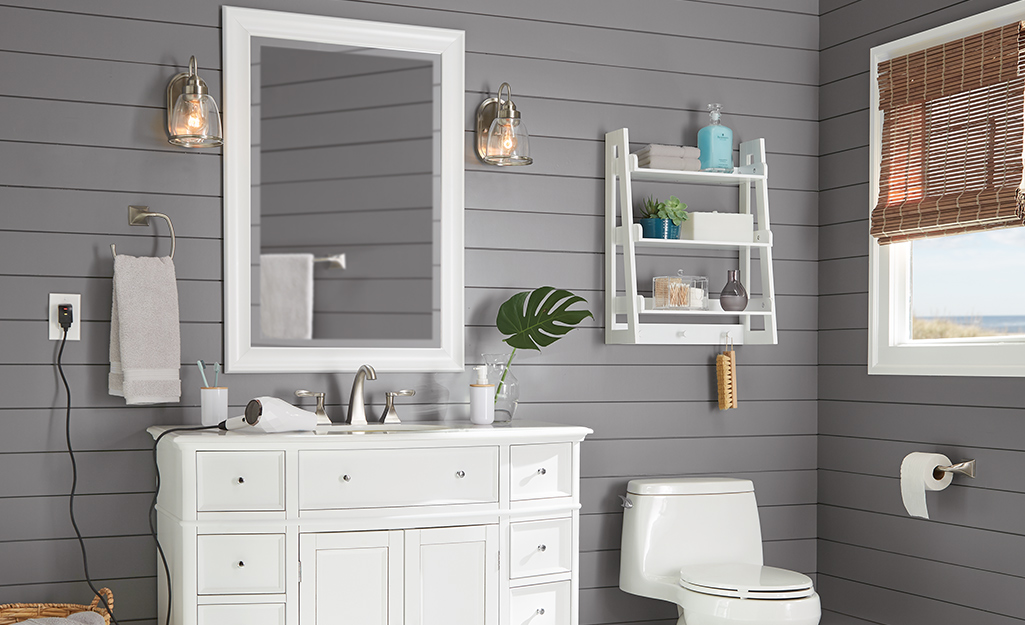 If you have enough space for vertical fixtures or sconces on either side of your mirror, the placement is slightly different. When a bathroom sconce is installed too low, the light from it can shine right into your eyes. With low sconces, there's also a risk of  hitting them or even knocking them off the wall during routine tasks. However, if your sconces are too high, you won't be able to take full advantage of the light they offer. 
The right bathroom sconce height is between 60 inches to 70 inches from the floor.
Choose a height near eye-level to minimize shadows around the face.
It's important to make sure the light is evenly placed on each side of the vanity mirror to keep the space looking bright and clear. If one light is installed higher than the other, the room can feel off balance.
Sconces on the side of the bathroom mirror work best in pairs. If you like the look of a sconce, but only want one, placing it above the mirror might work best.  
Avoid installing side lights at a lower height in a kids' bathroom. Follow the standard recommendations and allow children to grow into the space.
The ideal distance between lights on either side of the mirror is about three feet (36 inches). If your mirror is wider than that, you may need to make adjustments.
Other Factors to Consider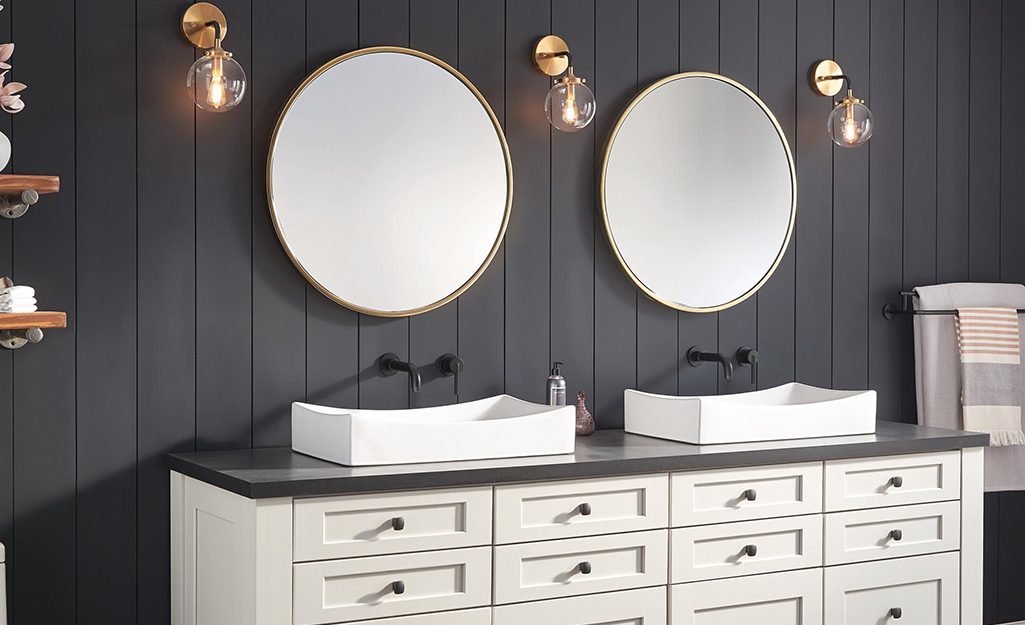 Think about the heights of the members of your household when adding sconces to your bathroom. If someone is extremely tall or short, then the standard height might not be the best fit. Instead, you'll need to figure out what height would work best for them. 
The type of plumbing fixtures you have should not affect your vanity light height. The right height will be measured starting from the floor rather than the faucets. For example, a wall-mounted faucet might be higher than a traditional one mounted to the sink. Still, with either faucet, the vanity lights could be installed in the same place above the mirror.
The size and layout of your bathroom will determine how you should approach vanity lighting.
A more compact space may only need one kind of light. 
A bigger bathroom may have several distinct lights, including vanity lighting, ceiling fixtures and waterproof fixtures in the shower. 
Whether or not your bathroom has a window can also influence your selection.
The way lights are placed can cast shadows that might block or distort what you see in the mirror.
Lights on the side of the mirror work well in bigger bathrooms, especially those that have separate overhead lights and shower lights. 
Lights at the top of the mirror can work well on their own or complement existing overhead lighting.
 Though recessed fixtures in the ceiling might seem like a good choice for the vanity, they don't provide ideal lighting for the bathroom. 
Recessed lights can create shadows on your face and body. These shadows can make shaving, applying makeup and even checking your outfit more difficult.
Bathroom Light Safety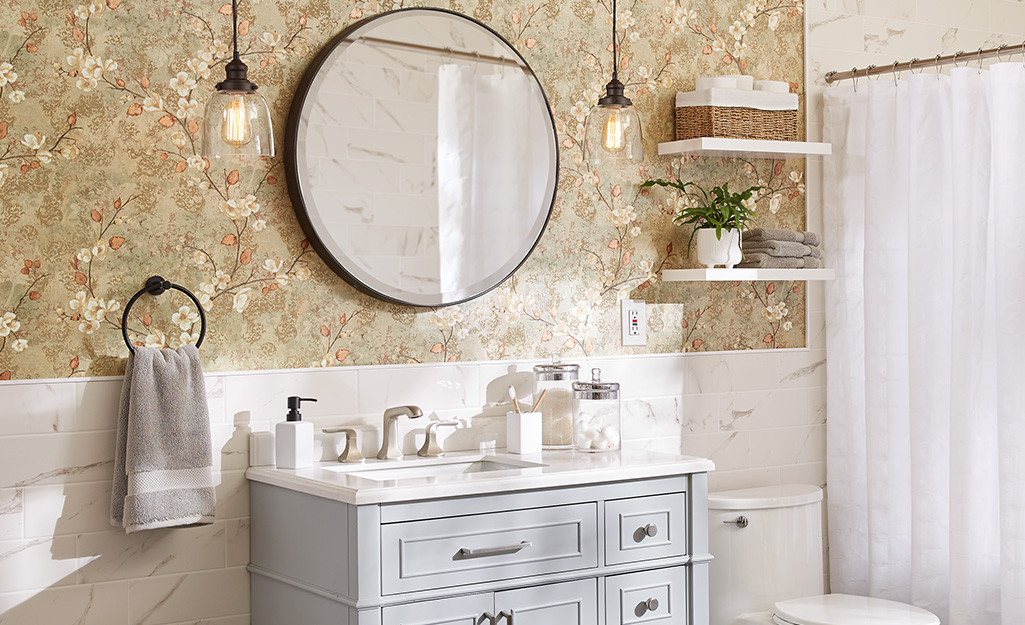 Keep safety in mind while making plans to update your bathroom's vanity light height. The combination of electricity and water can be deadly. 
You should talk to an electrician before beginning any bathroom lighting project. Lighting fixtures placed close to tubs and showers, as well as bathroom circuits, must meet local building codes and certain safety standards set by the National Electric Code.
A bathroom is not a place where you want shadows and dim lighting. Get a clear view with the right vanity light height. 
Ready to make some changes to your bathroom lights? The Home Depot delivers online orders when and where you need them.
Explore More on homedepot.com