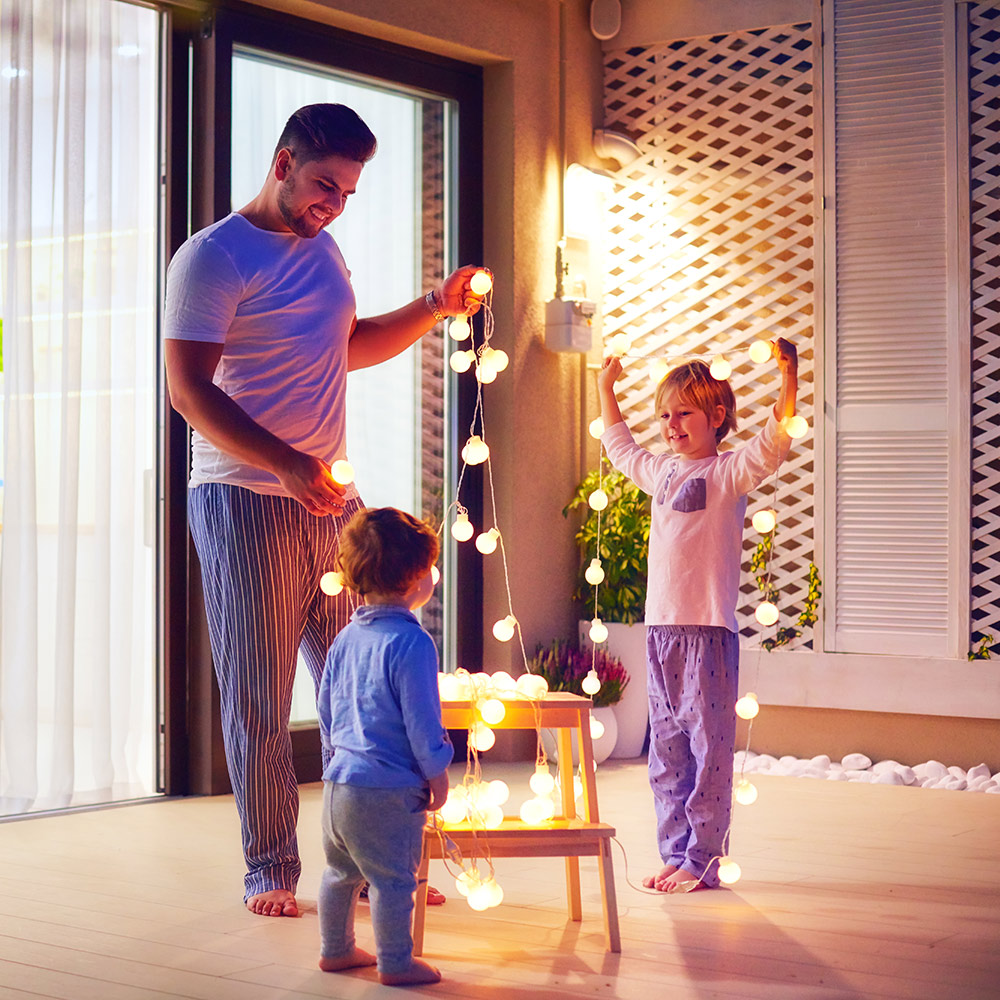 Make your holidays extra joyful when you decorate with Christmas lights. Inside, Christmas lights make everything merrier. Outdoor Christmas light decorations light up the night sky with sparkle. Types of Christmas lights include string, icicle, net, novelty, rope and mini lights. Choose traditional size, multi-colored lights on your roof lines, walkways and shrubs. Or wrap trees, wreaths and garlands in mini, warm white lights. Read on for ideas on how to decorate with Christmas lights and illuminate your entire home with holiday spirit.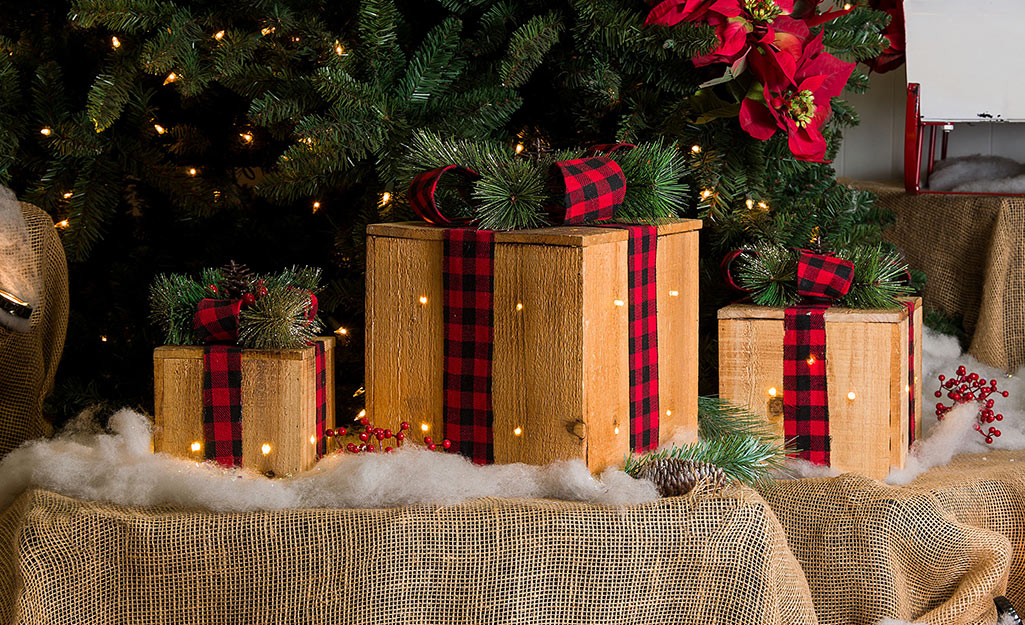 Give gifts extra excitement by wrapping them with fairy lights or LED lights. Set the lights in different modes to make your presents twinkle, sparkle and flash. Use warm white lights or go all out to match or complement your tree's light theme. Think about making extra boxes out of wood and adding them as the season progresses. Mix in different natural elements like evergreens and berries with ribbon and faux snow. 
2
Sparkling Stairways & Hallways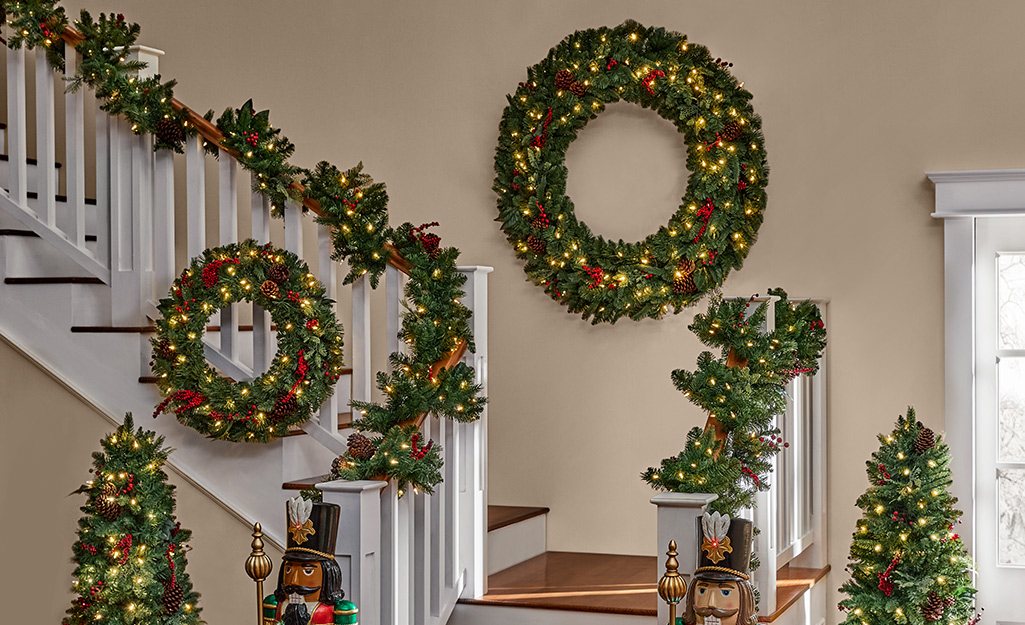 Deck out your stairs and hallways with Christmas cheer. Wrap your stairs, posts or columns with lights in between strands of garland. Splurge on faux or real evergreen topiary and wreathes wrapped in more lights. Use fishing line or clear picture wire to hang your decor at different heights and provide a magical effect.
3
Lights, Camera, Snowfall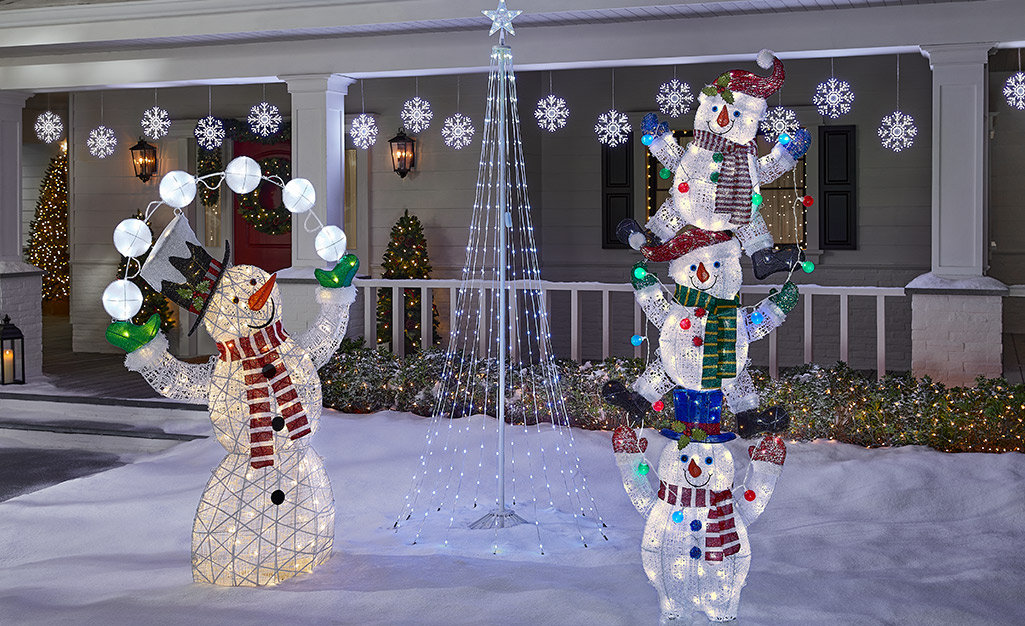 Create a holiday picture show in your front yard with an outdoor Christmas light display. Tell a winter story the whole neighborhood will enjoy. Recreate a snowy scene complete with playful snowmen, cute snow kids and the perfect icy-looking tree. Finish the look with a fresh snowfall of glowing snow ornaments hung with filament.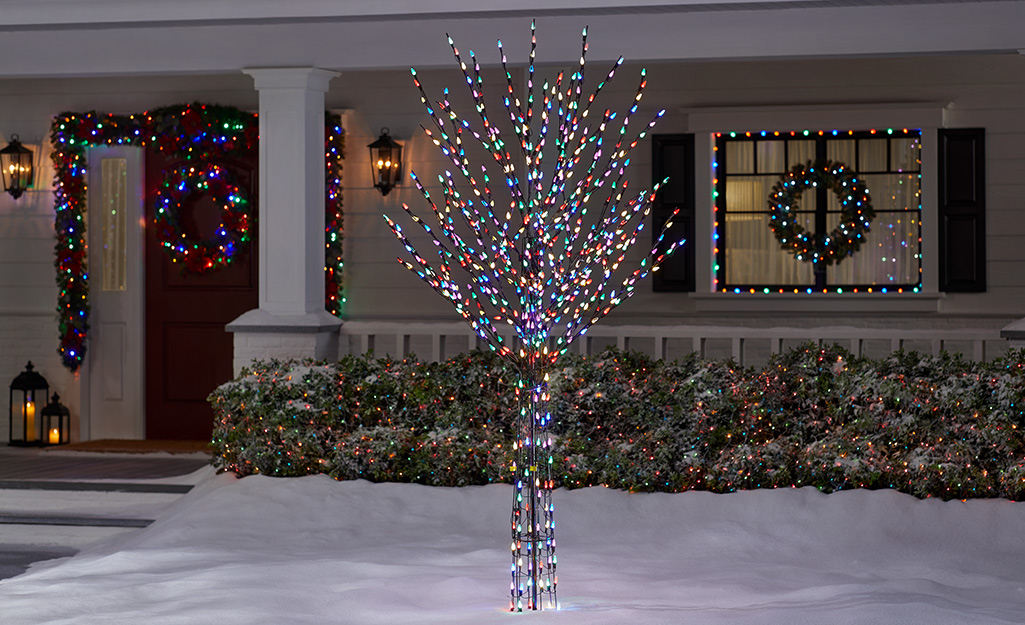 Choose outdoor Christmas string lights to turn bare tree branches into gleaming jewels. Wrapping each branch may take time, but the after effect is well worth it. Most trees look wonderful in all white. Mini lights create a magical look while larger bulbs give off a vintage vibe. For a brighter tree, try doubling the number of lights.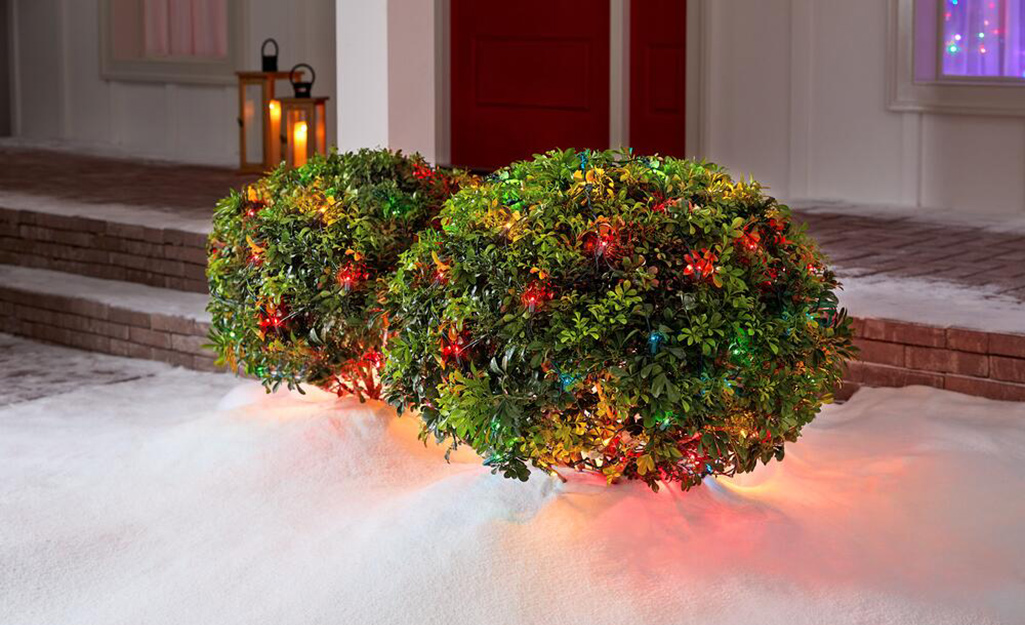 Transform shrubs and ground plants with color-changing Christmas lights, twinkling lights or multi-colored Christmas lights. You can use string lights or make it much easier by draping net lights over them. For lush shrubs, use 100 mini lights or 50 C7 lights for every vertical foot. For smaller or thinner plantings, cut the number of lights in half for an added soft glow in your landscape light show.
6
Glow Anywhere Christmas Lights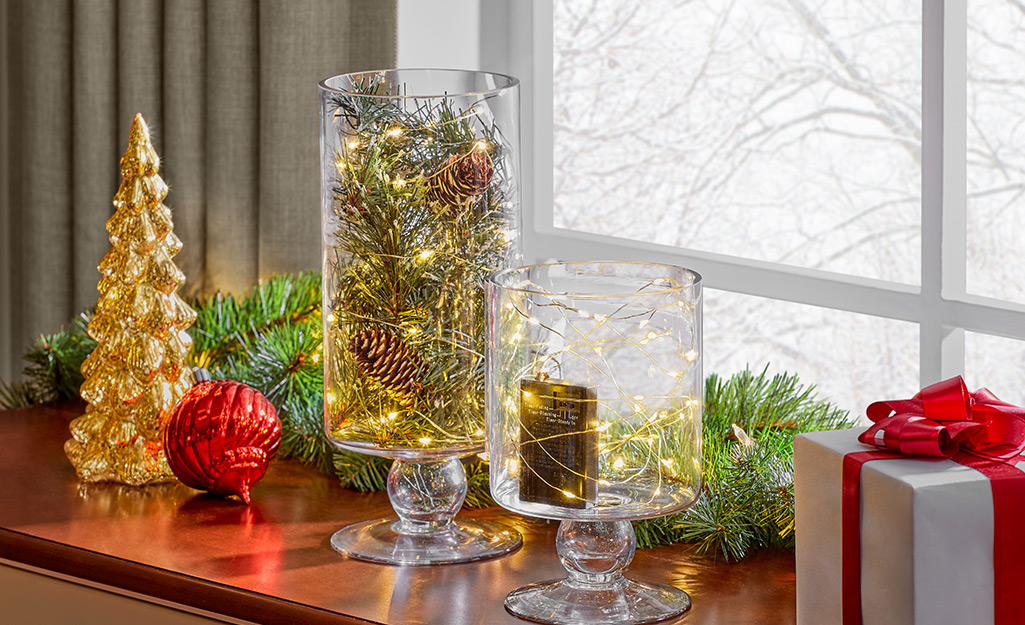 Place battery-operated thin wire Christmas lights inside a small jar or vase. You can also use lanterns, wine bottles, beer bottles and mason jars. These are great for areas with no electrical outlets nearby.
Strategically arrrange LED solar copper string lights or fairy lights along a wall to give the appearance of a constellation at night. 
Group several Moravian stars and hang them in trees throughout your yard.
7
Twinkle, Twinkle Christmas Lights
Plan where to place your existing exterior lights and outdoor Christmas decorations. Then, mix things up a bit by using lights that have a dimming, chasing or color-changing effect to add your own personal twist. Make sure to include display pieces in different heights and sizes to fill your yard with a radiant holiday scene.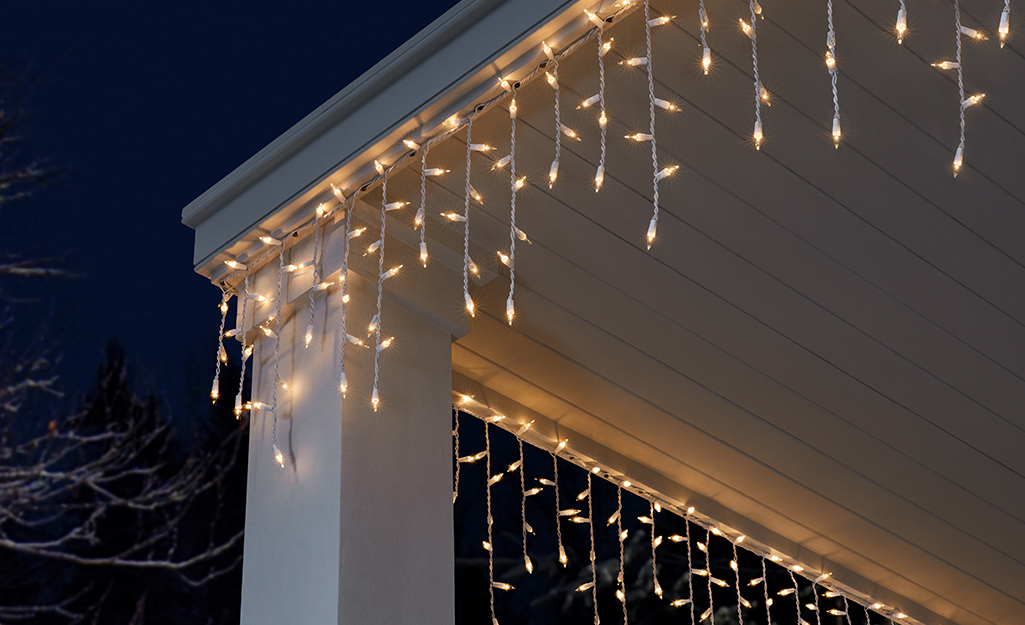 Icicle lights are a fun way to enhance that winter wonderland feeling. Hang them along your porch or patio, or higher up along the front door frame, for a frosty-looking accent. Use double the strands for a curtain of starry light all around your home. Consider layering in other vertical lights such as oversized ornaments.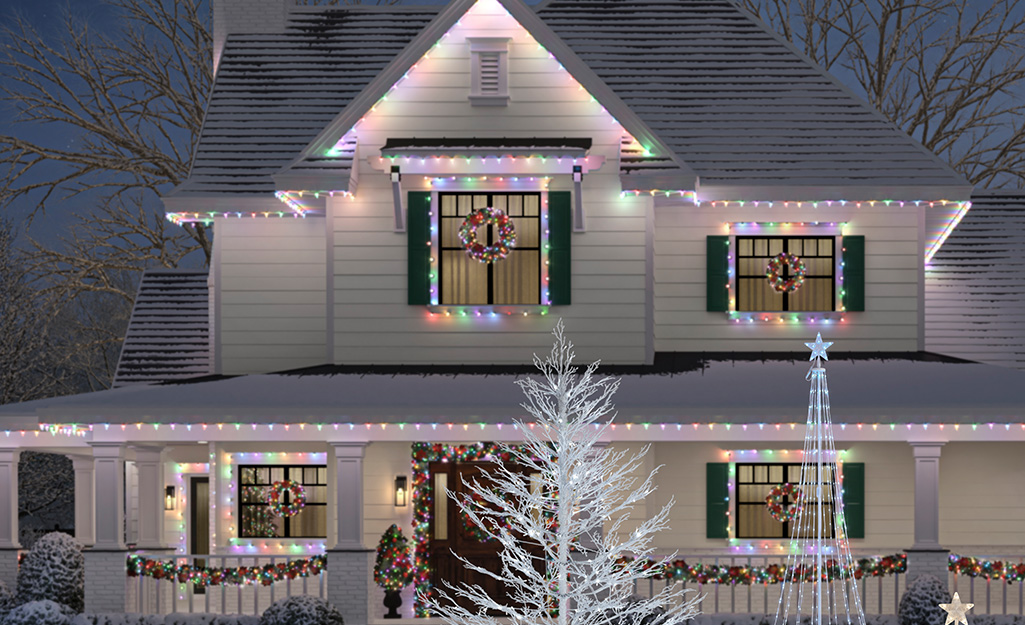 Outdoor light decorations for Christmas wouldn't be complete without a multitude of string lights illuminating your home. Celebrate your house's architecture by outlining windows, doors, eaves and the roof in twinkling lights. Match your home's color scheme or opt for a mix of multicolor bulbs and clear ones. Consider putting your lights on a timer that let you decide whether they flash or just shine all night long.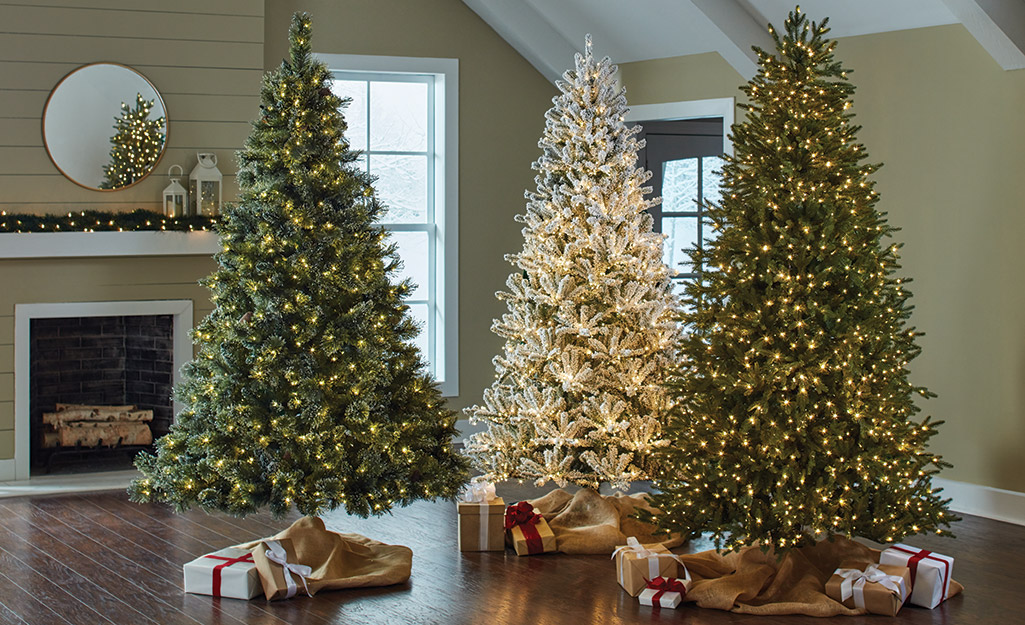 Rather than one large tree, try putting up three medium ones for a mini version of a winter wonderland forest. Break things up by featuring two trees in a dark green foliage and let the third be an accent with frosted branches. Keep the natural mood by outfitting each tree with a sprinkle of champagne or warm white lights. Matching burlap tree skirts and simple gift wrap complete the look.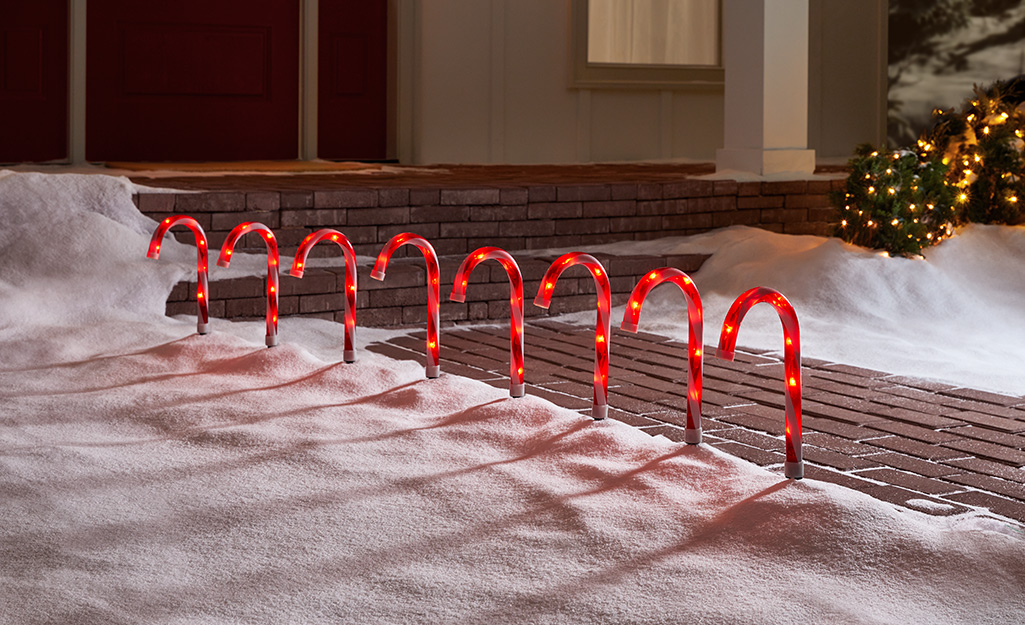 Light a welcoming path up to your door with these outdoor Christmas lighting ideas:
Line walkways with solar-powered, themed Christmas lights such as candy canes, snowmen, snowflakes and more. 
Cut stars in paper bags and fill them with sand and battery-operated tea candles. 
Fill lanterns with colorful string lights and place them around your porch or patio.
Intertwine outdoor sconces with faux berries, poinsettia leaves and Christmas lights.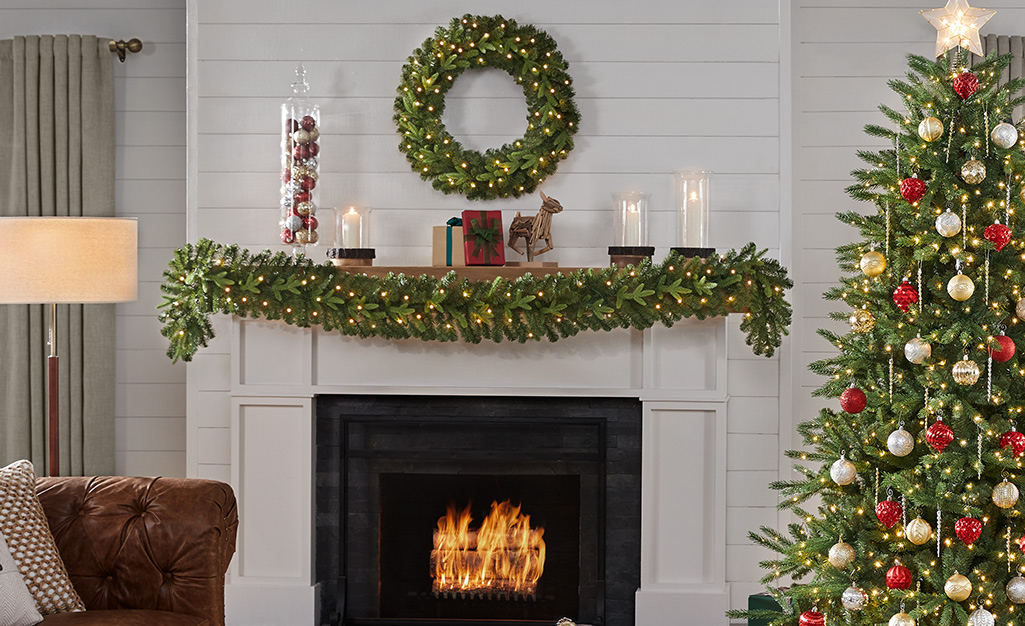 You can go with the traditional pine and red bows or try something different. Decorate your mantel with white LED Christmas lights and dark green garland. Top off this more modern looking mantel with glass canisters filled with colorful ornaments, sparkling candles and a matching pre-lit wreath. 
13
More Christmas Light Ideas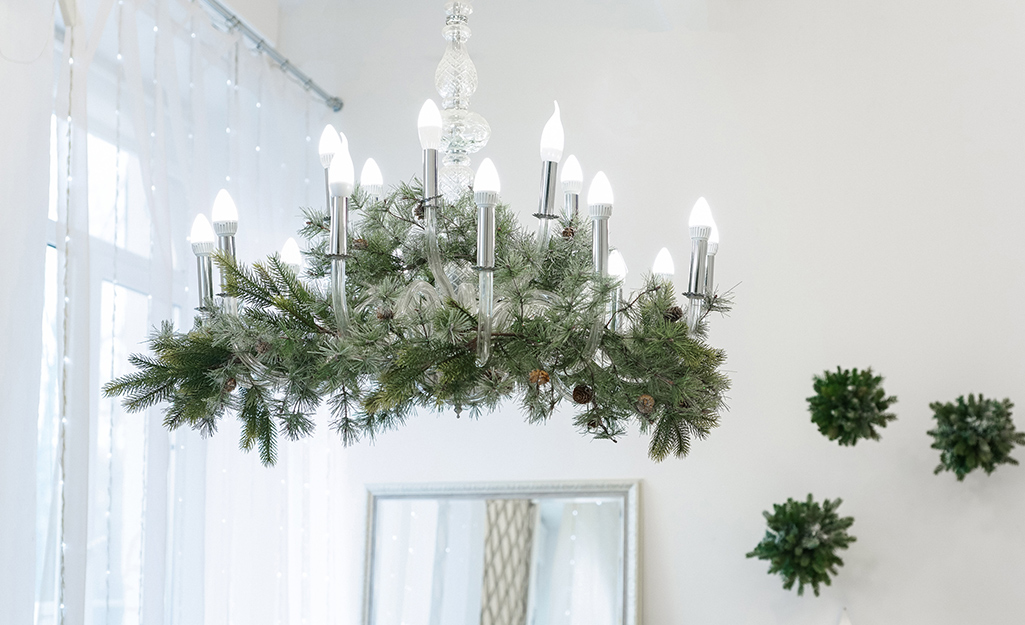 Decorate a chandelier with faux or live greenery and battery-operated candles. Give wreaths and trees more depth and interest by using bulbs in different shapes and sizes.
Use glass vases or jars filled with string lights or battery-operated LED wire lights on stairs.
Turn on lights at sunset to accent holiday decor and add a subtle glow around your home.   
Amp up the holidays in every room and space with bright and beautiful Christmas lights. Choose different types of Christmas lights, from fairy lights or traditional multi-colored strands to LED and battery-operated options. Ready to light up the holidays? Use The Home Depot Mobile App to locate products and check inventory. We'll take you to the exact aisle and bay.
Explore More on homedepot.com