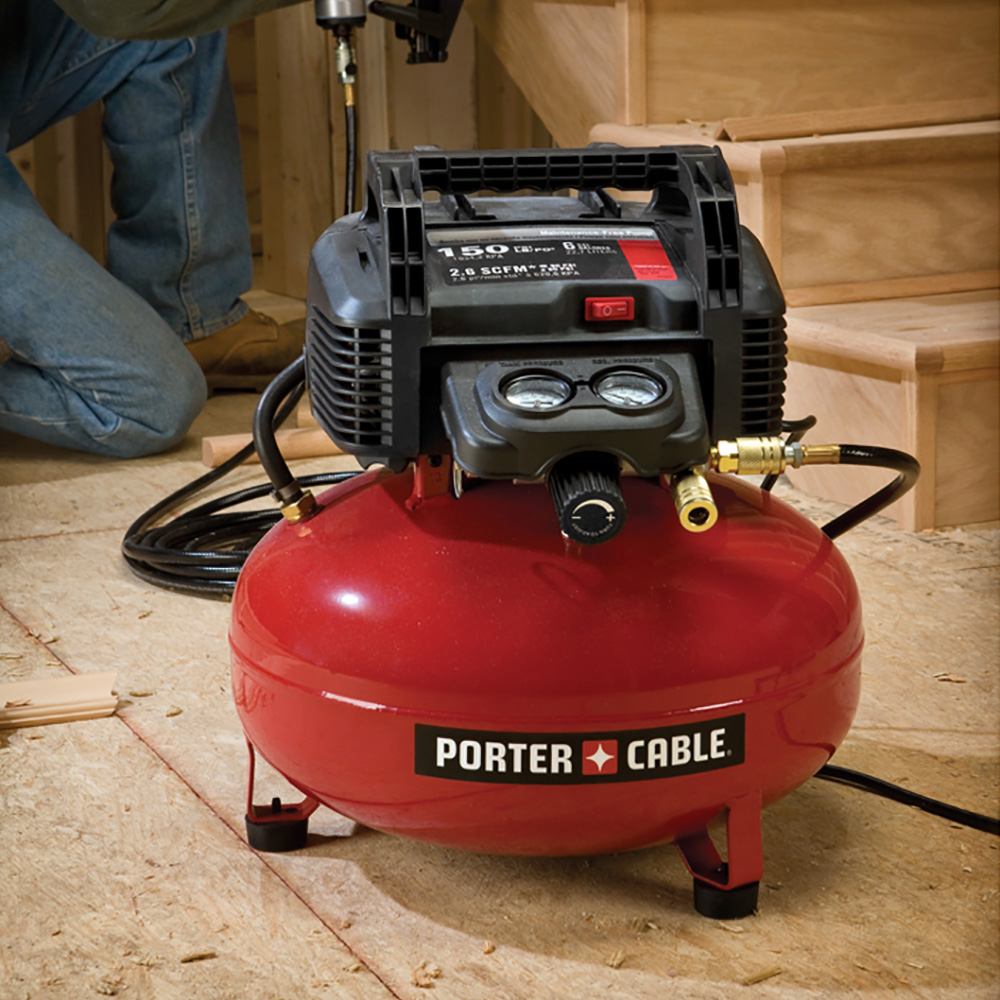 Air compressors are designed to provide power to any range of pneumatic tool varieties commonly used in garages, workshops and on building sites. With the right portable air compressor, you can provide power to a number of pneumatic tools at the same time. That makes an air compressor a must-have for pros and DIY-enthusiasts alike.
Understanding how to work with an air compressor can be tricky for a lot of people however. This guide offers step-by-step instructions to help you learn how to use an air compressor correctly. You'll also pick up a few air compressor maintenance tips to help you keep your unit ready for action.
1
Position the Air Compressor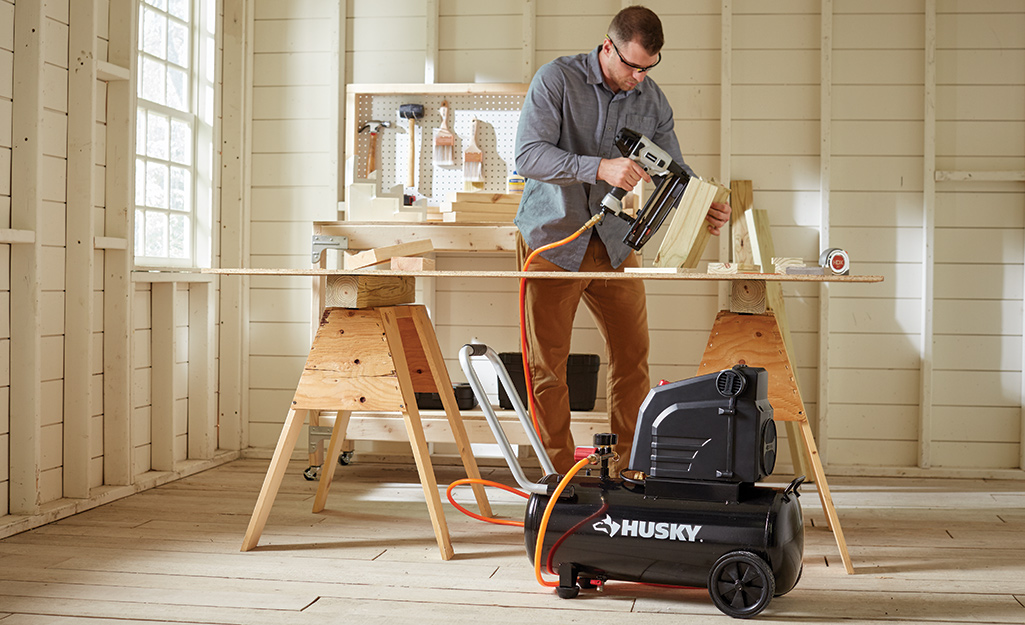 Before you can use your air compressor, you'll need to find the ideal position for it in your work area. Here are a few tips to help you position your air compressor safely and effectively:
Locate a flat, stable work area for your air compressor. Don't put your air compressor on a surface that feels flimsy or uneven.
Connect the power cord to a nearby grounded electrical outlet with the power turned off. Never use your air compressor in an outlet that isn't grounded.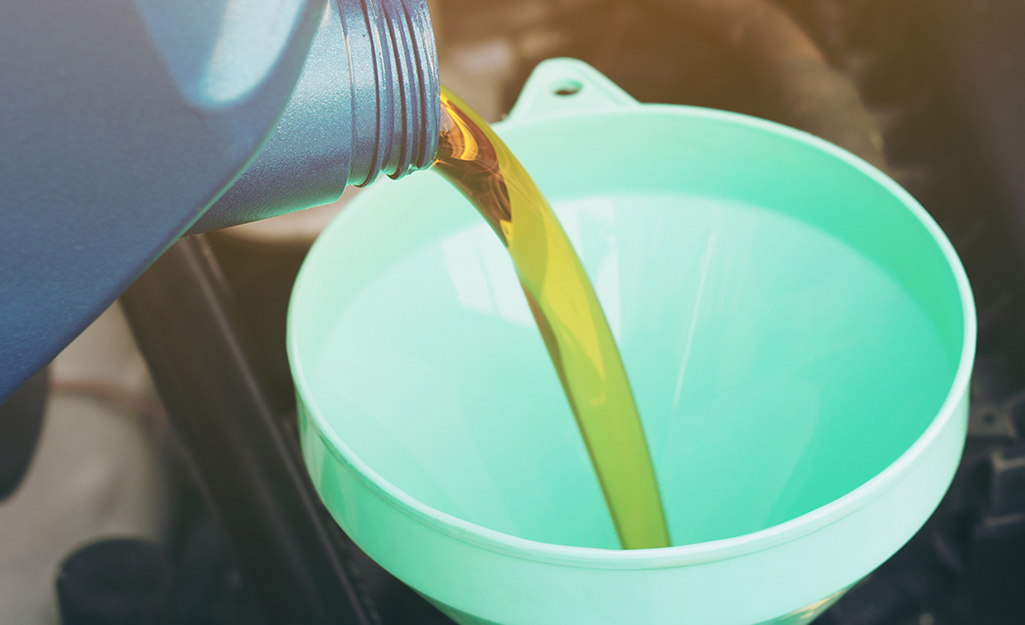 With your air compressor in a safe, stable spot, you can move on to checking the oil level. A proper compressor oil level will ensure ideal performance. Here's how you can check the oil: 
Manually check the oil level in your air compressor. Some piston-type portable air compressors feature a gauge near the compressor's motor that will give you a reading, though this may vary on some models.
Remove the oil cap and add oil to the specified mark, if required.
Consult your air compressor's instructions or owner's manual for more information about adding oil if the process isn't clear.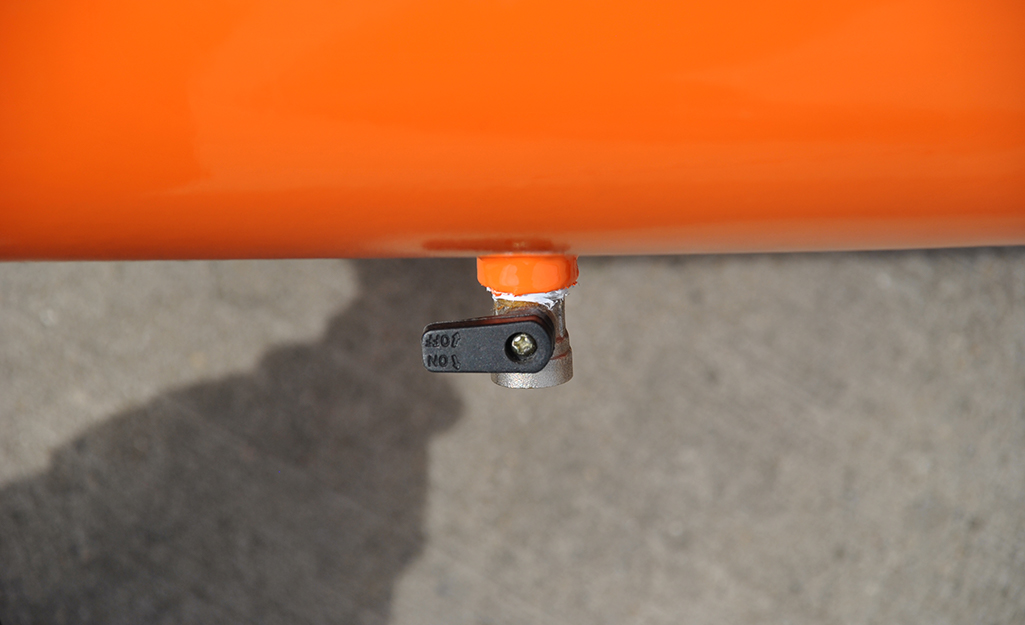 You've checked the oil on your portable compressor. Now it's time to check the drain valve. This is typically located at the bottom of the air tank.
For proper operation, you want your drain valve to be fully closed. If it is slightly open, you can tighten this valve using an adjustable wrench like you might use for an air conditioner or water heater repair.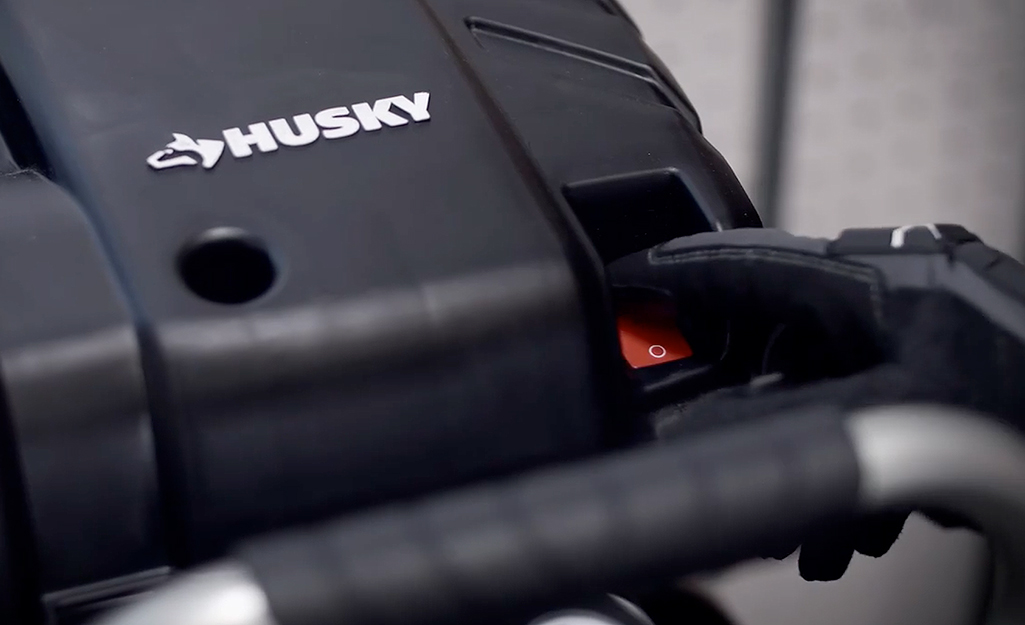 Your drain valve is closed, so now it's time to prepare the air tank. Here's how the process works:
Flip the power switch to the "ON" position. Allow your air compressor to run for a minute or so.
Watch the air pressure gauge and make sure the compressor switches off when it reaches your model's pressure capacity. This is generally around 100 pounds per square inch to 115 pounds per square inch. Note that air pressure is measured as per square inch pressure unit, or PSI.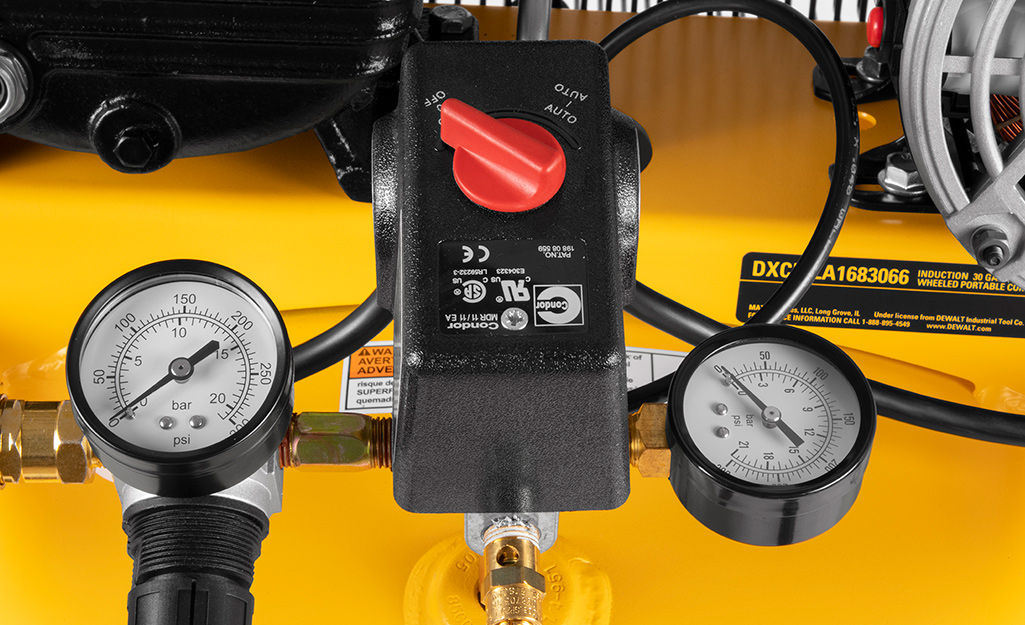 Your air tank is ready for action. Now it's time to set the tank pressure, or PSI. Here's how the process works:
Use the air control valve to adjust the max PSI of your portable air compressor. This should be based on the tool you'll be using.  Adjust the air pressure until you reach the recommended air pressure for a specific tool. You may need to make several adjustments to achieve the desired air flow.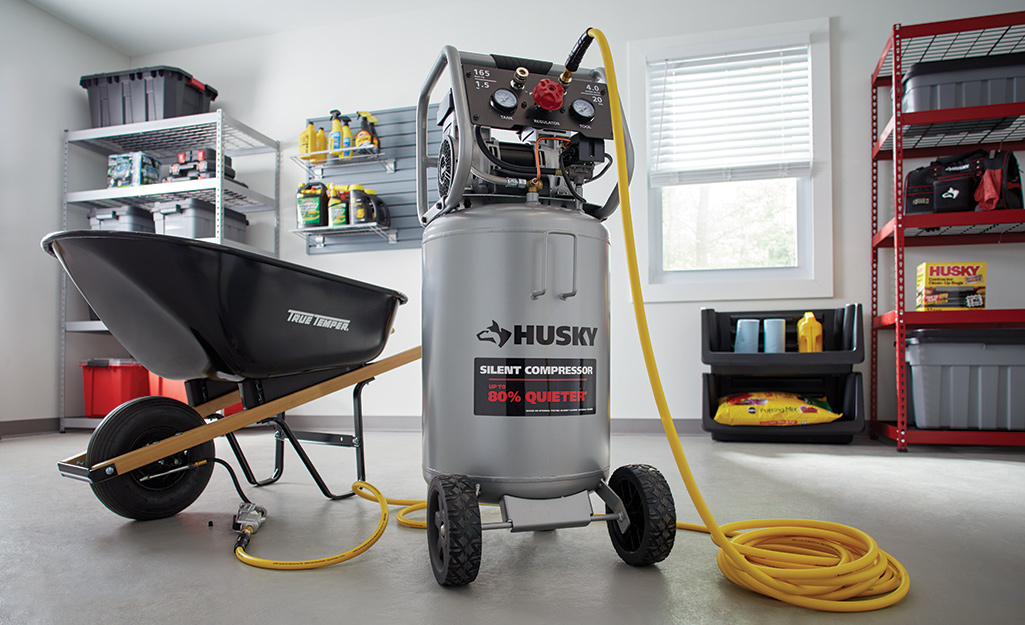 With your PSI set, it's time to connect the air hose so you can get to work. Here's how the process looks from start to finish:
Attach the air hose to your portable air compressor. Check your manual if you're not sure where to attach the air line.
Make sure you have enough hose to safely reach your work area. Leave a little slack when possible when positioning your air hose. A hose reel can be a helpful tool if you're working with a long hose or you prefer to leave your compressor in one part of your work space as you move around.
Wrap the threaded end of the hose, if required. Depending on the model of your air compressor, you may need to wrap the threaded end of the hose with PTFE tape – also known as thread seal tape – before threading the hose onto the compressor fitting.
Use an adjustable wrench to tighten the hose in place. 
Tip: Quick-connect fittings are ideal for at-home work. With these, you can quickly connect the hose to your compressor fitting without the use of PTFE tape.
7
Connect the Desired Tool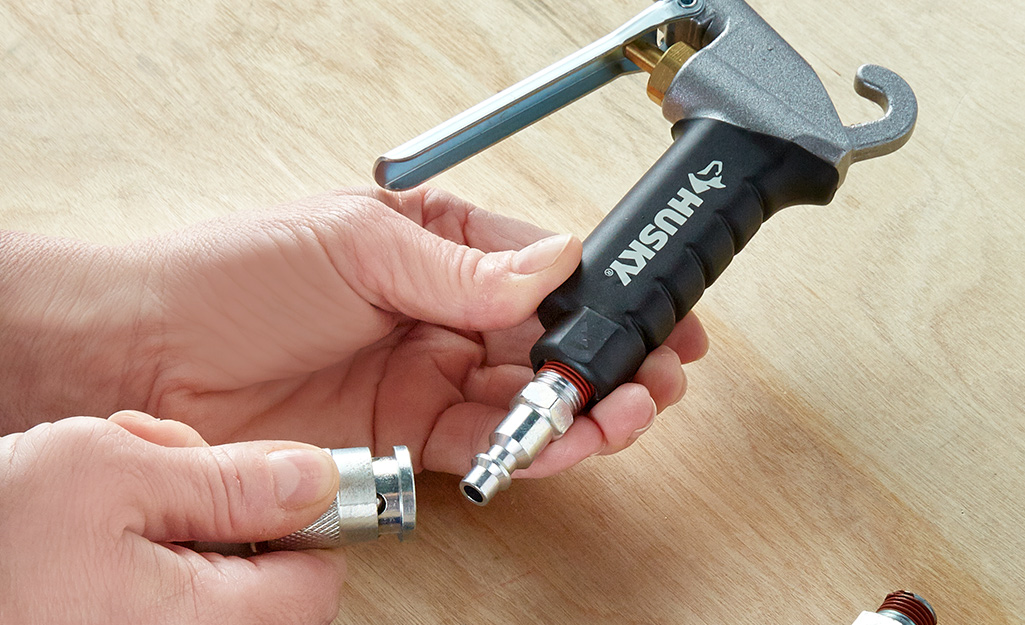 Your air hose is connected and now you can connect the tool you want to work with. Follow these steps to connect your desired tool:
Connect the tool you're going to be working with to the other end of the air hose. 
Pull the protective collar back on the hose and attach it to the air intake valve on the tool. 
Release the collar to secure the connection in place. 
Note that you'll need to pull back on the hose collar when it's time to remove the tool.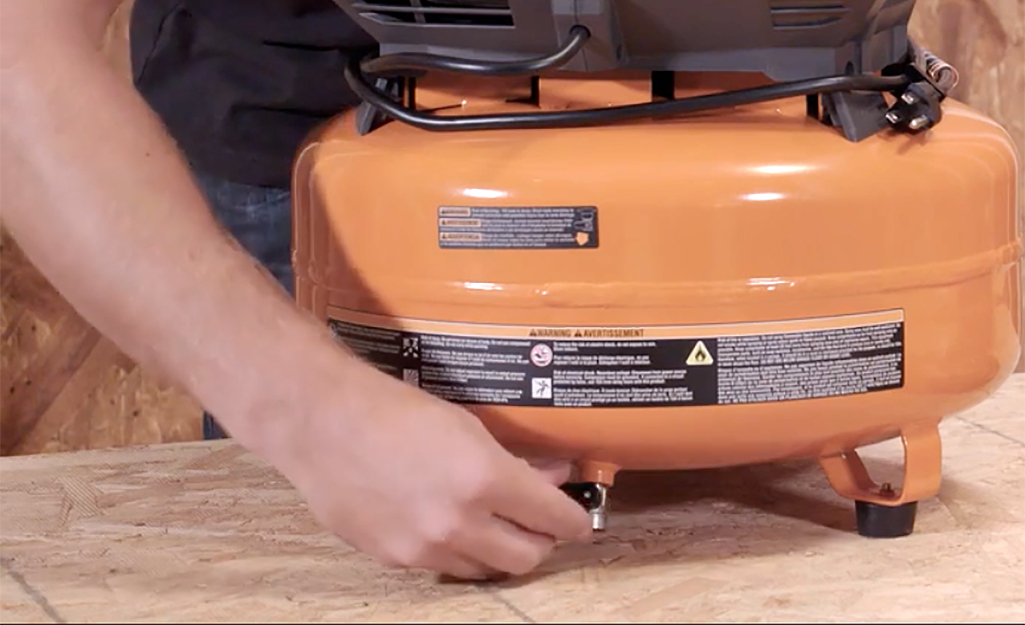 Removing moisture from your portable air compressor periodically after use is a must. Checking your owner's manual is essential here, but most models require you to remove the drain valve located on the bottom of the tank using a wrench. 
After the water has drained, you can replace the valve for storage. Store your air compressor on the floor, on a low shelf or in a low cabinet away from moisture.
9
Air Compressor Maintenance Tips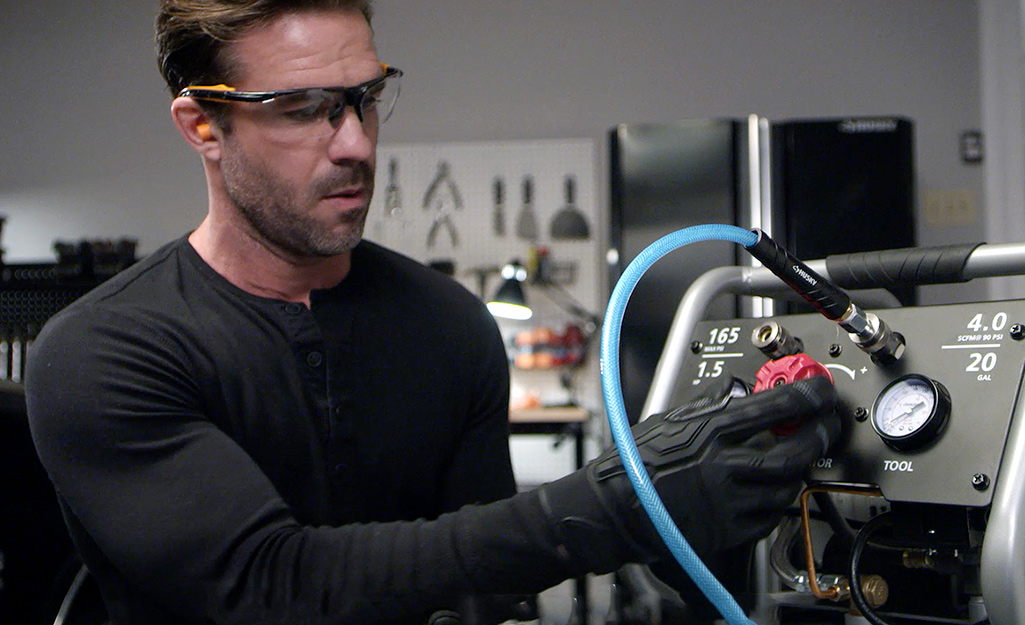 Your air compressor can help you use a wide range of pneumatic tools efficiently. Keep yours in shape by handling basic air compressor maintenance regularly. Here are a few tips to help you: 
Reference your instruction manual often. Different air compressors require different care and adjustments.
Check fasteners regularly. Fasteners can come loose and make your air compressor less effective. 
Inspect hoses every few uses. Tears, nicks or holes can greatly impact performance. 
Keep the intake vents in your air compressor clean. Like air filters or a dryer vent, clogged intake vents can negatively impact the performance of your portable air compressor. 
Safety Tip: Always wear the appropriate safety equipment when using power tools. Modern portable air compressors have made safe, efficient operation of pneumatic tools much easier, but basic safety precautions are still required.
Having an air compressor at home or in your workshop will give you access to a range of pneumatic tools for all sorts of tasks. You can find a wide selection of portable air compressors, air compressor accessories and pneumatic tools at The Home Depot.
Need an air compressor for a project? Check out tool rental. Use it once and bring it back. Save storage space and maintenance costs.
Explore More on homedepot.com