Ideas & Inspiration
Halloween Decoration Ideas
October marks the celebration of tricks, treats and all things spooky. If you're looking to decorate your home in honor of the season, this guide offers ideas on Halloween yard decor options, interior furnishing tips and other Halloween decoration ideas.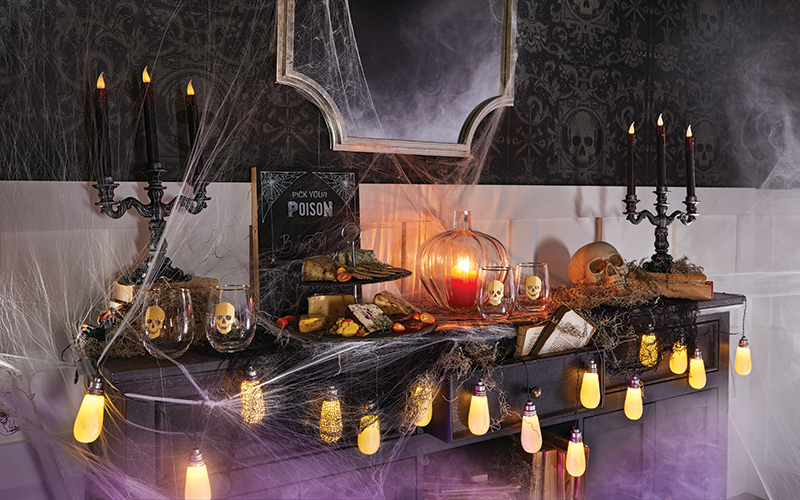 Use indoor Halloween decorations to spruce up your foyer, main hallways or dining areas.
Side tables and end tables are great for displaying small trinkets like gourds, skull props and spiced candles. Finish the look with a candelabra for added drama and drape pieces of straw and a faux spider web around the table as a finishing touch.
To light up the area, wrap a set of string lights around the table. Choose a set with bigger bulbs for maximum impact. Some Halloween lights even flicker for a creepy effect.
If you'd like to enhance your walls, consider using a Halloween-themed temporary wallpaper. Choose darker colors with an eerie design like a skull pattern or a flock of ravens.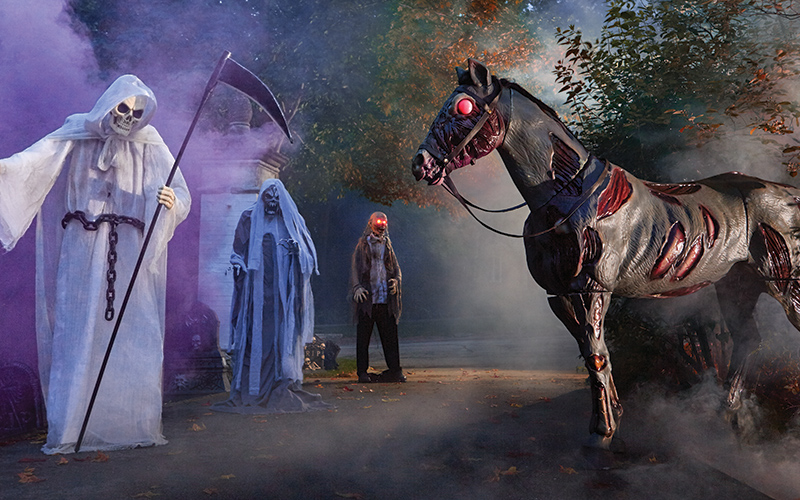 Halloween yard decorations are key to a celebratory Halloween display.
Use life size Halloween inflatables to fill your yard with eerie scenes and spooky characters like the grim reaper, a wicked witch or a fire-breathing dragon – or all three! The more items you add to the scene, the more festive your display will appear.
Other fun items to add to your outdoor Halloween decorations include faux Halloween tombstones, a Halloween fog machine, animal skeletons and even imitation zombie limbs.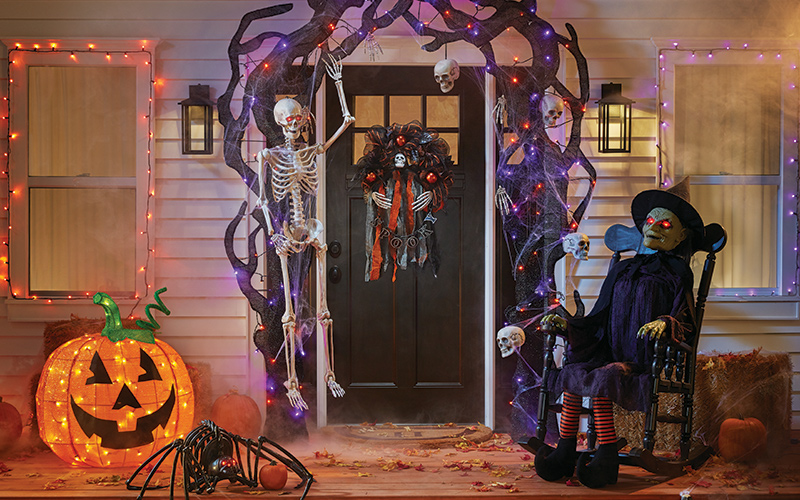 When planning your outdoor Halloween decor, don't forget to spruce up your entranceway.
Hang string lights in orange and purple around the front door and windows to bring the whole look together.
Halloween projection spot lights set the mood on your front porch. Choose lights with interchangeable slides that cast ghoulish shadows and really put on a show for the neighborhood. Some have multi-color modes while others use black and white for classic silhouettes of your favorite creepy creatures.