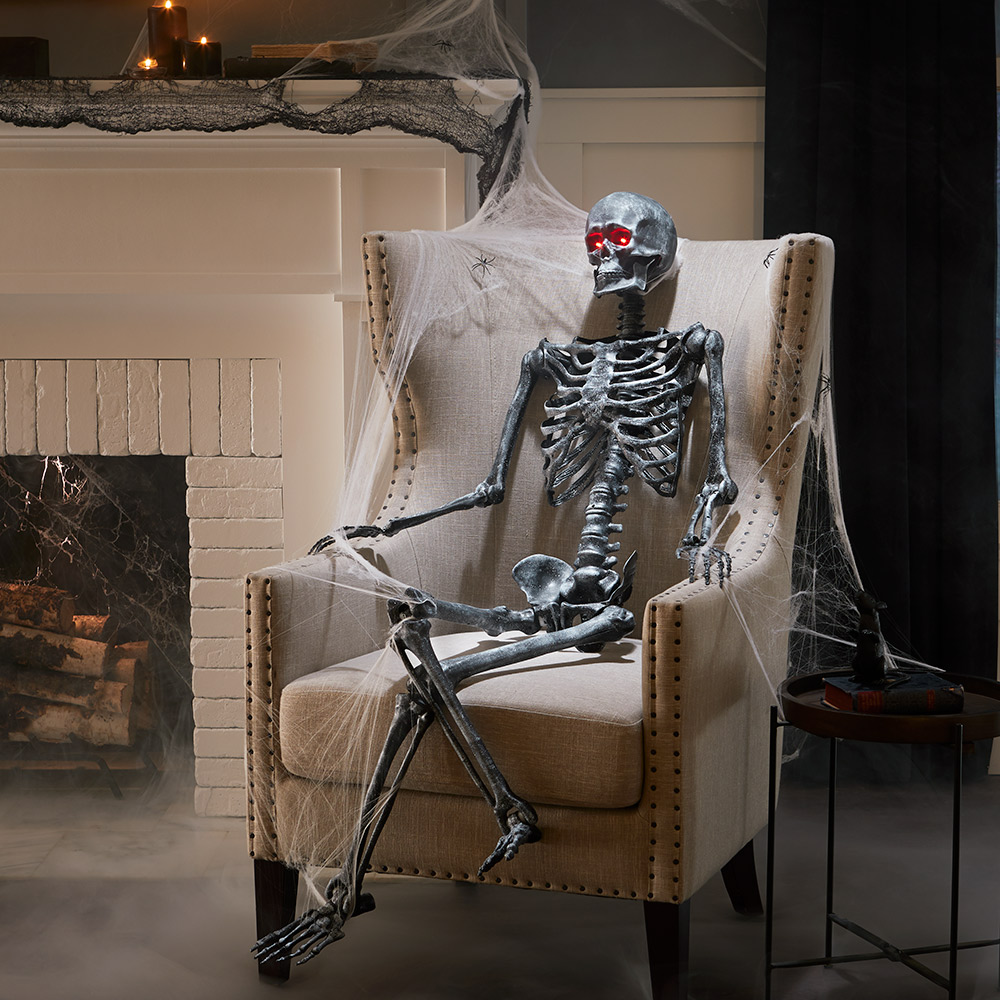 October marks the celebration of tricks, treats and all things spooky. If you're looking to decorate indoors, outdoors and beyond in honor of the season, this guide offers Halloween yard decor suggestions, interior furnishing tips and other inspiration, including easy trunk or treat ideas for dressing up your car for a safe and fun Halloween night.
Make It Spooky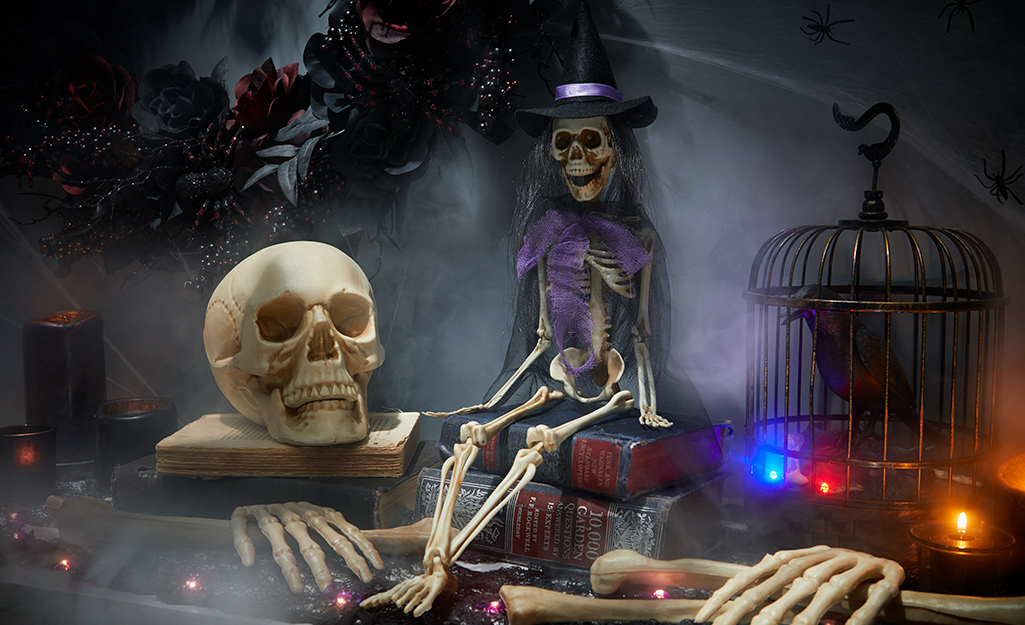 Choose a theme, like spooky skeletons, witches or ghosts and decorate the inside of your home. 
Use indoor Halloween decorations to spruce up your foyer, main hallways or dining areas.
Side tables and end tables are great for displaying small trinkets like gourds, skull props and spiced candles. Finish the look with a candelabra for added drama, and drape pieces of straw and a faux spider web around the table.
To light up the area, wrap a set of string lights around the table. Choose a set with bigger bulbs for maximum impact. Some Halloween lights even flicker for a creepy effect.
If you'd like to enhance your walls, consider using a Halloween-themed temporary wallpaper. Choose darker colors with an eerie design like a skull pattern or a flock of ravens.
Go All Out Outdoors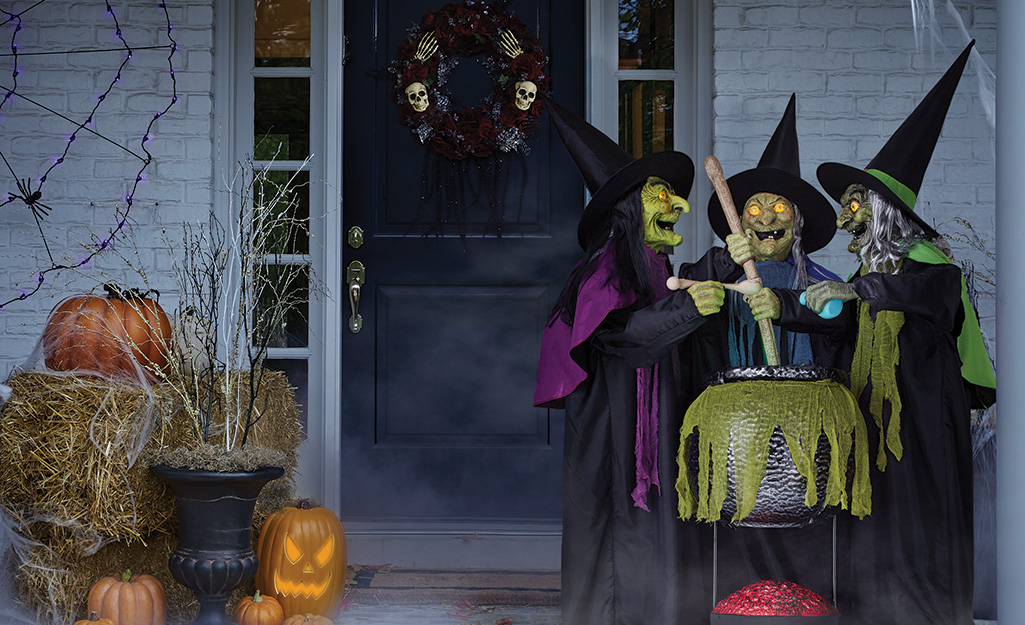 Spookiest house on the block? Yours, of course. The front porch is the first thing passersby and trick-or-treaters will see, so why not go all out?
Illuminate the House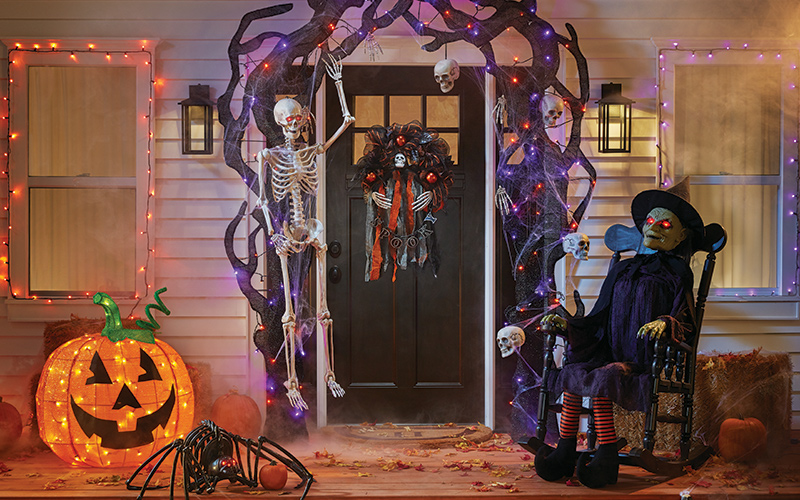 When planning your outdoor Halloween decor, don't forget to spruce up your entranceway. 
Hang string lights in orange and purple around the front door and windows to bring the whole look together.
Halloween projection spot lights set the mood on your front porch. Choose lights with interchangeable slides that cast ghoulish shadows and put on a show for the neighborhood. Some have multi-color modes while others use black and white for classic silhouettes of your favorite creepy creatures.
Incorporate Inflatables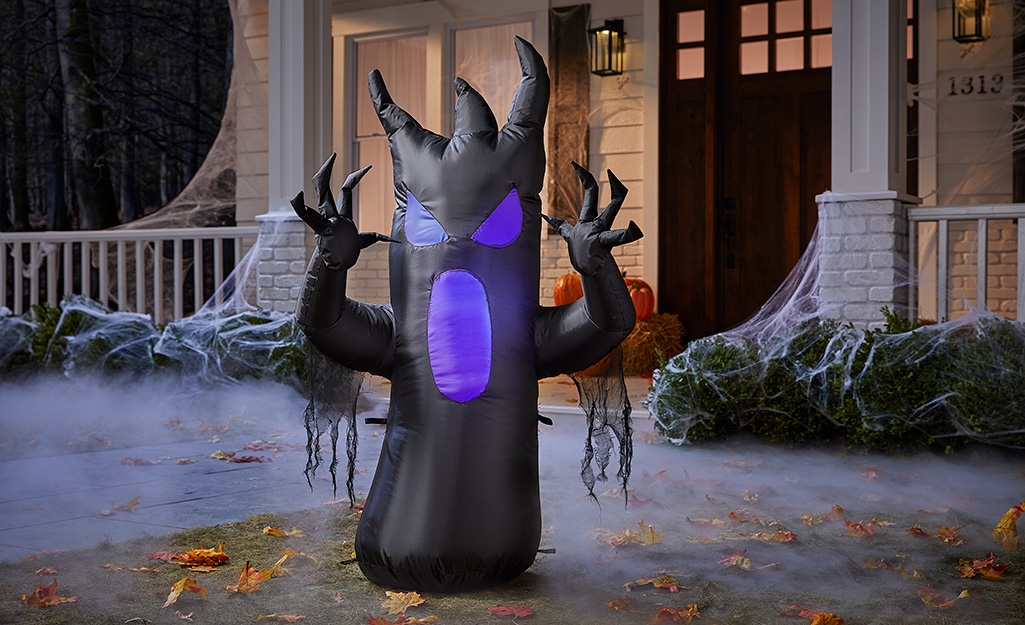 Use life-size Halloween inflatables to fill your yard. 
Opt for eerie scenes and spooky characters like the grim reaper, a wicked witch or a fire-breathing dragon – or all three! 
The more items you add to the scene, the more festive your display will appear.
Go Big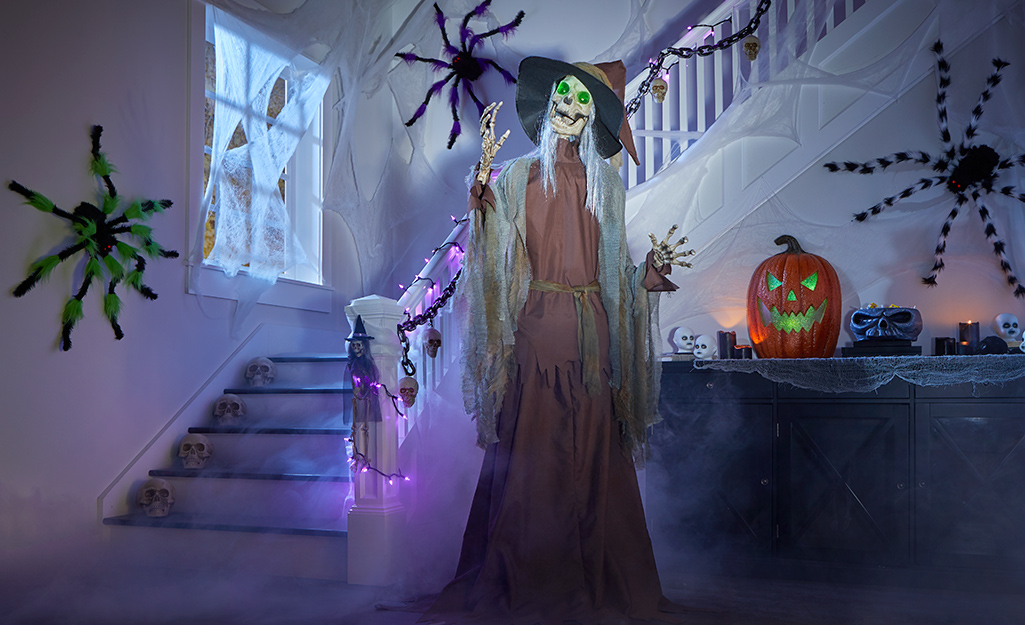 Drive up the fear factor by transforming living spaces with larger than life decor. 
Opt for huge spiders that hug the wall, oversized witches, zombies and skeletons. 
Add Little Pops of Halloween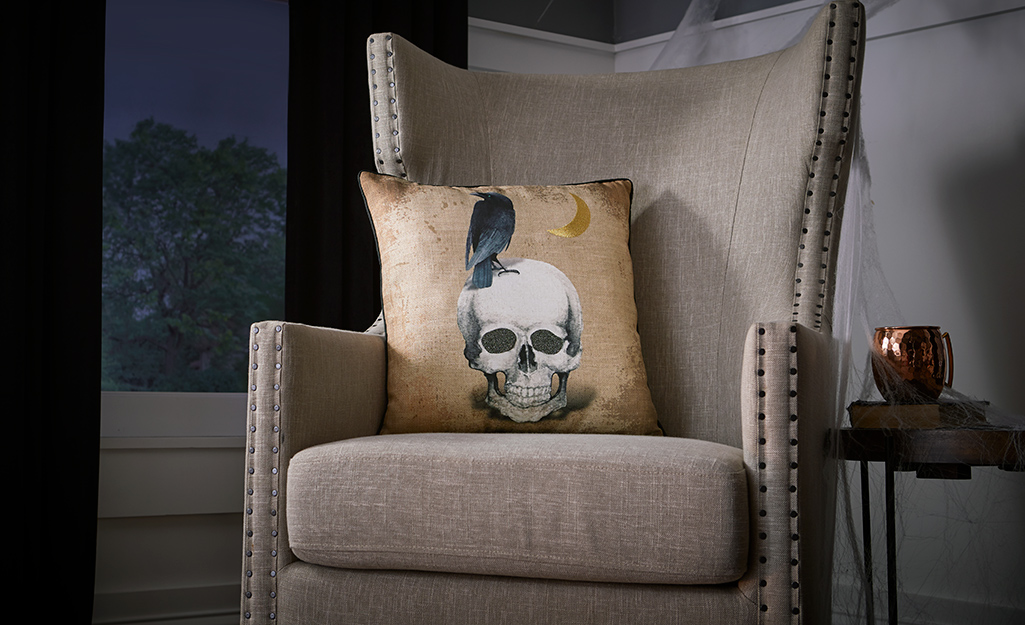 If you don't want to go big with Halloween decorations or you want to add a sprinkle of spookiness to every room, opt for little pops of spirited decor. 
Swap out your regular throw pillows with seasonal ones that feature  help set the scene. 
Use Halloween-inspired plates and serveware. 
Add wall art, candles, candy bowls and other decorative items to dress up side tables.
Choose Classic Fall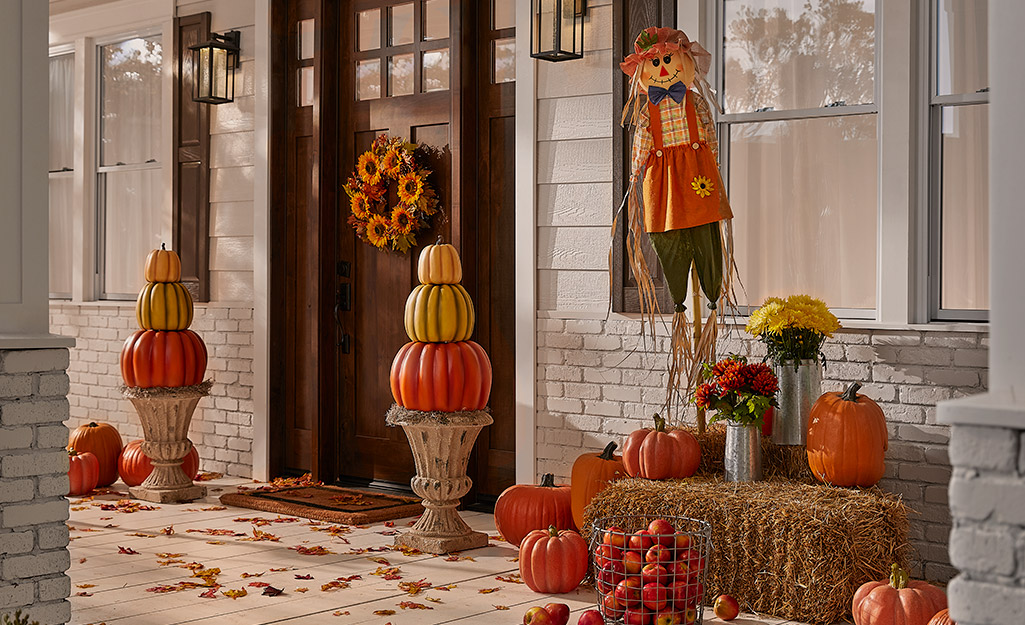 Whether you have children at home or prefer to keep your decor more classic, there are plenty of ways to spruce up your porch and yard. 
Friendly-faced scarecrows make sweet fall greeters when placed by the door. 
Try bales of hay and stacks of pumpkins in various shapes, colors and sizes. 
Decorate with fall florals like mums in autumnal shades. 
Don't forget to add a welcoming wreath to the door. 
Trunk or Treat Ideas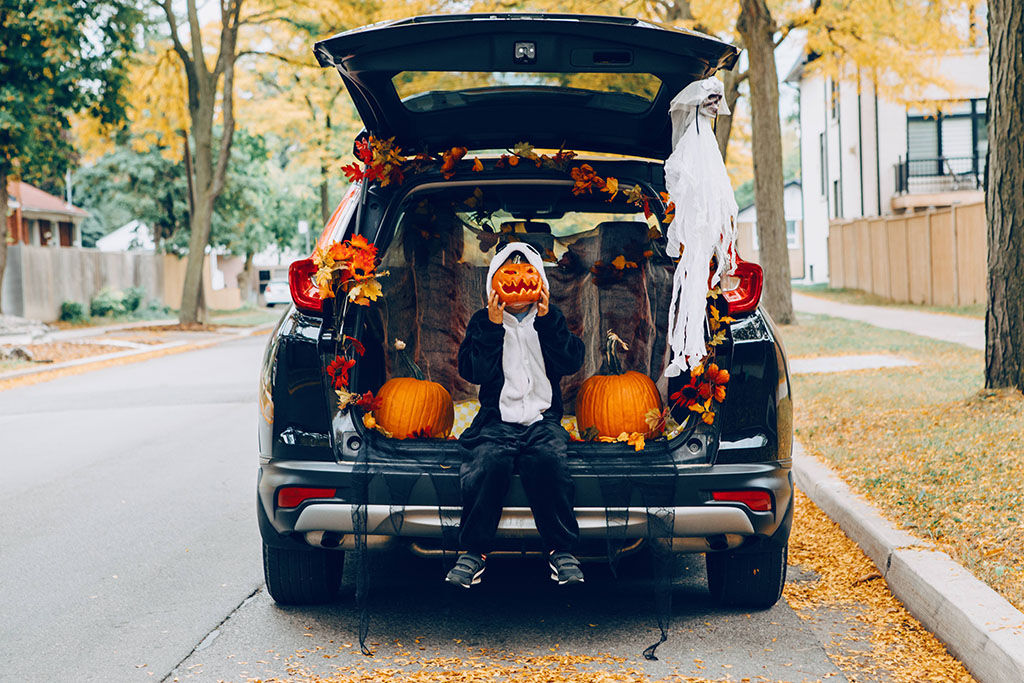 Typically held at church or school parking lots, it's also Ideal for rural areas or for those who want to keep all Halloween activities outdoors. Whether you're keeping your car in the driveway or joining a community event, if you plan on decking out your trunk for Halloween, here are a few easy trunk or treat ideas and tips to keep in mind.
Turn the trunk into a scene from your favorite scary movie or TV show or transform the entire car into a famous movie monster. 
Go for kid-friendly rather than eerie and transform the trunk into a giant gumball machine or deck out the entire car in fall-themed decor like pumpkins, leaves and hay. 
When handing out candy for trunk or treat, pre-bagged treats will make it easier. You may also choose one designated person to hand out treats or set up a treat table near the car to keep things safe and orderly. 
Getting inspiration from Halloween decoration ideas can help you transform your home, yard or car into a spirited spot. Looking for a product to complete your project? We have options to deliver online orders when and where you need them. 
Plus, if you need to rent a ladder to install your decor, we can help with that too.
Explore More on homedepot.com