Outdoor furniture is designed for outside use, but the weather can be hard on lawn chairs, benches and tables that make up your patio set.
Keep your patio furniture, outdoor cushions and umbrellas looking great and ensure that they last with basic cleaning and maintenance. This guide outlines how to clean outdoor furniture and gives storage tips to protect your investment during the off-season.
How to Clean Outdoor Furniture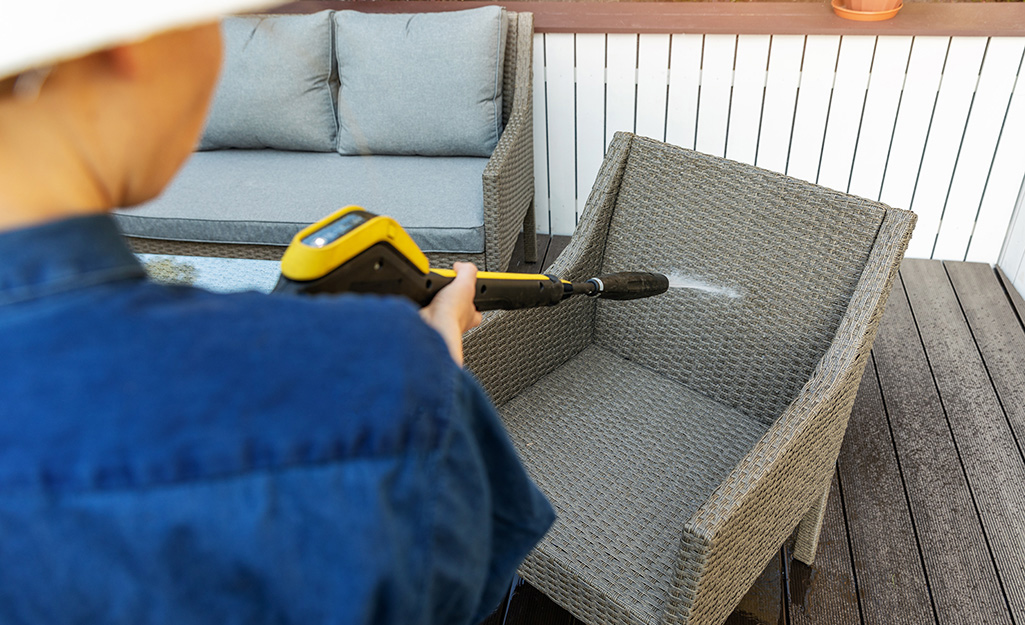 Cleaning outdoor furniture is a simple project, no matter what material your set is made of. The amount of time and effort it takes depends on how heavily soiled the patio set is. You can reduce the amount of elbow grease needed by regularly cleaning the pieces throughout the season to prevent caked-on dirt and grime.
If you have cleaning instructions that came with your patio furniture, follow them. If not, see below:
Start with a garden hose fitted with a spray nozzle. Set the nozzle on its strongest setting and spray directly onto the pieces to loosen and remove dust and dirt.
Mix 1/4-cup liquid dishwashing soap with water in a cleaning bucket.
Do not use abrasive cleaners.
Dampen a soft cleaning cloth or sponge in the soapy water.
Wipe down the furniture with the cloth or sponge, scrubbing as necessary.
Rinse the furniture by spraying with the garden hose.
Stubborn areas might require the use of a soft-bristled brush. But even soft bristles can damage some finishes, so be careful when using a brush on painted or wood furniture. Be gentle with all-weather wicker and for sets featuring sling fabrics, as the bristles could damage the surface and fray the weave.
Make sure the items are completely dry before covering or storing. Also, never let water build up inside the frame. This can lead to corrosion and could result in freeze damage in cold weather.
If there are nicks or chips on the surface of metal outdoor furniture, use touch-up paint to help prevent the chance of rusting.
Once clean, frames can be treated with a liquid wax suitable for the frame material for protection against UV rays and the weather.
How to Condition Wooden Outdoor Furniture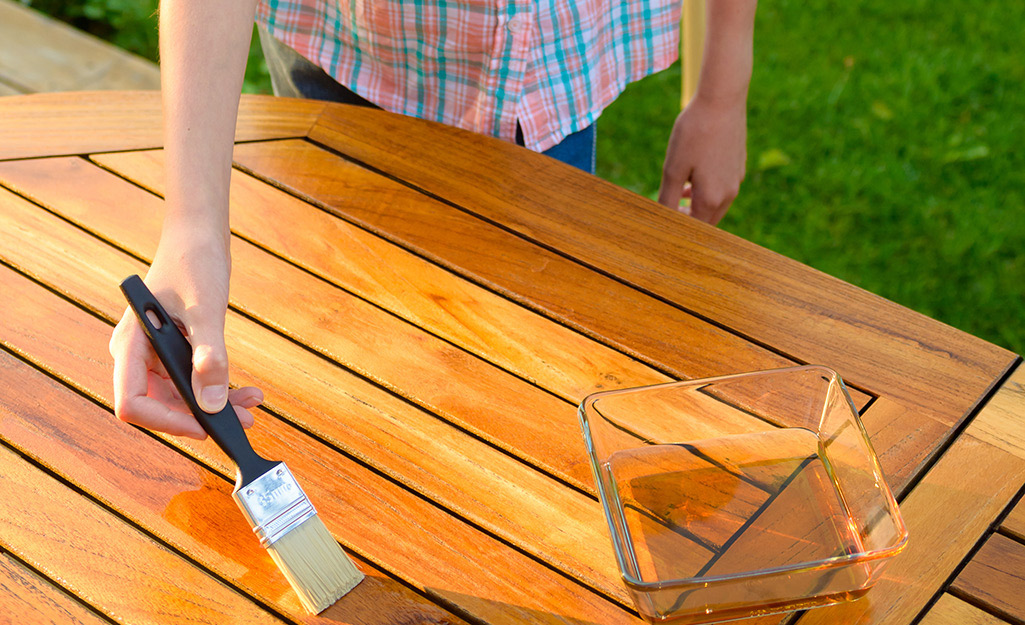 You should clean wood patio furniture as needed throughout the season. Use soapy water as described above or a cleanser designed for wood. 
For best results in seasons to come, seal your wood outdoor furniture each year. Depending on the type of wood your furniture is made of, you can apply an appropriate sealant to protect the wood. Apply sealant in the same direction as the grain of the wood and according to product instructions.
If your wooden furniture has been neglected for a long time, you can refinish it. Lightly sand the surface with a low-grit sandpaper and then apply an oil-based stain or sealant. Again, check the manufacturer recommendations specific to your set.
How to Clean Outdoor Furniture Cushions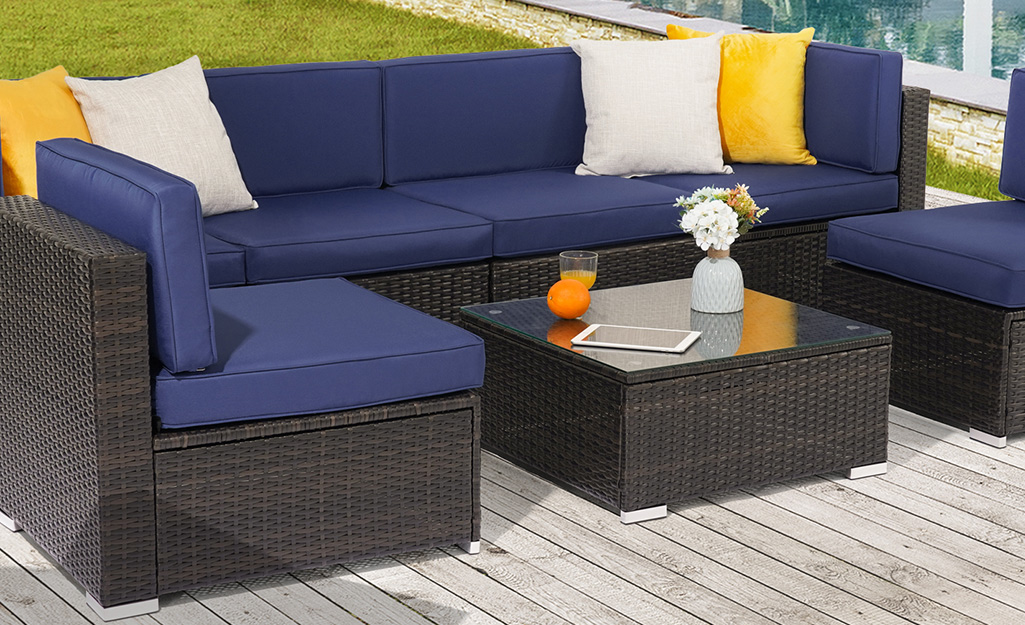 Patio cushions, sling backs and umbrellas can all be cleaned by hand using a scrub brush and the same simple solution of soap and water used for the outdoor furniture frames. Letting dirty cushions sit for a long amount of time makes it hard to remove the dirt later. So, clean them as often as needed. 
Move cushions to a cool and dry location when not in use for prolonged periods to avoid collection of dirt.
Cushions, cushion covers, sling backs and outdoor umbrellas should never be machine-washed, unless specifically permitted by the manufacturer. If you don't have the product guidelines, play it safe and hand-wash to prevent shrinkage or damage.
Protect and Store Outdoor Furniture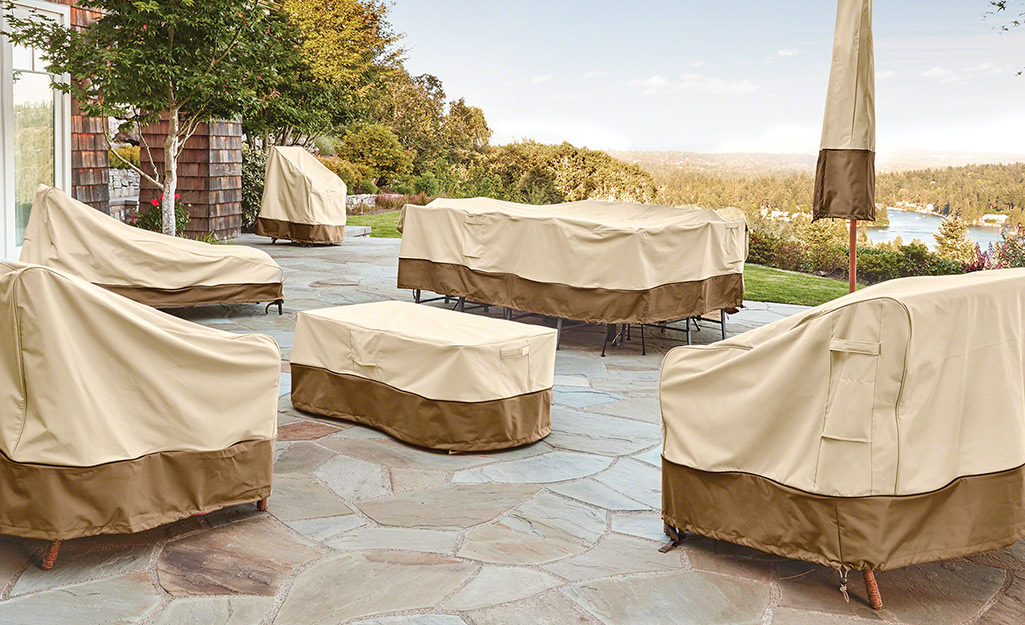 While patio furniture is meant to be outside, protecting your set from the elements will help extend its life.
Furniture covers not only shield the pieces from the weather during the off-season, but they can also be used to keep things cleaner for longer when not in use.
If you have extra room in your basement, enclosed garage or shed, you can stow cushions there. When storage space is limited, use high-quality storage bins or storage bags for a convenient and simple solution.
Remember that cushions and umbrellas should be clean and completely dry before storing them. Placing the fabric in a dark place while still damp will invite mold and mildew.
See something that catches your eye when shopping for patio furniture? Find products fast with image search in The Home Depot Mobile App. Snap a picture of an item you like and we'll show you similar products.
Explore More on homedepot.com