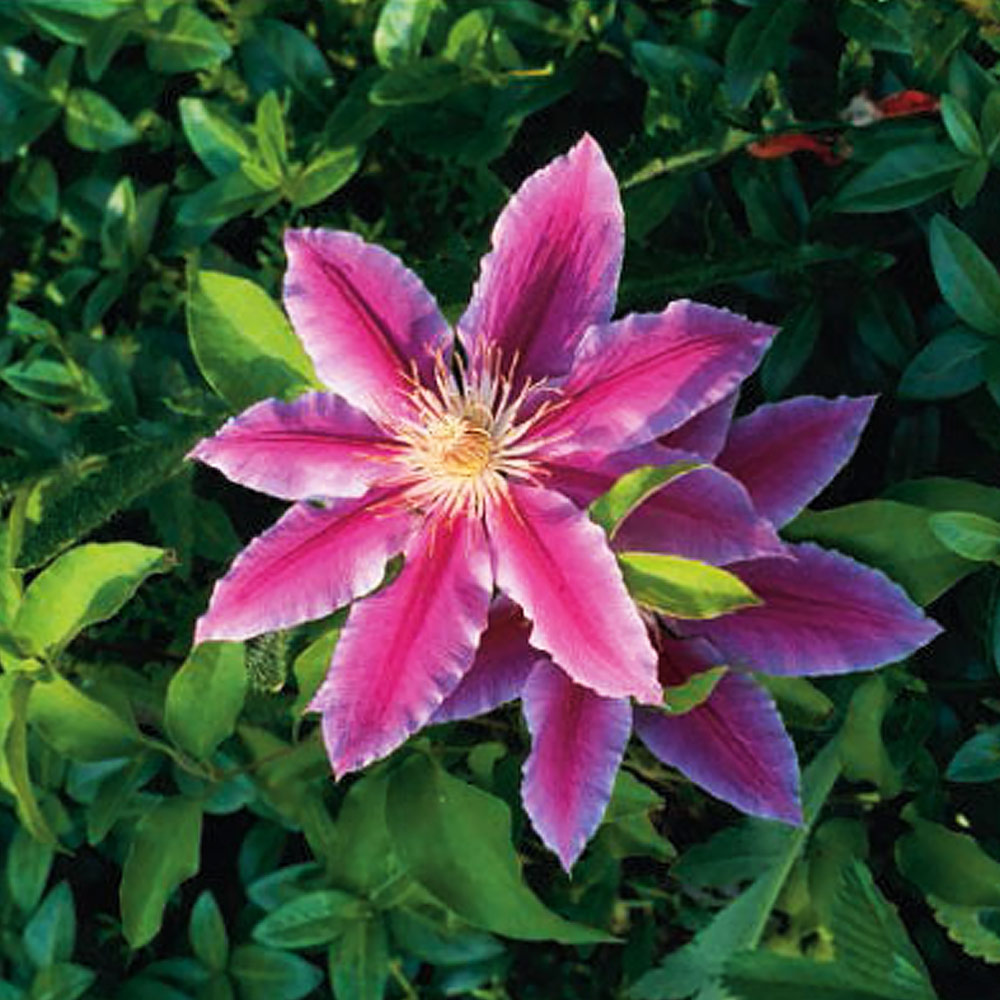 Easy to grow and versatile clematis brings dazzling flowers to your garden. These vigorous flowers grow wilt-free even on the hottest summer days, which is one reason clematis is considered the queen of climbing vines.
Although several shrub and ground cover varieties exist, clematis vines are the most widespread and popular. Some are even fragrant.
So let it go and let it grow, vertically.
Versatility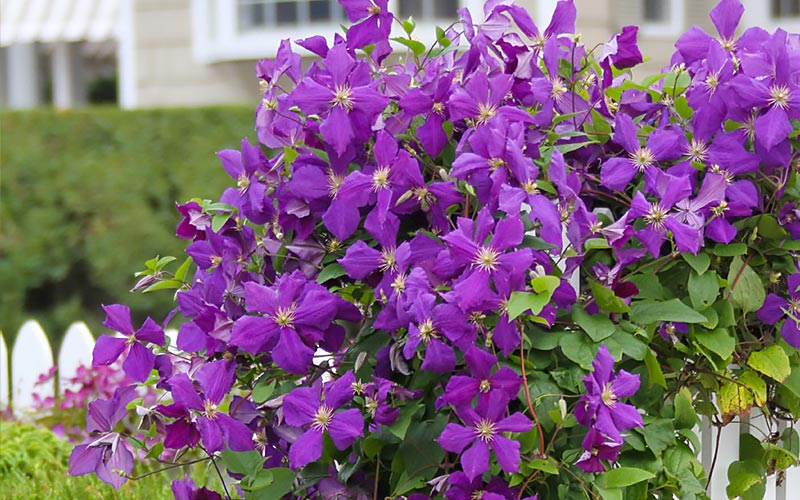 If you're looking for a hardy perennial vine with lots of color and versatility, this one's for you.
You can grow clematis along an apartment balcony, in a mailbox garden, on fences or climbing over an arbor or trellis. You could even train clematis to twine around your porch columns or a pergola. Some like to grow it beneath a shrub and let the vines wildly climb all over.
No matter where you grow clematis, it lasts for decades, making it an economical choice for your garden. For container bound clematis, place it on a planter caddy so you can move it around.  
Because clematis brings continuous blooms, you'll love it for cut flowers you can bring inside. Clematis also makes a great gift for a loved one because it's the gift that keeps on giving beauty.
Growing Clematis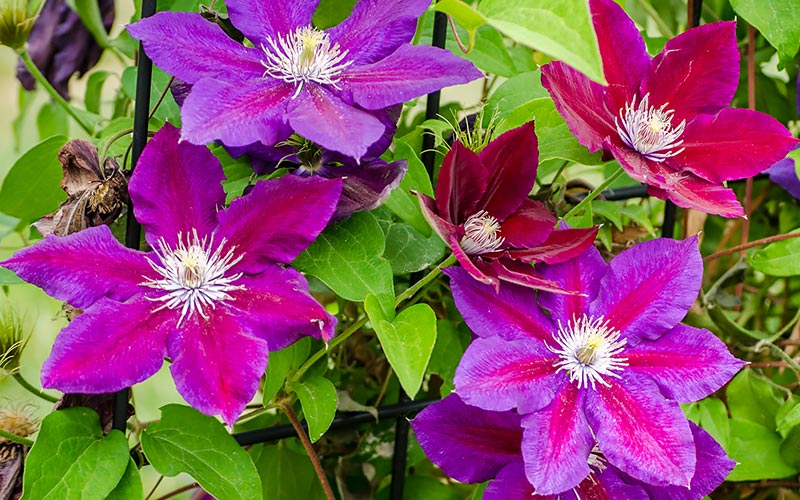 Give clematis the proper start. Even though it takes up to two years for your vines to take off, your initial care will give clematis the boost it needs to thrive in your garden.
How to Plant Clematis: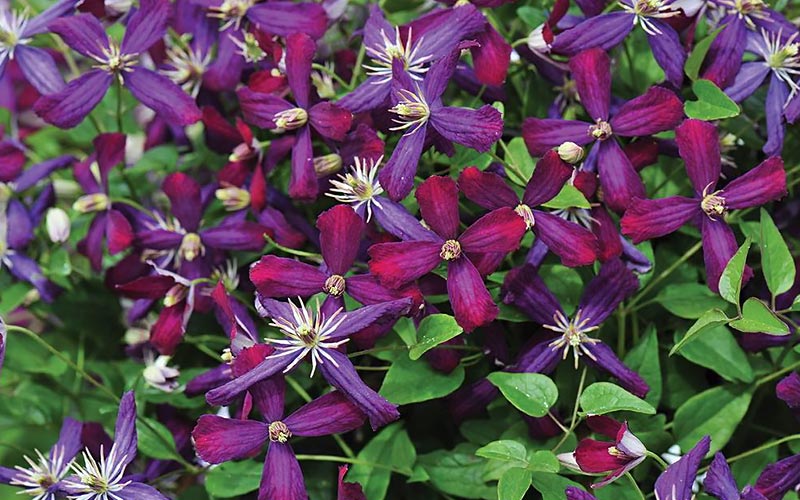 Plant in an area with six or more hours of sun each day.
Dig a large hole and amend the soil with compost.
Make a mound inside the hole.
Mix in fertilizer with water inside the hole before adding the clematis.
Plant clematis vine by spreading the roots around the mound. Fill in the rest of the hole.
Water thoroughly. Regularly water your clematis, as they are thirsty vines. 
Add a 1-inch layer of mulch to clematis when new growth appears. Its roots like to be shaded.
Train your clematis to climb by gently wrapping them around a trellis, mailbox post, arbor, fence post, pergola or wherever you're planting your vines. 
Tip: For containers, plant in pots larger than 24 inches wide and follow the same instructions above.
Pruning Your Vine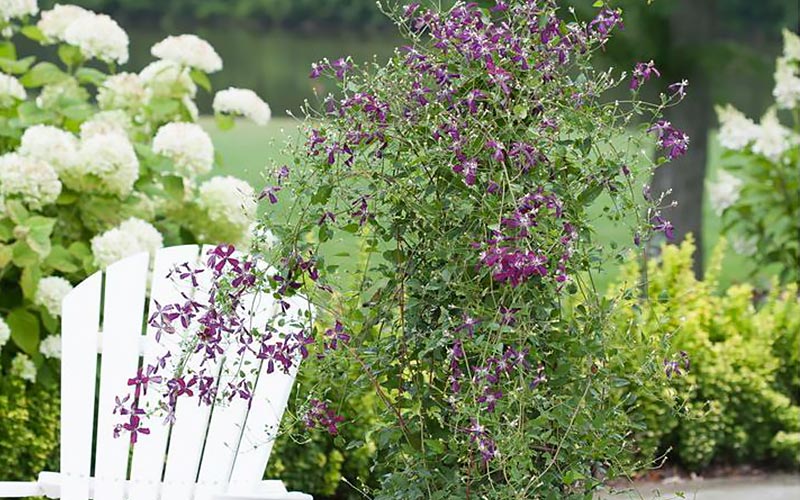 Always hard prune clematis the first two seasons after planting. Then follow the guidelines below. Generally, it's hard to mess up pruning your clematis because it eventually grows back.
Early spring bloomers: Remove dead flowers and dead vines after the blooms completely die back.
Late spring to summer bloomers: Prune back clematis by about 1/3 in the spring before it blooms to encourage growth.
Summer to fall bloomers: Dramatically cut back clematis vines in early spring to about 12 inches.
Caring for Clematis
Low-maintenance clematis will provide long-lasting blooms. While most varieties thrive in sun, some prefer shade, so check the plant tag to ensure proper care.

Soak garden-bound clematis once a week and water containers more regularly during dry, hot weather.
Deadhead spent flowers for continuous blooms.
Feed with a balanced granular fertilizer in spring and fall.
Apply a 2-inch layer of mulch at the base of your vine in spring and fall. 
Use slug bait around young vines to prevent infestations.
Explore More on homedepot.com