Stains enhance the beauty of wood by adding color and emphasizing the grain pattern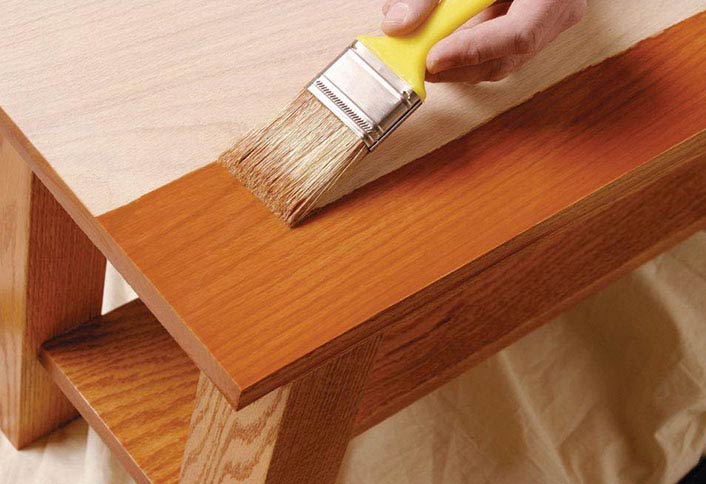 Choosing the best type of indoor stain for your project mainly depends on the type of wood or object you are using. Staining requires a little time, patience and technique. Staining old hardwood floors or furniture can breathe new life into them and add beauty to your home.

This buying guide highlights the different types of interior stains available and the applications where they work best.
Oil-Based and Water-Based Stains
Both types of stain provide beautiful coloring and add surface durability.


Oil-based stains create traditional coloring and penetrate more deeply as they dry slowly.
Water-based stains can be used for more contemporary coloring and may raise the grain a little. You may have to sand the surface after staining.
Oil-based stains can be cleaned with mineral spirits, while water-based only require a little soap and water.
Stain Types and Applications
There are five main types of stains: gel, wiping, combination, spray and water-based liquid stains.


Gels are easier to apply as they provide equal coverage for both porous and non-porous areas.
Wiping stains are very versatile and can be used with nearly any wood surface that hasn't been finished before.
Combination marries wood stain with polyurethane.
Sprays are the easiest to apply.

Water-based stains offer a wide variety of colors.


Type
Features
Uses
Application Tools

Combination Stain/Finish

Saves time by applying both
simultaneously

Multiple coats provide deeper
penetration and more durable
finish

Foam brush
Bristle brush
Cheesecloth

Gel Stain

Doesn't penetrate
Leaves grain appearance intact
May be used on previously painted surfaces
Thicker viscosity is ideal for vertical applications

Oil-based


Nonporous woods
Fiberglass
Metal
Masonite

Hardboard


Cloth
Brush
Foam applicator
Rag


Spray Stain

Provides consistent coverage
Easy to apply

Intricate or hard-to-reach surfaces

Water-Based Liquid Stain

Dries quickly
Easy cleanup with soap and water
Available in a range of colors


Furniture
Cabinets
Doors
Moulding


Nylon/ polyester
brush

Foam brush
Staining pad

Wiping Stain

May be oil or water based
Penetrates wood pores to seal and protect
Versatile
Available in a range of colors

Use on unfinished surfaces


Floors
Woodwork
Cabinets
Furniture

Doors


Cloth
Brush
Foam applicator
Rag

Lamb's wool pad

Sponge