Keep your deck beautiful and weather-resistant with some basic maintenance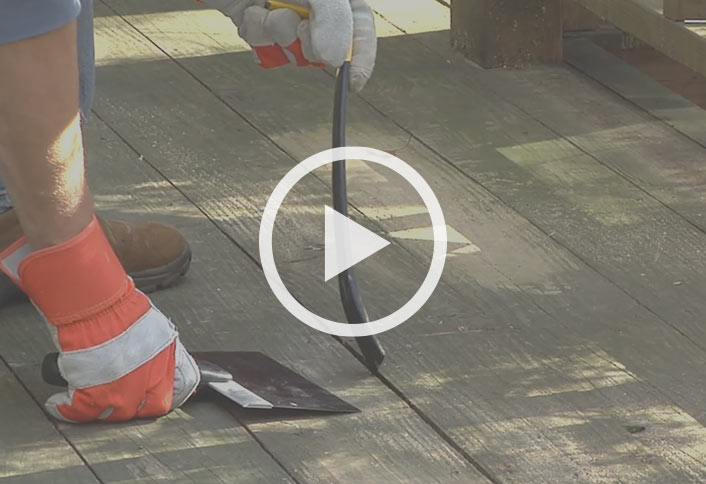 A well-maintained deck can provide you many years of enjoyment. Whether your deck needs a quick cleaning or a complete refresh, follow these step-by-step instructions to get a brighter, longer-lasting deck.

Tips:
• While cleaning, check for any damaged deck boards that need to be replaced or repaired. Pry up any exposed nails and replace them with wood screws. For boards that are warped or raised, smooth them with a sander until the boards are level with surrounding boards.
• Determine if your deck is sealed by conducting a water drop test. Pour a few drops of water onto a deck board. If the water beads, the wood is sealed. If the board absorbs the water, it needs re-treating.
• If using multiple containers of the same color product, mix them together in a bucket to ensure the best color uniformity.
• A new, unsealed deck needs to weather for 60 to 90 days before staining.
• The easiest way to apply the waterproofing solution is with a pump sprayer. Apply the waterproofing solution directly to dry boards and let cure for 24 hours. Fill any cracks with wood filler, spackle or caulk, then sand until smooth.
WHAT YOU NEED FOR THIS PROJECT
1
Scrape off loose finish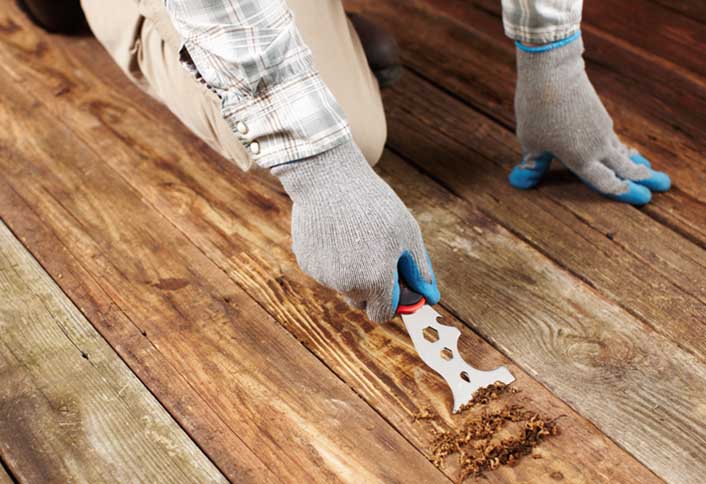 • Remove loose paint or opaque deck stain with a paint scraper.
• Scrape down damaged areas to bare wood.
• Sand each area to feather the edges of remaining finish material down to bare wood.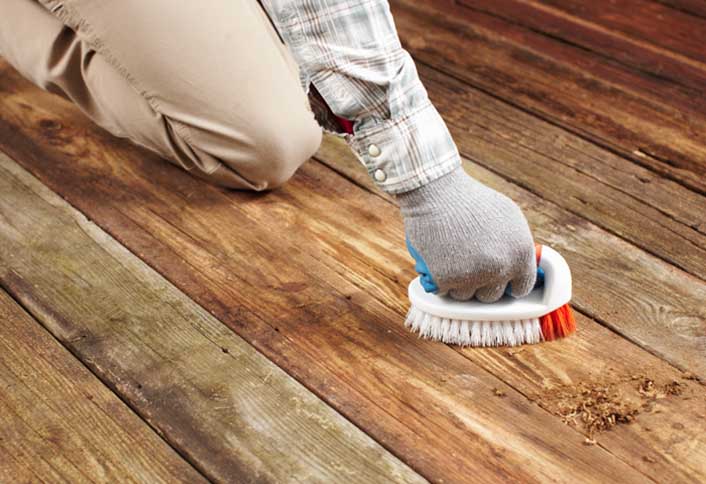 Tip: Do not use a metal brush on cedar or redwood as the bristles may scar the soft wood.

Use a stiff scrub brush to remove flaking stain or dirt.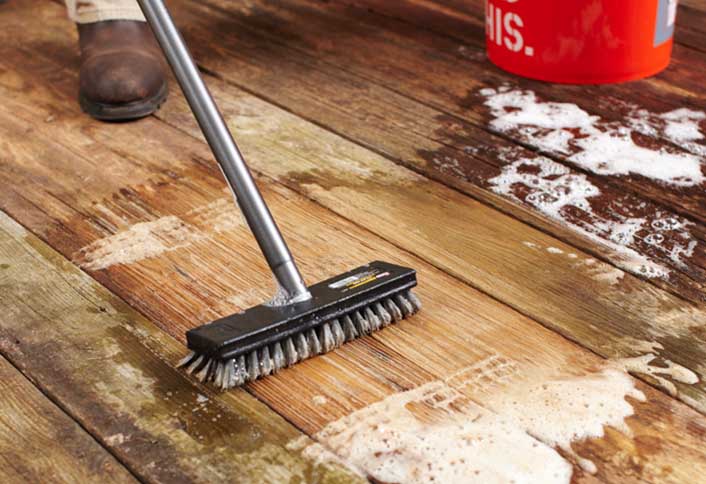 Tip: Failing to properly clean your deck before staining may result in poor stain performance and quality results cannot be guaranteed. Refer to the manufacturer's product information to ensure the best possible outcome.

Apply the deck cleaner to the wood, working it into the wood with a stiff deck brush. Use an extension handle on the brush, if necessary.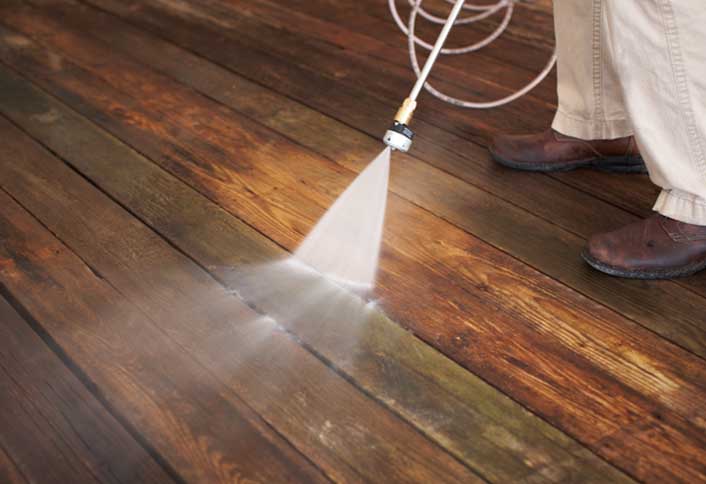 • Wash the deck surface to remove the cleaning solution and other residue using a power washer with a fan spray nozzle.
• Try to use the low power setting to avoid damaging the wood, or refer to the manufacturer's recommendations based on the wood type.
• Let the deck dry thoroughly.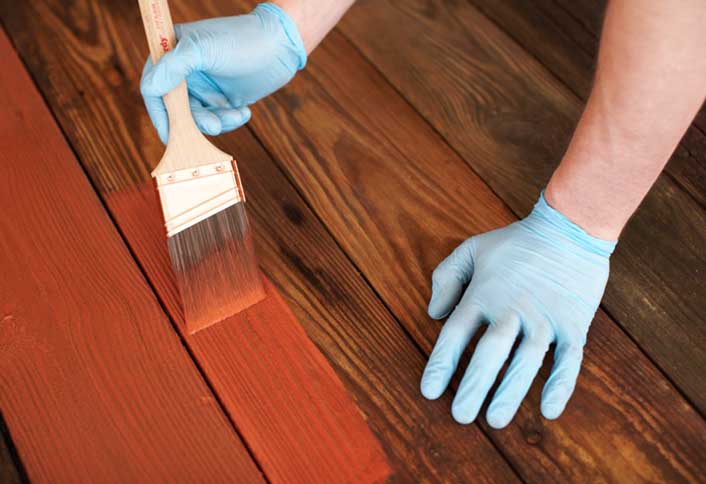 Tip: It is easiest to work in small sections to ensure the stain's color uniformity, proper coverage, and the ability to start and stop with more flexibility – just in case it should rain.

Depending on your deck stain product, a pump sprayer, paint brush, paint roller, staining pad or a combination of these tools can be used to apply the stain. To ensure the best results, follow the manufacturer's recommendations for applicators as some deck stains require specific tools.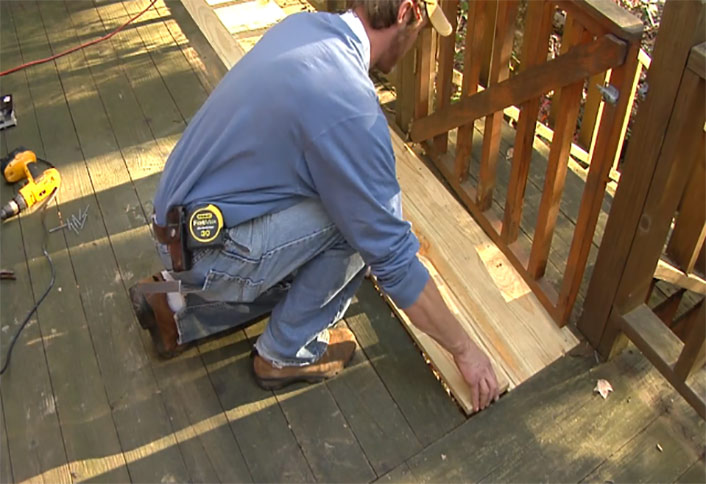 • Occasionally it may be necessary to replace a broken or damaged board in your deck. You can do so by using a claw hammer to remove the old board and replace it with a new one.
• Unfortunately, this may leave you with mismatching boards as the deck is gradually weathered and replacement boards may appear newer and stand out.
• For a simple way to refresh the look of your deck and ensure an even appearance, replace all of the deck boards at once. This will improve both the appearance and structural integrity of your deck.
• Choose from natural wood, pressure-treated wood and advanced composites for exceptional durability.