When matched with the correct drill bits and accessories, a corded or cordless power drill can be the most useful tool you own. This guide will help you understand the different features available in corded and cordless drills, so you can choose the best power drill for your needs.

Safety: Always exercise caution when using various drill types or any power tools. Follow the manufacturer's instructions for proper use. Use tools only for their intended purpose. When working with corded or cordless power drills, wear safety equipment. This includes eye and respiratory protection.
Corded vs. Cordless Drills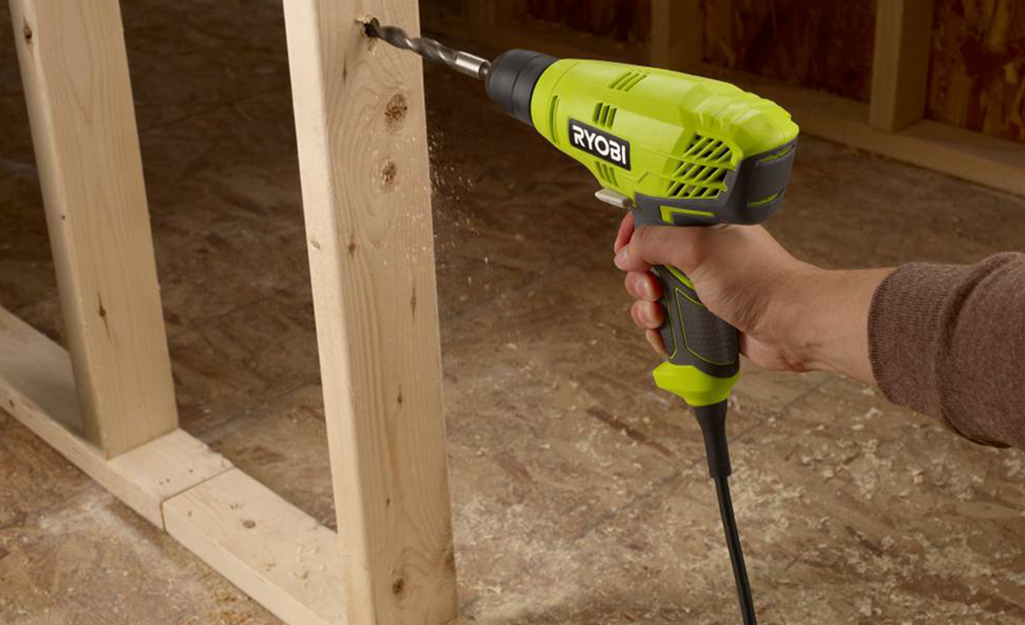 There are a wide range of corded power drills and cordless power drills to choose from. The best power drills for you depend on the tasks you want to tackle. Choose from drill-drivers, hammer drills, right-angle drills and impact drivers. Each type of drill has a lot of features so that you can pick the one best suited for your job.

A corded tool usually costs less and delivers more powerful torque. However, for many, the best drill for home use is a cordless model.

A cordless tool or cordless drill with a battery provides freedom and convenience. It powers up with a simple recharge of its lithium-ion batteries. To avoid unexpected delays, charge your cordless drill's battery after every job. Many cordless power drills include an LED light to indicate when the battery has finished charging.

Tip: A cordless drill with a brushless motor offers more torque than a traditional motor. Choose a cordless drill with a brushless motor and lithium-ion batteries or a rechargeable battery for extended run times and longer lifespans.
Power Drill Features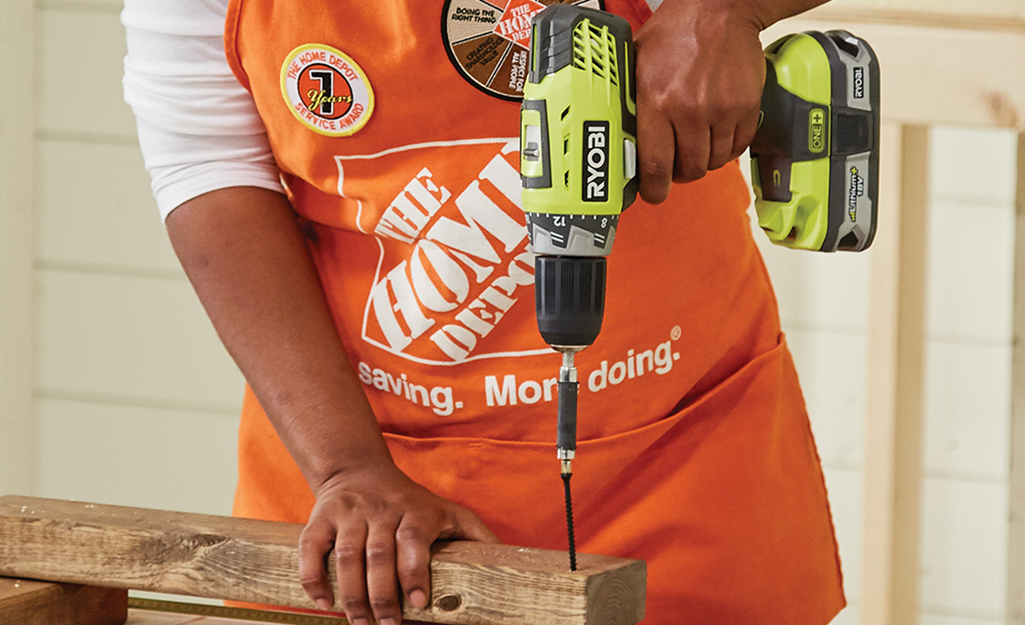 When shopping for the best power drills, consider the chuck capacity for each type of drill. The chuck is the cylindrical clamp that holds the rotating piece (usually the drill bit) in place. Loosen the chuck to remove and replace the drill bit, then tighten to hold it in place.
Drill size/chuck capacity: The size of the chuck determines the maximum drill bit diameter allowance for that drill. The most popular is a 3/8-inch diameter drill. A 1/4-inch diameter features a lightweight design and is generally one of the best drills for home use by style. A heavy-duty capacity drill is usually a 1/2-inch diameter.
Grip: When choosing the best cordless drills for you, remember to find one with a grip that feels good in your hands, not necessarily the most powerful model on the market. Most have an ergonomic pistol grip with a flat battery pack attached to the base of the handle. Some lighter-duty drill/driver tools have a pivoting handle to permit operation in tight spaces. Cordless rotary hammers and some hammer drills have an additional side handle to give a user more leverage when boring into masonry.
Torque: Torque is the rotating force of a drill. Many cordless drills feature an adjustable torque control. This clutch can be set to increase or limit the amount of torque delivered to control depth and prevent over-screwing or stripping screws in driving applications. Lower clutch settings are used for screwing projects, while a higher number allows the tool to bore at full strength. Cordless drill reviews have varied results of the automatic torque control available on some models.
Speed and power: Revolutions per minute (RPM) measure the speed of a drill. The higher the RPM, the lower the torque delivered from the power tool. More amperage equals a more powerful drill. A lower amperage corded or cordless drill will not be very powerful. However, it may be suitable for household use or occasional shop use. A higher amp motor in a corded or cordless drill model is much more powerful. It's better suited for heavy-duty jobs or professional use.
Variable speed: A variable speed motor has multiple speed settings. These can be changed using a single switch or trigger, usually near the grip. Variable speed motors allow you to increase or decrease the torque.
Reverse mode: Convenient when removing screws or backing out when boring holes.
Keyless vs keyed chucks: Keyless chucks offer the convenience of quick bit changes. However, keyed chucks keep a slightly better bit grip for a larger drill. 1/4-inch hex or collect chucks require a 1/4-inch hex drill and allow for quick changes of drill and driver bits.
Platforms: If you already own more than one power tool of the same brand, consider the battery-charging platforms available within that brand. These remove the need for more than one battery. One charging platform is shared among multiple tools of the same brand.

Tip: Consider your comfort. A drill's grip should have an ergonomic design. It will be comfortable to hold and won't be so heavy that your hand will get tired quickly.
Types of Power Drills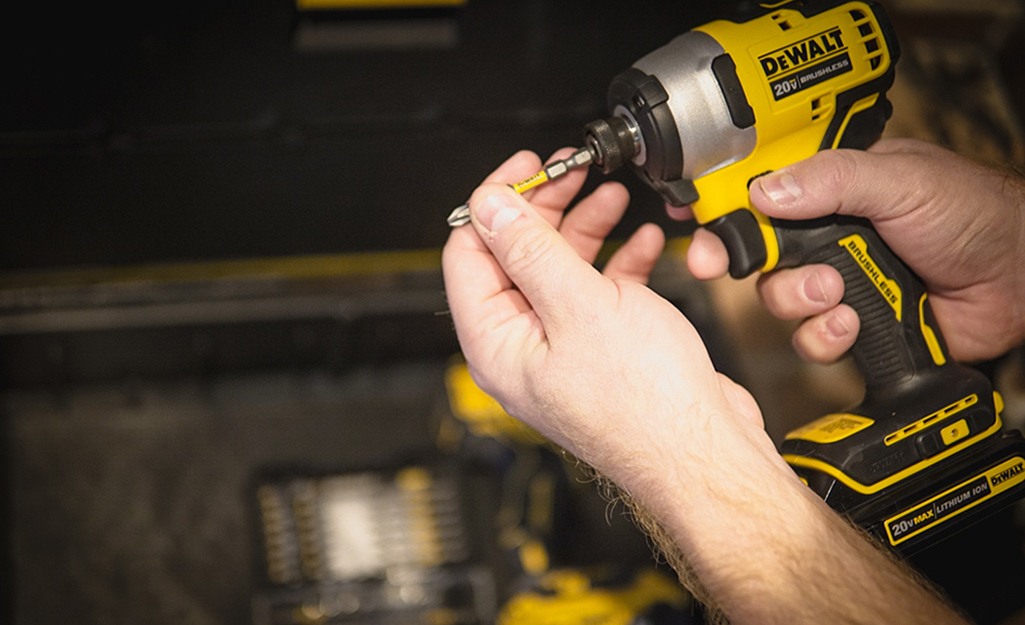 The best power drills for you depend on the tasks you want to tackle. Choose from drill-drivers, hammer drills, right-angle drills and impact drivers. Each type of drill has a lot of features so that you can pick the best drill suited for your job.
Basic Power Drills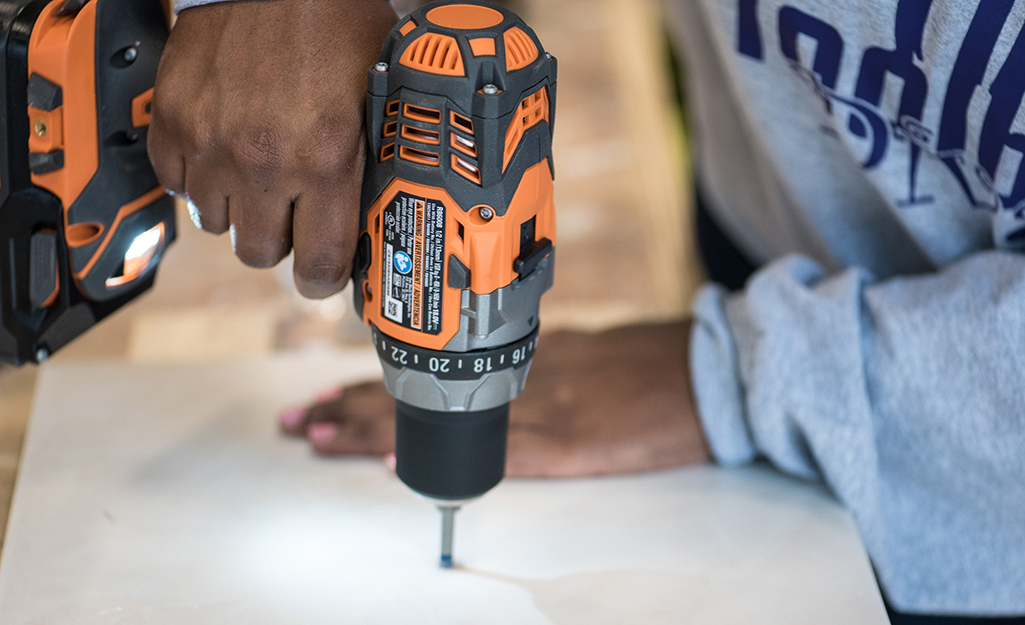 Power drills are a basic type of drill suitable for most household applications and DIY projects. These are used for drilling holes and to drive screws. The clutch can be adjusted to consistent drill depth.
Hammer Drill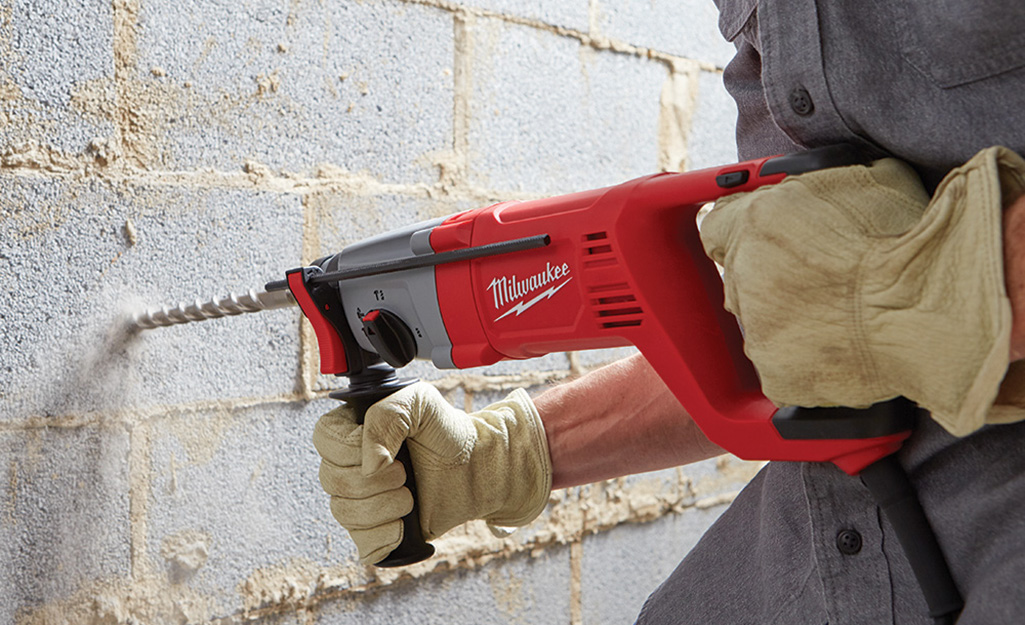 A hammer drill is similar to a standard drill but with a hammering function to drill into masonry. Hammer drills make a forward pounding motion as the bit rotates to make driving holes into masonry and other hard surfaces easier. The hammering mode on most models can be turned off to allow only drilling functionality.
Right-Angle Drill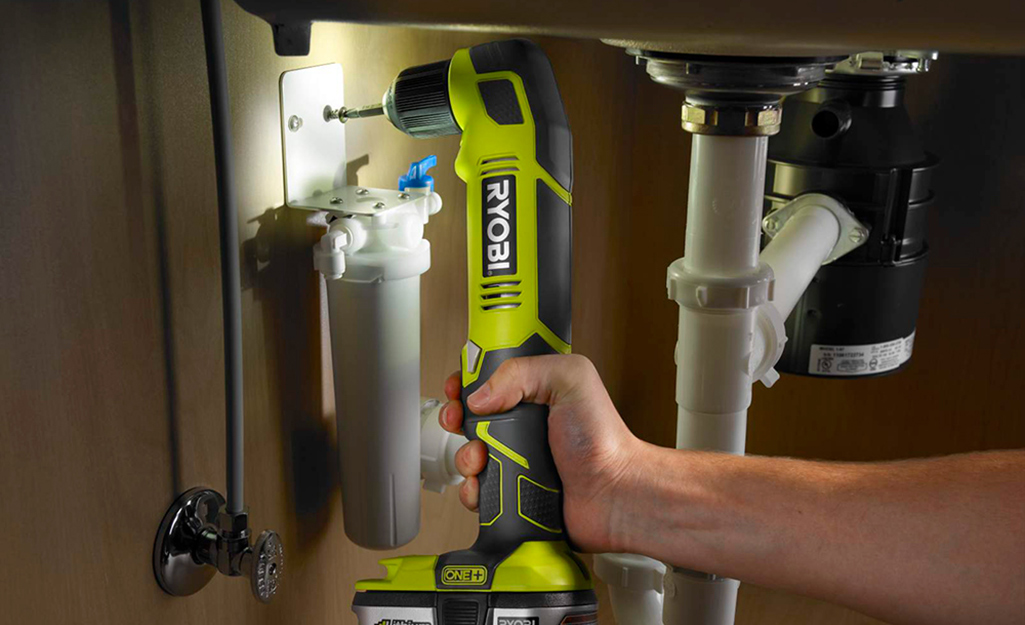 Right-angle drills are designed for drilling and driving in tight spaces. These drills have a chuck mounted at a 90-degree angle to the drill body. These are ideal for working on tasks in tight spaces.
Impact Driver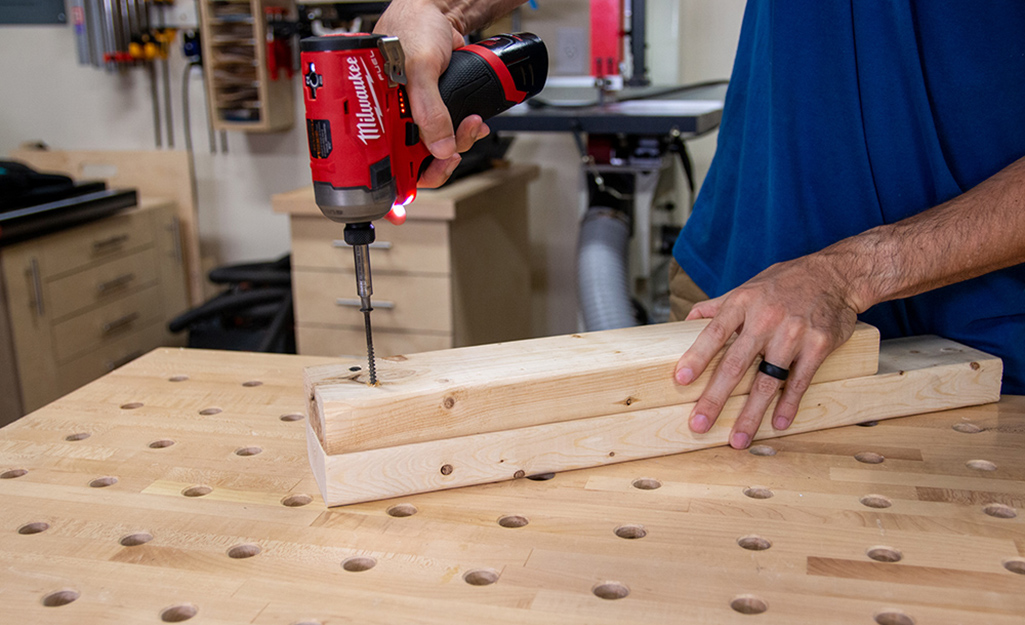 An impact driver is a driving tool that uses quick-change bits and more torque than a standard drill. Impact drivers have a powerful impact mechanism that drives lag bolts and large fasteners quickly and efficiently. Compact design and impact functions reduce twisting force on the wrist and user fatigue.
Rotary Hammer Drill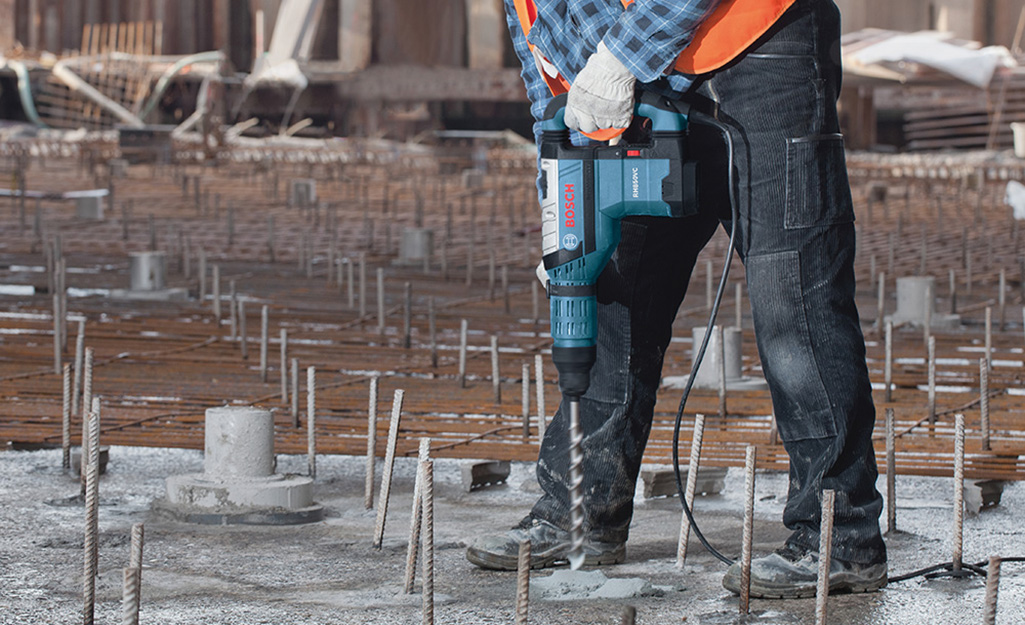 A rotary hammer drill is engineered specifically to drill holes in concrete and other masonry materials. Rotary hammers pound through tough materials including concrete, masonry and tile. Some models include rotation-only, rotary hammer and hammer-only modes. These feature a secondary handle for added stability.
Depending on the jobs you regularly tackle, you may find that the best drill for your toolbox may not be a single drill. It might be better to invest in a set of various power drill types. If this is the case, consider your needs and investigate the different brands available. In some cases, you can choose from a single brand. However, there is nothing wrong with selecting tools from a few different platforms.
Screw Gun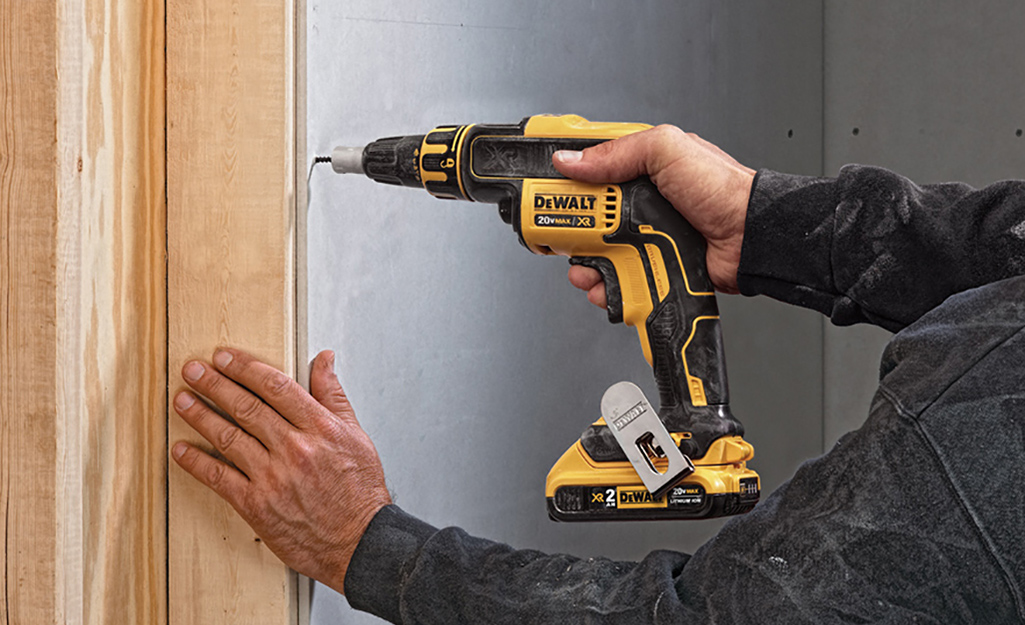 Screw guns are designed to drive screws, primarily for drywall applications. They Include high torque motors for driving into dense materials. This reduces user fatigue for large projects.
Understanding Cordless Drill Batteries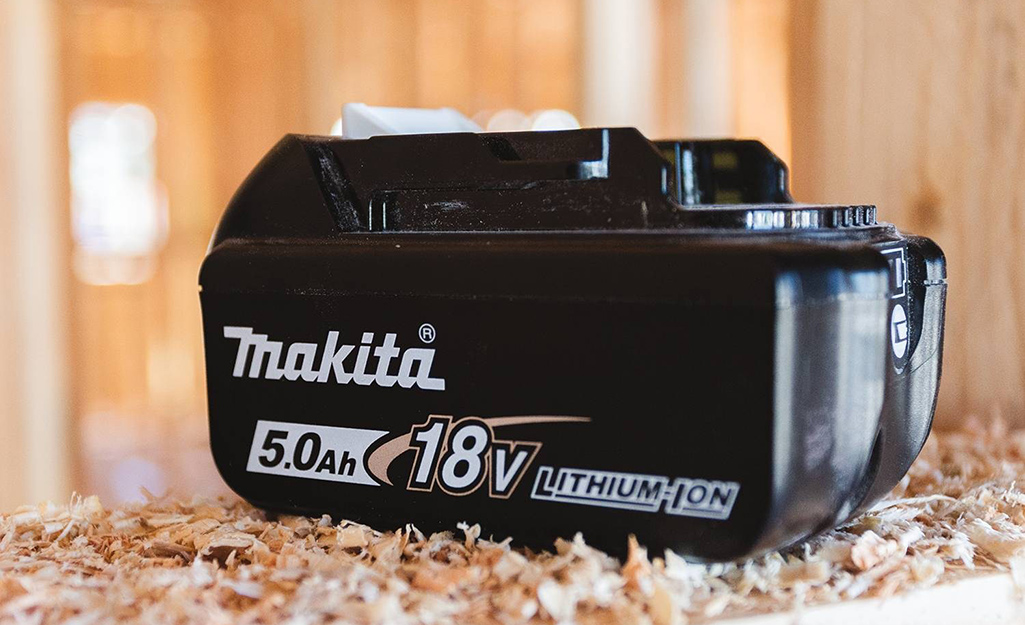 Cordless power drills are only as powerful as their rechargeable batteries. A higher voltage means more power. The most common rating is 18-volt, which is suitable for most household and DIY uses. The range spans from a 4-volt battery to 28-volt models used for some heavy-duty tools.
Amp hours, abbreviated Ah, is a measurement that indicates the energy capacity of a battery, or battery life. A higher number means longer operating time. A lithium-ion battery with 3.0Ah will last twice as long as one with 1.5Ah. That higher capacity also weighs twice as much, so choosing less amps and having spare batteries available might be a good option if the weight of the tool is a concern.
Start every project with a fully charged battery in the drill and a backup battery in the charger. That way, you'll avoid having two exhausted batteries at the same time. Whenever you take a break, also give your drill a breather by putting the battery into the charger or swapping power packs.
Choosing the Best Cordless Power Drills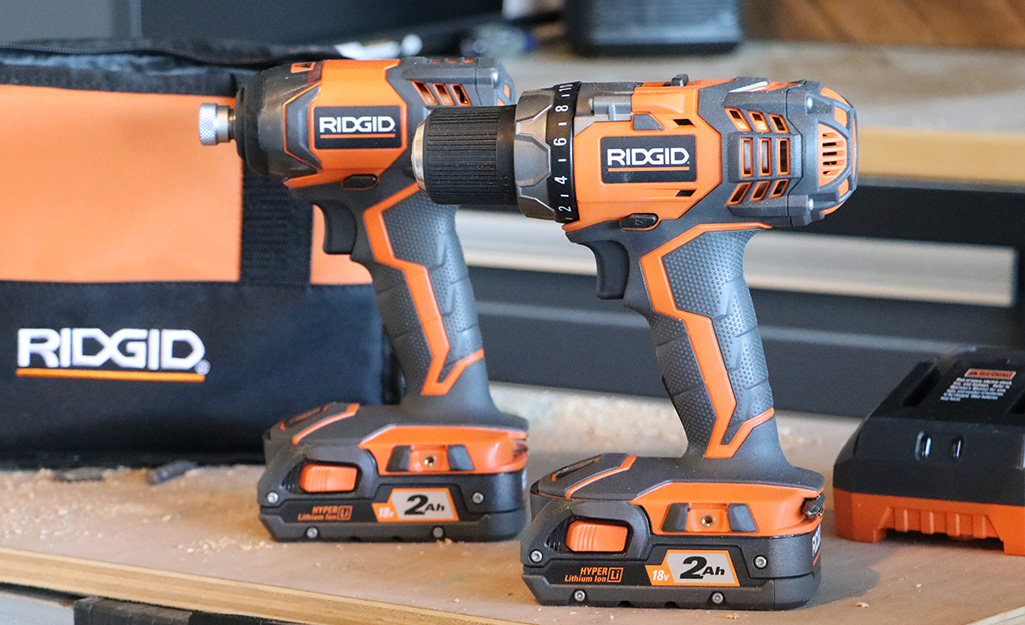 Many customers have one, simple question: What is the best drill I can buy? The answer depends on your unique needs. For some, the best corded drill that can stand up to serious impact and daily use is ideal. 
For most homeowners though, the best drill is one that doesn't feature a cord at all. Easy to use anywhere without a long extension cord, cordless drills provide versatility and plenty of battery life for most users. Here are a few tips to help you choose the one that will work best for you:
Determine what you need to do. Drills for woodworking, home repairs and heavy labor are all different. Know your needs before you start shopping.
Think about the weight. For light-duty tasks or new users, a large, heavy drill designed for serious work can be hard to wield. Check your specs if you're shopping online. Alternately, try holding a few power drills in your hand in one of our stores. This will also help you choose a grip style that feels right for you.
Consider battery life. Most homeowners will only need a few hours of use at once. If you do more heavy-duty work or you're renovating your home, for example, you may want a drill with longer battery life, so you don't have to stop work abruptly.
Buy more drills than you need. It's tempting to buy an inexpensive power drill, and for some users, they can work. What you don't want to do is under-buy only to find out you needed a better drill all along six months down the road. Look for a drill that can do a little more than you need so you'll never be short on power.
Don't be afraid to ask for help. Our trained associates can steer you toward the right drill for your project or ongoing home maintenance needs. 
Power Drill Operating Tips and Maintenance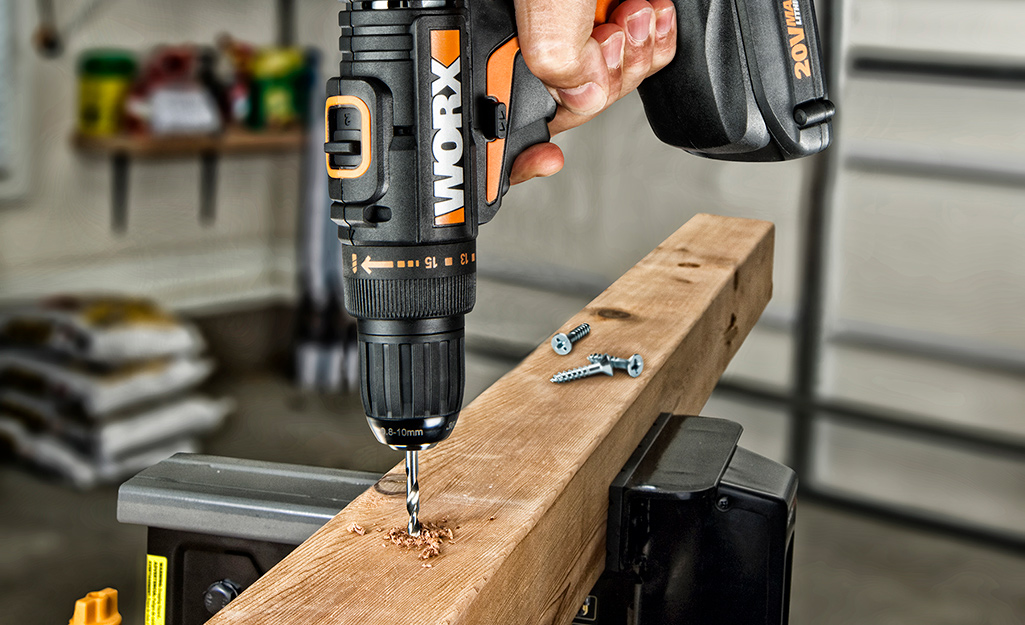 Proper care must be taken when operating drills. Among other safety measures, be sure to wear protective eyewear.
When drilling metal, keep the bit and metal well-lubricated with oil as you go.
Drive at an angle that is perpendicular to the surface to ensure the fasteners are drilled straight.
If the drill begins to feel hot, stop work immediately and allow the drill to cool.
Use lower torque to avoid stripping screws. 
Use bits that are smaller than the screw to avoid creating too large of a hole.
If you see smoke rising from a hole you're drilling, that's a sign that either your bit is dull or you're working the drill too hard.
Pull the bit out of a hole regularly to clear chips, especially when drilling hard material like maple or wet wood.
Plan ahead and stock up on spare bits when starting an important project that requires repeated use of the same bits.
Throw out drill bits at the first sign of wear to ensure safety and effectiveness.
Always use an extension cord that will supply enough power to your drill without causing a drop in power or damage to the motor.
Safety and Other Considerations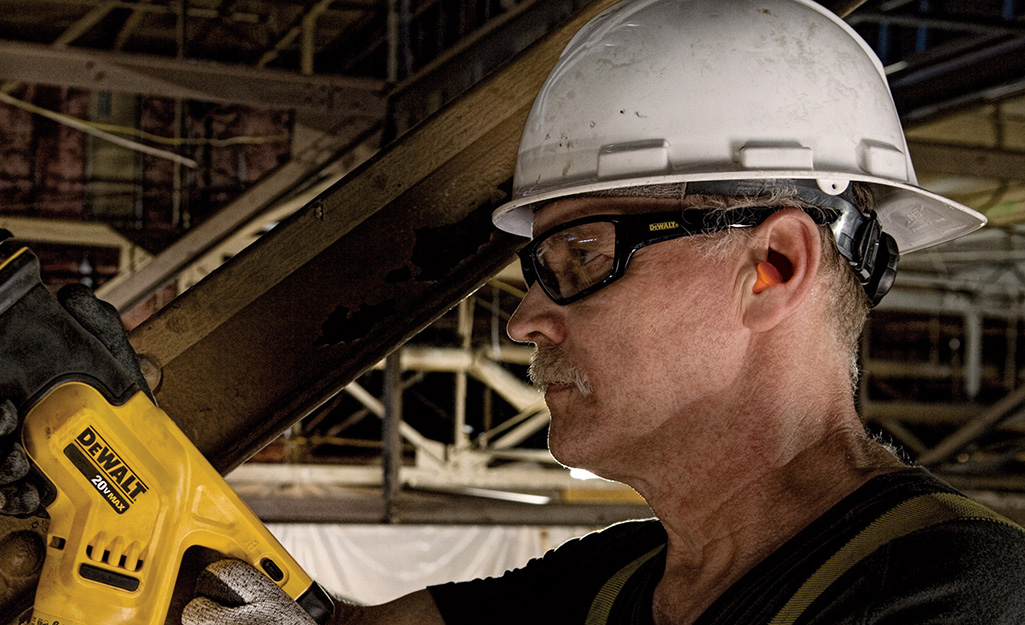 Always exercise caution when using power tools. Follow the manufacturer's instructions for proper operation, and use tools only for their intended purpose. Wear safety equipment including eye protection when using a power drill.
After exploring cordless drill reviews to find the tool that meets your needs, visit a store to hold the drills with batteries installed to help you determine if the tool is the right fit.
Once you have decided on the right drill for you, remember that drill bits are just as important as the drill itself. Specific bit sizes can be purchased individually, but it's recommended to get a set of bits that includes a wide range of sizes to handle almost any DIY project. With the right attachment, drills can also be used for sanding, buffing and even mixing cement.
When looking for the best drills for home use or professional tasks, be mindful of tools needed for your other projects. Batteries from the same platform frequently are interchangeable with other tools of the same brand, which can save you money and reduce the number of chargers near your workbench. Consider a cordless drill set that includes other useful power tools. While they might not contain tools for special uses, like cordless right-angle drills, many simple combo kits will include a small cordless drill and an impact driver along with a spare battery.
Ready to find the best cordless drill on the market for at-home use? Maybe you need the best corded drill for heavy-duty work? We can help you find the drill bits and drill attachments you need. Shop online or visit one of our stores today to find the best power drills available. We have the tools to make your job easier. For one-off projects and quick home renovations, consider our power tool rentals. Our tool and truck rental department can also help you find basic and specialty tools for projects big and small.
Explore More on homedepot.com