Bathtubs are as much a personal place of retreat from the world as they are the spot in our homes where we get clean. For these reasons, it's important that you choose a bathtub design that is the right fit for you and your family.  
This guide highlights the options and features of different types of bathtubs and offers tips to help you buy the best bathtub for you and your specific needs. 
Determine Which Bathtub Type is Right for You
| | | | | | |
| --- | --- | --- | --- | --- | --- |
| alcove bathtubs | Tub & Shower Combos | Corner Bathtubs | drop-in bathtubs | Freestanding Bathtubs | walk-in bathtubs |
| Alcove bathtubs, or recessed tubs, are designed to fit into a recessed three-wall nook.   Features only one finished side, as the other three will be up against walls.    Typically have wall-mounted faucets and are easily configured to incorporate a shower.    | Bathtub and shower combos feature a standard bathtub with shower walls attached. Some models include shower doors to enclose the unit.    Tubs can be curved or straight.    Most shower walls include shelves and other features to store bathing supplies.  | Installed in a corner of the bathroom to save space.    Triangular or clover shape with two unfinished sides that fit up against walls and one finished "front" side.    Not all corner bathtubs are able to accommodate a shower.    Can fit two bathers at once.    Available in many different bathtub design options.  | Designed to be dropped into a pre-built deck or surrounding walls.    All four sides are unfinished but features a rim that sits on top of the platform material.    Drop-in bathtubs offer versatile placement possibilities.    May require extra work to install and larger up-front investment.    Needs a kit for under-mount installation.  | Designed to stand independently anywhere in the room and are often the focal point of the bathroom.    All sides of freestanding bathtubs are typically finished and accessible.    Faucets are installed as freestanding floor units or into an adjacent wall.   May be able to integrate a shower.   Comes in a variety of designs, including flat bottom, pedestal and clawfoot.    | Easily accessible with a watertight door that opens near floor level.   Designed for bathers unable to step into standard bathtubs.   Walk-in bathtubs can usually be retrofitted into typical alcove tub spaces.   Typically have a seat and built-in safety bars.   Most types have jetted whirlpool or jetted air features.  |
Bathtub Materials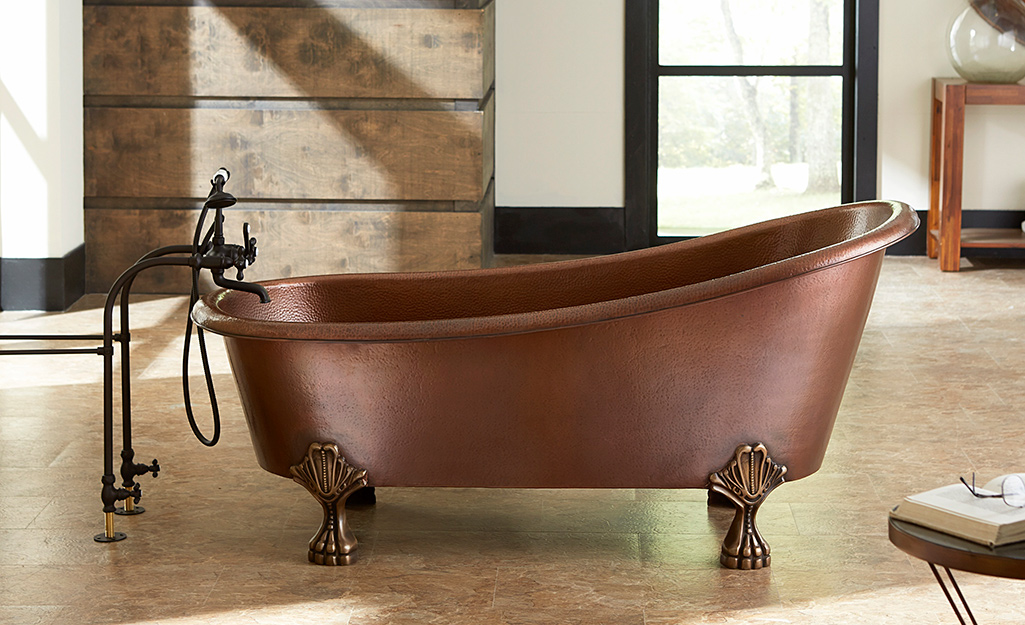 Acrylic: Many bathtubs are made from layers of acrylic vacuum-formed over molded fiberglass sheets. These acrylic bathtubs are light-weight, easy to install, easy to clean and available in many shapes, styles and colors. Although the finish can scratch and discolor, modern finishes greatly diminish this possibility and can be easily repaired. When well-maintained, acrylic bathtubs can last up to 15 years. At a modest price-point, acrylic bathtubs are a well-rounded choice and the most popular bathtub material for homeowners. 
Fiberglass: Fiberglass bathtubs are made of molded fiberglass sheets with a top layer of gel coat. Fiberglass bathtubs are an economical choice, since they are low-cost and are easily installed. The finish is prone to scratches, cracks and fading but is also repairable. Fiberglass can feel thin and can flex or crack under too much pressure, which may encourage some buyers to choose a more expensive bathtub material.  
Porcelain-enamled cast iron or steel: Porcelain-enameled cast iron bathtubs and porcelain-enameled steel bathtubs are both metal-based tubs coated with a thick layer of enamel. The porcelain enamel makes these bathtubs extremely durable; they are resistant to chips, scratches and dents. They retain a glossy finish that can withstand most common household chemicals, making them easy to clean. The layer of cast iron or steel helps the tub retain heat better than acrylic or fiberglass bathtubs. Cast iron, for example, is heavy and requires extra floor support and professional installation.  
When deciding whether a porcelain-enameled cast iron bathub or acrylic bathtub is better for your bathroom, consider both your budget and the lifespan you expect from your tub. Cast iron tubs require less maintenance and are a better long-term investment for your home, but acrylic tubs are less expensive initially and are reliable tubs if you plan to move or renovate your bathroom in any way by the end of their 10 to 15-year lifespan.
Solid surface: Solid surface consists of a blend of minerals and synthetic resins that can be molded or poured to create virtually any shape or size tub, creating a seamless one-piece surface that looks sleek and is easy to clean. Solid surface bathtubs are non-porous and hygienic, as well as mildew-resistant. Solid surface is also recyclable, making it an eco-friendly material choice. Due to their manufacturing process, solid surface bathtubs tend to be a more costly than bathtubs of other materials.  
Copper: Copper bathtubs have a striking appearance that only enhances with time. With age, the copper oxidizes and develops a patina that creates the one-of-a-kind, multicolored finish for which copper is known. This "living finish" also helps heal surface scratches and scuffs with no effort on your part. If you are happy with the current look of your copper bathtub, you can seal it in clear lacquer or slow the patina development with regular wax coatings.  
Copper bathtubs are also durable, rust-proof, mildew-resistant and antibacterial. Acids and abrasives, however, can damage the surface. Like solid-surface bathtubs, copper is recyclable and is typically more expensive than other materials, but it has the longest lifespan of all the tub materials.
Stone resin: Similar to solid-surface bathtubs, stone resin bathtubs are made from a blend of resin and crushed natural stone. The resin makes stone resin bathtubs impervious to stains and discolorations, as well as resistant to mildew and bacteria. Scratches and cracks, while rare, are not impossible, but they can be repaired. After copper, stone resin has the next longest lifespan of all the bathtub materials. Stone resin bathtubs have a unique, high-end appearance that comes with a high price point. If you are debating between stone resin and cast stone – a stone bathtub that uses concrete in place of resin to create a more natural, carved appearance – stone resin tends to be more cost effective and easier to maintain. 
Bathtub Sizes and Measurement Tips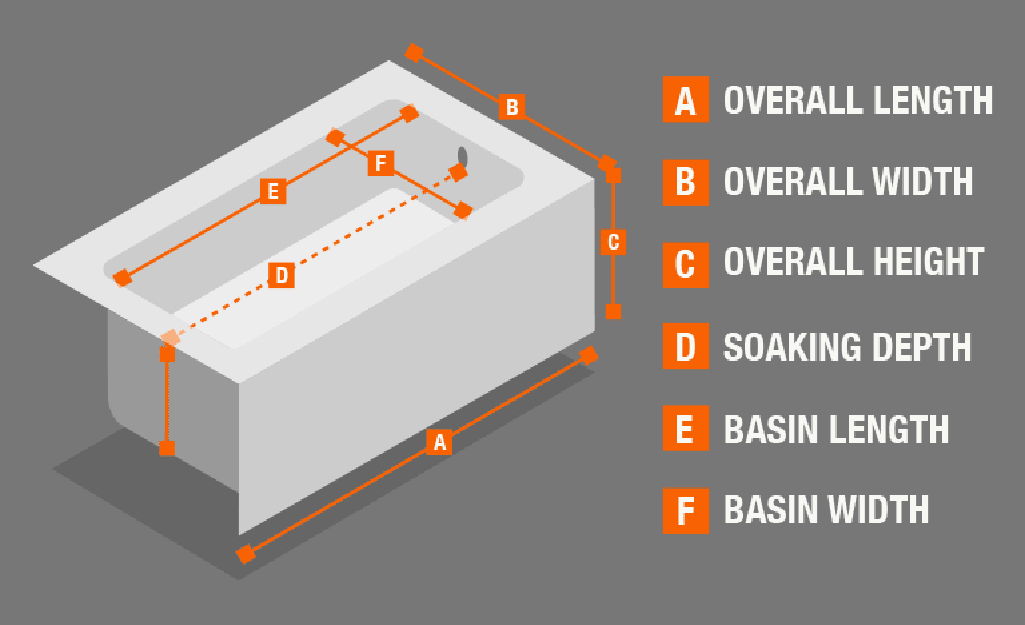 A variety of bath sizes, lengths, widths and heights are available, so grab a tape measure before you shop. It is crucial that a replacement tub fits properly into an existing space.  
The most common bathtub installation is an alcove bath with an overall size of 60 inches x 32 inches.  
Standard tubs usually have external measurements around 60 inches long, 30 inches wide and 14 to 16 inches high.
When shopping for a soaking tub, find a tub that measures between 60 inches long and 72 inches long.
Persons over six feet tall may want to consider an oversized bathtub for the most comfort. We recommend shopping for a bathtub that is over 70 inches long. Many of these extra-long tubs are also deeper than a standard tub, usually with a soaking depth greater than 16 inches. 
When replacing a bathtub, pay careful attention to where existing water connections are located and be sure that the tub you select has the orientation to match the layout of your bathroom. 
Bathtub Features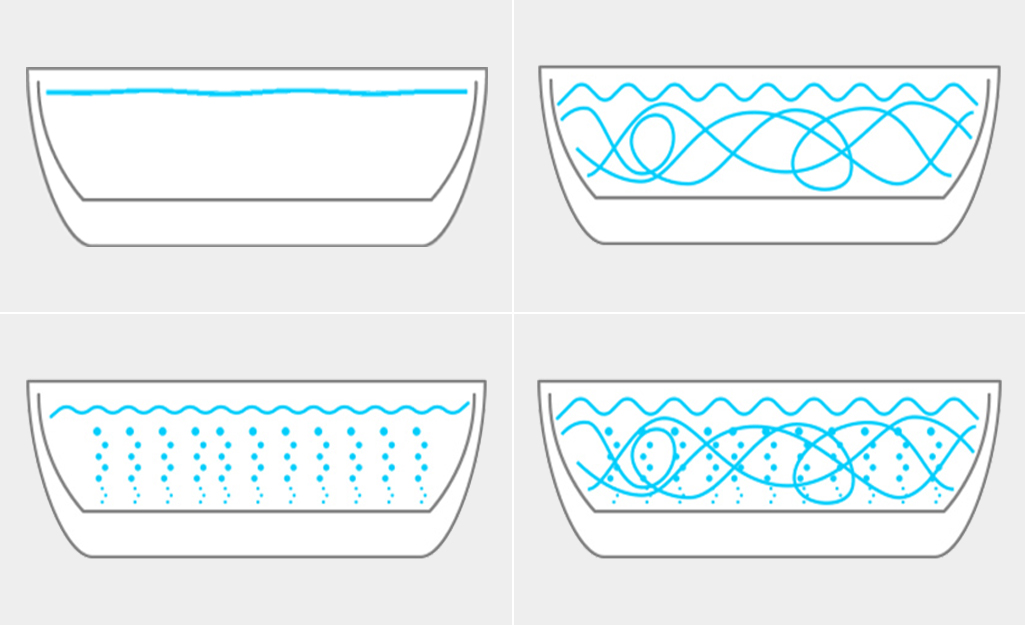 Some bathtubs have special features that can turn routine bathing into a luxurious escape. Jetted tubs can provide soothing hydrotherapy, while other features like ergonomic contours, heaters, LED lights and built-in speakers make bathing even more relaxing.  
What to Consider When Buying a Bathtub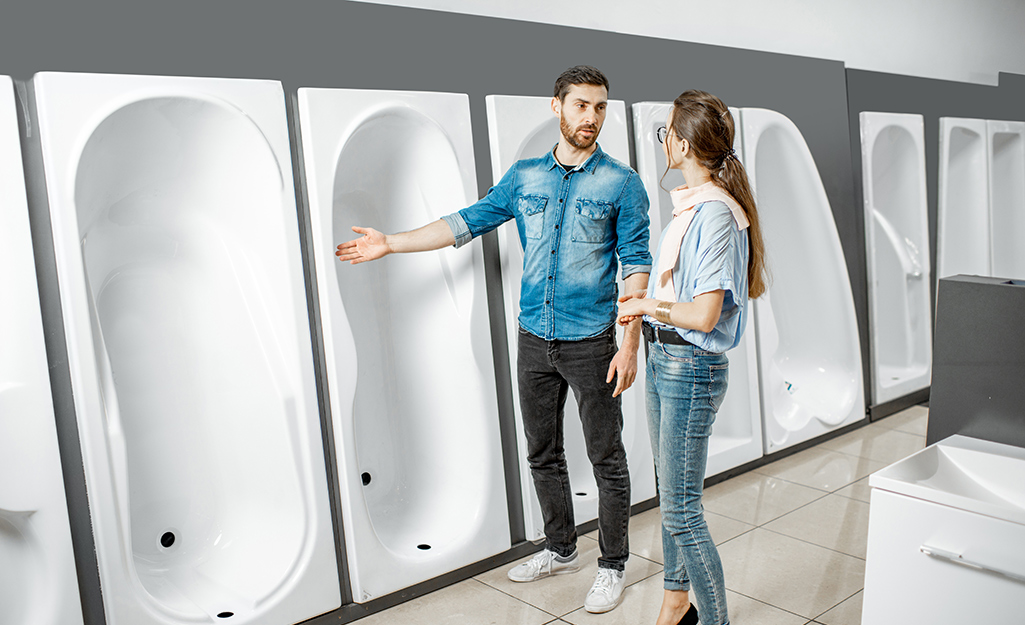 When shopping for a new bathtub, consider the tub's main purpose. For instance, an oversized corner bath with combination whirlpool and air jets will make a great addition to a master ensuite bathroom, while a walk-in bathtub perfectly suits a first-story bathroom or guest bathroom. The bathtub's main purpose and its users should guide your choice of model, size, material and extra features.  
Next, consider the available space. When replacing an existing bathtub, you will need to match the size, shape and water connections of the prior tub. Some models of tubs, such as freestanding bathtubs, may require more floor space than other models. 
You will also want to consider the lifespan and maintenance of your tub, especially when choosing the material. You will likely have to balance this aspect with your budget, since the most durable bathtubs also tend to be higher priced. For example, fiberglass bathtubs are often the most affordable, but they lack the durability of a solid-surface bathtub. Copper and stone resin bathtubs can have similar price ranges, but copper bathtubs require more material-specific care and maintenance. 
Finally, the style of your home and bathroom should factor into your decision. Copper bathtubs, for instance, are beautiful, but they are usually only available as freestanding baths and do not suit every bathroom. Additionally, model and material are only two qualities of a bathtub's overall look. Even tubs of the same type and material can have very different shapes and styles. Explore several options to find a bathtub design that fits your individual style preferences. 
Bathtubs come in a wide variety of models, materials, functions and styles. We can help you find the perfect bathtub for your bathroom. When you're ready to install your next bathtub, try our tool rental service. Need it today? We'll deliver on your schedule. Order before noon for convenient scheduled same-day delivery. Looking for help with your project? Our bathroom installation services will help you get the job done.  
Explore More on homedepot.com