Ideas & Inspiration
Gardening Calendar for July
Gardening in July is hot, hot, hot! As temperatures increase, vegetable gardens pump out the produce and flowers bloom nonstop. This extreme month is also peak time for pests and diseases to appear in your garden.
Fill your outdoor spaces with beautiful blooms to greet visitors to your home when you entertain. Look for Drop-n-Bloom containers at your local The Home Depot Garden Center that will take the guesswork and planting out of creating containers. Red, white and blue combinations featuring colorful geraniums, petunias, lobelia, calibrachoas and pentas will add patriotic panache to your front porch.
Keep up with the harvest by checking your vegetable garden every day. Even if you're not harvesting every day, it's a good idea to scout for insects and diseases by checking underneath leaves and examining new fruit for signs of nibbling or infestation. Frequently pick high producing vegetables like zucchini, squash and cucumbers. When they get too big, they lose flavor.
Like vegetable gardens, lawns need about an inch of water each week. An irrigation system makes it easy to deliver water to your thirsty lawn.
Start seeds indoors this month for your fall garden crops like greens and root vegetables. There's still time for a second crop of summertime favorites like green beans and squash. If you start with seedlings, you'll have more time to harvest before frost.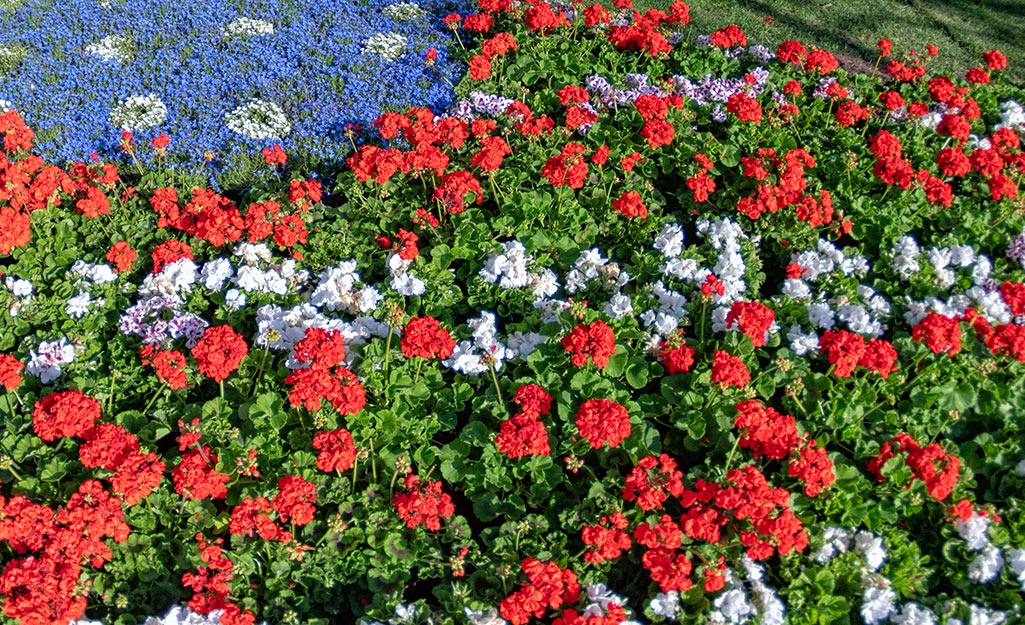 Display Bright Summer Annuals
In early July, celebrate the star-spangled holiday with the best of the outdoors, like watermelon grown in your garden, and decorations including red, white and blue flowers. Create bouquets with colorful blooms from the Garden Center. Look for Drop-n-Bloom displays to decorate your front porch and patio in patriotic style.
Harvest Vegetables From the Garden
Share the bounty of your vegetable garden, like squash, tomatoes and cucumbers, with friends and family. Can and preserve tomatoes and other produce. If you've never canned before, it's easy to learn how.
Make Plans for Your Fall Garden
As the summer harvest comes in, it's time to plan for the next season. Start seeds and prepare beds for your fall garden now.