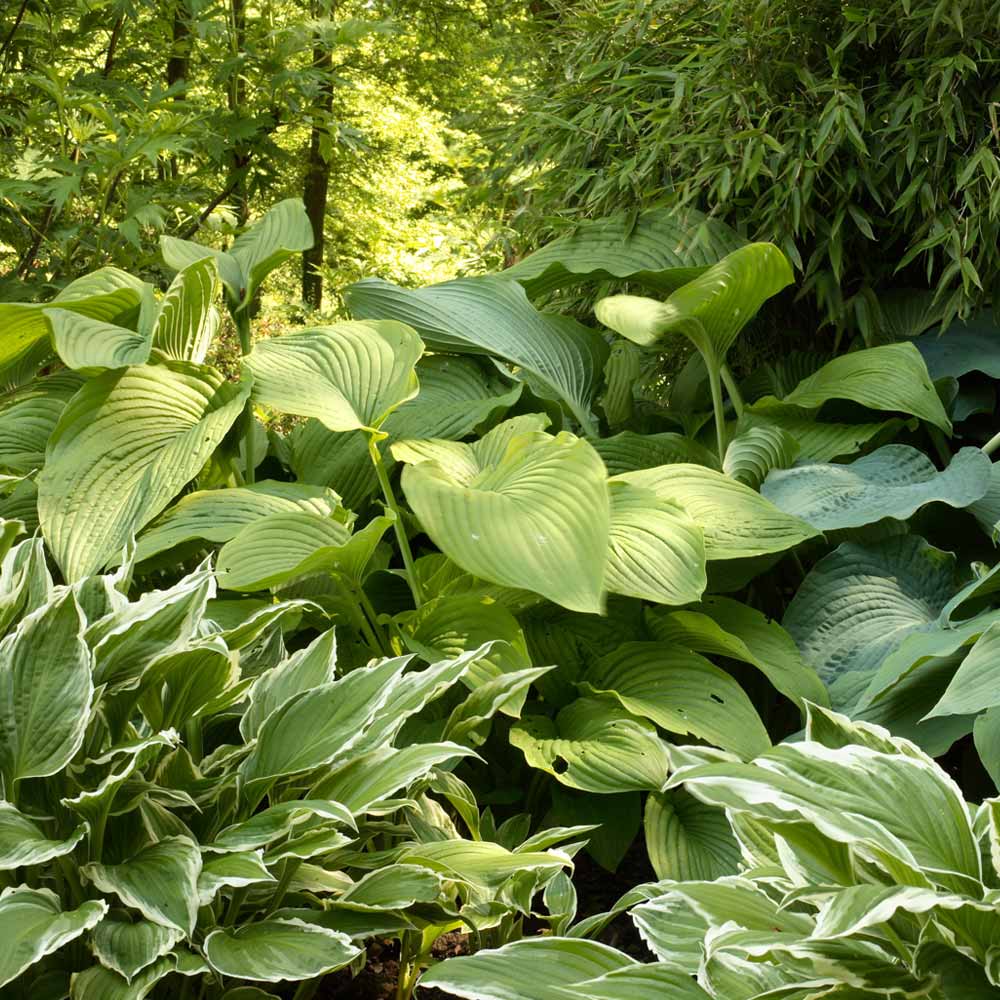 Shade-tolerant hosta, whether coolly verdant or vibrantly variegated, thrive in a variety of garden settings. With fellow shade favorites like coral bells and ferns, they create sophisticated plantscapes of color and texture.
The herbaceous perennials can play the star with their flashy foliage; other varieties take a supporting role with their color and texture framing lively blooms from annuals and bulbs.
Grow Hostas for Great Foliage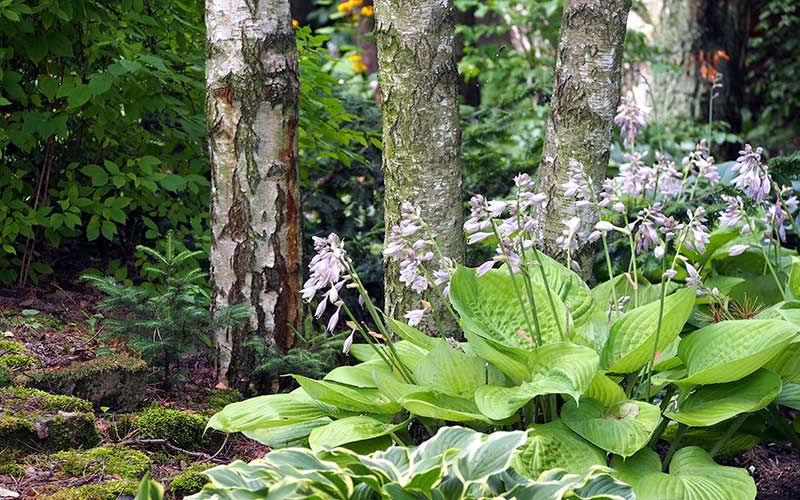 Although hosta send up stalks of lavender and white flowers each summer, the No. 1 reason to plant hosta is for the magnificent foliage. With colors ranging from shamrock green to chartreuse to teal blue, they offer contrast to pink, red, orange and yellow from spring through fall.
The Home Depot carries a wide variety of this popular perennial, grown by suppliers throughout the country. Chances are, the hosta you buy at your local store were grown locally. Best-selling varieties to look for are Patriot, Minuteman, Sum and Substance and Guacamole.
They are the top perennial for shade, and many gardeners will confirm that growing them can be addictive.
Hostas Are Easy to Grow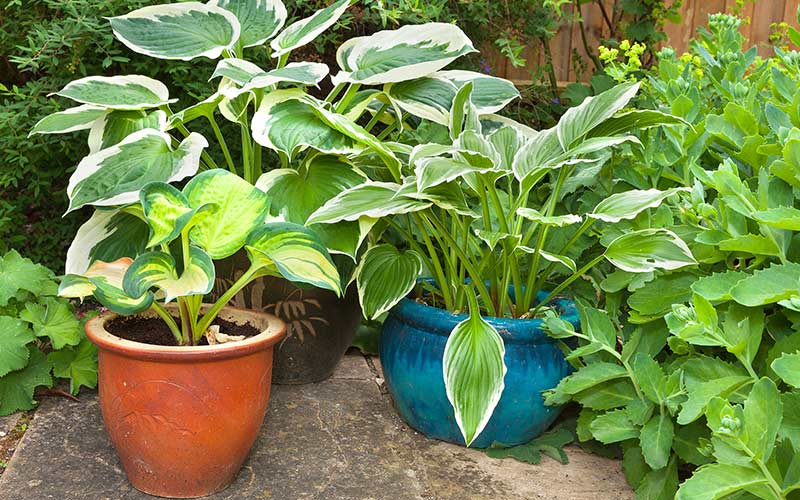 When selecting a site for hosta, remember that they are shade-tolerant, not necessarily shade-loving.
Choose a site with morning sun, offering enough light for the foliage and flowers to develop. Afternoon sun is too harsh, and will result in yellowed leaves and possibly loss of the plant.
Hosta can be grown throughout Zones 3 to 9, needing just 30 days of cold temps for their dormant period. When the ground warms up, hardy hosta are back at it again, unfurling their tender shoots.
Plant hosta from early spring to late summer, up to 30 days before the first frost in fall.
Be sure to give the plants a wide berth — 1 to 3 feet in between plants.
Hosta prefer well-drained soil that is slightly acidic; be sure to work plenty of organic matter into the bed.
How to Plant Hostas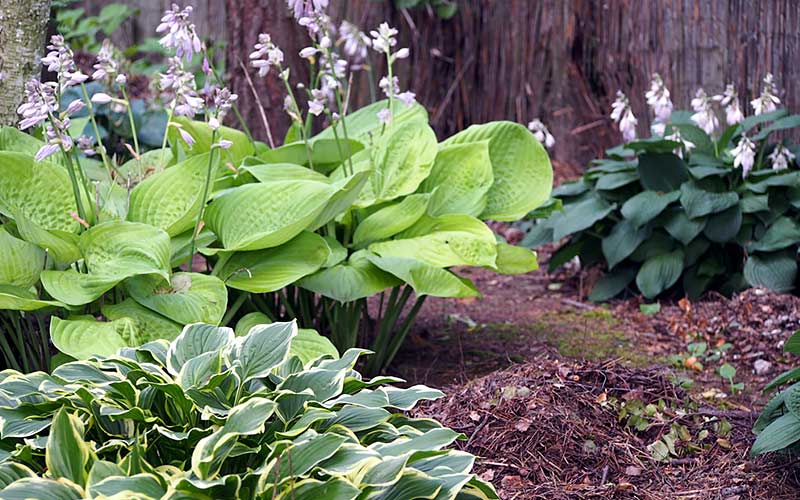 Dig a hole, at least 12 inches deep and 1½ times the size of the mature plant.
Mix in a 2- to 4-inch layer of organic matter.
Carefully remove the plant from its container. If the plant is root-bound, gently untangle and shake out the roots.
Place the plant in the hole so that the top of the root ball is level with the soil surface.
Carefully fill in around the root ball and firm the soil.
Water thoroughly and frequently, until established.
When to Divide Hostas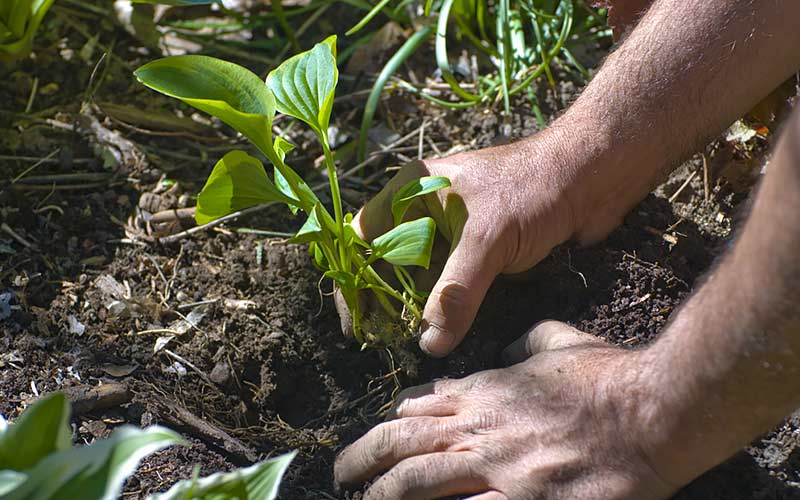 Hosta are popular pass-along plants. In the spring, divide once the hosta eyes are popping up and before the leaves unfurl. In fall, divide once the weather turns cool. Water the day before you divide your plants, or better yet, divide after a plentiful rainfall.
How to Divide Hostas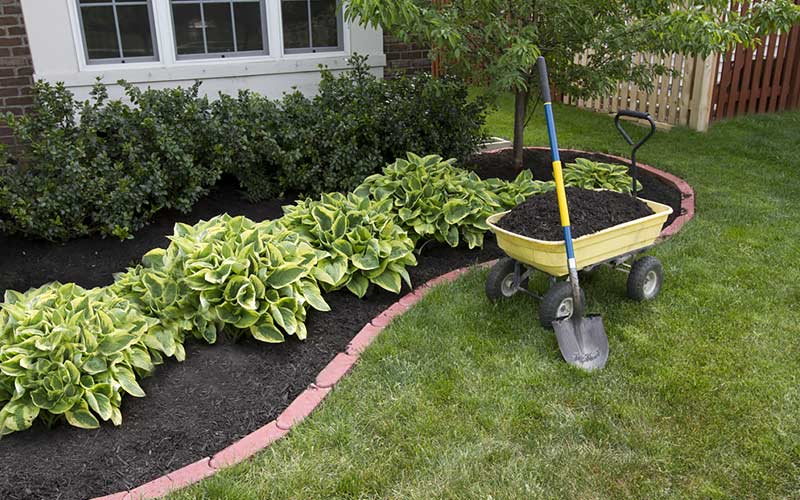 Set a tarp on the ground nearby to aid in transport and cleanup of divided plants.
Use a garden spade to try to slice as few eyes and retain as many roots as you can.
A patient gardener can use a garden knife to cut the plant apart.
Before replanting, add compost to the hole. Plant at the same depth as before and be sure to soak with water.
Keep hosta watered throughout the hot months and apply a 10-10-10 fertilizer in spring and continue through the summer. An annual application of compost over the bed each fall will nourish the plants through the winter.
And here is where we need to disclaim: If there's one strike against hosta, it's that deer love their tender leaves. If deer are a problem in your area, consider planting hosta close to your home or behind a tall fence. 
In addition to deer, hosta are popular with rabbits, voles, slugs and snails. Reduce slug appeal with a coarse bark mulch and about 6 inches of a mulch-free zone around each plant. Avoid watering in the evening so that leaves will be dry at night. Look here for more garden insect control solutions.
Hosta play well with other shade-friendly plants like heuchera and hardy ferns. Read up on companion plants for the shade garden.
Explore More on homedepot.com