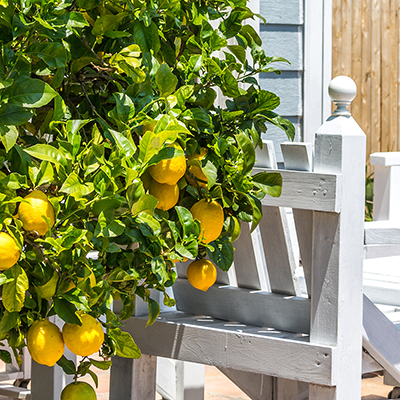 What could be better than walking out your door and picking fresh lemons, apples, figs or peaches? Even if you have a small garden, you can still grow fruit trees in your landscape.
Follow the lead of local farmers who want the same things you do – vigorous growth and dependable production. If a nearby farm grows pears or pie cherries, you probably can, too. But if nobody nearby is growing apricots or peaches, there is probably a reason. Know your hardiness zone and do your research to plant your own orchard, whatever its size.
Fruit trees naturally break dormancy and start to grow in early spring, and that is the best time to plant. Fall is also a good time to plant so that trees have the dormant season to establish roots. Until planting time, daydreaming about what and where you will plant is time well spent.
Plan Ahead for Fruit Trees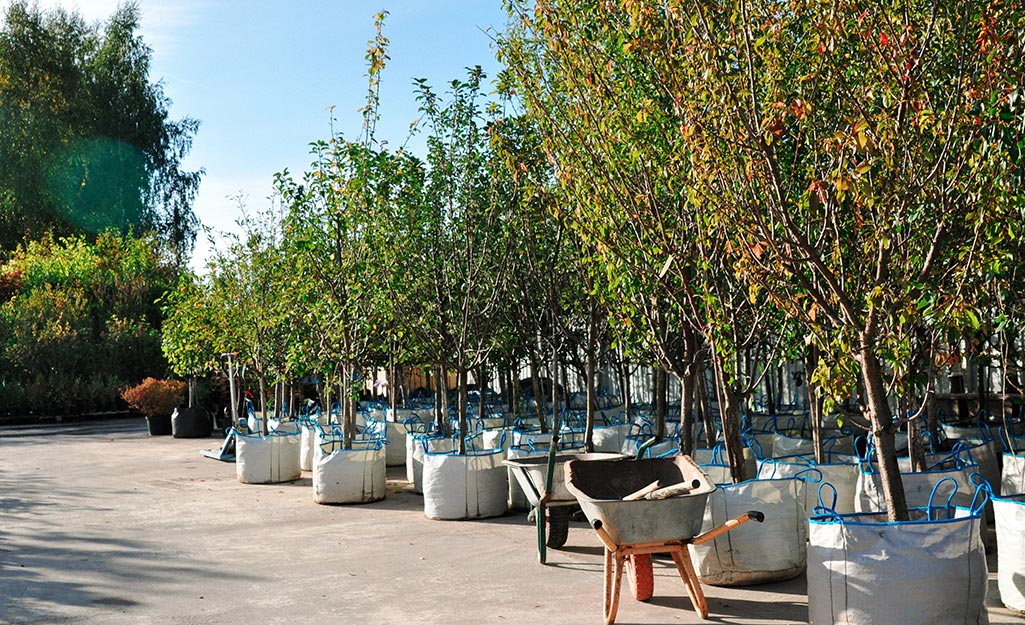 The most important advice for growing fruit trees is to do your research and plant what you want to eat and the varieties that grow best in your area. It's easy to plant more trees than you can maintain. Like children at the Thanksgiving table, try not to let your eyes be bigger than your appetite.
The second most important tip is to learn about chill hours. Most fruit trees are rated for chill hours, citrus trees like lemon being an exception. The chill requirement is a trees' need for cool weather (usually counted as under 45 degrees Fahrenheit) in order to break dormancy and produce blooms and then fruit. Your local Cooperative Extension Service can advise you on the chill hour rating for your area, and you can also look it up online. Know your area's chill hours and select fruit tree varieties that will perform within that range.
For small home gardens, look for self-fertile, sometimes called self-fruitful varieties, that will eliminate the need for more than one variety tree for pollination.
Consider also disease resistance when selecting fruit tree varieties. This information is found on plants tags and in plant descriptions online.
Types of fruit trees available from The Home Depot:
Apple
Apricot
Avocado
Cherry
Fig
Grapefruit
Kumquat
Lemon
Lime
Nectarine
Olive
Orange
Peach
Pear
Persimmon
Plum
Pomegranate
Keep in mind that selection will vary by season and region.
Select a Location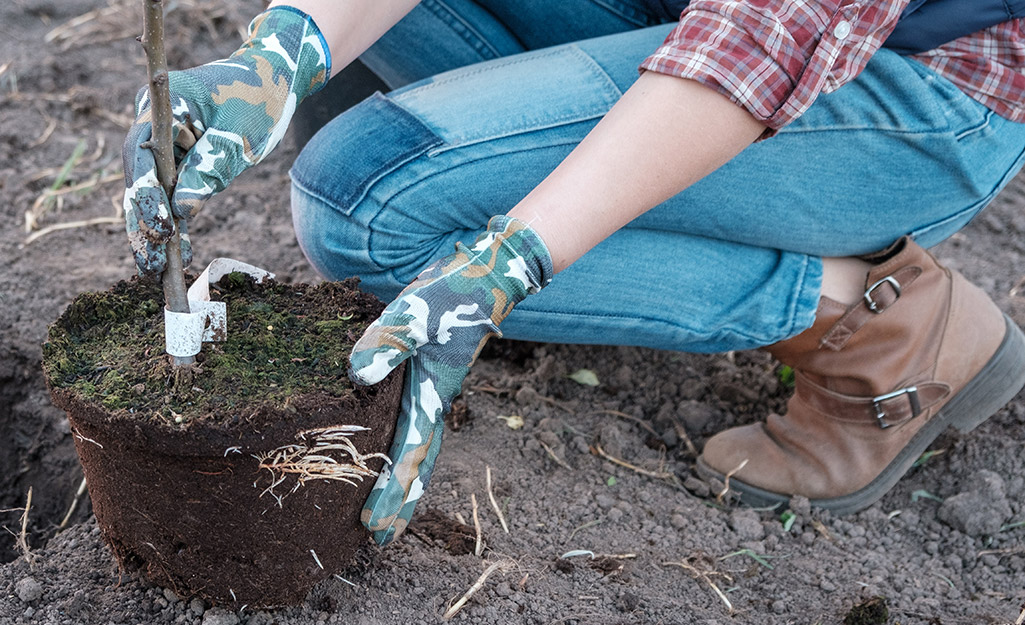 When it comes to site selection, keep in mind that for the most fruit, you'll need a full sun site, with 6 to 8 hours of sunlight each day. Abundant sunlight is important for fruit formation and development and also good health, as moisture will need to dry to prevent disease.
Look for hidden hazards like buried utility or sewer lines. Call the utility companies to mark the lines. Envision how the tree will look in 10 years to make sure it won't crowd buildings or power lines when mature. 
Fruit trees prefer well-draining, loamy soil, and you can even plant fruit trees in raised beds. 
Tip: Hilltops and south-facing slopes are warmer than northern slopes, and low areas and will offer more protection in early spring when cold nights may damage flowering or fruiting trees.
How to Plant a Fruit Tree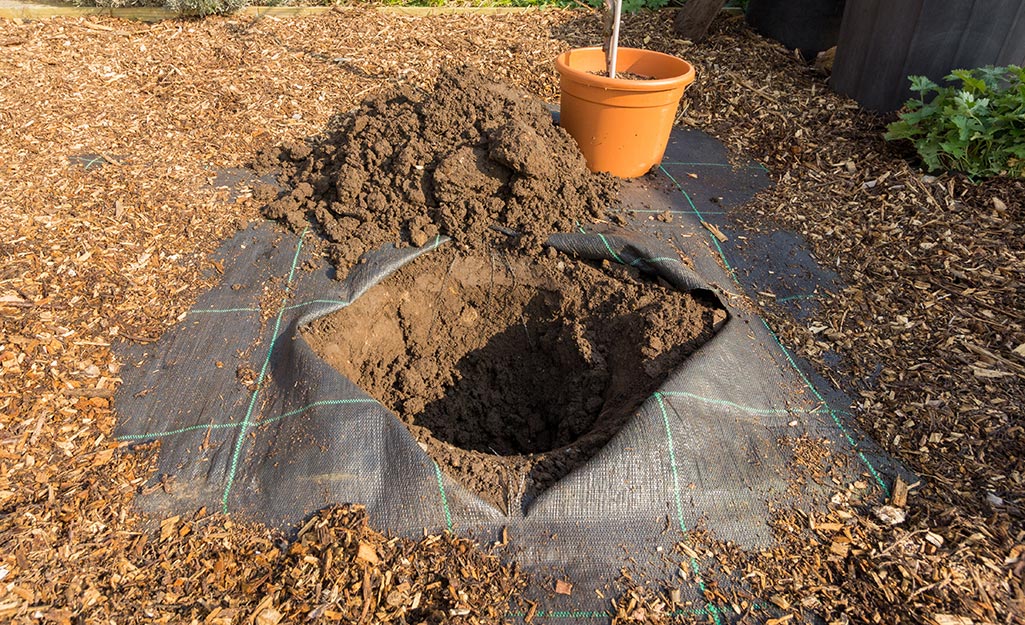 For best results, plant a tree the day it's delivered or purchased. You can soak a tree in water for a few hours prior to planting. 
1. Dig a hole as deep as the root ball and twice as wide. 
2. Position the tree in the hole and tease out the roots. 
3. Use the native soil from the hole to build a water holding basin around the tree. This will help to retain water while the roots are establishing.
4. You can supplement the soil with compost to improve drainage, if needed.
5. Mulch the tree with a few inches of pine straw or other organic material, being careful to leave a few inches of "breathing room" around the trunk. The "mulch volcano" effect when mulch is placed up the trunk encourages pests and diseases.
How to Stake a Fruit Tree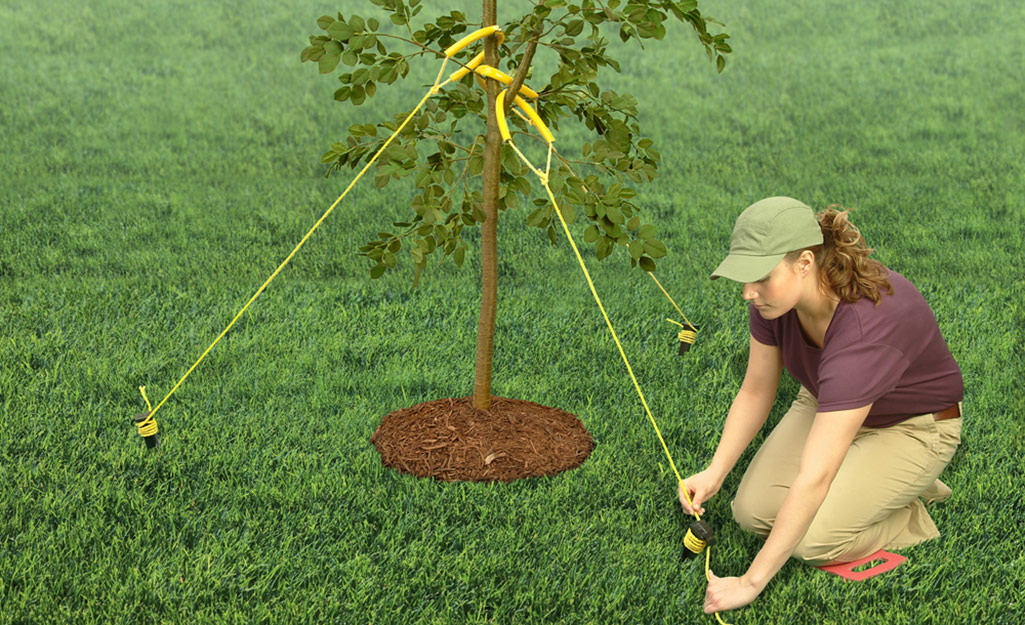 Staking a fruit tree is an optional step, but it gives the tree a good start, especially in a harsh climate or in a lawn where it could be nicked by a lawnmower. The most important step is to remove the stake and ties when they're no longer needed. Stakes and ties left too long on a tree will damage or kill the tree and ruin your fruit tree investment. 
Steps to staking a fruit tree:
1. Determine the number of stakes needed. 
2. Determine the spacing of the ties.
3. Tie the tree.
4. Drive the stakes into the ground.
Get step by step instructions for staking a tree in this guide.
Mulch, Feed & Water a Fruit Tree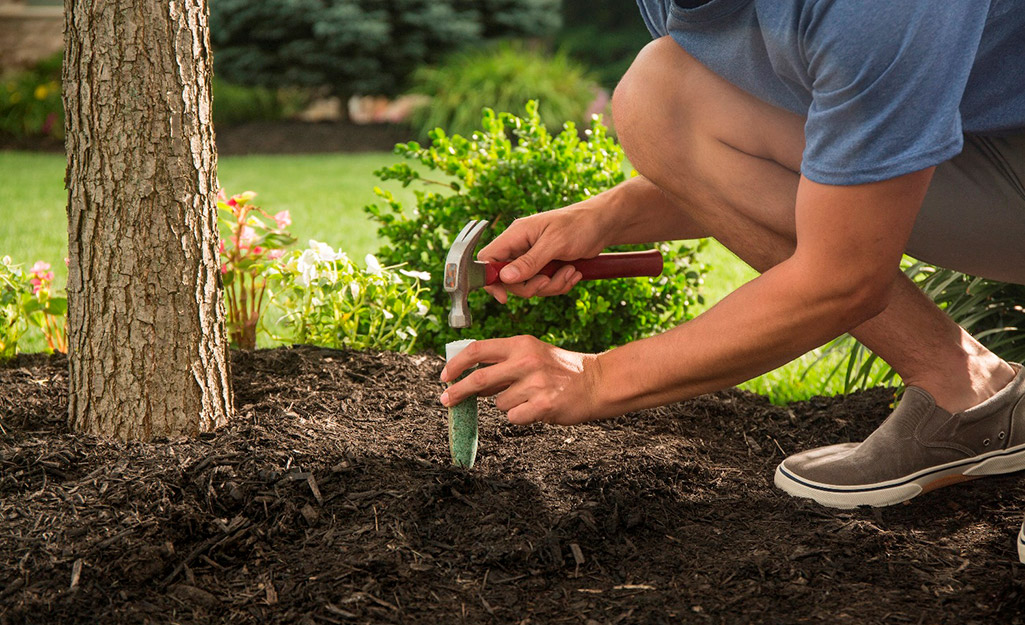 An organic mulch like pine bark or pine straw will protect your tree by helping to retain moisture while its roots are establishing. New trees will also need a lot of water in the first few years. Water needs vary, but count on delivering water daily in the first few weeks after planting, and every few days for the first three months, and weekly for the first year and possibly after. This amount will vary according to rainfall.
As the tree grows, you'll need to increase the amount of water. Look for irrigation systems and special tree watering products that will slowly deliver water to the tree. 
Trees will need fertilizer. If you have the results of a soil test, you can give more specific nutrients, but most trees will appreciate a balanced fertilizer spread over the roots in late winter or early spring. Spikes are an efficient, slow-release method.
How to Prune and Care for Your Fruit Tree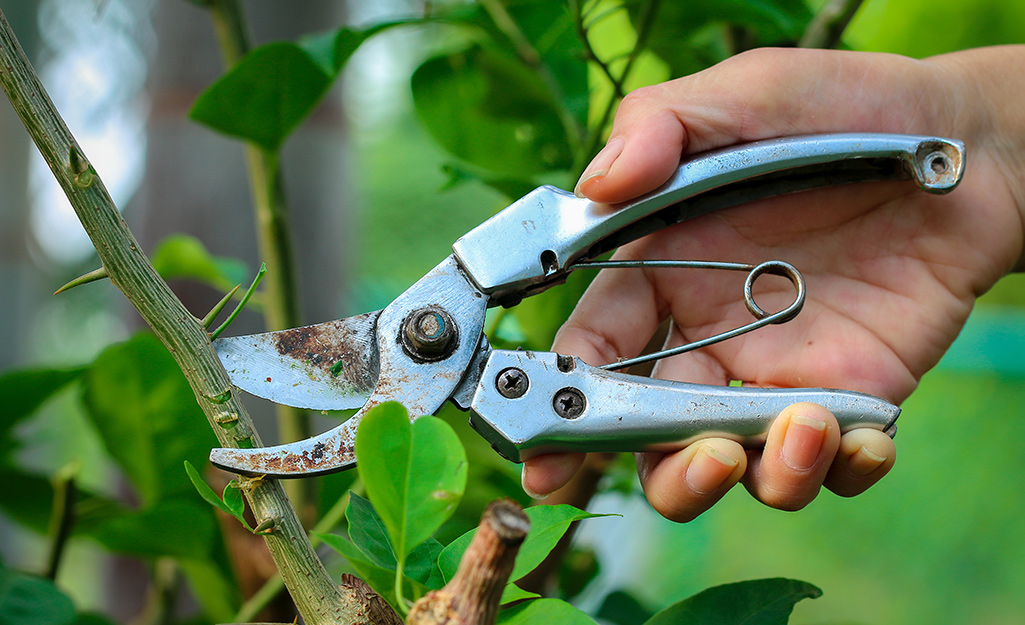 Prune fruit trees in late winter or early spring to shape up the tree for the coming season's fruit. You can also prune diseased or damaged branches any time. Learn more about pruning fruit trees.
Keep pruning tools sharp and remember to wipe down between cuts in order to prevent disease spread.
Fruit trees will give years of value to your landscape. Look for varieties with high levels of natural resistance to pests and diseases. Start with varieties best suited for your area and plant only as many trees as you can maintain.
Whether you need the right plants, tools or fertilizer, The Home Depot delivers online orders when and where you need them.
Explore More on homedepot.com