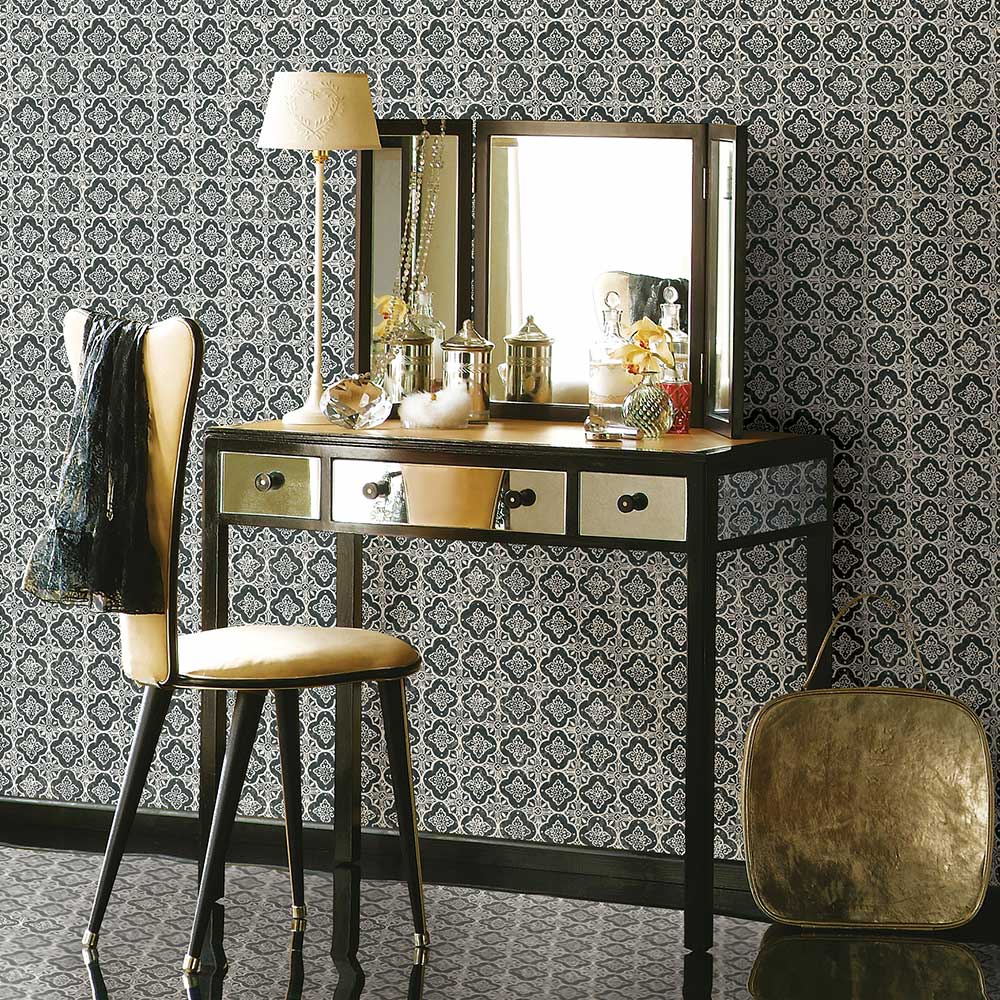 Get your morning off to the right start with a makeup vanity that fits your space and style. From traditional glam looks and unexpected black makeup vanities to unique vanity room ideas, you'll find plenty of perfect makeup vanity ideas to choose from in this helpful guide. 
Pretty In White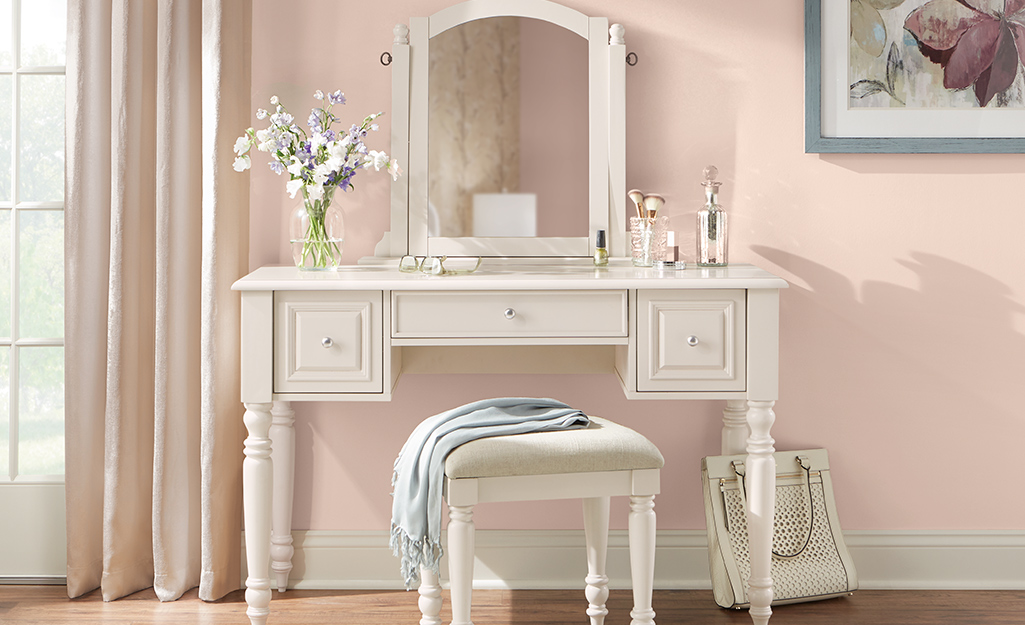 One of the most popular vanity ideas is the classic white makeup vanity with an attached arc-shaped mirror. It's slender enough for tight spaces but has roomy drawers for cosmetics and enough space on top for a fragrant bouquet. Opt for a backless vanity stool that tucks away when not in use.
Modern Rush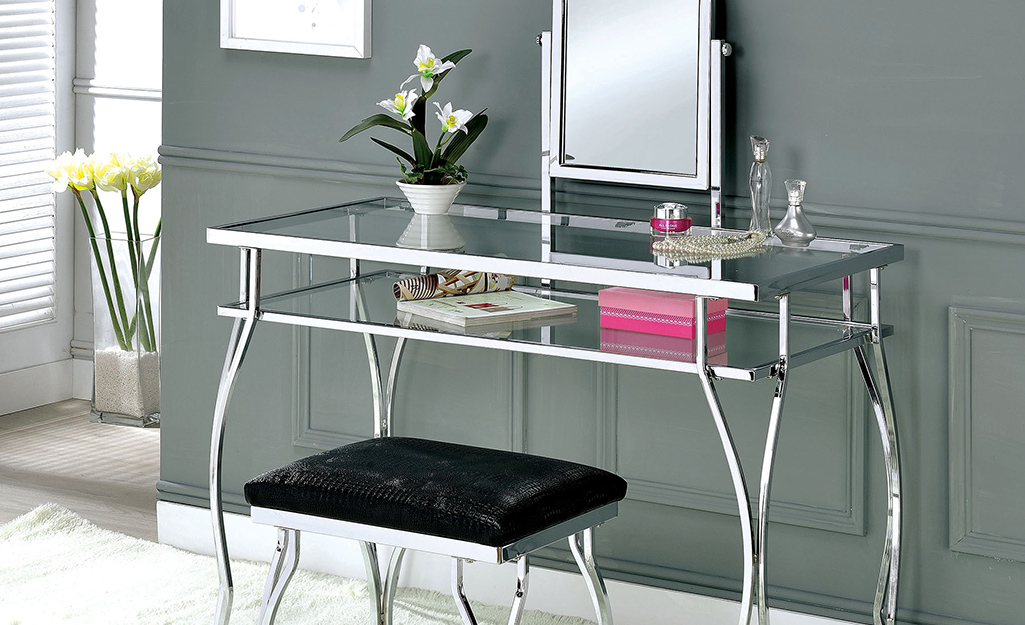 Modern makeup vanities give you all the benefits of traditional ones but keep things simple. Features like clean, streamlined lines and  bi-level shelves keep beauty supplies both handy and out of the way. A just-right sized mirror makes touchups quick and a reflective silver finish brightens any morning.
Beauty Corner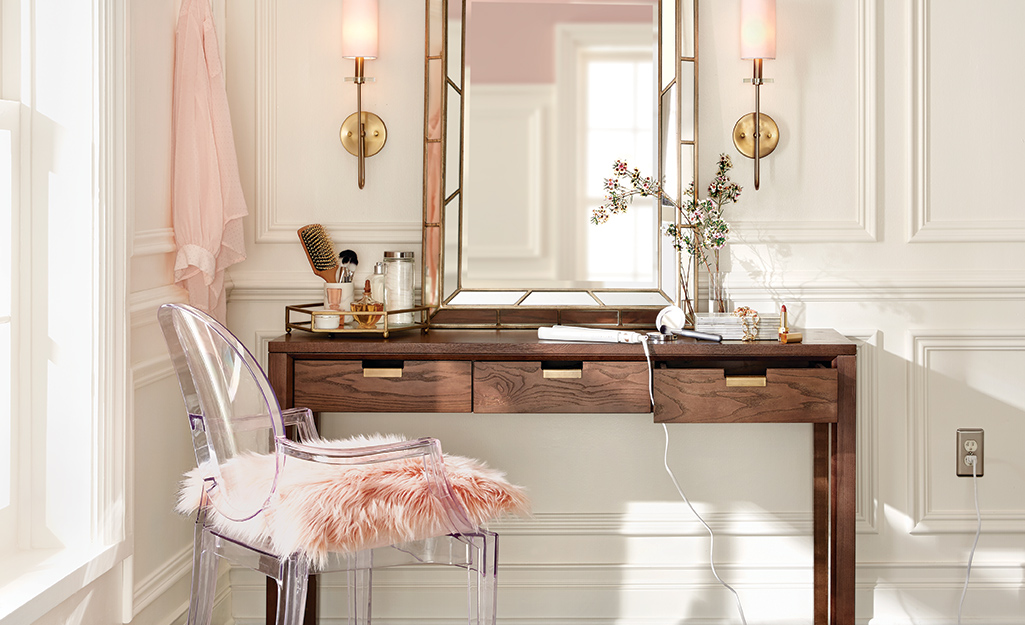 Transform an empty corner in your bedroom into a glam corner makeup vanity with a dramatic mirror, real bedroom furniture such as a diminutive desk and a clear acrylic chair covered in a luxe faux fur pillow. Make it extra magical with natural light from a window and the warm glow of two elegant sconces.
Star Power
Lights, camera, makeup! Some of the best makeup vanity ideas are centered around a lighted mirror fit for a starlet. Update the look with the industrial spin of a faux brick wall, thin metal furnture, black floor lamps with large spotlights and a retro-style swivel chair.
Vintage Chic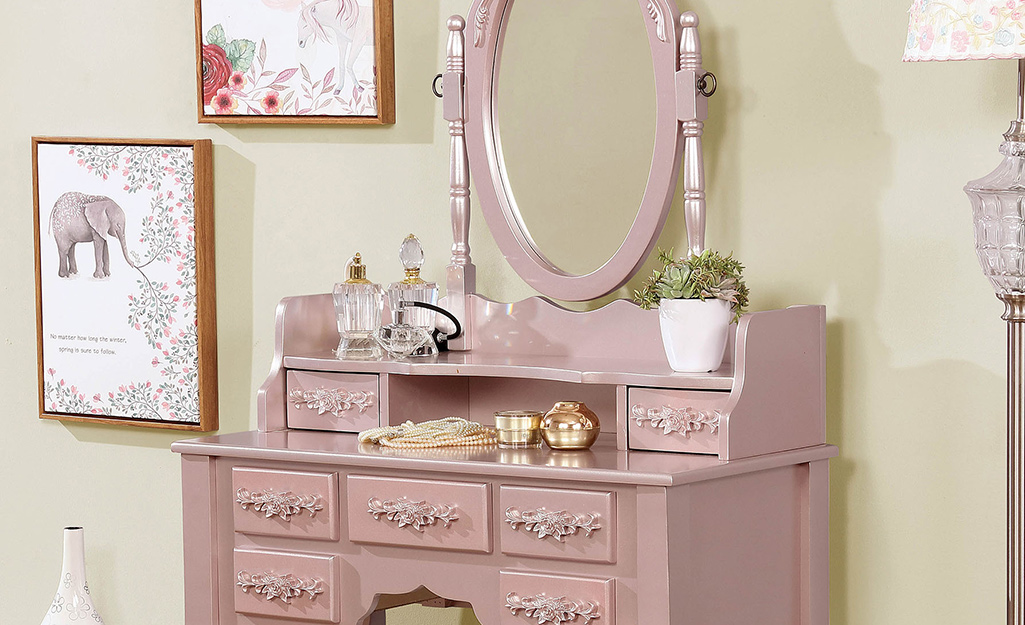 Sweet and memorable, antique-style makeup vanities are a timeless addition to any space. The essential mirror, lots of storage and even a secret drawer or two make it an ideal makeup vanity room idea. Consider adding a truly personal touch by painting it a whimsical color.
Beauty Spot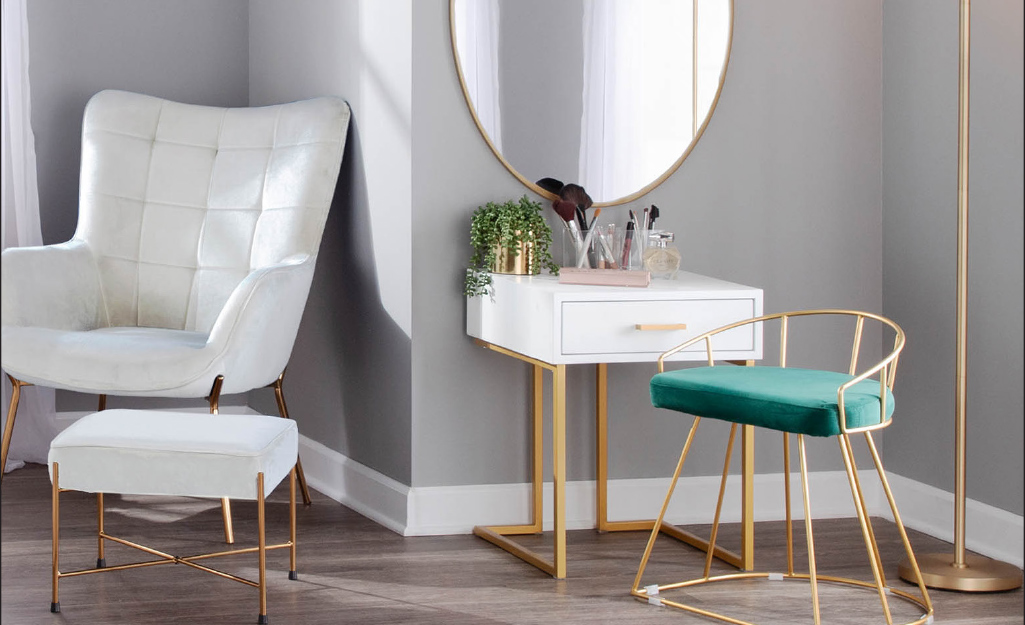 Small makeup vanities can still be big on style. The secret is choosing pieces that are functional and command attention. An oversized round mirror makes an area seem larger while furniture with thin, metallic legs in a gold finish give an airy feel to the space. One deep drawer and well-organized beauty containers add storage without clutter.
Minimalist
A makeup mirror, a well-placed shelf with built-in drawers, a jewelry tree, a soft bench and lots of light, all squeezed comfortably in a closet corner the size of three pairs of shoes. Minimalist makeup vanities are not only virtually clutter-free, they can be very attractive, too.
Big On Romance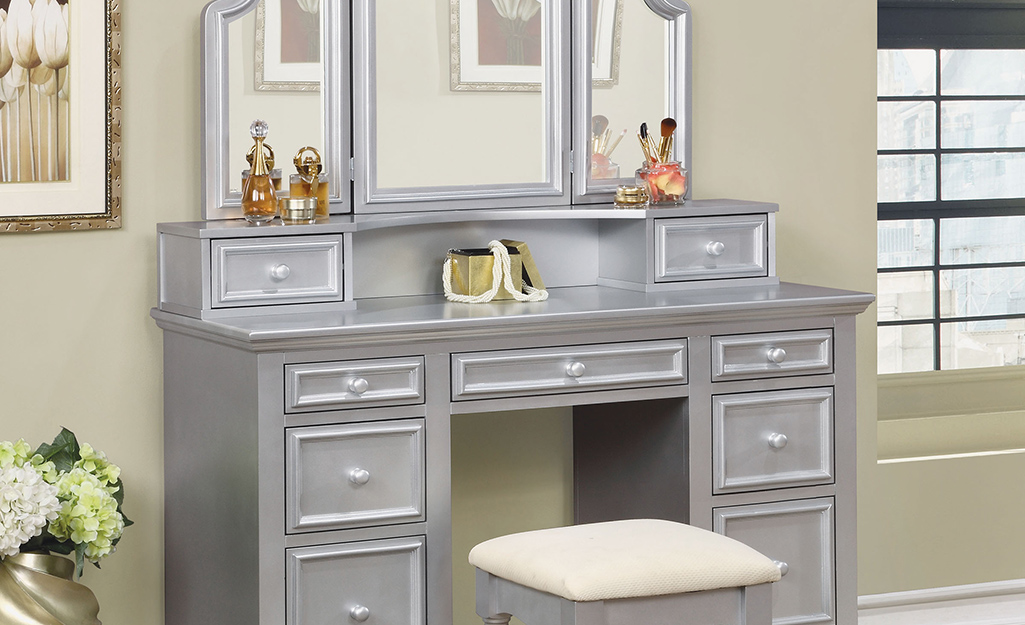 What's not to love about a large makeup vanity with tons of storage? These beauties have deep drawers for an abundance of cosmetics and equipment. Shelves display favorite perfumes while a tryptch mirror shows you exactly how to turn heads from every side. 
Mini Beauty Bar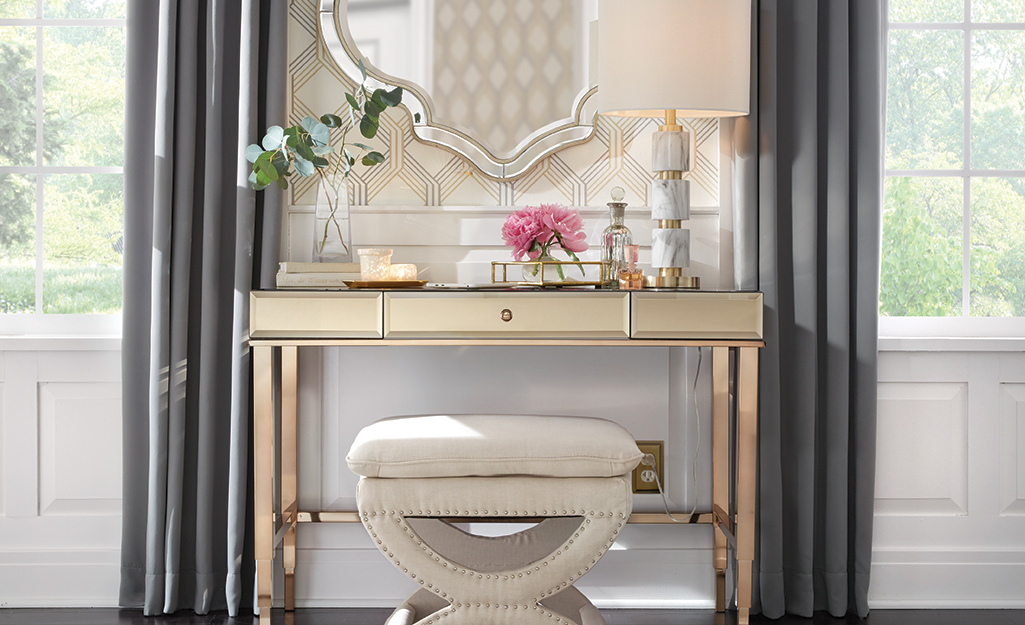 Here's one of those space-saving makeup vanity ideas that's as pretty to look at as it is to sit at. Take advantage of the space between two windows with artful pieces such as a one-drawer vanity table in a metallic finish and Art Deco-inspired mirror. Complete the look with a vanity stool for royalty and a slender but tall lamp.
Bold and Dramatic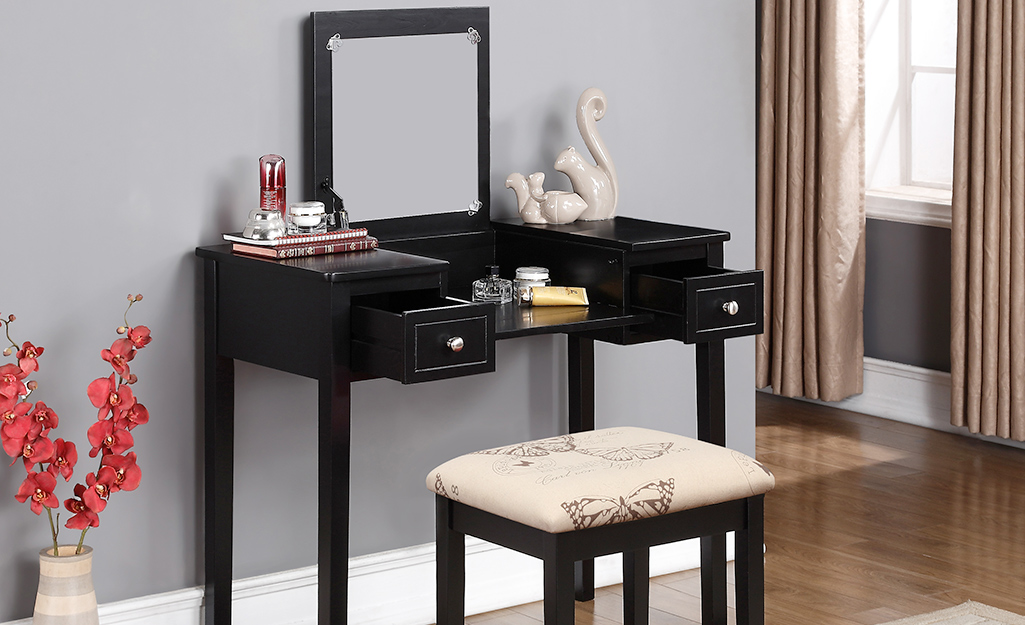 Black makeup vanities go exceptionally well in rooms featuring grays, whites or neutral tones. Black dominates a room, so choose a no-frills vanity style with simple lines and geometric shapes. Soften the look with free-flowing blossoms, curvy sculptures and a bench with a plump upholstered cushion in a natural fabric.
Essentials for Makeup Vanities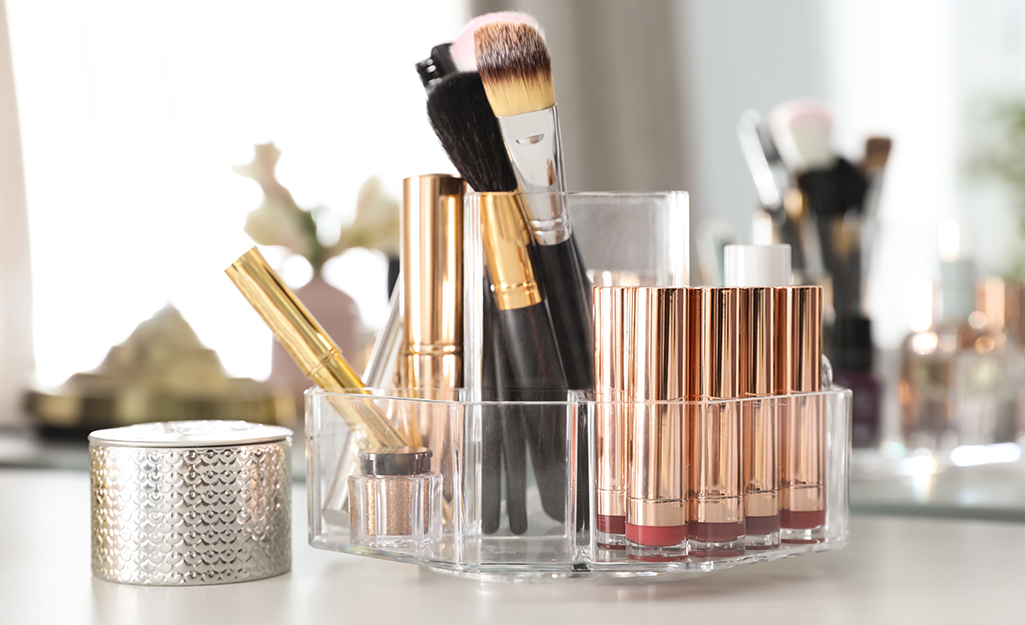 Storage is essential to making any makeup vanity area functional. Use bathroom organizers such as clear or metallic containers on top of your vanity to keep brushes, cosmetics and cleaning supplies handy and organized.
Explore More on homedepot.com