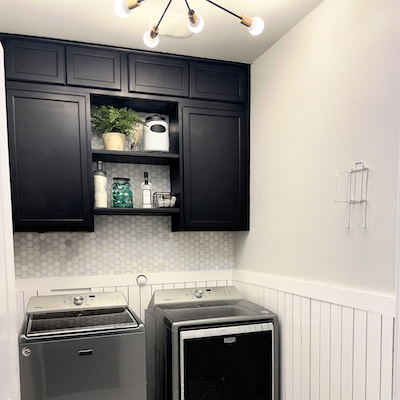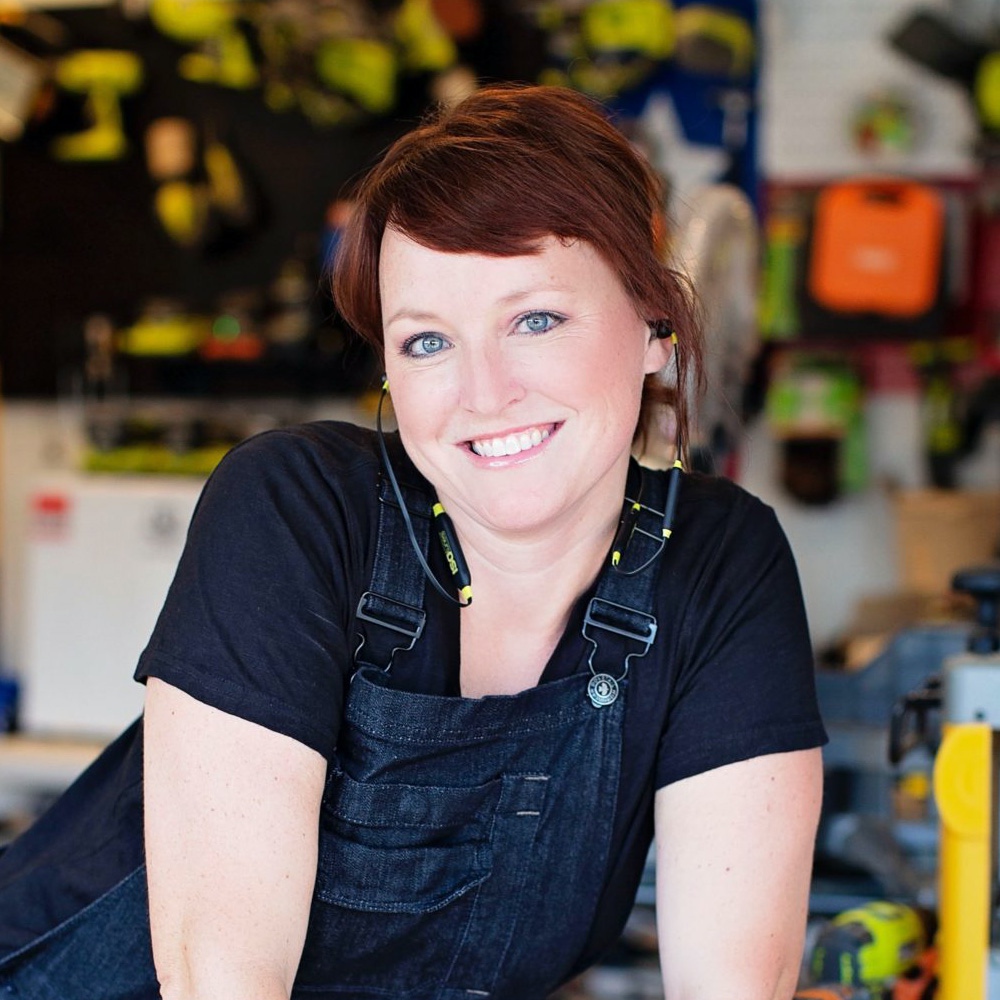 A Note From The Home Depot
Finding someone to revamp your space for the perfect desired look can sometimes be difficult, and pricy. Why not DIY it? Read below to see how Raechal Petris of Desert Woodworks saved some money by remodeling her entire laundry room herself!
1
How to Customize Your Basic Laundry Room
10-Light Black Indoor Industrial Semi-Flush Mount Sputnik Ceiling Lighting: $74.79 
Hampton Bay Assembled 36x12x12 in. Wall Kitchen Cabinet in Unfinished Beech: $64.99 
Hampton Bay Assembled 30x12x12 in. Wall Bridge Kitchen Cabinet in Unfinished Beech: $51.00 
(2) Hampton Bay Assembled 21x36x12 in. Wall Cabinet in Unfinished Beech: $85.00
AcrylPro 1 Gal. Ceramic Tile Adhesive: $36.98
(2) Polyblend Plus #640 Arctic White 10 lb. Non-Sanded Grout: $15.98
Polyblend Plus #115 Platinum 10 lb. Non-Sanded Grout: $15.98
Jeffrey Court Whisper Valley White 11 in. x 12.625 in. Hexagon Wall and Floor Mosaic Tile $9.99 
MSI Georama Nero 13 in. x 11 in. x 10 mm Polished Marble Mosaic Tile $10.99 
1x4x8 Whitewood: 1x4x8- 40 x $7.00  
Total Cost of Project: $1540.01
When we built our semi-custom home three years ago one of the options for our laundry room was to add cabinets for a $1500 upgrade fee. We decided not to spend the money and I've been wanting cupboards ever since! With the help of Home Depot I was able to do a complete laundry room overhaul and get a custom look for the cost of the upgrade fee!
I chose a marble stone tile to elevate this space and give it a classy sophisticated look. This tile was so affordable we had money leftover to add a tile accent wall as well! I used a pre-mixed tile adhesive to keep the job quick and easy. Once the tile was set for 24 hours I then used a non-sanded grout in Artic White.
To draw your eye to the back of the laundry room and from the floor to the cabinets at the top we added an accent tile wall! Using Jeffrey Court Whisper Valley White I started ¾ up from the wall and tiled all the way to the highest cupboard. The stone is so elegant it completes the space.
The number one thing I wanted to add with this renovation were cabinets! I ordered them from Homedepot.com, did curbside pick up, and installed them with the husband. The top row of cabinets were fake, to help cover up the HVAC system and make the room look bigger. I LOVE having cabinets. They were so easy to install I can't believe I didn't do them sooner!?After installing cabinets I detached the doors and sprayed them with my Wagner Flexio 4300 and roller brushed the boxes. When everything was finished I hated the color and decided to change it to Behr Limousine Leather for a more chic black look. It ties in the floor tile perfectly.
Any kind of wood feature totally brings warmth to the space and brings a custom finish to any room. I used 1x4 whitewood and added a faux vertical shiplap to the bottom ¾ of the entire room. Then I painted it white to keep the focal point on the floor and the back of the room. 
16
Custom is the New Basic
After changing out the boring box lighting for a sputnik semi flush mounted light this space was complete! Don't let your laundry room be basic. Make these simple changes to elevate your space and bring warmth to an often neglected room.
This post was created in partnership with The Home Depot. The author may have received compensation for this article and associated images or video, potentially in the form of products and/or services. All expressed opinions and experiences are the author's own words.
Explore More on homedepot.com