Ideas & Inspiration
Plant Colorful Annuals for Easy Summer Blooms
Plan for a summer full of rich, vibrant color when you plant annuals in your flower beds and containers. Sure, they last just one season, but they will give you all they've got all season long, right up until frost.
Unlike perennials that will go dormant in fall and winter and pop up again in spring, annuals only last the summer, but they will dazzle throughout the season, adding brilliant colors and textures to your garden. Annuals are bred for color and performance in the toughest summertime conditions. You're probably familiar with popular blooms like marigolds, impatiens, petunias, vinca and zinnia. They're all easy to care for and reliable performers. This year, try more and different heat-tolerant annuals for easy summer blooms.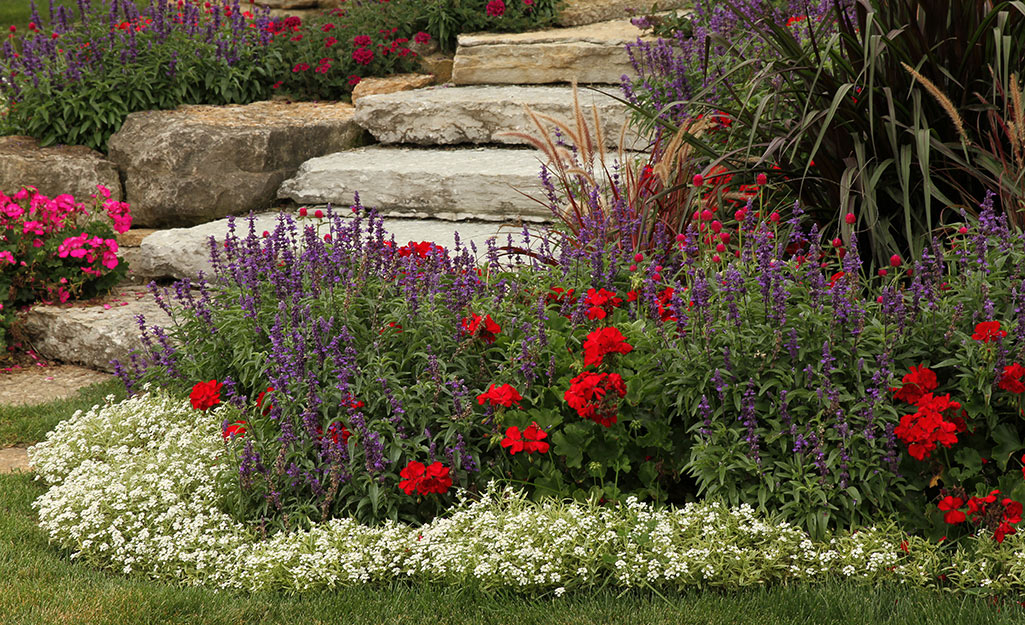 Salvia is a pollinator magnet and your best friend in the garden in the oppressive heat of summer. You've seen the bright red spikes of salvia for years, and there will always be a place for them. This year, try a new variety, like Proven Winners' Rockin' Fuchsia Salvia, and wait for the hummingbirds and butterflies to arrive.
Salvia grows about 24 to 36 inches high and is self-cleaning, so it doesn't need deadheading. If deer are a problem in your garden, note that salvia plants are deer-resistant, too. Learn more about deer-resistant plants.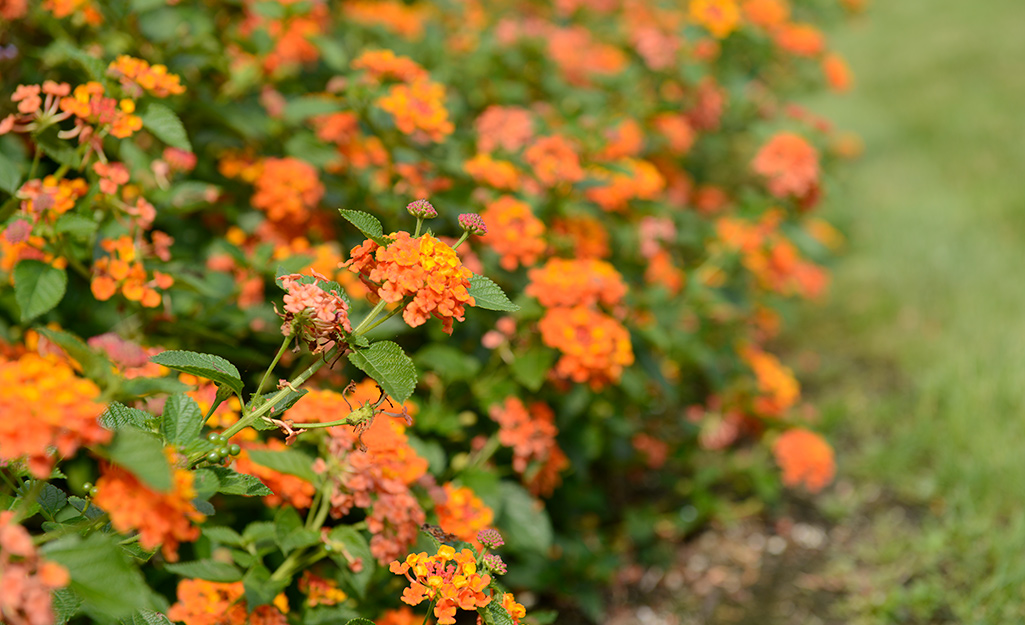 Lantana packs a lot of punch with bright clusters of flowers and crisp green foliage. Give it good garden soil with adequate drainage, then let it show off in citrus-y hues of lemon, orange and red. Plant this performer in full sun and give it room to grow. Some will get up to 18 inches high and three feet wide. Note that lantana leaves may be toxic to pets.
Lantana, like Proven Winners' Citrus Blend, are drought tolerant and do not need deadheading. Although usually treated as an annual, there are some cultivars that may come back in your zone 9 or even zone 8 garden, depending on your microclimate. Check plant tags for zone-stretching cultivars.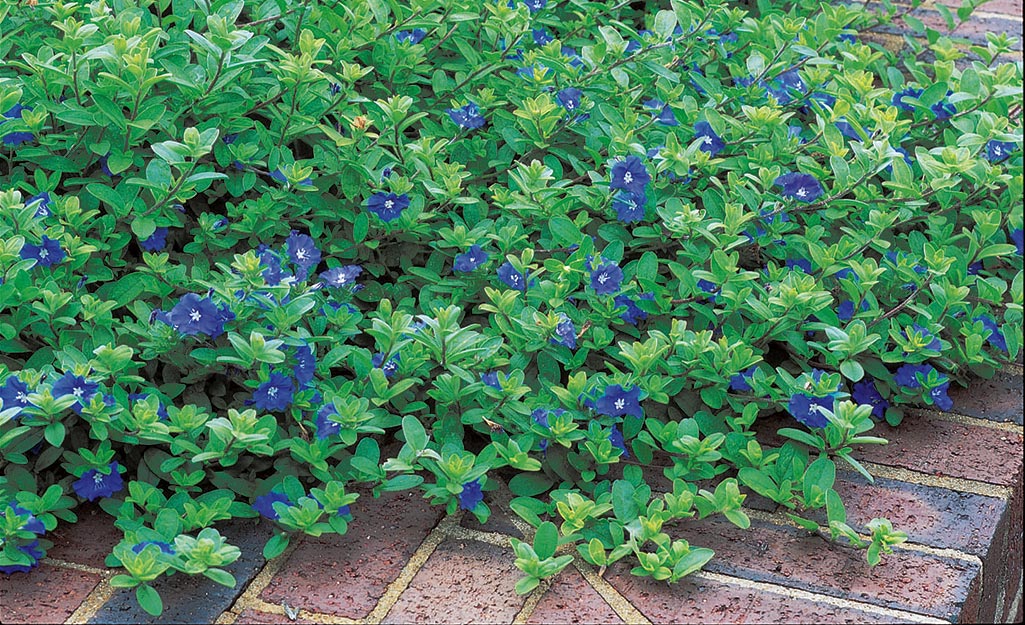 Evolvulus (dwarf morning glory) has a true blue bloom and, the hotter it gets, the better this plant performs. Look for Proven Winners' Blue My Mind online. Dwarf morning glory makes a grand groundcover, but look to it, too, to perform in containers. With white pentas (see below) and red calibrachoas, you'll have a star-spangled 4th of July display.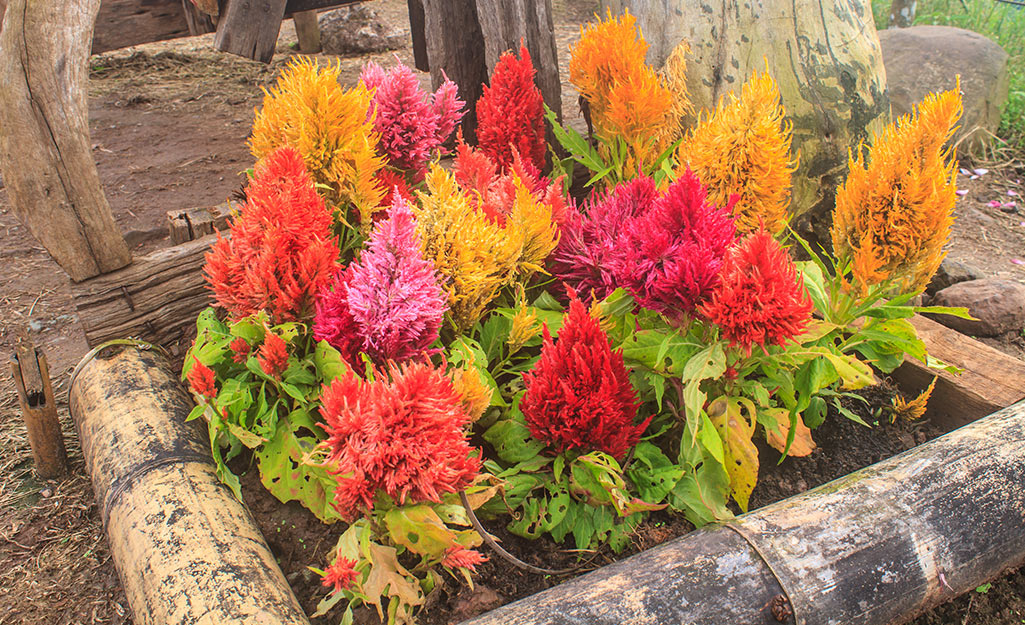 Celosia is a showy annual known for its feathery plumes or crests in candy colors. Seedlings will give instant color to your flower beds, but celosia is also easy to grow from seed — just begin four to eight weeks before you're ready to plant. Give celosia nutrient-rich garden soil amended with organic compost.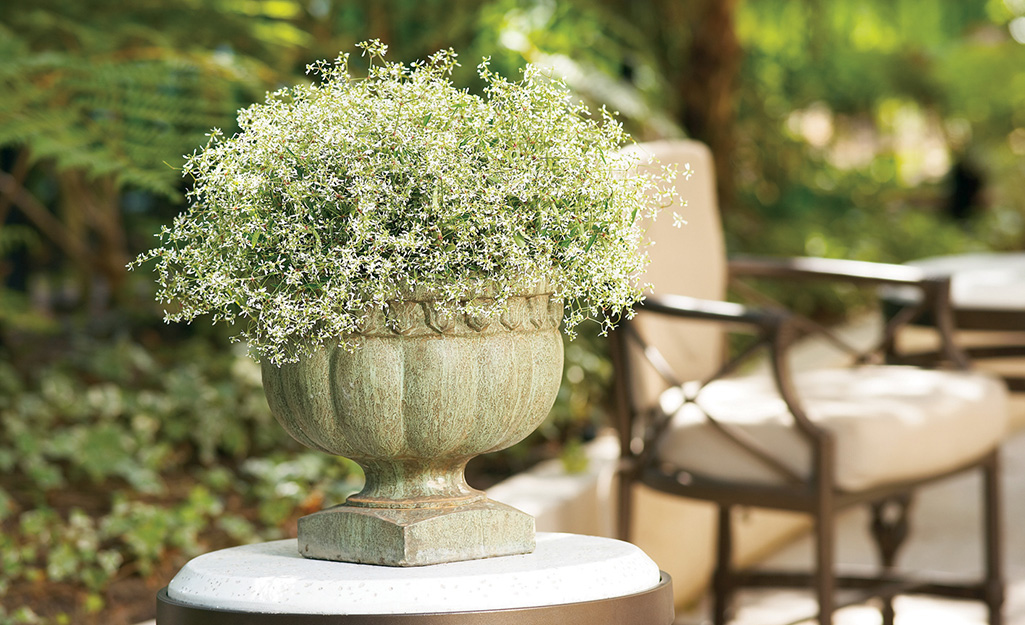 Euphorbia's clouds of white blooms are the perfect filler for your containers or garden bed, making whatever is around them even more special. Look for Proven Winners' Diamond Frost euphorbia and plant in partial to full sun, in average soil with good drainage. It can handle heat and drought, and grows to about 18 inches tall.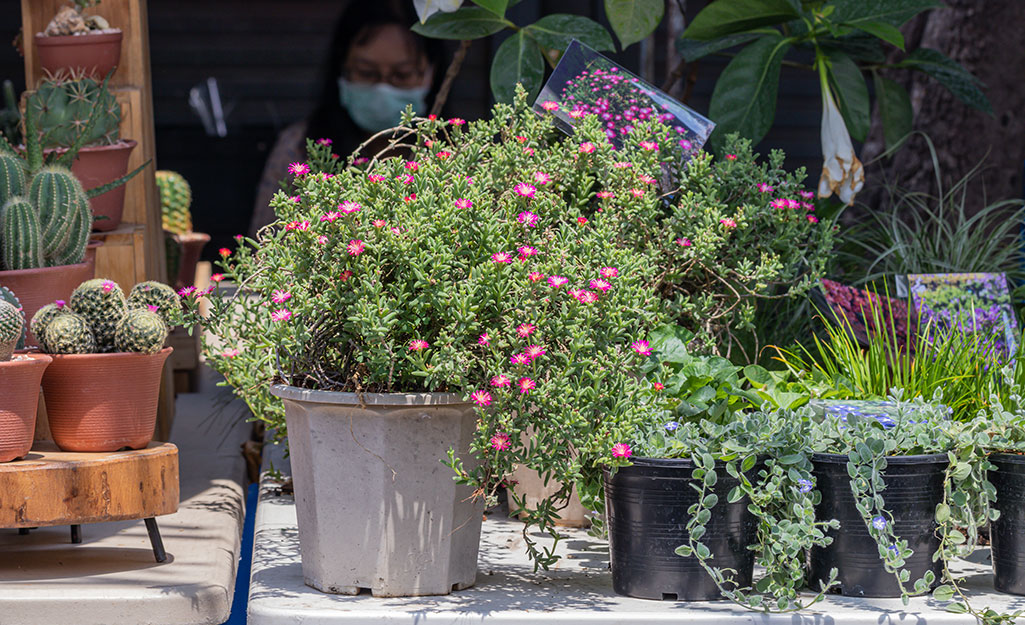 Cuphea (firecracker plant) deserves a place in your summer garden, either as a statement flower in containers, or a jubilant mass planting. Proven Winners' Vermillionaire cuphea is loaded with orange blooms that are a siren song for hummingbirds. Cuphea thrives in full sun and average soil. It's also hardy to zone 8, good news for Southern gardeners.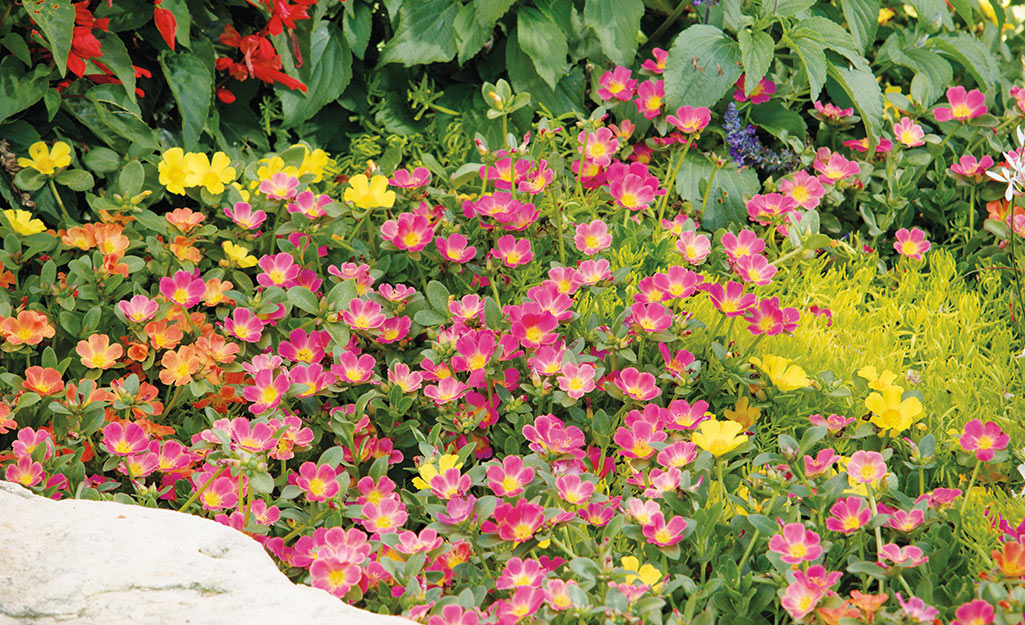 Portulaca, moss rose, is a classic for a reason. It offers brightly colored, low-growing flowers and needle-like foliage on the hottest days of summer. In the afternoons, blooms will fold up, but open again the next morning. Moss rose can handle summer's hottest days and even a bit of neglect from the watering hose. It doesn't need deadheading, either. Try it in terra cotta containers, even strawberry jars, on a patio this summer.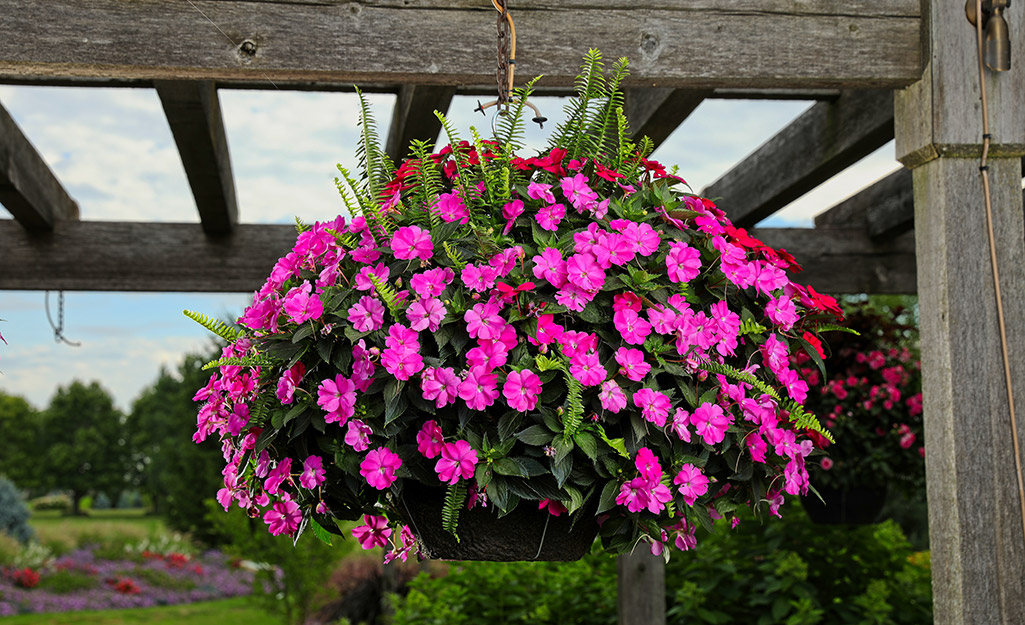 Impatiens are that rare plant that can handle sun or shade and keep putting out vibrant color all summer long. Plant them early in the season, feed them regularly with an all-purpose liquid fertilizer, and enjoy a rainbow of blooms from pink to coral, red, white and purple right up until frost. Look for the new Beacon impatiens that are resistant to downy mildew.
Butterflies and hummingbirds are impatiens fans, too. Plant extra just for them.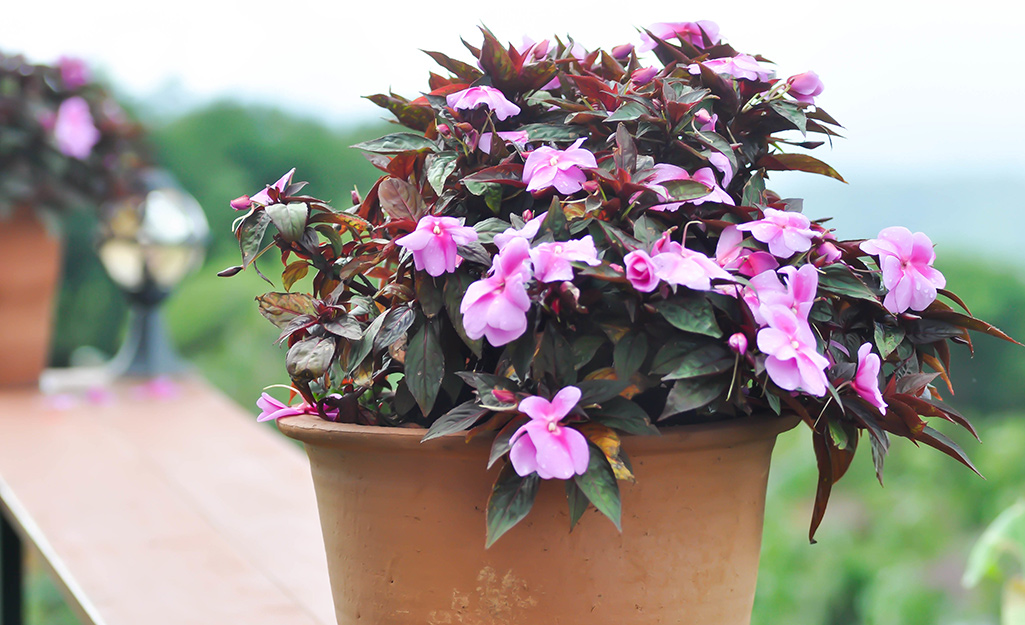 New Guinea impatiens have all the benefits of impatiens, but with the added bonus of stylish foliage to offset the vibrant pink, purple and red blooms. New Guinea impatiens can handle sun or shade, but you'll have to water less if you keep them out of the sun. They also have a nice mounding habit that's lovely in containers and on the edges of garden borders.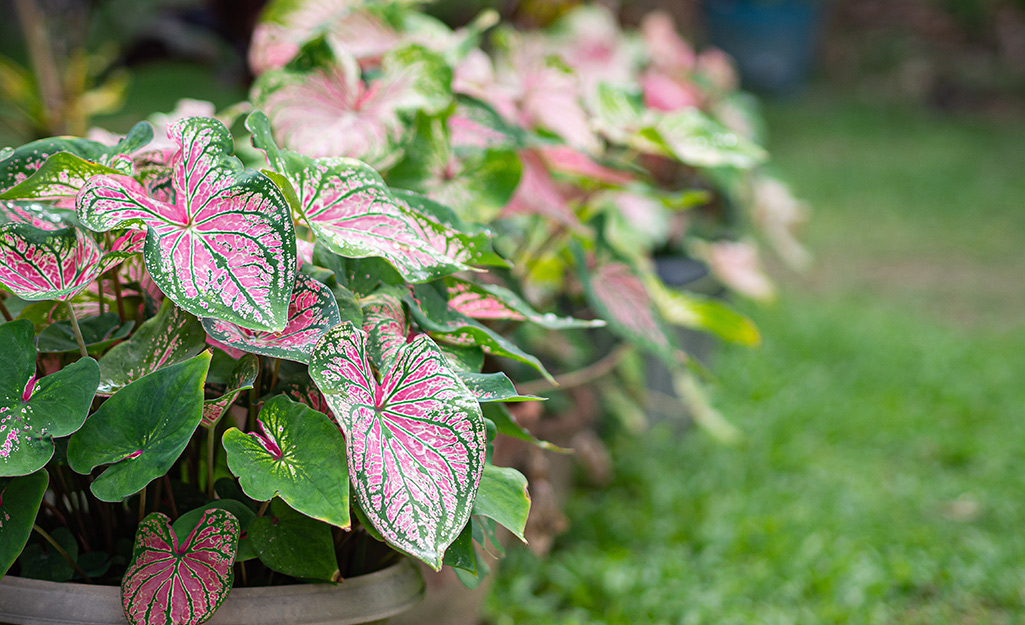 There's so much to love about caladiums, beginning with their large heart-shaped leaves in bold combinations of pink and green. These beauties can handle lots of sun as long you're willing to water, and shade if you're too content in your deck chair to get up and water.
Caladiums are grown from tubers (similar to bulbs) and in areas with real winter, can be dug up every fall and stored and planted again in spring, so in that way, they're a little like perennials. Learn more about growing caladiums.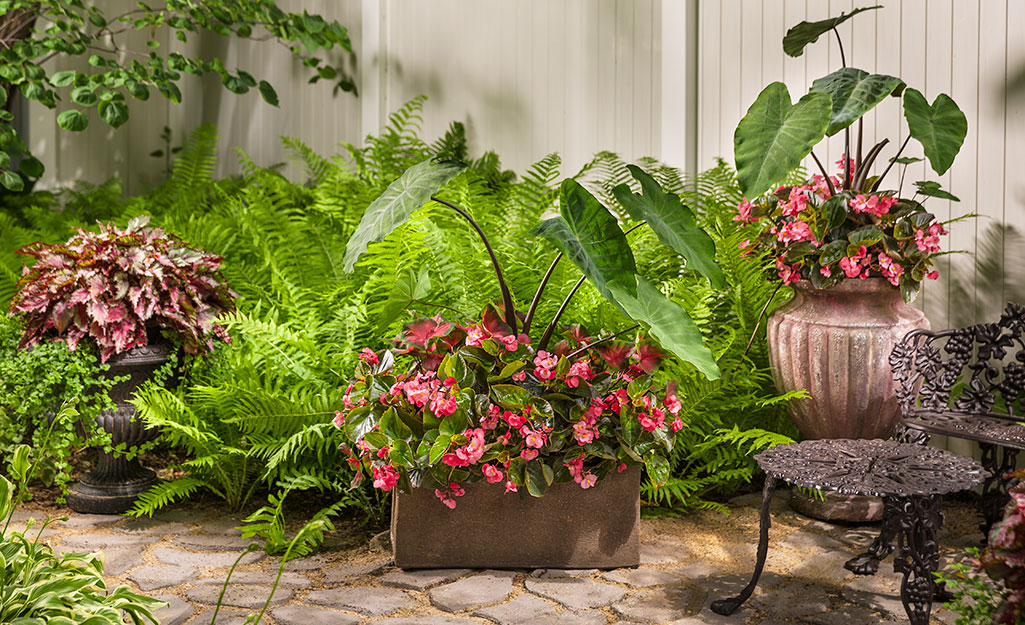 Begonias are low-maintenance annuals that come in a stunning range of bloom and, increasingly, foliage options. Plant begonias in the front of a border, in window boxes or containers, full sun to part shade, and then sit back and relax with the knowledge that your work is done. Well, almost done. Begonias, like all annuals in summer, need water every few days unless there's rainfall, and they perform best with a bi-weekly dose of liquid fertilizer.
Carefree begonias can get a little leggy in late summer, particularly if you've had a lot of rain. Come August, trim them back by a third so they can finish the season the way they started, with tons of color and minimal effort on your part.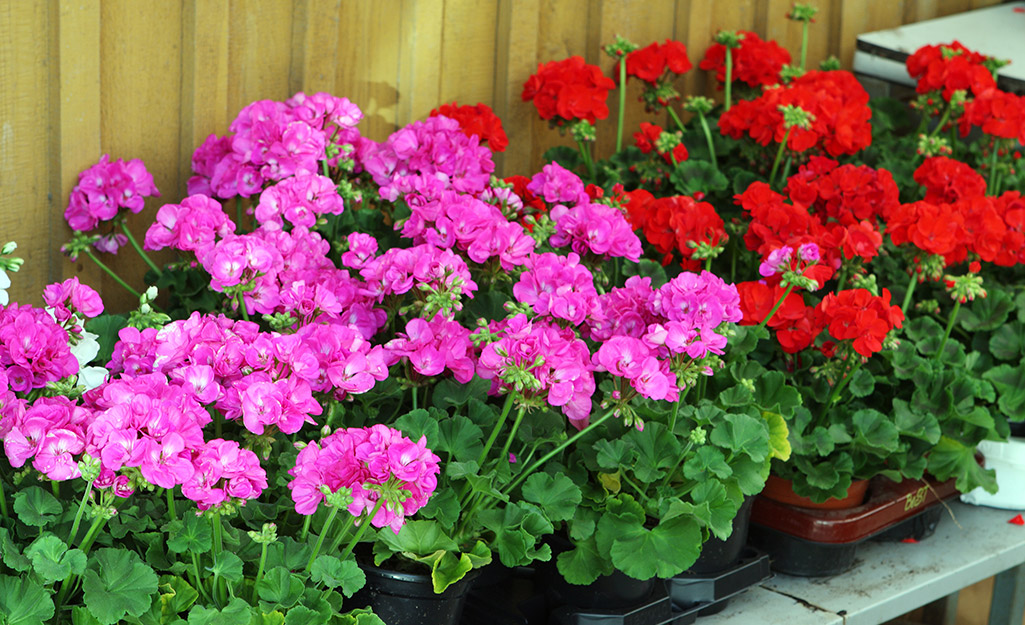 When it comes to geraniums, don't confuse old-fashioned with classic. These may be your grandmother's favorite plant, but that's because you can count on geraniums for colorful blooms from spring to first frost. The clusters of blooms in shades of pink, red, coral and white are set off by scalloped edge foliage that's notable even when the plant isn't in full bloom.
Keep geraniums in full sun or part shade. They perform better if protected from rain that can cause the flowers to turn mushy. Put geraniums in a terra cotta pot for a classic taste of grandmother's garden. Learn more about growing geraniums.
Whether you need the right tools, seeds or garden soil, The Home Depot delivers online orders when and where you need them.